The Top 5 Real Estate Agents in Washington DC (Hagerstown MD)
PUBLISHED: October 12, 2016
•
6 MINS READ
Hagerstown, Maryland is one of the prime cities in Western Maryland. The Hagerstown-Martinsburg urban area is home to almost 270,000 residents, while the Hagerstown suburban area has over 40,000 people and about 30,000 jobs. Currently, there are approximately 500 homes for sale in Hagerstown at a median listing pricing of nearly $180,000. Get to know about the best real estate agents in DC.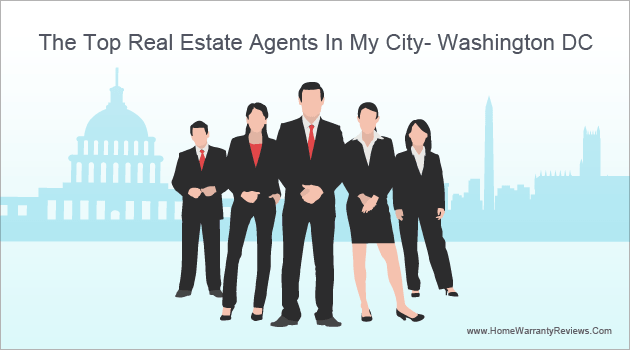 The top-rated real estate agents in Hagerstown are well aware of properties, neighborhoods, and newest for sale listings in the city. The experts can provide you with updated information about home buying and selling trends in Hagerstown. Below is the list of top 5 real estate agents based on their recent activity, years of experience, and total sales volumes in dollars. Here, are the top real estate agents in DC.
Tina Long

Tina is a estate agents with Exit Preferred Realty and licensed in Pennsylvania and Maryland. With an experience of more than three decades, she specializes in short-sale, consulting, and buyer's agent. She is a proud Member of Pen Mar Regional Association of Realtors, Member of Metropolitan Regional Information System, Member of Realtors Association of York and Adams County, and Member of National Association of Realtors. Tina is an accredited short sales and foreclosure resource (SFR) as she knows how to help sellers maneuver the intricacies of short sales as well as help buyers pursue short sale and foreclosure opportunities. Tina understands that buying or selling a home is one of the most significant things you do in life and she assists in making the experience as smooth and successful as possible. Her extensive experience and expertise in the Hagerstown, Chambersburg, Fayetteville, Greencastle, Mercersburg, and Waynesboro real estate market benefit her customers in their buying and selling process.
If you want to buy a home, Tina and her team can help you find the home of your dreams by patiently listening to your needs. She works untiringly to find the right home so that no one has to compromise when it comes to such a huge purchase and decision! Besides, her real estate knowledge ensures that you get the best price possible for your property. Her strategic marketing program makes sure the right people view your home. Whether you are seeking Homes for Sale or Mortgage information, Tina and team are always available for service by phone, email, or appointments. Experienced in all facets of real estate, Tina enjoys spending time with her children and grandchildren, gardening, riding horses, and taking a hike.
"So if you or someone you know is looking to Buy or Sell a home give me a call. Thinking Real Estate! Think Tina Long!"
Joan McLernon
Joan possesses more than 33 years of experience in the real estate industry spanning across Residential and Commercial Development in the Washington D.C. Cosmopolitan Area, Property Management, and Certified Buyer and Seller Representation in the Western Maryland and South Central Pennsylvania neighborhoods. A consistent multi-million producer, she can assist first-time buyers and people scaling up or down with their home size or moving to a new area. Joan is skilled in all facets of real estate including but not limited to equestrian or farm properties, urban, suburban or rural homes, historic properties, primary or second homes, and Country Properties. Currently a part of the management team at Coldwell Banker Innovations, she operates mainly in Hagerstown, Boonsboro, Braddock Heights, Clear Spring, Funkstown, Sharpsburg, Chambersburg, Mercersburg, Greencastle, Waynesboro, Knoxville, Fairplay, Saint James and more. Joan believes that experience and understanding are priceless when purchasing or selling a home and hence she provides the right guidance to attain your real estate goal.
An alumna of the University of Buffalo, Joan is constantly acknowledged as one the area's leading real estate professionals. She has served as President of PenMar Regional Association of Realtors providing guidance for the local membership to boost their abilities and opportunities to prosper through cooperation, participation, promotion of professional integrity and moral standards, and providing educational opportunities to further their careers. She is also engaged in teaching the Introduction to Real Estate licensing course at Hagerstown Community College. Joan has steadily maintained a multi-million dollar award winning sales position in the top 10% each year. She has won the following awards:
2007 Realtor of the Year, PenMar Regional Association of Realtors

Rookie Realtor of the Year, O'Conor Piper & Flynn
Call, email or text JOAN anytime with real estate queries you may have.
Mike Baldwin

Mike has spent more than two decades working in the real estate industry serving the needs of both the residential and commercial market. He is a resident of the Frederick and Washington County neighborhood and displays an amazing sense of leadership and integrity in everything he does. Mike received his Bachelor of Science from the University of Maryland University College and operates mainly in areas such as Hagerstown, Adamstown, Saint James, Brunswick, Boonsboro, Middletown, Smithsburg, Keedysville, Ijamsville, Williamsport, Maugansville, New Market, Point Of Rocks, Thurmont, Cascade, Cavetown and more. After spending his initial 17 years with Mackintosh Realtors, a local independent firm in Maryland, Mike established Atlantic Real Estate in January 2013 and since then is building a business model that incorporates the customary services expected from a real estate brokerage firm while combining state-of-the-art technology and advanced ideas. Atlantic Real Estate manages all aspects of real estate including property management, buyer & seller representation, real estate investor strategies & planning, professional marketing & sales, consulting & advisory services, land development, and new home sales & marketing. He established Atlantic Home Construction in 2015 after renovating & remodeling investment properties for many years. The company builds custom new homes and remodels existing homes for resale.
In 2016, Mike established Atlantic Companies, recognizing the void between the real estate and building industries. Atlantic Companies is comprised of a real estate division (Atlantic Real Estate) and a construction division (Atlantic Home Construction) along with other ventures. This allows both divisions to work together providing superior quality and long-term value, forward-thinking ideas, and honest customer care.
Mike's commitment to work responsibilities sets him apart from the rest and has helped him achieve the following:
Owner/Broker/Realtor® – Atlantic Real Estate

Accredited Certified Residential Specialist, CRS®

Accredited Seniors Real Estate Specialist®, SRES®

Accredited Graduate REALTOR® Institute, GRI®

Member of National Association of Realtors, NAR®

Member of Maryland Association of Realtors, MAR®

Member of Frederick County Association of Realtors, FCAR®

Member of PenMar Association of Realtors®

Licensed in Maryland & South Carolina
In addition, Mike has earned the following:
Acquired Associate Broker status obtained by only 1% of real estate agents nationwide

Achieved sales consistently exceeding personal and company goals

Consistent top-producing agent in Maryland

Winner of numerous real estate awards: "1996 Rookie of the Year" and "Frederick County Hall of Fame"

Represent several local builders with marketing, sales, and planning

Consistent Top Realtor in Frederick and Washington County

Manager/Team Leader to include sales associate(s) and assistant(s)

Platinum Award

Platinum Team Award

Round Table Award

Gold Club Member

Silver Club Member
Karen Horejs

A licensed agent with Keller Williams Premier Realty, Karen serves neighborhoods such as Hagerstown, Clear Spring, Chambersburg, Fort Loudon, McConnellsburg, Mercersburg, Orrstown, Williamsport, Boonsboro, Shippensburg, Waynesboro and more. Whether working with a first-time buyer or a seasoned homeowner, she believes in striving for excellence. Her specialties include short-sale, investors, senior real estate consumers, residential, distressed homeowners, luxury homes, listing agent, and relocation. After graduating from Mercyhurst College, Karen spent 25 years as a registered nurse in Erie, PA. When her husband relocated to the Cumberland Valley around 17 years ago, her 5 children were very young. Her passion for bringing the best to a community led her to get involved with the local Boy Scouts of America. She held numerous leadership positions such as Cubmaster and leading district training events. Later she also became a board member of the Mason-Dixon Council as Vice President of Cub Scout Program. Karen is a recipient of the Silver Beaver Award which is the highest Council award and her 4 sons have earned their Eagle Scout award. Her daughter is the pharmacist at the local Greencastle CVS and one of her sons is a pilot for the United States Coast Guard.
Karen's expert skills along with hard working attitude and interest in marketing led her to pursue a career in real estate in 2004. In her very first year of service, she was awarded PenMar's Rookie of the Year. Since then, she has continued to be a top volume producer. "Helping people with one of the biggest decisions of their life is such an honor. Being their advocate and making their move as easy as possible are my goals. People look to us for guidance with life changes and this is a responsibility that we cannot take lightly. I BELIEVE that real estate agents who base their practice on the latest guidelines and marketing principles are "doing their best" for their clients and their client outcomes are then optimized." Karen helps the first-time buyers by making them understand the assets and liabilities of a property. She believes that preparing the home for selling and staging the house are critical when buyers are so selective. Premium virtual tours are her specialty.
Finding Keller Williams, the second largest Real Estate Company in the US has been impeccable for Karen's wish to be the best. Working at Keller Williams has offered her the following:
Top of the line marketing for her clients

State-of-the-art technology

An environment where agents collaborate and synergize and most importantly a culture of giving back through KW Cares
Karen has earned the following designations and certifications:
Accredited Buyers Representative (ABR)

Certified Residential Specialist (CRS)

NAR's e-PRO

Graduate, Realtor Institute (GRI)

Seniors Real Estate Specialist (SRES)

Certified Distressed Property Expert (CDPE)

Certified Luxury Home Marketing Specialist (CLHMS)
"My mission is to always "DO MY BEST" in providing professional real estate services to you the buyer or seller!"
Kari Shank

Kari Shank is a full-time real estate agent with RE/MAX Achievers and licensed in Maryland, West Virginia, and Pennsylvania. She is keen in making your real estate transactions as seamless as possible. She is a permanent resident of Washington County, MD and also has great exposure to the Washington and Baltimore areas. Kari loves working with both buyers and sellers and always takes a tailored approach to the business. Besides, she works as a buyer's agent emailing you with new listings, setting up custom home searches, negotiating deals, and setting up custom home searches on your behalf! She has a proven track record selling real estate and is available to you seven days a week to answer any of your concerns. Kari has a long list of clientele as she carefully listens to understand the goals and guides them through the complete process of selling their property from listing to sale.
With nearly 11 years of distinguished service, Kari has won the following awards:
REMAX Platinum Club Award 2014 & 2015

100% Club Award 2013

REMAX Top Listing Agent

REMAX Top Sales Agent

Presidents Club Award

Executives Club Award
Kari is mainly active in neighborhoods such as Hagerstown, Middletown, Smithsburg, New Market, Falling Waters, Boonsboro, Adamstown, Chambersburg, Shepherdstown, Brunswick, Clear Spring, Fairplay, Frederick, Keedysville, Maugansville, Myersville, Sharpsburg, Williamsport, Greencastle, Waynesboro, and Martinsburg. Her skills include sellers, buyers, first-time buyers, relocation, condos/townhomes, short sales, foreclosures, investment properties, and new construction. She is very active in the real estate community serving on the PenMar REALTOR® Association's YPN Group and as a presenter at the Hagerstown Home Store. As a certified distressed property expert (CDPE), Kari is proficient in effective short sale negotiations. "If you must sell and the current value of your home is no longer enough to satisfy your mortgage a short sale can be a wonderful opportunity to avoid foreclosure. I have worked on many of these sales and would be glad to help you consider your options." An alumna of University of Maryland College Park, Kari is interested in historic properties, music, photography, traveling, animal rights, and vegetarianism.
"Just tell me what you are looking for and I will search all of my sources and provide you with a convenient report of all the properties that you may be interested in complete with photographs of the properties and detailed neighborhood information." Kari guarantees to advertise through multiple sources, competitive commission rates, and guides you through your next move! Call her today for more information on the current market.
For Sale : Take Away
It is not surprising that homeowners often wonder whether home warranty is more cost-effective than the actual repair expenses. Top home warranty review, rating, and comparison website, HomeWarrantyReviews.com has introduced Home Maintenance Calculator to better make an informed decision in purchasing a home warranty. There is also a widget code for all the real estate agents  out there to use it on their websites and blog posts. This is a nice to have feature for real estate agents as it sends out the right signal for all of the potential customers coming your way! (<iframe src="https://www.homewarrantyreviews.com/home-maintenance/-widget"></iframe>)