The Top 5 Realtors in Los Angeles
PUBLISHED: September 27, 2016
•
6 MINS READ
With over 185,300 active Realtors in Los Angeles, selecting the right one to assist you with the sale or purchase of your home can be daunting. You will want to find someone who is proficient in buying or selling homes in your surrounding area in L.A as well as in your price range.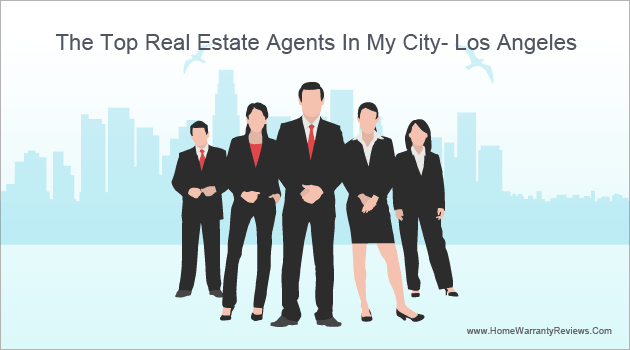 Below is the list of the top 5 Realtors in Los Angeles by their gross sales volume in dollar amounts and some other relevant information so you can feel confident when making decisions about buying or selling your home.

For more than three decades, Brad has focused his attention on helping families attain their goals of buying or selling a home in North Hollywood, Studio City, Burbank, Glendale, Tujunga, Panorama City, Sherman Oaks, Valley Village, West Hollywood, Van Nuys, and the wonderful and diverse surrounding areas. He listens to his clients' needs patiently and then puts together the best strategies for reaching the results they want. He believes that true success comes from making objectives for what matters most in life. Whether he is with his family or assisting his real estate clients, Brad enjoys positive results owing to his unique ability to visualize a goal and make an effort for achieving it. This determination is what continues to take his career as a realtor to new levels of success. With over three decades of experience, Brad is an unmatched resource for all things from the real estate market to community services.
An alumnus from California State University-Northridge, Brad's specialties include home sellers, home buyers, 1031 tax deferred exchanges, short sales, investment properties, first time home buyers, bank foreclosures, multi- residential homes, single family residences, condominiums, townhomes, downsizing, and relocation. The owner of The Brad Korb Real Estate Group, Brad and his team of  realtors have attained an incredible success for clients by offering services that go well beyond the average realtor. "We are very excited to have been endorsed by real estate mogul Barbara Corcoran, from Shark Tank, and also being ranked #1 locally by Wall Street Journal." He believes that relationships with clients are based on accountability, dedication, loyalty, and clear understanding of client needs. There are three teams within the Brad Korb Real Estate Group. The listing team members concentrate fully on marketing client's homes on every available marketing podium such as Internet, TV, and Radio. The buyer's team is elite coached and sell up to 10 times as many homes yearly compared to an average realtor. The concierge team manages internet inquiries and phone calls along with the chat service on the website. Besides, Brad is also an owner of RE/MAX In Action and Civic & Social Organization Professional. He has received the following real estate industry awards:
#1 Realtor in the Valley (RE/MAX) Top 10 Realtor for California for 6 years (RE/MAX)

2010 Best of Business Award (SBCA)

2015 Best of Burbank Realtor

2015 Best of Burbank Reader's Choice

2014, 2015  REAL Trends Best Real Estate Agents Award

2014 Best of Trulia Top Agent Award

#37 in the country in 2010 (RE/MAX)

#1 Team in Burbank (RE/MAX)

Top 100 Team 2003 (RE/MAX)

Top 100 Team 2004 (RE/MAX)
Additionally, Brad is also proud to hold the following certifications sponsored by the National Association of Realtors (NAR):
Certified Residential Specialist (CRS)

– the highest designation awarded to sales associates, recognizing professional accomplishments in both understanding and education

Certified Distressed Property Expert® (CDPE)

– Brad has an in-depth understanding of complex issues in today's dynamic real estate industry and understanding of foreclosure avoidance options available to homeowners. He can provide solutions, specifically short sales, for homeowners facing market hardships.

e-PRO

– Brad is dedicated to making the most of today's technology to help with your real estate needs
Brad's interests include spending time with family, fishing, reading, Los Angeles Dodgers Baseball, Los Angeles Lakers Basketball, traveling, reading, concerts, and working out.
When you and your family are set to make the important decision to move, contact Brad Korb who is always focused on What Matters to You.

Jesse Weinberg is widely acknowledged as one of the Los Angeles' leading realtors, focusing on the highly competitive Westside neighborhoods. With over a decade of experience in Playa Vista, Marina Del Rey, Playa Del Rey, and Venice, Jesse is a well-recognized member of Southern California's brokerage community. He analyzes 20-30 new properties in person each week and can locate just the right home to match any search standards or set a precise value for a sale. His background in Business Administration and a decade of sales experience results in innovative strategies that make the most of his clients' opportunities and aid them to reach their financial goals.
Jesse's track record is unrivaled – he has sold more properties in Marina del Rey than any other agent for the last 5 years in a row! He believes that every client and every property is different, yet his goal remains the same: to surpass expectations in the course of a transaction as he works toward a preferred price and time frame. A Licensed Real Estate Agent at Keller Williams Realty, Jesse and his skilled team of realtors have built a thriving real estate empire. Jesse Weinberg & Associates delivers impeccable service and has effectively sold and leased more than 600 properties in the last decade with a very high customer service rating. The team has represented over 700 sales and 300 lease transactions – directly benefiting their clients by saving them time and money.  The seasoned real estate experts provide a robust database of skilled buyers, sellers, landlords, and tenants to the clients, resulting in a seamless offer-to-close process, shorter listing periods, and access to off-market opportunities. Jesse's passion for real estate has earned him the following:
#1 Sales Team Nationwide for 2013 & 2014 by Keller Williams Realty, out of nearly 100,000 agents

#1 Sales Agent for (All Brokerages) in Marina del Rey in 2010, 2011, 2012, 2013, 2014, and 2015

#1 Sales Agent for Marina Pointe Drive in 2009, 2010, 2011, 2012, 2013, 2014, and 2015

Ranked Top 200 Agents Nationwide by Wall Street Journal and Real Trends (Top half of 1% of 1 million agents nationwide)

Named one of America's Best Real Estate Agents by Real Trends in recognition of incredible results in 2013, 2014 & 2015

Top Los Angeles Seller's Agent, ranking in the top 1% of 31,459 agents

A Condo Expert, ranking #7 of 31,459 agents

A Townhouse Expert, ranking in the top 3% of 31,459 agents.

A Single Family Home Expert, ranking in the top 19% of 31,459 agents
His specialties include Buyer's Agent, Listing Agent, and Property Management. His loyalty and amiable attitude have led to a network of repeat and referral business. He is well-read and keeps up with the latest market trends and economic news. His transaction volume each and every year surpasses the last!

Danny brings over two decades of experience to every transaction, where he focuses in the Greater Los Angeles area from Downtown to the beaches, North Hollywood, West Hollywood, Beverly Hills and everything in-between. As a motivated Realtor and Associate Manager, his proficiency has led to a lucrative and productive sales career with special emphasis on single family and condominium sales. Danny and his team always look out for clients' best interest and deliver exceptional customer service in all areas such as marketing, escrow, and inspections. A consistent leader and a top sales producer, Danny is in the top 2% of all Coldwell Banker agents countrywide. Before moving to Coldwell Banker, he held a position as a commercial real estate agent with Silverstone Development Group, focusing on sales and leasing of commercial properties.
Danny accomplishes his goals by ensuring each property has a separate Business Plan on how, why, and to whom he is going to sell to. "It is specific, targeted and deliberate. Our specialization and full Business Plan marketing approach to selling property is a dedicated approach that is effective and relevant in today's real estate market. We consistently win recognition from our peers and earn accolades from our Clients," says Danny. His specialties include Representing Buyers, Representing Sellers, First-Time Buyers, Short Sales, Foreclosures, Relocations, Luxury Properties, Commercial Real Estate, Rentals, Condos, Resorts and Second Homes, Lease-to-Owns, Investment Properties, and Appraisals. His sprawling network, unmatched client service, outstanding sales production, and proven marketing tactics have made him recognized by Coldwell Banker from 1996-2012.
An Alumnus from Santa Monica College, Danny's interests include reading and jogging. His professional appearance, integrity, communication and negotiating skills would ensure you a smooth and stress-free sale or purchase. "Relationships are about connecting, and I invite you to contact me about your real estate needs".

Selecting a right real estate agent is the first step in purchasing or selling a home. Fredy Rodriguez has been a licensed real estate agent in California for 15 years and is present with Fanthom Realty. Fredy's coverage area includes Cathedral City, Desert Hot Springs, Indio, Palm Desert, Coachella, Garnet, Palm Springs, and Thousand Palms. A top real estate agent listing website ranks Fredy as one of the top 2% of agents in Cathedral City for effectively selling homes and as one of the top 8% of agents for single family homes. "From suggesting mortgage lenders to explaining signing papers, I am here to make this normally daunting experience a smooth and successful transaction. My goal is to assist you in finding that perfect home." Whether you want a big backyard or a 3-car garage, Fredy and his team find you that special property.
One of Fanthom Realty's leading realtors, Fredy is recognized as a hardworking and trustworthy individual whose passion is to assist his clients in real estate transactions from inception to conclusion. Through his hard work and willingness to learn, he continues to beat his own records, year after year. His specialties include short sales, foreclosure, buyer's agent, first-time buyers, and investors; financial (loans), and life insurance. Equipped with sufficient knowledge and expertise, he has received several awards and recognition such as:
Diamond Club No.1 Top Producer for 2015

Multi-Million Dollar Producer for 2014 and

Worked as a District Director of Fathom Realty from 2013 to January 2016
Fredy's credentials and certifications include the following:
Council Of Real Estate Services (CRS)

Graduate Realtors Institute (GRI)

Short Sale and Foreclosure Resource (SFR)

Resort & Second-Home Property Specialist (RSPS)

Certified Broker Price Specialist (CBPS)

Five Star Institute, REO Certified

Five Star Institute, Short Sale Certified

Five Star Institute, Lease To Own Certified

Federation of REO Certified Expert (FORCE)

e-PRO Certified

Green Certification

Home Affordable Foreclosure Alternatives Program (HAFA) Certified

Certified Probate Real Estate Specialist (CPRES)

National Association of Hispanic Real Estate Professionals (NAHREP) member

Life and Health Insurance Licensee

RES.NET Certified
An alumnus of Palm Desert Community College, he is interested in networking with other realtors and seeking clients to assist them in the home buying and selling process. Fredy runs by his slogan "Under Promise and Under Delivery". His only purpose is to earn referrals which are the life of his business. Contact Fredy Rodriguez if you have any questions or concerns about financing options, current listings, or the market in general.

Lynette Williams has been a full-time real estate expert since 1997. As a practicing attorney, she specializes in real estate sales, development, and construction. Her other areas of practice include estate planning, contracts, and business structures. Her previous experience as a financial analyst, an insurance agent, and marketing coordinator gives her the talent to assess your real estate needs including financial analysis, tax strategies, legal ramifications, insurance requirements, and marketing strategies. She has also served as an officer in the United States Army. A graduate of the University of Florida and the University of Florida College of Law, Lynette's goal is to offer the first-class service and build long-standing relationships with her clients. She works meticulously with the highest standards of professionalism to serve her clients' needs. By implementing new tools and techniques and incorporating innovative concepts, she assists her clients to get the most of their home in the minimum possible time.
Lynette's real estate record epitomizes her commitment to her clients. She has a record of selling more than 97% of all her listings with them being on the market an average of 19 days. 51% of all her sales have come from listings. She is equally dedicated to working with first-time buyers and buyers moving from their present homes. She especially comprehends the needs of the first-time homebuyers and is focused on their long-term real estate dreams. While most realtors look for new business from the general public, Lynette focuses her time on her existing clients and referrals. She has obtained the following designations and certifications:
Certified Residential Specialist (CRS)

Accredited Buyer's Representative (ABR)

Graduate, Realtor Institute (GRI)

Short Sales and Foreclosure Resource (SFR)

NAR's e-PRO
Lynette lives in the Los Angeles and loves going to movies, flying airplanes, real estate investing, rehabbing properties, reading photography, concerts, plays, and dining out. She is a member of the Beverly Hills/Greater Los Angeles Association of Realtors, National Association of Realtors, Los Angeles Bar Association, Toastmasters Int'l, and the California State Bar Association. Lynette is also involved with the 99s Club and the Los Angeles Area Chamber of Commerce.
Skeptical about home warranty? Leading home warranty review, rating, and comparison website, HomeWarrantyReviews.com has introduced Home Maintenance Calculator which allows customers to estimate costs involved in maintaining a typical American Household. The tool is absolutely free of cost and hence fascinates many potential home warranty customers. Also, there is a widget code (<iframe src="https://www.homewarrantyreviews.com/home-maintenance/-widget"></iframe>) for the home maintenance calculator tool to put in your website or blog post.