5 Things A Home Appliance Repair Technician Does To Simplify Your Life
PUBLISHED: October 28, 2020
•
5 MINS READ
Whenever an appliance or a home system breaks down, the best thing to do is to call a home appliance repair technician. However, with so many of them around, how do you know whom to call? We will answer this question and others for you in this post on the 5 things you should look for your home appliance repair technician to do.
Where To Find A Home Appliance Repair Technician
If you have a reliable neighborhood repair technician who comes vouched for by trusted friends, then you are sorted; but chances are you like most of us will have to rely on Google. The problem is that you can't be sure of how skilled they are and whether the service quality would be satisfactory.
A home warranty company is a good way to gain access to a network of vetted, trained, and certified home appliance repair technicians. A home warranty is a service contract for discounted repairs and replacements for home systems and appliances that break down due to regular wear and tear. The companies maintain nationwide networks of repair service contractors to dispatch whenever a claim is filed.
Even if you really like DIY-ing your repairs, if your appliance is within warranty, calling in a professional technician is the smarter option. It helps build the record that gets your claims easily processed later on. Opening up the appliance yourself can void your warranty and will cause trouble if you fail to correctly diagnose the issue and require professional help anyway.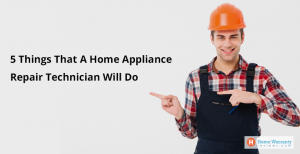 5 Things A Good Home Appliance Repair Technician Does 
1. Stay On Top Of New Technology And Advances
Consumer durables as a sector has seen technological advances by leaps and bounds over the past few decades. With the prevalence of small, specialized components in modern home systems and appliances, DIY repairs are not easy to perform. Home appliance repair professionals have a better idea of what may cause a breakdown.
Home appliance repair technicians need to upskill constantly and acquire the requisite certifications so that they can provide top-notch services. Companies like Sears and Lowes Appliance Repair have in-house training programs to ensure that their services continue to remain best-in-class.
2. Stock Up On All the Requisite Tools
Repair tools don't come cheap. Unless you have a hobby of auto-shop, purchasing all the tools you need just for occasional repairs ends up wasting money. 
Home appliance repair technicians have to maintain the entire arsenal of tools needed to conduct repairs as it is their job. They also stock specialized equipment that may be very difficult to get from the regular market.
3. Order The Right Parts And Components
Home Warranty companies make it easy to source the parts and components that a repair might require. The contractors have access to OEM parts and components and may be able to get substitutes if they aren't manufactured anymore.
If you try to DIY repairs, it may be hard to source the parts or it may end up being a lot more expensive even if you can find them. If it turns out that a different component than the one originally suspected is required, the cost of the home warranty plan covers it, unless the coverage explicitly excludes it. 
4. End-To-End Appliance Installation, Repair And Care
Home appliance repair technicians are much faster at their job. Due to their long experience in diagnosing appliance malfunction issues, a professional home appliance repair technician can finish up the task very quickly. If you try to DIY an appliance repair from a video or instruction manual you'd spend hours or days on something that they can fix in a couple hours.
Many home warranty companies also provide annual maintenance services like HVAC tune-ups, that can prolong the life of your appliances. Getting professionals on such tasks can also help with home inspection records and warranty claim processing if you rent out your home or you want to sell in the future. Such services take care of your end-to-end appliance installation, repair and care needs. 
5. Reduce Your Utility Bills
Having your home appliances regularly maintained and repaired can reduce your energy bills since inefficient functioning draws more fuel. You can also consult the technicians on the latest technological advances that you should have for saving energy and money. 
Home warranty companies now offer refrigerator upgrades to meet refrigerant codes for energy efficiency. You can file claims and get this service when your refrigerator stops working. The company sends qualified appliance repair technicians to do the job (you may have to pay for disposal, out-of-pocket, with some companies). Some home warranty companies also cover code modifications and upgrades.
A reliable home appliance repair technician is a lifesaver especially now that the economy is tight and we need to be saving as much money as we can. Good quality professional repairs can prolong the life of our appliances and bring us comfort. To find the top home warranty companies that have the best appliance repair contractors, check out the reviews on our site.