Our List of Top Home warranty companies in texas
90-day service guarantee
Two comprehensive plans
Covers 46 states

$200 Off + 2 Months Free Coverage

Multi-year plans
Same-day response on claims
B rating from BBB

$150 off + Free roof coverage + 2 months free

30-day labor guarantee
90-day parts guarantee
$3k dollar limits on each item

1st month free + Free roof coverage
Disclaimer: We facilitate quotes from reputable home warranty providers and may earn a commission, but that does not influence our evaluation process to produce unbiased reviews.
Comparison Of Top Home Warranty Companies In Texas
The graph below compares the essential parameters of Texas's top home warranty companies to offer a detailed view for our readers. Explore vital information such as plans, cost, coverage, ease of filing claims, customer service, workmanship, and customer reviews side-by-side to make an informed decision.

Best Home Warranty Companies In Texas: Detailed Review
This section presents a detailed review to offer a thorough overview of these companies. Learn more about the finer details of each company to ensure you pick a company that fits your requirements.
Repair And Replacement Cost Of Various Appliances In Texas
The cost of repairs and replacements depends on various factors such as the nature of the breakdown, the brand, age, and maintenance record of the appliance/system, the availability of the spare parts, etc. This cost is usually high in Texas! Also, fixing some home items could get more expensive than others without a home warranty. 
In this section, we'll take you through the average repair and replacement costs of some major systems and appliances that Texans use more frequently. Take a look: 
Microwave

can cost to you

Up to $400

Washer/Dryer

can cost to you

Up to $800

Furnace

can cost to you

Up to $5500

Dishwasher

can cost to you

Up to $1000

Cooktop/range

can cost to you

Up to $500

HVAC

can cost to you

Up to $6000

Refrigerator

can cost to you

Up to $1000

Septic Tank

can cost to you

Up to $6000

Garbage disposal

can cost to you

Up to $400

A/C Units

can cost to you

Up to $7000
Yes, you may have to pay these without a home warranty if any of your home system or appliance breaks down! Not just these, homeownership comes with home maintenance too. Head to the next section to know more.
Why Should Texans Get A Home Warranty?
Home systems and appliances tend to break down more in extreme weather. Texas's weather conditions tend to pose challenges due to its climate. The below-mentioned weather profile of Texas highlights why safeguarding your appliances and systems is essential.

Average Rainfall
27.25 inches/ Year

Average Sunlight
235 Sunny Days/ Year

General Climate Conditions
Hot and Humid Summers
Freezing Winters
Tropical Cyclones
August – October
The below table talks about common issues in Texas and how home warranties can help fix them:
Conditions in Texas - Texas has sweltering summers with an average daily high of 88℉

What Happens Because Of It?

Added pressure on cooling and HVAC systems

Overheating of electrical components in systems and appliances.

What Can You Do About It?

Home warranties with sufficient coverage limit on HVAC will help in the event of its breakdown. Lower limits or non-coverage of these devices will leave you at risk.





Many appliances and systems are prone to malfunction due to overheating, such as HVAC systems, garage door openers, ceiling & exhaust fans, etc. Identifying such items at home and getting a warranty plan that sufficiently covers them is advisable.
Conditions in Texas - Average Rainfall of over 27.25 inches per annum

What Happens Because Of It?

Heavy rains create major challenges to the plumbing and water flow systems.

Issues of rusting and corrosion become increasingly prevalent due to incessant rains, especially in outdoor appliances. 

Excessive rains cause floods and hurricanes, which mainly cause issues with the roof.

What Can You Do About It?

Smaller homes in cities such as Austin, Houston, and Dallas face issues with water clogging due to the congested water flow systems. Households in clustered neighborhoods or low-lying areas should ideally include plumbing and in-home warranty coverage.

Outdoor appliances such as garage door openers, outdoor grills, lawnmowers, etc., risk rust and corrosion due to heavy rainfalls. Most home warranty plans cover such items as an add-on. Homes with such appliances should consider getting these relevant add-ons to their home warranty plans.

Roof damage is a common problem faced in most parts of Texas due to the heavy rains. A home warranty with roof coverage is recommended to protect your roof from leakages.
Conditions in Texas - The average humidity in Texas is over 70% during the summer

What Happens Because Of It?

Over 70% humidity is considered very heavy. Also, with humidity and moisture going hand-in-hand, it creates many problems for home appliances and systems. 

High moisture content can be detrimental to electronic devices such as refrigerators, washing machines, dishwashers, microwaves, and others.  

Excess moisture in the washers and dryers makes them less efficient.

What Can You Do About It?

Coastal cities such as Houston and Galveston tend to be more humid than other cities. People residing in such locations must take extra precautions to safeguard their appliances.

Texans spend between $200 and $1,200 on fixing their refrigerators, washers, and dryers. A home warranty with a sufficient coverage limit for kitchen appliances is advisable to avoid such financial burdens.

Similarly, excess moisture in dryers and washers is common in Texas, with repair costs averaging $100-$400. Including them in your home warranty coverage will be helpful.
Annual Cost Of Home Maintenance In Top Texas Cities
Check out the table below to find out how much home maintenance costs in these Texas cities.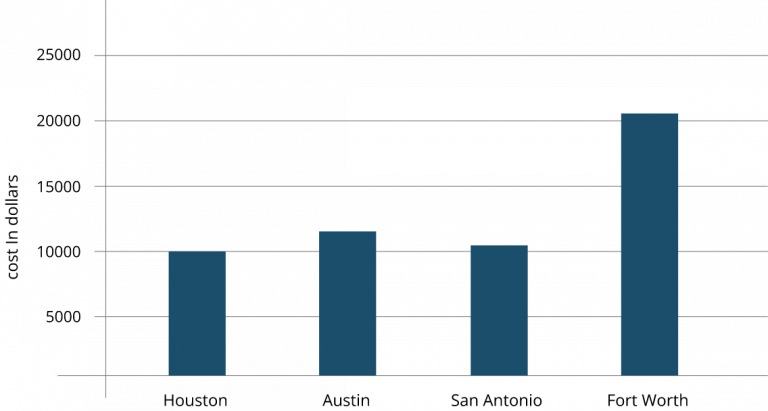 Homeownership comes with considerable expenses, from property tax and insurance to home maintenance. However, most homeowners do not anticipate and prepare for the unexpected breakdown of appliances and systems. According to a recent survey, 45% of Americans overlook home maintenance costs and pay hefty repair amounts later. 
Plus, home maintenance can get as significant as other expenses if you live in a place like Texas with extreme weather. Find out how important it is to get a home warranty in the following major cities of Texas and what other customers have experienced after using home warranties.
Houston, Texas

City Profile

Houston is the largest city in Texas and the fourth-largest in the United States, with a population of over 2.3 million. 

Weather Profile

Houston has a humid subtropical climate with warm winters and hot summers. The average relative humidity in Houston is about 75%, and the average annual rainfall for Texas is 27.25 inches. This indicates that Houston experiences heavy humidity and rainfall every year. 

Economy Profile

Houston's unemployment rate stands at 4.1%. Among the employed, people from most counties receive less than $1,300 weekly wages. Additionally, the residents of Houstons have spent over $10,110 on hidden home maintenance costs, including appliance/systems repairs and replacements.

Common Household Issues

The humid climate affects most electronic devices, such as washers, dryers, refrigerators, etc., due to high moisture content. Additionally, heavy rainfall affects the roofs and external home appliances.

Significance Of Home Warranty

Due to climatic challenges like heavy rain and humidity, appliances break down quite often in the city.

As the cost of living in the city is high, and most people make less than $1,300 per week, sudden breakdowns can become very difficult to handle financially. 




Therefore, getting a home warranty that covers the required items makes financial sense to the residents of Houston.  
Austin, Texas

City Profile

Austin is the fourth-largest city in Texas, with an estimated population of nearly 1 million. With a GDP of $194 billion, the capital city of Texas has the 22nd largest US metropolitan economy.  

Weather Profile

As in most parts of the state, Austin also experiences a scorching and humid climate. Temperatures touch close to 96℉-98℉ in summers, with over 84% humidity, which is very severe. The city also receives rainfall of over 35.5 inches per year. 

Economy Profile

Austin has an unemployment rate of 3.5%, almost equal to the national average. Of the employed, the average weekly wages of the city's residents is about $1,200. Austin's cost of living is 9% above the state average. This explains the household expenditure of over $12,000 as hidden home costs, including home maintenance, which is one of the highest in the state.  

Common Household Issues

Kitchen appliances such as refrigerators, washers, dryers, and ovens are regularly challenged due to the severe humidity in Austin. External appliances such as lawnmowers, grills, and sump pumps also struggle to last long due to rains and heat.

Significance Of Home Warranty

The extreme climatic conditions in Austin takes an enormous toll on the city as Austin has the highest hidden homeowner costs of any Texas city of over $12,000. 





With over 39% of households earning less than $50,000 per annum, bearing such high maintenance costs can get difficult for many Austin homes.



Dallas, Texas

City Profile

Dallas is the third-largest city in Texas, and part of the fourth-largest metropolitan area in the US combined with Fort Worth, with a total population of 7.5 million. The major contributing sectors in the city include defense, financial services, and information technology. 

Weather Profile

Similar to other cities in Texas, Dallas also experiences a hot and humid climate. With an average temperature of 96℉ and 70% humidity, summers in the city can get uncomfortable for people and machines. 

Economy Profile

Dallas is home to over 17.7% population living in poverty. The city has an unemployment rate of 3.4% and a household income of around $1,100 per week. The average cost of living in Dallas is $2489, which is in the top 2% of the most expensive cities in the world.

Common Household Issues

The issues faced by households in Dallas are similar to the rest of the state. The sweltering heat and humidity threaten electronic appliances due to moisture, and heavy rains have challenged the roofs of the houses in Dallas.

Significance Of Home Warranty

The high cost of living in Dallas, coupled with the struggling middle-class population, makes it necessary for households to take all steps to protect their finances. 



San Antonio, Texas

City Profile

San Antonio, the seventh-most populous city in the United States, has an estimated population of 1.5 million sprawled across 465 square miles approximately. 

Weather Profile

San Antonio has extreme climatic conditions with hot and humid suh temperatures soaring to the higher parts of 90°F. 

During winters, the mercury drops as low as 40s°F. It experiences rainfall of around 32 inches which is above the state average rainfall. It also witnesses severe weather events like thunderstorms, hail, and occasional flash floods.   

Economy Profile

About 17.6% population of San Antonio lives in poverty and about 3.4% remain unemployed. Of those who work, the median household income earned is $55,084, significantly below the national average




Homeowners typically may have to spend anywhere between $2500 for $10,000 on home maintenance annually. 

Common Household Issues

Extreme weather conditions during summer can take a toll on refrigerators, air conditioning units, freezers, etc., reducing their efficiency due to high humidity. 




Additionally, the high mineral content in the water can lead to blockages in plumbing fixtures. Not to mention, the heavy monsoons affect interior and exterior household appliances and systems. 

Significance Of Home Warranty

Hot and humid conditions wreak havoc on household appliances and systems. On average, homeowners in San Antonio spend around $1,000 to $2,500 annually on appliance repairs.



Fort Worth, Texas

City Profile

With close to 1 million population, Fort Worth is one of the most vibrant cities in the state. Situated in North Central Texas, it is one of the largest in terms of area, with a land parcel of 349 square miles. 

Weather Profile

The city experiences hot summers, with August being the hottest month and temperatures touching 95℉. Winters are typically mild, with temperatures ranging between 38℉-58℉. Fort Worth experiences mild showers throughout the year.

Economy Profile

The median household income is $61,797, which is below the national average, and weekly wages disbursed approximately $1053. The city has below national-average employment rate of 3.4%, with job growth projected at 41.5% over the next decade. 

Common Household Issues

The hot climate of Fort Worth causes strain on several appliances, such as washing machines, refrigerators, and AC units, causing frequent breakdowns and efficiency issues. 




Approx 30% of Fort Worth homeowners have said to experience appliance breakdowns in the past year, with the cost of appliance repair ranging between $150-$300. 

Significance Of Home Warranty

A 2022 survey claims that living in Fort Worth has become costlier by 17%. With current home maintenance costs amounting to an estimated $20,000 per annum, these bills are expected to rise. 



Compare Best Home Warranty Companies In Texas
Purchasing a home warranty plan can ease your home maintenance and cover repair and replacement costs, making it an ideal investment. Look at the following table for a quick comparison between Texas's best home warranty companies.
Home Warranty Regulations In Texas
In Texas, as per the 2005 Residential Service Company Act, home warranty companies are licensed and regulated by the Texas Department of Licensing and Registration (TDLR). The Department oversees Texas's licensing, regulation, state laws, and complaint services. 
Texas homeowners should always check whether TDLR licenses the Home Warranty Company they have selected. This way, it is easy to spot a scammy business. If you are a Texan and think your home warranty company has violated the contract, you can submit a direct complaint on the TDLR website.
Additionally, the Texas Real Estate Commission regulates home warranty contracts under the "Texas Occupations Code Chapter 1303 Residential Service Company Act."
Bottom Line
No matter where you live in Texas, you can find a suitable option to protect your home items. Read reviews, ask for free quotes, and thoroughly go through the fine print to pick a plan that works for you!
Frequently Asked Questions (FAQs)
How soon can you use a home warranty after purchase?
You can start filing claims and using your home warranty once the waiting period has ended. Most companies have a waiting period of 30 days. 
Who Is The Number 1 Home Warranty Company In the USA?
The market leaders are American Home Shield, Choice Home Warranty, and ServicePlus. Their plans are comprehensive and reasonably priced, and they claim to offer services within 48 hours!
What Is The Average Cost Of A Home Warranty In Texas?
In Texas, you can find home warranty plans ranging from $17 to $77, depending on the levels of coverage. 
What's The Difference Between a Home Warranty And Home Insurance?
Often used interchangeably, home warranty and home insurance are two different contracts. A home warranty covers repair and replacement costs of home items that break down due to wear and tear. Home insurance pays for the structural damages that occurred due to natural calamities.
Is A Home Warranty Worth It In Texas?
A home warranty in Texas can be worth your money if you need extra protection for your home systems and appliances prone to malfunctions.