Discover The Best Home Warranty Companies
HomeWarrantyReviews.com has helped nearly 6 million homeowners make the right choice for over 14 years. As the pioneers of this segment, we've taken forward the legacy of becoming the most reliable source for homeowners, with over 100,000 user reviews and research-intensive expert opinions.
Million
Homeowners Served
Best Home Warranty Companies Of December 2023
| | | | |
| --- | --- | --- | --- |
| | | | View More |
What makes HomeWarrantyReviews.com
the Preferred Platform?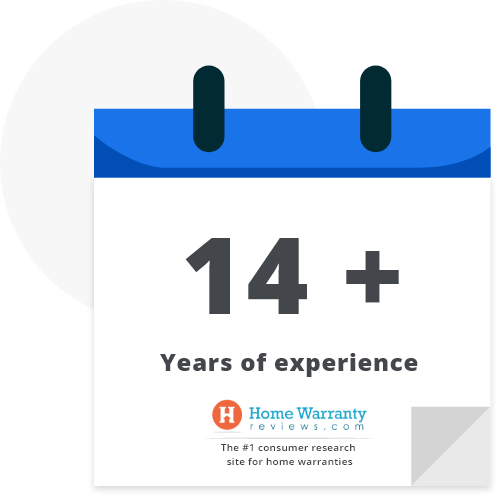 With over 100,000 user experiences shared over 14 years, HomeWarrantyReviews.com is a valuable source of home warranty insights.
With over 100,000 user experiences shared over 14 years, HomeWarrantyReviews.com is a valuable source of home warranty insights. Our expert reviews cover essential details, making us a comprehensive platform. Choose us to access everything you need to know about home warranties.
Our expert reviews cover essential details, making us a comprehensive platform. Choose us to access everything you need to know about home warranties.
Extensive collection of home warranty customer reviews
Two-step verification process for authentic user reviews
Proprietary Complaints Resolution Program connects dissatisfied customers with warranty companies
Useful tools such as home maintenance calculator, home affordability calculator
What Users Say About HomeWarrantyReviews.com
I found the details on the website extremely helpful. It took me a while to finalize a home warranty, but I generally rely on the researched info put up on the homewarrantyreviews.com website to make a decision because it has always helped me. I recommend this site to everyone who is researching to get a home warranty because you get everything you need here.

~ Max Davis

God knows that I struggled with getting my claims approved for months without any success. Connecting with homewarrantyreviews.com team was a blessing because they got in touch with my home warranty company and helped me get with my claim. Their CRP is a necessity in an industry like home warranty which helps in getting in touch with home warranty companies when all else fails.

~ Wendy Jones

I was recently looking for a home warranty company, and I found homewarrantyreviews.com to be a very helpful resource. The website has a wealth of information about different home warranty companies, including their coverage, costs, and claims process. I was able to compare different companies side-by-side, and I found the reviews to be very helpful.

~ Dean Smith

Whenever I need information on home warranty companies and plans, I come on HomeWarrantyReviews.com. The details on this page is credible and trustworthy, and most importantly the ease of using the site is a big plus. My mother who is 71 years of age and not very tech savvy is also comfortable gathering information from this site, which is definitely commendable!

~ Benjamin Schwartz

I tell everyone who needs to get a home warranty to check HomeWarrantyReviews.com once because they have genuine user reviews for most companies on this site is invaluable. Other companies just give out their own ratings without customer reviews, which gets difficult to judge if they are genuine or not. What sets this site is that they don't censor negative reviews which helps big time while finding a home warranty.

~ Miriam Hoffman

The information on homewarrantyrewiews.com helped me a lot when I was looking to get a home warranty. Unlike other sites, they have objective information and hundreds of users' reviews. What I got to read on this site truly made the difference, and now, I got a home warranty that suits my needs. Best of all, I know what it covers and what it doesn't, making this an informed choice.

~ Brittany Moore
Methodology For Reviews & Ratings: What Sets Us Apart?
Our methodology considers these parameters for our review and ratings process:
Customer ratings: User reviews is a key performance indicator of the companies
Licenses: A license to operate in states of operation is a must for companies
Transparency: Companies must accurately display plans and contact details
Claims-Related Services: Easy claim submission and minimal refusals are crucial
Cost & Value-added services: Favorable ratings for affordable plans and added value
Home Warranty at a Glance
A home warranty is a service contract that protects household items from normal wear and tear. It includes essential home systems and major appliances but doesn't cover damage from natural disasters, theft, and vandalism.
Do I Need A Home Warranty?
The short answer to this question is Yes! A home warranty can keep you away from the hustle-bustle of finding the perfect technician if a home appliance or home system tears out.
What's Covered In A Home Warranty?
A home warranty covers various significant home systems and appliances, irrespective of age. Most companies cover all major heating and cooling components, plumbing systems, laundry and kitchen appliances, and more.
Find out which systems and appliances are usually covered or excluded in a home warranty plan in this detailed guide on Home Warranty Coverage.
Are Home Warranties Worth It?
Home warranties can protect you from costly repairs and replacement of major home items that can burn a hole in your pocket. It is an excellent way to shield your budget and keep the appliances and systems running for a more extended period.
To help you decide whether home warranties are worth it, go through our detailed guide - How To Decide Whether Home Warranties Are Worth It.
How does a home warranty work?
A service request is filed online or through a call after a home system or appliance breaks down
The service request gets processed and a technician gets assigned
The technician checks the equipment, and suggests a repair or replacement.
If the equipment is unrepairable, the company will be liable to replace it.
Once the repair or replacement is done, you will get a fully functional system or appliance.
Check Out What Customers Speak About Top Home Warranty Companies
I have always had a good experience with Choice Home Warranty. They always keep me informed by email about the claim and have always had a good outcome. Prompt.

Ted Dean

Fredericksburg, VA

My first claim with Home Warranty for our garbage disposal and it was what I expected. We had prompt courteous service and the claim was taken care of in two days.

Enrica Triggs

Douglasville, GA

Customer service was great and they went out their way to make sure I get everything I need for a good price. Thanks Service Plus Home Warranty!

DEBORAH A KIDD

Bethlehem, PA

Company was very professional and courteous. They did an excellent job and cleaned everything up before they left. I would recommend them for future services.

The tech was nice , and did excellent work. Ive used them before this visit and will recommend them to all. Both their visits were prompt and did the work quickly.