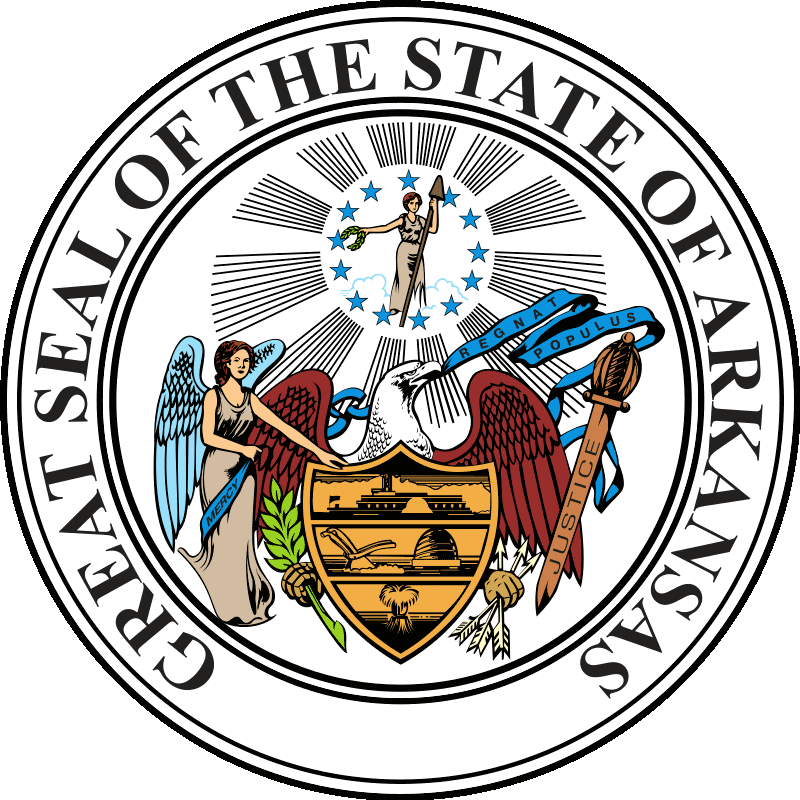 Best Home Warranty Companies In Arkansas
For homeowners, keeping their homes in top-notch condition is a priority. However, this can be a challenge in Arkansas due to its varied climate. Hot summers and potential snowfall in winter can make household upkeep a hefty task!
As the Arkansas locals are experiencing a high cost of living and high tax rates, many have invested in home warranty plans to save money on home maintenance. Many home warranty companies in Arkansas have plans to suit every budget and coverage need of the residents of the state. 
We have evaluated them and provided tips on choosing the right plan based on your requirements. Keep reading to learn more about them.
Our List of Top Home warranty companies in arkansas
90-day service guarantee
Two comprehensive plans
Covers 46 states

$200 Off + 2 Months Free Coverage

Multi-year plans
Same-day response on claims
B rating from BBB

$150 off + Free roof coverage + 2 months free

30-day labor guarantee
90-day parts guarantee
$3k dollar limits on each item

1st month free + Free roof coverage
Disclaimer: We facilitate quotes from reputable home warranty providers and may earn a commission, but that does not influence our evaluation process to produce unbiased reviews.
Comparison Of Top Home Warranty Companies In Arkansas
Among various home warranty companies in Arkansas, we have shortlisted the best ones for you. Take a look:

Best Home Warranty Companies In Arkansas: A Detailed Review
Here is an analysis of the best home warranty companies and their coverage plans. You can learn about their offers and services and choose a plan which suits you the best.
Repair And Replacement Cost Of Various Systems & Appliances In Arkansas
A home warranty ensures that all the essential items in your home susceptible to malfunctions are adequately covered. Without this valuable protection, you may be responsible for bearing significant expenses related to repairs or replacements. 
Below, we have listed the costs of repairing and replacing various commonly used systems and appliances in Arkansas.
Washer/Dryer

can cost to you

Up to $800

Dishwasher

can cost to you

Up to $1000

Garbage disposal

can cost to you

Up to $400

HVAC

can cost to you

Up to $6000

A/C Units

can cost to you

Up to $7000

Septic Tank

can cost to you

Up to $6000

Cooktop/range

can cost to you

Up to $500

Furnace

can cost to you

Up to $5500

Microwave

can cost to you

Up to $400

Refrigerator

can cost to you

Up to $1000
Why Should Arkansas Homeowners Buy A Home Warranty?
Arkansas's climate is generally humid subtropical, with scorching and humid summers and moderate winters. The below-mentioned cumulative data underline the climatic conditions in Arkansas; take a look:

Average Rainfall
50 inch

Average Sunlight
225 Suuny Days/ Year

General Climate Conditions
Hot & Humid Summers

Extremely Cold Winters
Tropical Cyclones
May – September
Let's find out what impact these conditions can leave on your home systems and appliances and why a home warranty becomes a must-buy!
Conditions in Arkansas: In summer, the temperature usually ranges up to 90°F.

What Happens Because Of It?

Systems and appliances like air conditioners, refrigerators, or cooling equipment should always be operational.

Continuous working of these equipment can accelerate their wear and tear.

What Can You Do About It?

Consider regular maintenance of your systems and appliances.

Explore a home warranty plan that covers only heavy systems and appliances like air conditioners or refrigerators with sufficient coverage limits.

Some Arkansas companies offer free AC tune-ups with regular coverage; you can opt for that. American Home Shield offers a free AC tune-up service under the premium plan. Moreover, some companies provide AC tune-ups as add-ons, which you can also consider. 
Conditions in Arkansas: The state receives more than 50 inches of rain.

What Happens Because Of It?

Arkansas's wettest and most humid months are September, October, and November.

Such climate conditions may affect the normal wear and tear of kitchen appliances, electrical systems, or other major appliances.

High humidity and rain can cause roof leaks, pipe expansions, and bursts.

What Can You Do About It?

Residents of Ashley County are advised to promptly look after roof leaks as this part receives the most rain.

Many home warranty companies, such as Choice, ServicePlus, Liberty, etc., offer free limited roof protection along with their regular plans or as add-ons, which homeowners can explore. 
Annual Cost Of Home Maintenance In Top Arkansas Cities 
This section will take you through the average home maintenance costs homeowners pay in some prominent Arkansas cities. Take a look: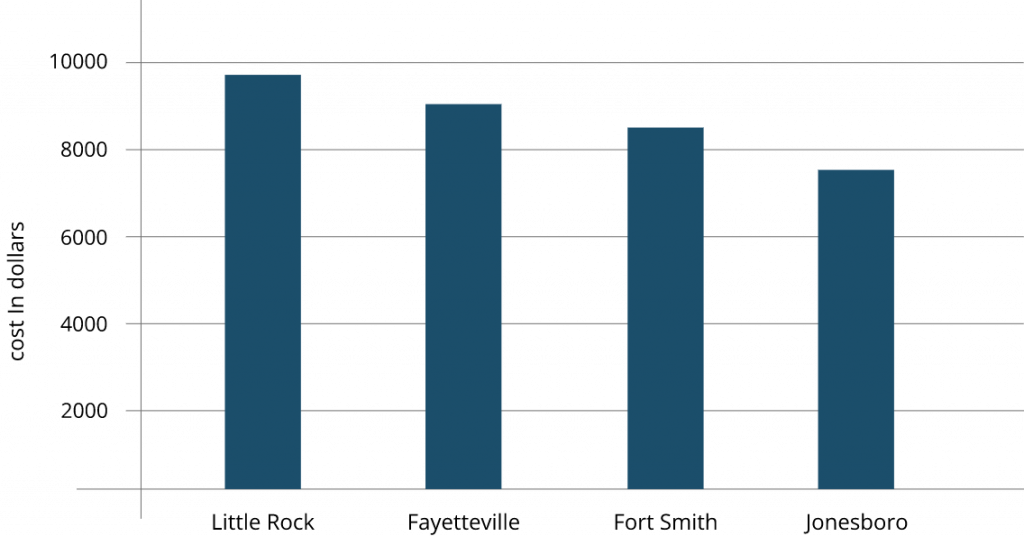 Homeownership brings a lot of things, and home maintenance is one of them. It can be overwhelming for homeowners to cope with the increasing maintenance costs, but we have a solution! Let's examine why homeowners from major Arkansas cities must purchase a home warranty.
Little Rock, Arkansas

City Profile

Little Rock is Arkansas' most populous city, with 748,031 residents. The city is the center of culture, government, transportation, and situations. 

Weather Profile

Summers are hot and humid in the city and last for around five months, from May to September, with an average high temperature of 92 degrees F. While winters are extremely cold and wet, January is the coldest month. 

Economy Profile

The average income of Little Rock homeowners is said to be $46,409 a year, which is lower than the U.S. average of $53,000 a year. On top of that, homeowners must pay an income tax of 6.9%, which is way more than the U.S. average of 4%. It can be difficult for them to cope with the cost of living!

Common Household Issues

In Little Rock, the average age of the houses is almost 40 years. Thus, the systems and appliances will be quite old as well.

Moreover, due to climatic conditions, heating and cooling systems during summer can damage the equipment. 

Significance Of Home Warranty

Humidity, hot weather, and snow in Little Rock can speed up the wear and tear of home systems and appliances.

The high sales and income taxes play a major role in increased home maintenance costs. Thus, it can be difficult for homeowners to look after unforeseen repairs. 

For such reasons, Little Rock homeowners can explore home warranties to cover the repair and replacement costs and save money!
  Fayetteville, Arkansas

City Profile

Fayetteville is Arkansas's second most populous city in Arkansas, with 99,285 people living there. This city is a part of the three-county Northwest Arkansas Metropolitan Statistical Area.

Weather Profile

The climate of this city is subtropical, with hot and humid summers. In summer months, the temperature can range to an average high of 90°F. On the other hand, Fayetteville experiences mild winters, with an average temperature low of 35°F.

Economy Profile

The second-largest city in Arkansas is said to be one of the fastest-growing places in the country. However, many other things are increasing in this city, including population growth (14%), median home price ($332,200), etc. 

Common Household Issues

Similar to Little Rock, homeowners can face issues with HVACs, heating systems, air conditioners, refrigerators, or roof leaks due to varied climatic conditions. 

Significance Of Home Warranty

With a 4% unemployment rate versus a 6% national average, Fayetteville's job market may have seen a 0.7% increase this year but has also faced a spike in housing rates. With an average household income of $37,350, homeowners must save on home maintenance. 

Therefore, we recommend Fayettevillians a home warranty plan that can help them protect their crucial home items at discounted rates!
Fort Smith, Arkansas

City Profile

Lying on the Arkansas-Oklahoma border, Fort Smith is the third most-populated area in Arkansas. As per the data provided by the U.S. Census Bureau in 2022, the city contains around 3,045,637 people. 

Weather Profile

Fort Smith has a humid subtropical climate. The city experiences hot summers with frequent thunderstorms, with around 45 inches of average annual rainfall. Lastly, the winters here are mild to cool winters.

Economy Profile

Over the last year, Fort Smith has seen a dip in the job market by -1.6%. In addition, the city has a high-income tax of 6.9%, compared to the national average of 4.6%. Now, Fort Smith homeowners may find it difficult to keep up with home maintenance with these high tax rates. 

Common Household Issues

Fort Smith's humid summers and frequent thunderstorms can strain your home's major items, including air conditioners, refrigerators, roofs, plumbing, electrical, etc. 

Significance Of Home Warranty

Due to varied climatic conditions and high tax rates in the city, homeowners can look for a home warranty plan that covers major systems so Fort Smith homeowners can protect home items at lower costs.
Jonesboro, Arkansas

City Profile

Jonesboro is located in the northeastern part of Arkansas, having a population of 81,969. The city is also home to Arkansas State University and various economic and cultural institutions. 

Weather Profile

Jonesboro experiences hot summers and mild winters. The city receives plentiful rainfall, averaging 49 inches throughout the year. In the summer, you can expect an average high of 90°F; in winter, the temperature can be an average low of 28°F.

Economy Profile

Jonesboro has seen a 0.7% growth in the job market, but the higher income tax can be a problem for many residents. 

Common Household Issues

Home items in Jonesboro are also not immune to failure or breakdowns. Heavy rain can cause damage to many systems and even your roof. 

Significance Of Home Warranty

Due to increased taxes and difficult climatic conditions, it would be difficult for Jonesboro homeowners to manage the unexpected repair costs. Hence, we recommend they invest in a home warranty plan to help them with hefty repair amounts.
Compare The Best Home Warranty Companies in Arkansas.
Now that you know a homeowner's hardships in Arkansas, it's time to explore some high-rated home warranty companies. The below-mentioned table will give you a quick comparison between the best home warranty companies in Arkansas:
Home Warranty Regulations In Arkansas
The state of Arkansas has implemented the Service Contracts Act (chapter 114 of the Code of Arkansas), which is based on the model service contract act provided by the National Association of Insurance Commissioners (NAIC). 
Under this act, the Arkansas Insurance Department (AID) has been granted regulatory authority over the home warranty industry. Consequently, home warranty companies operating in Arkansas must register with AID and comply with the regulations set by the state insurance commissioner.
AID has established a valuable resource page dedicated to service contracts in Arkansas to assist consumers. Additionally, AID collaborates with the NAIC to offer consumer services, enabling individuals to easily access company license information or file complaints online.
Bottom Line:
You can find various companies operating in Arkansas, and they provide different services. So, in the end, before finalizing anyone, we recommend you read contracts, understand the offerings, and finally decide based on your requirements.
FAQs
How Long Do You Have After A Home Purchase To File A Warranty Deed?
A warranty deed differs from a home warranty as it is a legal document used in real estate. In a warranty deed, two parties are involved, the seller and the buyer, also known as a grantor and a grantee, respectively.
It pledges that the seller owns the property free from outstanding liens, mortgages, or encumbrances. As per Arkansas state law, a warranty deed should always contain the words bargain, grant, and sell. It is generally filed at the time of sale.
Does Arkansas Require Builders To Have A Structural Warranty On A Newly Built Home?
A structural warranty comes with the newly built homes and typically covers items that are permanent parts of the home. The Department of Veterans Affairs (VA) and the Federal Housing Authority (FHA) require builders to purchase a third-party warranty for newly built homes in Arkansas.
Who Needs A Home Warranty In Arkansas?
Buying a home warranty in Arkansas is good for homeowners, home buyers/sellers, or even real estate agents. It benefits people living in small towns, as it is not always easy to find a handyman in rural areas. A home warranty is also an advantage for home sellers in big metropolitan areas like North Little Rock, Conway, or Little Rock, as it enhances the position of the house in the market.
https://www.homewarrantyreviews.com/wp-content/themes/HWR-2020