Best Home Warranty Companies (February 2023 Quick Guide)
Are you looking for the best home warranty companies that repair or replace home appliances and systems at an affordable price? Now finding a home warranty that suits your requirements has become easy. We have brought you the home warranty reviews of the top companies, comparing various factors, including cost, benefits, offers, & plans. This thorough review of the home warranty companies will help you pick a suitable plan.
With the help of the home warranty company comparisons below, you can decide which company to pick that best suits your needs. Through this, you can protect your home from unexpected costly repairs and your finances from unscheduled expenses.
Top Picks of February 2023
These are the top 3 home warranty companies preferred by customers for their elaborate plans and services:
Best Home Warranty Companies
Here is the list of best home warranty companies for February 2023 reviewed by the editors of homewarrantyreviews.com. The below home warranty comparisons are based on benefits, pricing, plans, response time, pros & cons, and user reviews.
Home Warranty Companies Detailed Overview
The plans and coverage options offered by home warranty companies may look similar on the outset, but some crucial details relating to premium & service fee cost, customer reviews, offers, etc., set a good home warranty plan apart from the rest.
The detailed overview of the top home warranty companies below will help you with all the information you may need to identify a company that caters to your requirements: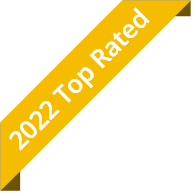 Served 1.6 million+ customers
3rd largest service provider
Has service experience of over 13 years
Excluded States: Washington
States Covered 49
Why Choice Home Warranty?
Customer reviews suggest that Choice Home Warranty's plans offer comprehensive coverage to their households. Their Total Plan covers over 18 items, which includes all the crucial systems and appliances. Additionally, their add-on options help customers include some lesser-covered items in their plans.
Coverage
Choice Home Warranty offers 2 plans- Basic Plan and Total Plan
There is also a provision to build your plan as per your needs and requirements
Know more about Choice Home Warranty plans

›
In the business for over 5 decades
Served 2 million+ customers
Over 17,000 qualified contractors
View More
Excluded States: AL
States Covered 49
Why American Home Shield?
American Home Shield is the pioneer of the home warranty industry with over five decades of experience. The company is known for its customer service and extensive contractor network. AHS claims that it has over 17,000 contractors and over 60,000 licensed technicians across the country, which very few companies in the industry can match.
Coverage
American Home Shield offers 3 plans- ShieldSilver, ShieldGold & ShieldPlatinum
AHS also offers many add-on options to customize the plan, as per your requirement
Know more about American Home Shield Plans

›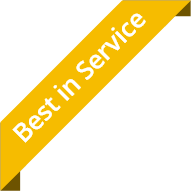 Assigns local contractors for a quick resolution
24/7/365 claims hotline available
Excluded States: California, NV, NY, WA
States Covered 46
Why ServicePlus Home Warranty?
ServicePlus Home Warranty is comparatively a new company in the industry, and in a short period, it has earned a reputation for offering commendable customer service. Additionally, the company offers attractive deals on its plans, making it an affordable choice as well.
Coverage
ServicePlus offers 2 plans: Gold Plan and Platinum Plan
You can also customize your plans by adding optional coverage to the plans
Learn more about ServicePlus Warranty's plans

›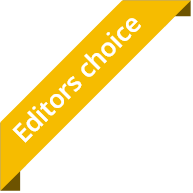 Offers coverage for mobile homes
Offers same-day response on service requests
Excluded States: NewYork, Nevada, Washington, Wisconsin
States Covered 46
Why Select Home Warranty?
With an experience of over ten years, Select Home Warranty has built a credible reputation for itself. The premium offered by the company is among the lowest in the industry, which starts from as low as $44. Also, customers appreciate their diverse coverage options, including free roof coverage, which many companies do not cover.
Coverage
Select Home Warranty offers 3 plans for the homeowners- Bronze Care, Platinum Care, and Gold Care
Learn more about Select Home Warranty coverage and plans

›
Offers coverage without maintenance record
Accredited with A- BBB ratings
Excluded States: Washington, Wisconsin
States Covered 48
Why Liberty Home Guard?
Customers have appreciated Liberty Home Guard's service quality and quick response time in reaching back to their customers' claims. The company claims to get in touch with the customers within 24-48 hours of filing claims. Additionally, their live-in-chat feature has made it easy for customers to get in touch with the company executives to resolve their issues.
Coverage
Liberty Home Guard offers 3 plans- Systems Guard, Appliances Guard, and Total Home Guard
All three plans are flexible, and customers can add optional coverage as per their needs
Find out more about Liberty Home Guard plans

›
Service experience of over 2 decades
Offers freedom to pick your contractor
Service Request$50, $100, $125
States Excluded : California, NH
States Covered 48
Why America's Preferred Home Warranty?
AHPW offers coverage for various needs of different homeowners, giving the company an edge among companies that offer unilateral plans. APHW's plans for multi-family homes benefit homeowners who rent units to tenants or dwell in shared living spaces like apartments.
Coverage
America's Preferred Home Warranty's monthly plans offer great coverage
From single-family homes to multi-family homes, APHW has plans for everyone
APHW's Basic Plan covers all the major home appliances. It also offers a preferred upgrade to add to your basic coverage
Explore APHW's plans in detail

›
Industry veteran with over 30 years of experience
Great coverage for home buyers & sellers
Service Request$100, $125
States Excluded : AL, AZ, AR, CA, CO, FL, HI, ME, LI, ID, NV, NH, NM, NE, MS, OH, OK, OR, SD, TX, UT, WV, WY, VT, WA
States Covered 30
Why HSA Home Warranty?
Home Security of America is a preferable option if you are buying or selling a home in the real estate market. The company exclusively offers plans for homes listed to be sold and both homeowners and real estate agents can buy these plans.
Coverage
Home Security of America has 2 plans: Buyers Only Plan and Seller/Buyer Plan
Seven Star update offered by HSA covers many additional items
Along with the Seven Star update, customers can also add on many additional systems and appliances at an additional cost for comprehensive coverage
Learn more about HSA Home Warranty's plans

›
Industry experience of over 25 years
30-day money-back guarantee
Included- available nationwide
States Covered 50
Why Home Warranty of America?
Home Warranty of America is among the handful of companies with over two decades of experience in the industry. Customer reviews across platforms suggest that the company's overall claims-filing process makes it a preferable choice. Specifically, their online claim process makes it easy for customers to file claims when they encounter issues at home.
Coverage
Home Warranty of America has two plans- Premier Plan and Premier Plus Plan
The coverage offered by these plans is comprehensive at the offered price point
Know more about the plans offered by HWA

›
Claims worth $219 million paid in 2021
No mandatory home inspection
States Excluded : Alaska, Connecticut, Delaware, Hawaii, Illinois, Louisiana, Maine, Massachusetts, Minnesota, New Hampshire, New York, North Dakota, Rhode Island, Vermont, or Wisconsin.
States Covered 35
Why First American Home Warranty (FAHW)?
FAHW offers plans priced comparatively lower than other top home warranty companies. The company has set a benchmark in paying out claims filed by customers. The company claims that over 62% of its customers filed at least one claim for which FAHW has paid $219 million as settlements in 2021 alone.
Coverage
FAHW offers two plans- Basic Plan & Premier Plan
The company allows customers to add on eight other items at an additional cost
Learn more about FAHW's coverage and plans

›
Offering services for over 40 years
Offers $50 for use of filters for A/C & refrigerator
Service Request $100-$150
States Excluded : CA, HI, IA, NM, OK, WA
States Covered 44
Why Cinch Home Services?
The feature that sets Cinch apart from other home warranty companies is the 180 days workmanship guarantee it offers post-service to customers against the industry standard of 90 days. This ensures that customers need not file fresh claims if the earlier repair work is not satisfactory, thereby saving their time and effort.
Learn more about Cinch Home Services' coverage and plans

›
Compare Best Home Warranty Companies
Here is the list of pricing, ratings & benefits offered by some of the best home warranty companies to help you make comparisons:
| | | | | | | |
| --- | --- | --- | --- | --- | --- | --- |
| Company | | Our Rating | USP | Monthly Charge | Service Fee | BBB Rating |
| | | Based on 9555 Reviews | Best for comprehensive coverage | $46-$55 | $85 | B |
| | View More | Based on 16725 Reviews | Best for claims settlement | $35-$70 | $75, $100, $125 | B+ |
| | | Based on 847 Reviews | Best for customer service | $50-$60 | $75 | B |
| | | Based on 4541 Reviews | Best for affordable premium | $44-$60 | $100 | B+ |
| | | Based on 164 Reviews | Best response time | $35-$50 | $90 | A- |
| | | Based on 917 Reviews | Best for multi-family homes | $40-$47 | $50, $100, $125 | A+ |
| | | Based on 2465 Reviews | Best for real estate deals | $40-$50 | $100, $125 | B |
| | | Based on 2474 Reviews | Best for overall claims process | $45-$58 | $75 | NR |
| | | Based on 2425 Reviews | Best for transparency | $33-$58 | $85 | B+ |
| | | Based on 127 Reviews | Best customer satisfaction | $35-$70 | $75, $100, $150 | B+ |
What Are The Factors Affecting The Buying Decision?
Identifying an ideal home warranty that caters to your needs requires a lot of research. Some points especially need more consideration than others, such as coverage details of the plans, premium & deductible cost, location, and customer service.
Let's look into these points in detail:
Location
First and foremost, you must find the list of home warranty companies operating in your state. It must be noted that only a handful of companies operate nationwide, while some offer services in selected states. Click on your state on the map below to get the top-performing companies list.
Coverage
Home warranty coverage varies depending on the company and the chosen plan. However, most companies offer generic coverage. For example:
Electric System
Heating System
Ductwork
Refrigerator
Plumbing System
Microwave
HVAC System
Dishwasher
You can also choose optional add-ons. These items typically include: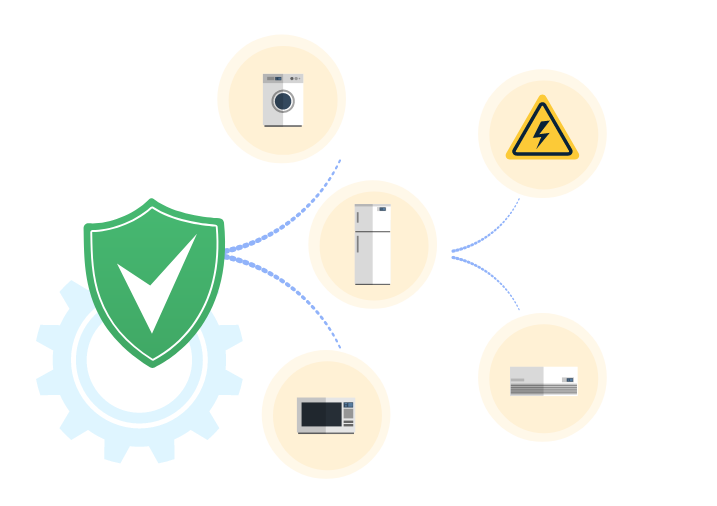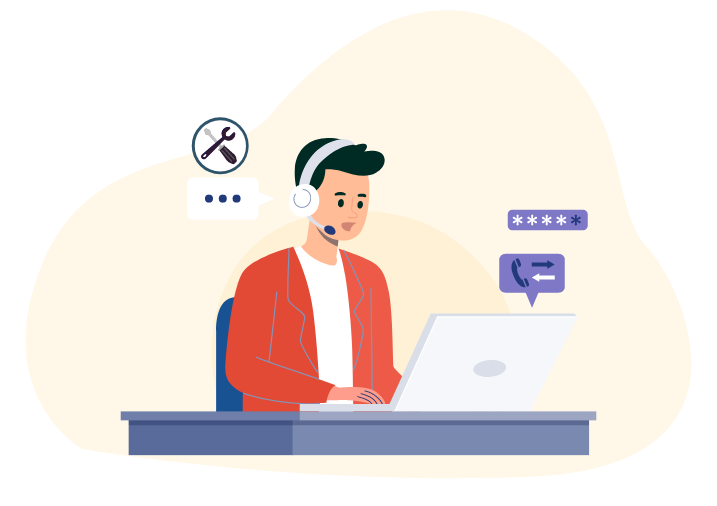 Customer Service
It is essential to find out the quality of customer service offered by the home warranty companies. There are three aspects to this-
Ease of getting in touch with the company to file claims: Make sure that you can get in touch with the company with ease using multiple means.
Quality of work by the company's contractors: Make sure that the comapny hires licensed and experienced contractors.
The extent of post-service guarantee: Make sure that your company offers lengthy workmanship guarantee.
Cost
Home warranty companies usually charge two types of fees from the customers- monthly or yearly premiums and service fees. You are expected to pay the premiums of the plan you choose based on the coverage limit, location, waiting period, and add-ons.
On the other hand, you must pay the service fee or deductible when a contractor pays you a visit for maintenance work.
Note that the premium cost of many home warranty companies depends on the service fee you select to pay. Therefore, it is another aspect you must consider while negotiating with the companies.
Learn more about home warranty cost details here

›
How To Choose The Best Home Warranty Company?
One of the major concerns leading to unsatisfactory experience among the customers that we notice is the mismatch of expectations placed on the home warranty companies. This primarily happens for two reasons:
There is a disconnect between what the customer wants and what the company offers
Customers miss out on reading the fine print and the terms of service offered by the company
Prospective customers are misled by reviews coming out of poorly researched sources
Follow these steps to identify an ideal home warranty that fits your requirements:
Determine Coverage needs
Make a list of the things you want the home warranty to cover. Identify systems and appliances that are crucial for the functioning of your home and those that are relatively old (older than 3-4 years), as these may be more in need of protection.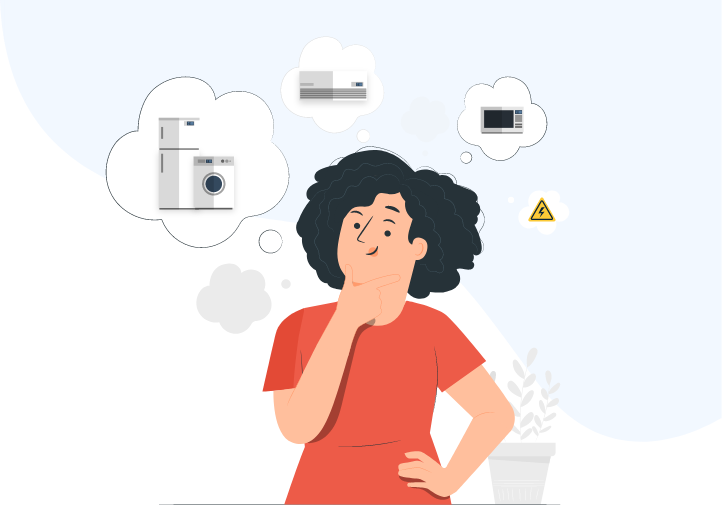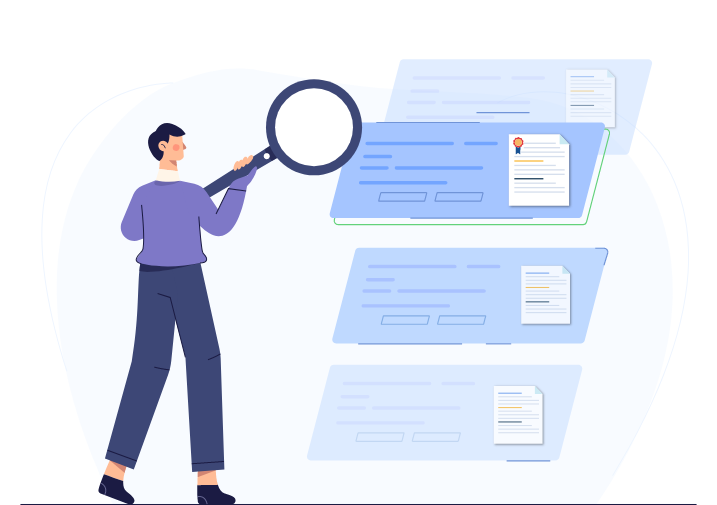 Find Companies That Match Your Requirements
The USP of every home warranty company differs, and therefore you must shortlist companies that cater to your needs. Check if the company's coverage list meets your requirement and if the cost fits your budget. Ensure that the customer representative answers all your questions to your satisfaction before you proceed.
Read The Fine Print & Terms Of Service
The importance of reading the fine print and terms of service cannot be stressed enough. Companies lay out many conditions for their services in these columns, which are not advertised.
Therefore, before finalizing the deal, customers must know the extent and limitation of coverage for all their appliances and services. This will help them in avoiding future conflicts that may arise with the home warranty company.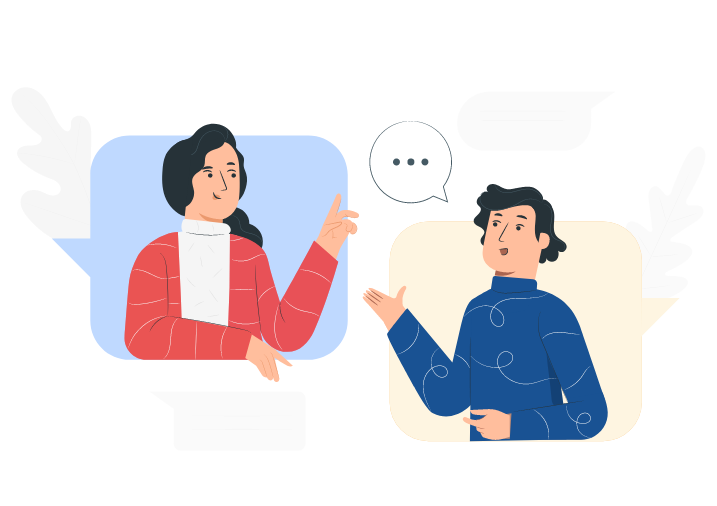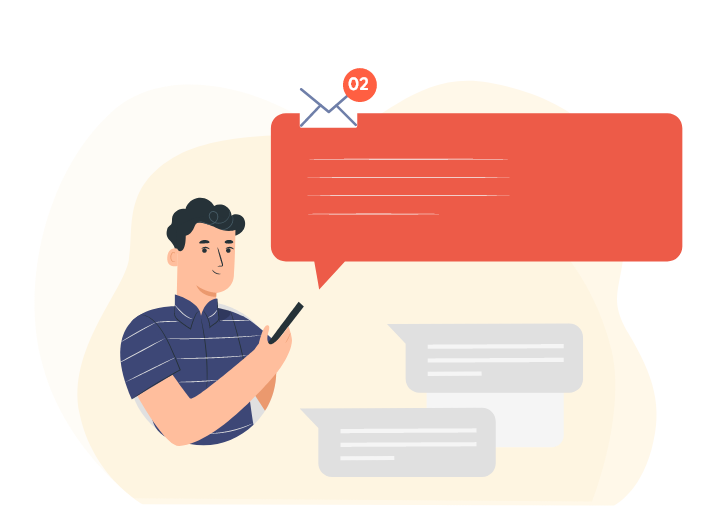 Get Your Information For Authoritative Sources
Many sources peddle home warranty reviews, but most of these are not authoritative. Many multi-vertical sites have started listing home warranty companies, where any information related to home warranty exists in one or two pages.
As a result, it is evident that apart from company lists, you get no substantial information required to help you make an informed choice. It is advisable to consult sources dedicated to learning about the home warranty users' requirements and the companies' reviews.
If you want to learn more about choosing a home warranty, read our detailed guide on purchasing a home warranty.
How Do Home Warranties Work?
Home warranties are supposed to protect you from spending excessive money on repairs and replacements for malfunctioning appliances and systems. Home warranty companies offer coverage for these potential damages by collecting a premium once a month or a year.
Once you purchase a plan, you are entitled to file for claims if any covered items malfunction, generally after a 30-day waiting period from the date of purchase. The steps below will help you file a claim and get the company's promised service.
Step1:
Firstly, you request service by contacting the company's customer support department. After submitting the request, the company will process it further and assign you a licensed contractor or technician.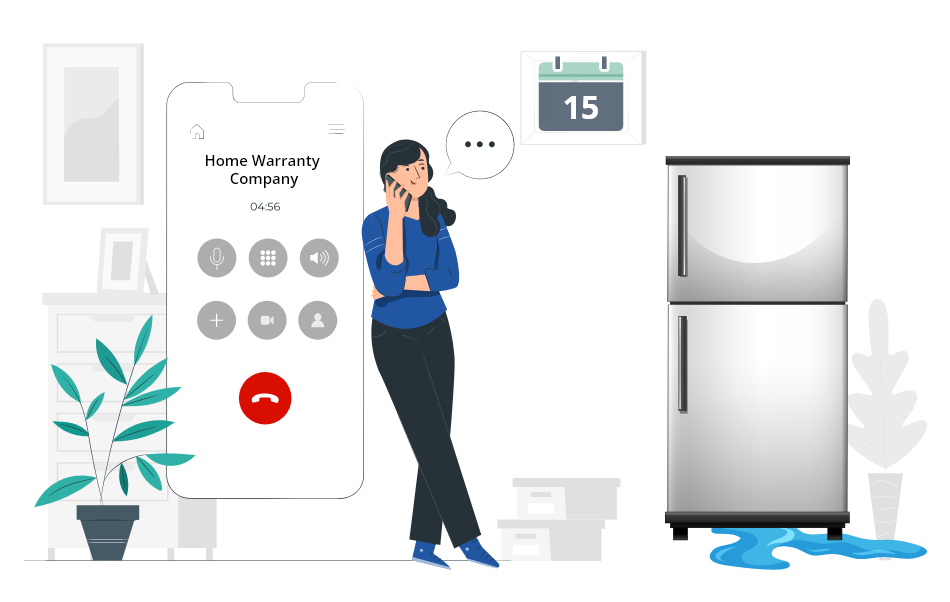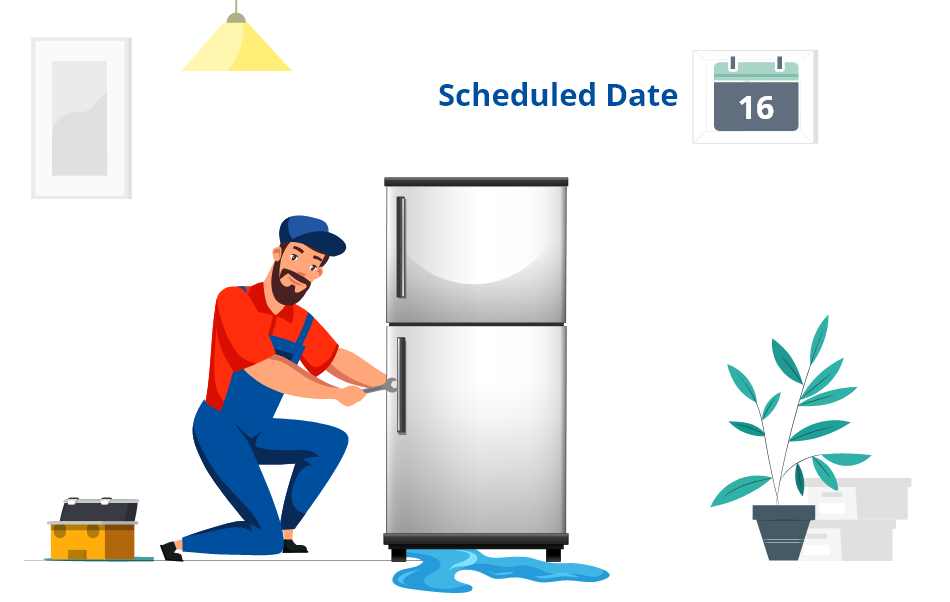 Step2:
The assigned technician will arrive at your doorstep at the earliest, diagnose the problem, and inform the company about it.
Step3:
Depending on the information provided by the technician, you will receive a repair or replacement service. In exchange for this, you are required to pay a service fee as mentioned in your contract.
Note: The process may change depending on the company, so we encourage you to read the service agreements carefully.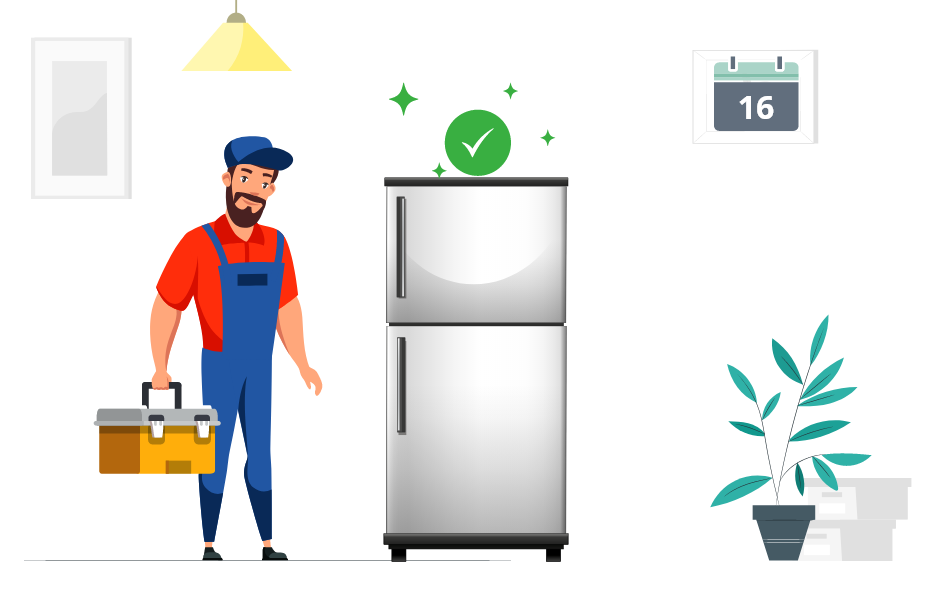 Home Warranty Vs. Home Insurance
Home warranty is a service contract that helps you repair and replace household appliances and home systems with basic pay. Home insurance is property insurance that protects it against losses and damages.
In case of a breakdown of an appliance or system, a home warranty plan covers all of it with a service call fee. Home insurance includes protection of personal belongings, the structure of a home, liability, and living expenses.
The important difference between a home warranty and home insurance is their coverage. A home warranty can help you stay ahead of your home's expenses.
Our Methodology
At HomeWarrantyReviews.com, we are dedicated to providing in-depth home warranty reviews so you can choose the best home warranty company & make the most out of it. We examine, compare, and analyze the companies on the following factors:
Cost: We compare the costs of home warranty plans and determine if those are cost-effective. The pricing includes monthly/annual premiums, deductibles, and customer discounts.
Coverage: We compare the costs of home warranty plans and determine if those are cost-effective. The pricing includes monthly/annual premiums, deductibles, and customer discounts.
Claims: We compare companies' claims filing procedure, settlement, and response times. We also look at customer reviews and determine how satisfied they were with the provided services.
Transparency: We verify if the home warranty company is licensed within the appropriate industry and offer details on the CEOs, contractors, and several settled claims.
Uniqueness: We examine whether the company offers additional services, advantages, or coverage alternatives that set them apart from the competition.
Customer Engagement: We assess the determination of home warranty companies responding to consumer problems through our Complaint Resolution Program.
Customer Reviews: We collect user reviews to understand their views better about the company. However, we have noticed that customers dissatisfied with a service have more chances of writing a review in the hopes of finding a remedy than a satisfied customer. This leads to the accumulation of negative reviews and gives out a skewed perception of the company. Therefore, along with user reviews, we consider many other factors while rating a home warranty company in the interest of accuracy.
Why trust HomeWarrantyReviews.Com

We are America's first independent home warranty review & research platform

We have been assisting our readers for more than 14 years

We have listed more than 80+ home warranty companies

We have nearly 100,000 genuine & verified customer reviews

We use a two-step verification process to maintain the authenticity of reviews

We allow users to connect directly with the company's representatives to resolve issues through our Complaint Resolution Program
Frequently Asked Questions
Q.
Who Needs A Home Warranty?
A.
A home warranty is a good idea for people who own older homes with aging systems and appliances likely to break down. It can also be a good purchase for landlords, home buyers or sellers.
Q.
Which Company Has The Best Home Warranty Program?
A.
It's difficult to pinpoint any one company since they all tend to differ on various parameters. We shortlist the best companies based on various criteria and present them with awards on annual basis.
Q.
What Is A Trade Service Call Fee? Should Homeowners Bear This?
A.
A trade call fee is a payment a customer must pay during service visits. Companies also refer to it as deductible, service fee, or copay. This amount is non-refundable and varies depending on the company.
Q.
Who Regulates Home Warranty Companies?
A.
Home warranty companies are regulated by different bodies in each state, such as the Texas Real Estate Commission in the state of Texas. Overall, the National Association of Insurance Commissioners also makes a lot of statements about the service contract industry, though it is not insurance.
There is a self-regulating body called the National Home Service Contract Association (NHSCA), the members of which follow regulations and ensure that they are properly licensed.
Q.
What To Look For In A Home Warranty Company?
A.
While choosing a warranty company, carefully check out the company's service agreement, inclusions, exclusions, and cost details, among others.
Q.
What Isn't Covered Under A Home Warranty?
A.
A home warranty typically doesn't cover damages due to improper installation, cosmetic issues such as scratches or dents due to failed maintenance, misusing items, or repairs that are not included in your coverage plans.
Q.
What Is Covered Under A Home Warranty?
A.
A typical home warranty covers the cost of the service, repair, or replacement of major home appliances and systems. Every company has different coverage options, which you can check in their agreements.
Q.
How Long Does A New Home Warranty Last?
A.
Generally, a home warranty lasts for a year, but the majority of companies renew the home warranty at the end of the term. Some companies also offer plans for longer terms.
Q.
What Is The Average Waiting Period Of Any Warranty Company?
A.
The average waiting period of any home warranty company is 30 days. However, it may increase or decrease depending on the company. So we recommend you confirm it with your home warranty provider at the time of purchase.
Q.
What Are Home Warranties For Multi-Family Homes?
A.
Home warranties for multi-family homeowners renting one or many appliances and services with their tenets or other households. This coverage is particularly useful for homeowners residing in apartments or family dwellings.
https://www.homewarrantyreviews.com/wp-content/themes/HWR-2020