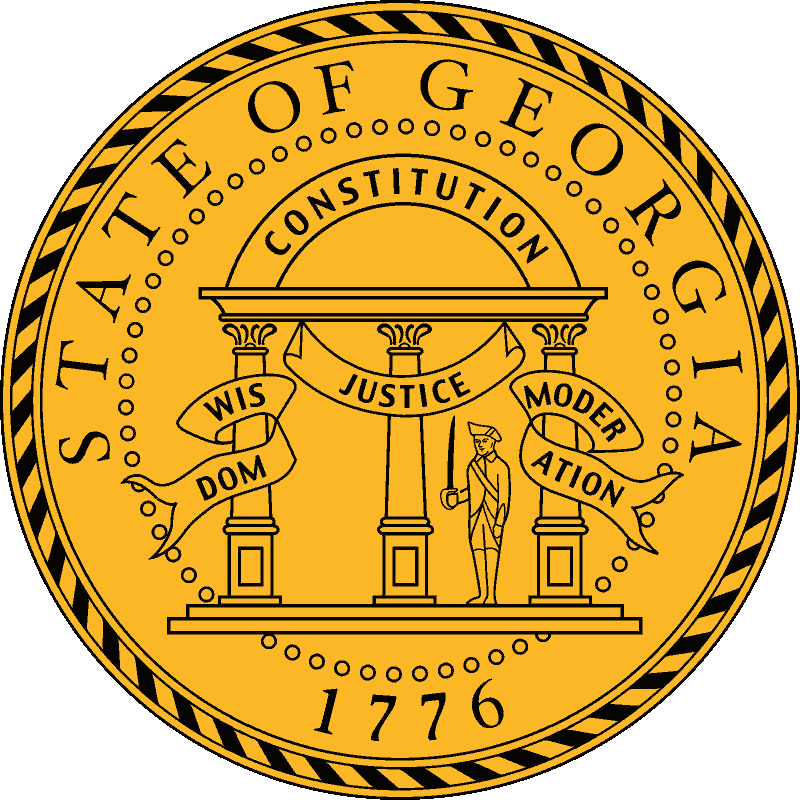 Best Home Warranty Companies In Georgia
In Northern Georgia, winters freeze, while the south sizzles in hot summers. These extreme conditions take a toll on home systems and appliances, causing stress.
Facing rising property taxes, sales taxes, and rentals, Georgians find it challenging to handle repair and replacement costs. To ease this burden, we've reviewed Georgia's top home warranty companies, making it easier for you to secure your home and finances.
Our List of Top Home warranty companies in georgia
90-day service guarantee
Two comprehensive plans
Covers 46 states

$200 Off + 2 Months Free Coverage

Multi-year plans
Same-day response on claims
B rating from BBB

$150 off + Free roof coverage + 2 months free

30-day labor guarantee
90-day parts guarantee
$3k dollar limits on each item

1st month free + Free roof coverage
Disclaimer: We facilitate quotes from reputable home warranty providers and may earn a commission, but that does not influence our evaluation process to produce unbiased reviews.
Comparison Of Top Home Warranty Companies In Georgia
Among various home warranty companies in Georgia, we have shortlisted the best ones for you. Take a look:

Best Home Warranty Companies In Georgia: A Detailed Review
This section will detail the top-rated Georgia home warranty companies' plans, pricing, terms, and exclusions.
Repair And Replacement Cost Of Various Systems & Appliances In Georgia:
If you have a home warranty, you can cover all your home items that you regularly use and are more prone to breakdowns. However, without it, you may have to pay a substantial amount for repairs/replacements. The table below details the repair and replacement costs of some commonly used systems and appliances in Georgia. Take a look:
Microwave

can cost to you

Up to $400

A/C Units

can cost to you

Up to $7000

Refrigerator

can cost to you

Up to $1000

Washer/Dryer

can cost to you

Up to $800

Septic Tank

can cost to you

Up to $6000

Dishwasher

can cost to you

Up to $1000

Furnace

can cost to you

Up to $5500

Cooktop/range

can cost to you

Up to $500

HVAC

can cost to you

Up to $6000

Garbage disposal

can cost to you

Up to $400
These are some common repair and replacement costs that you can expect to pay in Georgia. But the weather is another major factor that can take a toll on your home systems and appliances, and the fixing cost may rise. Head to the section below to know more!
Why Should Georgians Buy A Home Warranty?
Georgia is primarily hot and humid, speeding up the normal wear and tear of your HVAC systems and other household items. The below-mentioned cumulative data underline the climatic conditions in Georgia; take a look:

Average Rainfall
45-50 inches/ Year

Average Sunlight
218 Sunny Days/ Year

General Climate Conditions
Hot and Humid Summers

Mild Winters 
Tropical Cyclones
June-November
You may be wondering how does the weathering profile affect the home items. We have the answers; look at this table that talks about common issues that can occur due to climatic conditions in Georgia and how home warranties can help fix them. 
Conditions in Georgia:-Georgia's summer is considered the hottest, with an average low of 89℉ and a high of 95℉

What Happens Because Of It?

The hot and humid summers exert immense pressure on the HVAC systems.

Clogged filters, water leaks, and airflow issues are some of Georgia's most prevalent problems with HVAC systems.

These issues are also the main reason for high energy costs.

What Can You Do About It?

Consider regular system maintenance as it reduces the risk of costly breakdowns by 90%.

Explore home warranty options that cover HVAC, air conditioners, or cooling systems with sufficient coverage limits; if anything happens, you will have your warranty handy to tackle the situation.  

American Home Shield is one such company that offers system coverage of up to $5,000 and a free AC tune-up service under the premium plan, which can be considered. 
Extreme weather, such as storms and strong winds, can cause the roof to become unstable and lead to roof leaks. 

What Can You Do About It?

Residents of Cobb County, Atlanta, are especially advised to promptly look after roof leaks as it is a storm-prone area.

Many home warranty companies, such as ServicePlus Home Warranty, offer free limited roof protection and regular plans, which you can explore. 
Annual Cost Of Home Maintenance In Top Georgia Cities 
This section will take you through the average home maintenance costs homeowners pay in some prominent Georgia cities. Take a look: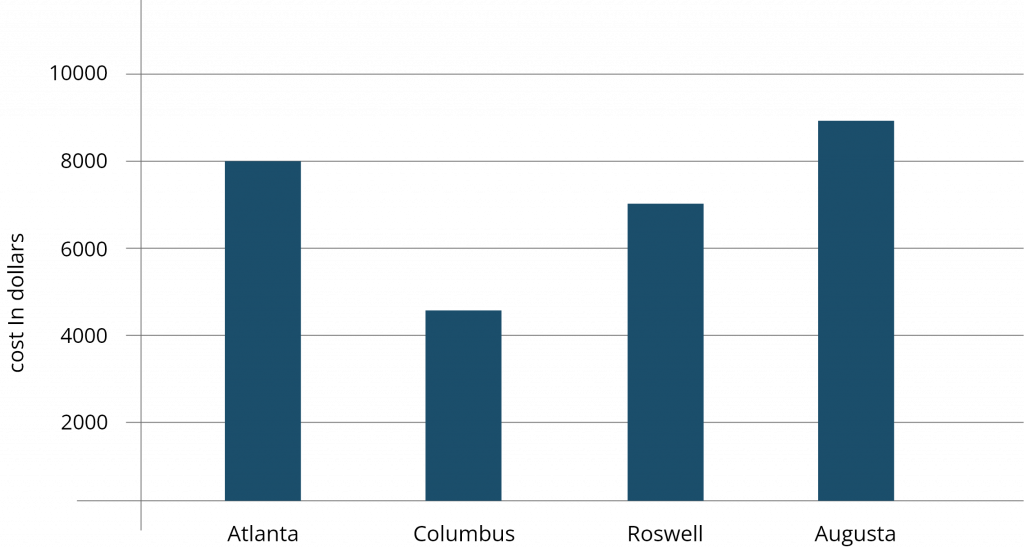 Yes, homeownership comes with home maintenance, and since these costs are comparatively higher, let's look at why Georgians from the major cities must purchase a home warranty.
Atlanta, Georgia

City Profile

Atlanta is the capital of Georgia and the most populous city, with 498,715 people living within it. The Atlanta metropolitan area is home to over 6.1 million people, which makes it the eighth-largest metropolitan area in the States. 

Weather Profile

During summers, Atlanta's weather gets humid and warm, with July being the hottest month, where the average temperature rises to 90℉ . March is the wettest month, with 4.9 inches of rainfall, followed by mild winters with 53℉ . This indicates that Atlanta experiences mild humidity and a subtropical climate. 

Economy Profile

With a whopping 43% increase over the previous five years, Atlanta has seen the highest increase in rental prices compared to the country. The current average rent in the area is $1,747 per month. 

Maintaining the functionality of the home's systems and appliances becomes a costly task for homeowners when maintenance costs of around $8000 are added in.

Common Household Issues

Due to significant usage during summer, damage to air conditioners is very common in Atlanta. Homeowners also face roof leaks at times of storms and heavy rains. 

Over time, Atlanta homeowners might also find a variety of plumbing problems, such as low water pressure, leaks, pipe damage, or slow drains.

Significance Of Home Warranty

Humidity, warm weather, storms, and heavy rains in Atlanta speed up the process of wear and tear of home systems and appliances.

The rising property rates and rental pricing play a major role in increased home maintenance costs. Thus, it can be difficult for homeowners to look after unforeseen fixes. 

For these reasons, Atlanta homeowners must explore home warranty options to cover the repair or replacement costs and save on home maintenance.
Columbus, Georgia

City Profile

Columbus is the city county and the second-largest city in Georgia. It is also considered the fourth-largest metropolitan area of the States, with a population of 206,922.

Weather Profile

In Columbus, the seasons are long, hot, and humid in the summer and short, cold, and wet in the winter. The city also experiences year-round seasonal rainfalls. The average annual temperature in Columbus ranges between 38°F and 91°F, rarely falling below 25°F, which means the city mostly faces warmth. 

Economy Profile

Columbus's sales tax rate is 8.0% versus the U.S. average of 7.3%. The income tax rate is 6.0%. Versus the U.S. average of 4.6%. When comparing the cost of living, these tax rates can make a significant difference. Where the average household income is $41,362 a year, lower than the national average, it becomes crucial for Columbus homeowners to save on home maintenance.

Common Household Issues

Similar to other cities of Georgia, homeowners can face issues with cooling systems, HVACs, or roof leaks due to continuous rainfalls. 

Significance Of Home Warranty

With a 5.3% unemployment rate versus a 6% national average, Columbus's job market may have seen an increase but has faced a spike in tax rates. Where the average household income is $41,362, Columbus homeowners need to save on home maintenance. 

Hence, a home warranty is a worthy consideration when Columbus homeowners need help during unforeseen circumstances.
Roswell, Georgia

City Profile

Roswell, the ninth-largest city of Georgia, is in Fulton County. Its population is 92,833, with 14% being in the technical sector. The city also has large industries like retail, health care, technology, and food services.

Weather Profile

In Roswell, the average daily temperature ranges from a high of 80°F (27°C) to a low of 59°F (15°C). Roswell experiences its hottest month in July, with daily highs of 92°F (33°C). 

The average relative humidity in Roswell is 72%, considered moderately humid but cool. The highest relative humidity, at 86%, is in January. 

Economy Profile

Roswell has high taxes compared to the national average. The income tax rate in Rosewell is 6% versus the U.S. rate of 4.6%.

Homeowners may find it difficult to keep up with home maintenance due to high tax rates. 

Common Household Issues

Roswell's hot summers, where the average temperature goes up to 92℉ , can strain the home's major systems, including air conditioners, refrigerators, etc. When used regularly, devices are prone to wear and tear and may eventually break down. 

Significance Of Home Warranty

Along with dealing with the increased taxes, Roswell homeowners spend around $7,000 annually on home systems and appliance repairs.

Therefore, a home warranty plan that covers air conditioners, refrigerators, and other major systems can be Roswell homeowners' best to protect home items at lower costs.
Augusta, Georgia

City Profile

Augusta, or Augusta-Richmond County, is the third-largest city on the eastern border of Georgia. With a population of 202,081, Augusta is the 116th-largest city in the United States. 

Weather Profile

The year-round weather in Augusta is wet and partly cloudy, with hot and humid summers and short, cold winters. The hottest month in Augusta is July, which has an average high temperature of 92°F; with an average low temperature of 39°F. January is the coldest month in the city.

Economy Profile

Augusta has an unemployment rate of 4.1% against the state average of 2.1%. On the top, the city has a high-income tax rate of 6.0% v/s the country's average of 4%. These figures can impact the overall cost of living.

Common Household Issues

Augusta homeowners often complain about leaky plumbing and faulty air conditioners. Such issues are common but expensive to fix.

Significance Of Home Warranty

Due to a low employment rate, it would be difficult for Augusta homeowners to cope with unexpected repair costs. Hence, it is recommended that Augusta homeowners invest in a home warranty plan where they can get fixtures without paying hefty amounts. 
Compare The Best Home Warranty Companies in Georgia
Now that you know how expensive this maintenance can be, you can explore home warranty options. The below-mentioned table gives you a quick comparison between the best home warranty companies in Georgia:
Home Warranty Regulations In Georgia
The Georgia Department of Insurance regulates home warranty companies. State law mandates home warranty companies to ensure proper financial backing and insurance, but there is no actual procedure for checking if they have done so. The Governor's Office of Consumer Protection also assists residents with issues.
Bottom Line
Georgia has various home warranty companies offering different home systems and appliance coverage. As discussed, the customer service quality and coverage options are distinct. Before purchasing one, we recommend you evaluate home warranty companies based on your requirements.
FAQs
Is It Worth Buying A Home Warranty In Georgia?
Home warranties may help significantly reduce the repair and replacement costs of home systems and appliances that are aging and prone to regular breakdowns. Based on your chosen company, the plans may cover over ten items for a few hundred dollars annually. If you select a company with high coverage caps, the plan may be well worth it.
Does Choice Home Warranty Cover Georgia?
Yes, Choice Home Warranty provides services in Georgia and is one of the more popular companies in the state.
How Does A Home Warranty Claim Work?
You must file a claim when any covered home system or appliance breaks down. The company representative will determine if there is preliminary coverage and assign a service technician to visit you and diagnose the problem.
If the technician diagnoses failure of a covered component, the company will decide whether to repair or replace the item. You must pay a trade call fee to help cover parts and labor costs.
I Have Homeowners Insurance. Do I Need A Home Warranty?
Although a home warranty is not mandatory, like home insurance (if you have a mortgage), having one can help cover liabilities that home insurance misses. As home appliances age, they are prone to breakdowns, which can be costly.

You can learn more by examining the differences between a home warranty and home insurance.
Do Builders Offer Home Warranties?
Builders offer new home construction or structural warranties, an entirely different product. Newly built homes typically have an OEM warranty covering the home systems, so a home warranty may not be helpful.
https://www.homewarrantyreviews.com/wp-content/themes/HWR-2020