Cleaning and Maintaining Your Barbecue Grill
PUBLISHED: March 16, 2018
•
6 MINS READ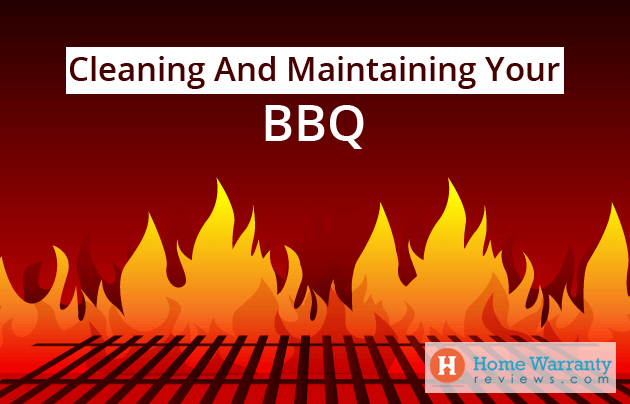 Spring is just around the corner, and all you homeowners are all set for the poolside and backyard barbeque parties. Now before you bring in all the ingredients and resources needed for a barbeque, check your grill whether it's still functional. There's a high chance that there might be a collection of gunk and burnt food blocking all the important tubes and valves. So before you get ready to fire up those grills, do check out these handy pointers that will ensure you get the best cook out session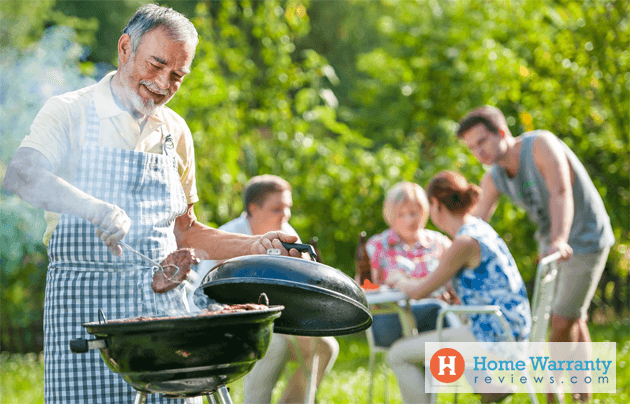 Check BBQ for Blockages and Open Valves

The first thing you need to do to maintain your BBQ is to check out the burnt food residue and gunk that has been left over from your previous session. Most often, since the burnt food would still be surrounded by piping hot coals, they are ignored until the next session of barbeque.

Taking out the main grill and giving it a thorough scrub is the first and most obvious task, but you will need to remove all the coal from the bottom to find the gunk that seeps through it.

If you have a gas grill, however, you may have to check all the valves of your gas cylinder. Before cleaning it's best to remove the propane tank needed for grilling.


Clean When Grill is Still Warm

If you've just completed a grill session with your friends, it's advisable to clean as soon as possible. The first task would be to disconnect your propane tanks and use steam to clean the insides while you still use the grill. This can be achieved by placing a heatproof bowl or an old tin full of water on your grill and closing the lid. The steam helps liquefy the burnt food and makes it easier to wipe off after.

This is because, BBQ grills are mostly used to grill meat, and that involves the stuffing or marinade coating sliding off the edges or being cooked into a hard crust on your grills.

Keep in mind, the steaming method can also cause scalding if not handled appropriately.

Another tip would be to use your dishwasher to clean your grills and hot plates. Instead of spending hours rigorously cleaning by hand. Automatic dishwashers are especially effective in terms of getting rid of grease. Washing of grease by hand will not only ruin your clothing but will also lead to grease splashing out onto your surroundings. Furthermore, grease is an instantly attracts of ants.


Evaporate Excess Suds

After you're done washing your grill with dishwasher soap and water, run your gas grill for about 15 minutes to evaporate and burn the excess suds. Proceed to then spray cooking oil onto your grill to reseason it.

Lava Stone Vs Coal




Some people, prefer to use lava stones instead of coal because they're not as messy when cleaning up compared to coal. But prolonged use of lava stones will lead to grease layering on top of them and create a foul stench when used the next time.

In order to clean lava stones, simply dunk the stones in a bucket of warm to hot water for an hour. The hardened grease and crud will dissipate and float away from the lava stones.

Remove Excess Grease and Oil

People often forget that grease and oil if left behind become quite rancid. This is even more so in the summer where the blazing heat of the sun. This will instantly cook your leftover grease and oil, leaving you to deal with the horrible stench and a thick coat of muck which would take hours to clean.
Don'ts of Barbeque Cleaning


Now that you know the different steps you need to take to clean your barbeque grill, here are a few don'ts when it comes to maintaining your barbeque.


1. Don't Use High-Pressure Washers/ Garden Hoses
High-pressure washers and water jets cause more harm than good when it comes to cleaning your barbeque grill. Why have to clean up after the grease that spilled out? Also, it can push the grease further inside your grill like your burners. Since the burners are very delicate, grease that clogs up is very hard to remove. You should think twice before you make a very serious mistake while cleaning. Grease spreading into your burners can affect the flow of gas as well as the efficiency of your grill.

2. Don't Take the Stainless Steel for Granted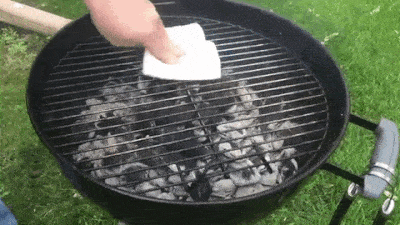 Most Grills nowadays have their grills, hot plates or base layered with stainless steel. While it is a welcome addition that makes it easier to remove stains so don't neglect it. Don't allow food stains and grease/oil to collect and solidify on them. Solidified grease/oil and food can cling on to the stainless finish. This will slowly impact the stainless finish and slowly reducing the efficiency of your grill.
Using harsh chemicals and scrubbing it rapidly with steel wool can also impact the stainless finish. The appropriate way to clean a stainless steel appliance is through warm water, dishwashing soap, and a sponge or soft cleaning cloth.
Another important tip to maintain of your barbeque grill is where and how to store it after you are done the grilling. Many make the mistake of leaving their grill out in the open as the remaining ash and the burnt smell might be unpleasant indoors. There's also the mistake of leaving your grill open and exposed to the elements.
These mistakes can eventually lead your grill to an early death. Exposure to the elements will lead to your grill instantly rusting ( regardless of how new it is). So in order to keep your barbeque grill functional for a longer period of time, it's best that you keep it stored indoors in your basement or garage and closed with the BBQ grill lid.
Don't Overclean The Inside of Your Grill

When it comes to the insides of your grill, it isn't necessary to keep scrubbing every time you use it. Sometimes wiping the insides with a dry cloth would do the trick. This is especially in the case of cooking small batches of food. This is because the more a barbeque grill is used, it becomes more seasoned and better at cooking faster and maintaining cooking temperatures. So unless it's an extensive cookout session, a simple sweep with an old cloth is enough for your grill to look clean and stay efficient.

Measures to Take Just After Grilling

The biggest mistake homeowners make after a good cookout session is disregard the ash that is created from the burning of coals. Leftover ash in your grill will soon interact with moisture in the air and create a residue as tough as cement. Getting rid of this mixture is a very tedious task. The solidified ash will prevent coals from generating heat as it cuts off the required air supply. Lesser heat equals poorly cooked food and an inefficient grill.
Protecting Your Grill and Other Appliances

It's tough to keep a keen eye on your grill and other appliances and keep it spotless. At times, you may need a breather especially when it comes to vacation season. Just to give you a brief outlook on how much you would be spending on maintenance of your home appliances, you can use this handy home maintenance calculator. This calculator allows you to see your possible expenses in maintenance and repair of your home appliances for a year. What's more, you can even see how much you would be spending on maintenance for the next twenty-five years!
If you feel that individual repairs are burning a hole in your wallet every now and then, you can always opt for a home warranty service. A home warranty is a service you pay for upfront at the start of the year to ensure the protection of all your covered home appliances for that given year.
But, how can you tell what's the best home warranty for you? Well fret not because we have just the thing!

At HomeWarrantyReviews.com, you can compare and scroll through the top home warranties in America. Every company listed on HomeWarrantyReviews.com has its own ratings timeline and reviews. The rating timeline allows you to see how the service has been faring in the eyes of the public for the past five years.
In terms of reviews, all companies are presented with utmost transparency. This is because all the reviews are it positive, neutral or negative are all from actual users of the home warranty service. Every home warranty company is displayed with all its rates and appliances covered with the option to compare with other home warranties. In the end, if you're satisfied with your choice, you can request a free quote directly and then select the home warranty of your choice.
Burn off the grease
Clean the cooking grates
Clean the burner and tubes
Wash the grill
Store the grill
Clean your grill regularly. You should clean every few months when you grill a lot. Simply brush the grates, wipe down the exterior with Windex and you're set!
You should remove the BBQ plates and grills, and use hot soapy water to clean the surface. Scrub with a scourer, grill brush and grill stone to remove excess food and marinades. Finally, rinse with hot water and let it dry.
Restore your grill's sparkle by using:
Hot Steam
Dishwasher
Onion
Vinegar Spray
Coffee Cleaner
Baking Soda
Beer
Hot Water
Discard any charcoal and other porous materials.
Fire it up as hot as possible to burn off all grease and mold. If you try to scrape it off or power wash first you might inhale a lot of spores and have an allergic reaction.
Let it cool and then scrape and scrub every surface with a brush or a pressure washer, including the drip pan and grate(s).
Wash everything down with soapy water. Then rinse thoroughly.
Finally, fire it up one last time to burn off any mold, grease, and soap residue. You're now ready to cook.