Easy Cleaning and Maintenance for Your Grill
PUBLISHED: March 21, 2013
•
5 MINS READ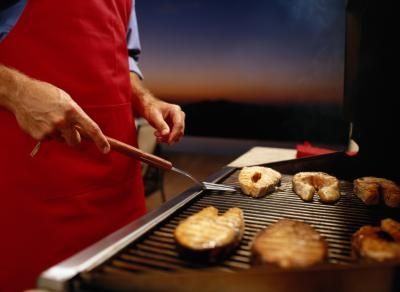 Nothing announces the advent of summer like firing up the grill. Sadly, nothing spoils a summer party faster than a grill that won't light, cooks unequally or smokes too much. Marinades, Grease, and sauces cause mess on gas burners, while charcoal grills endure the corrosive properties of charcoal.
All professionals know the value of their tools. The basketball players have their shoes. The surgeons have their knife. And you have your grill. The perfect tool can aid you get the job done with the greatest of ease. But before showing off your grilling skills to everyone, you must know how to care for your grill.
Grills of all types, from simple kettles to stainless steel restaurant-grade infrared grills, need maintenance to guarantee that they perform and last. A careful cleaning makes sure that the burners fire well, heat distributes equally, and the grill is safe. Usual maintenance of your home  lets you catch problems like rust early on.
Without correct grill maintenance, you are just playing with fire!
For a successful season of grilling, you need a clean, reliable grill.
Easy Maintenance Tips for Grills
Follow these tips to keep your grill in fine working order – and have delicious meals for many summers to come.
1. Not all Grills are Created Equal.
Always study your owner's manual for detailed guidelines and cleaning instructions. Most are obtainable online at the grill manufacturer's website.
2. Clean After Every Use.
Regardless of what type of grill you have, you must clean it regularly. Clean and reliable grills work better, last longer and won't have a terrible taste on food. This is particularly true for cooking grates, which, if left unclean, can harbor bacteria that could contaminate your food.
3. Keep it Hot.
The best time to clean a grill is just after food is removed, as the cooler you allow your grill to get, the more time you are giving stuck-on food and grease to set. Heat makes it simpler to take out food particles, so get at it while it's very high in temperature.
4. Use Protection.
After every use, put a grill cover over your cooled, cleaned grill, and if possible, store in a sheltered area. This is mainly important during the off season to help avoid dirt buildup, mechanical failures and rusting.
5. Keep Up Appearances.
After every use, take away dirt and grease from the outside of your grill. If you see rust spots or areas where paint is coming off, use grill-safe paints for external touch-ups.
Cleaning your Grill
Simple and easy cleaning will increase your grill's grilling potential for many years.
1. Cooking Grates
Clean them after each use. Here's how to do it easily and quickly
If your grill has cooled, close the top and turn up the heat for about 5 to 10 minutes
Use the back end of a stiff wire brush to rub off cooked-on remains
Make use of brush side to take out all remaining particles and grease
Put out the flame and allow the grill to cool
Coat grates with a paper towel or cooking spray to avoid future buildup
2. Charcoal Grills
Low maintained charcoal grills are more inclined to rust. After each use, and after the grill has fully cooled, remove grates and clear your ash catcher; or take out ashes using a large spoon or garden trowel. Then employ your wire brush to remove any remains.
Extend the long life of your grill with a careful preseason cleaning. Remove each detachable piece, and clean individual parts with warm, soapy water and a wire brush. Allow cooking grates to soak for 15 to 30 minutes before scrubbing. Heat the grill completely for about 15 minutes to burn off any remaining soap residue before using.
3. Propane or Gas Grills
These grills at times have a misleading "clean" knob or a "self-clean" setting, but these settings will burn off only some stuck-on food. In case your grill has a setting like this, use it to preheat before cleaning grates.
Lift the grate and gently clean the barriers above the burners. The barriers could be lava rocks, ceramic briquettes or metal plates. If it is ceramic or rock, use a soft cloth, as these surfaces are more delicate than metal. Employ your wire brush to clean metal plates.
4. The Emergency Deep Clean.
In order to remove baked-on food or grease, wrap cooking grates tightly with heavy-duty aluminum foil- shiny side out – and put on a heated grill for about 15 to 30 minutes, depending on severity. Allow the grates to cool and then unwrap the foil. If that does not work completely, follow up with a wire brush and warm soapy water.
Follow these simple grill maintenance tips and you will have a trouble free barbecue season this year! So get out there, clean the grill and just don't forget to use these great grill maintenance tips.
Good maintenance will extend the life and working of the grill.
Read more about how to prolong life of your appliances.