Maintain Your Oven Range To Cook With Your Heart And Soul
PUBLISHED: July 14, 2013
•
5 MINS READ
Wondering how to start preparing for that perfect dinner you want to host? But your oven range refuses to listen to you. My cake is not baked the way it should have. Oh no! My turkey caught fire while in the oven. Does this sound like your problem? This post will suggest a few tips to clean your oven.
All of us at some point of time face problems with these electronics. The oven range parts can malfunction and get irksome at times. There are different styles of ovens, including self-cleaning, convection ovens etc, and the style of your oven will determine how you care for it.
Most commonly noticed problems are the broiler elements, bake elements, thermostats, switches, control boards and knobs. Dealing with these issues is a part and parcel of life, but how to make your life simpler and use your oven range in best possible way. Here are some tips that are sure to help:
Tips to Clean Your Oven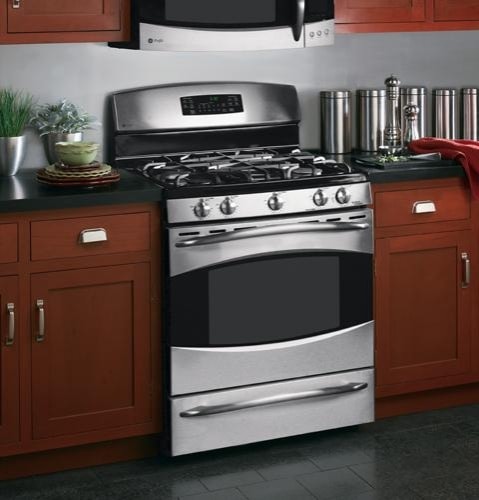 Making your oven range look clean and sparkling was never easy but these simple tips can save your time and give that desired look to your appliance. Maintenance of your appliance is crucial. Follow these guidelines on how to maintain stoves and ranges:
Before cleaning any range or oven surface be sure the unit is off and completely cooled. Steam burns can occur if you wipe a hot surface with a wet cloth or sponge.
After cooking let your oven range cool down, then wipe grates and burner cap with damp sponge and dry thoroughly. Make a habit of wiping down the exterior surfaces with a damp sponge every time you wipe down the worktops.
To avoid damage to the oven use only non-abrasive cleanser than harsh chemicals.
If you think the dish you are baking may bubble over or drip then always place a drip pan, it will minimize  the efforts of cleaning it.
If you are going to fry something on your cooktop or a dish which might splatter then before cooking spread some aluminum foils on the top and make a hole near the burner and remove it once you are done.
Use the right sized pans for burners on the cooktop. Don't put tiny pots and pans on big burners when you have the option of using a smaller burner for smaller pan.
Oven ranges may look simple, but they are complicated appliances therefore do not try to repair them on your own and better seek professional help when required.
Remember to replace the drip pans or bowls beneath the grates on a range/stove every two to three years as they undergo lots of wear and tear. Always check if you need electric oven troubleshooting.
Step by Step Guide to Cleaning Your Oven Range                    
It is always advisable to clean your oven as and when you are done, it helps you to avoid those tough stains. They become a mess if left for longer. Here are some handy oven maintenance tips:
Most oven broiler pans are made of porcelain coated steel. Clean them with a non-abrasive cleanser to avoid damage. Ensure that you use a good oven cleaner.
To loosen baked on food particles from your oven, place a bowl of boiling water into the oven and leave it closed for 15-20 minutes the steam will loosen up the particles making it easier to clean.
You can use soapy water or a solution of sodium bicarbonate mixed in water to give a new shine to the burner tops / burner bowls.
To clean the racks of your oven you can just put them into a dishwasher.
If you have a self cleaning oven then nothing like it. But make sure to be extra careful as these have hidden heating elements underneath the oven floor and above the oven ceiling.
If you have not paid enough attention then your oven goes poof !!! There are higher chances of fuse burn out.
Once you have run the self-cleaning cycle, wipe away the ash residue with a damp sponge or a rag. You should also check with ways on how to fix a stove. This means that you should know how to clean stove top and find ways to on how to clean an oven quickly.
Home Warranty and Your Oven Range
A home warranty is a service contract, normally for one year, which helps protect homeowners against the cost of unexpected covered repairs or replacement on their major appliances that break down due to normal wear and tear. Coverage is for systems and appliances in good working order at the start of the contract. Please note that a manufacturers guarantee and home warranty are totally different.
Home warranty companies cover oven and ranges as the major appliances and it is applicable in case of wear and tear and accidental damages but any damages due to non maintenance of your appliance, the home warranty companies will not cover the charges.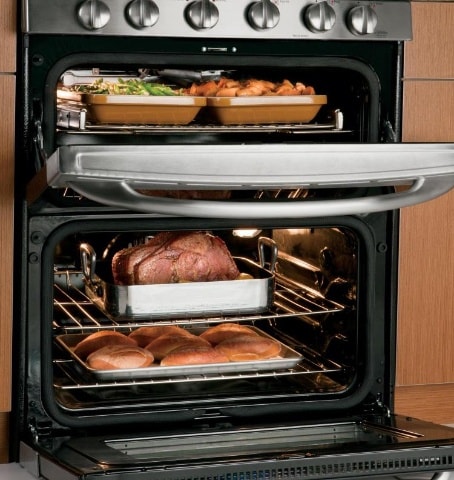 After a year of purchase its better to extend your warranty period. An extended warranty is a type of insurance policy that covers your household appliances beyond the manufacturer's guarantee. If your oven/range breaks down due to a mechanical or electrical failure, the home appliance warranty will pay for repairs or a replacement.
Oven ranges are one of the most common appliances used at homes. Almost 90 percent of household use oven ranges in America. There are even double range oven selling in the market where you can cook two turkeys at a time to make your job even more easier. Replace worn out parts like bulb, knobs, and get your oven serviced once in awhile. Maintain your appliance well to fulfill your love for cooking and baking so that you can host more dinner parties and family gatherings without any distress.