Top Appliances that Need An Upgrade in 2021
PUBLISHED: June 25, 2018
•
6 MINS READ
When it comes to and upgrade or buying appliances for your home, there are a few key factors that you as a consumer keep as a top priority. But the most vital factor of them all is efficiency. Don't you agree?
The appliances you currently have at home may be considered acceptable to you based on their efficiency. But did you know, these appliances become a huge chunk of your annual energy costs? This is because old appliances tend to consume more energy, even more so the older they get. 
But thanks to the advancing of technology, newer versions of appliances have become increasingly more efficient as well as consume minimal electricity. Making these changes can make you a smarter homeowner with smart buying decisions.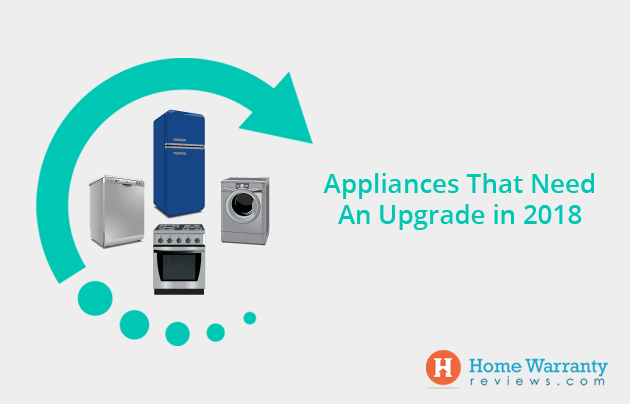 Top Appliances that Need An Upgrade in 2021
So here are a few appliances, that you need to consider upgrading if you wanted to shave off a few hundreds of dollars from your bills and annual energy expenses.
Air Conditioner Upgrade
It's pretty obvious that in the summers, Air conditioners are the energy-sucking beasts. The efficiency of a room conditioner is gauged by its energy efficiency ratio (EER). Most new models of air and room conditioners have a rating of 10 EER, making them highly efficient and cost-effective for you and your family. Older models or the air conditioner you've been using for the past few years may have an EER rating of 7 or below, making it less efficient than the current and future generations of air conditioners.
You could opt for the simple alternative to just not use your air conditioner all that much. Or an even better idea would be to physically track your air conditioner usage. Both examples may seem like a difficult task because firstly we are all busy, hardworking people, keeping track of one specific appliance throughout the day will be arduous. Secondly, you can't always have a situation when you don't need to use the air conditioner. Hot seasons like the summer will have you diving for that air conditioner remote, and most likely your ac will stay on for a while. You need to check if your air conditioner comes with a consumers energy appliance warranty.
To find out what rating your air conditioner has, the rating star will most likely be presented at the bottom or the back of your air conditioner. Also, constant use year after year will make your air conditioner less efficient because of various causes like the blocking of filters or wear and tear of its electrical system. So a smart decision would be to buy a new air conditioner, seeing as the summers are getting hotter and hotter and heatwaves are now a common phenomenon.
Refrigerator Upgrade
One of the appliances that are constantly running is your refrigerator, and it has to! How else would you preserve your food? Older refrigerators used to consume a lot of energy in order to function smoothly and that caused high electricity bills for homeowners. But refrigerators made after the early 2000's, however, have been known to be efficient enough to cut down 40-60% of the energy expenditure of its predecessors.
However, there are a few basic precautions one could take to make their refrigerators more efficient. The key is to ensure that all the food kept in your fridge is in an enclosed container. Open food tends to bring out moisture, which forces the refrigerator to work extra hard in order to cool the food. While this tip is beneficial, it comes nowhere near close to the efficiency one could attain from buying a newer generation of refrigerators.
As a plus, newer refrigerators come with newer features like a defroster/thawer, temperature control for specific food etc, that can further help in efficiency and make your life easier. If your current fridge was made sometime in the 1990's, it would be best to upgrade to one made recently. This upgrade alone would lead you to save around $100-300 annually on energy costs. Don't forget to read about appliance reviews for 2021.
Washing Machine Upgrade
There are two variations of the trusty washing machine. The first is the top load washing machine which was quite common in the past. The second is your front load washing machine which is your current modern washing machine. While the old top load washing machine does its purpose, it consumes gallons of water a year and a lot of electricity. The same can't be said for the new front load machines, that use a lot less water and is energy efficient.
While maintenance can give some longevity to your washing machine, there isn't much that can be done to make your old washing machine more efficient. Hence opting to upgrade to a new one is the ideal choice
If you have a top load washing machine, or a machine older than 10 years, you could potentially save $135 worth of electricity and water every year.
So it would seem ideal, that if you have an old top load washing machine eating away your water and energy expenses, it would be best to upgrade to a front load washing machine.
Dishwasher Upgrade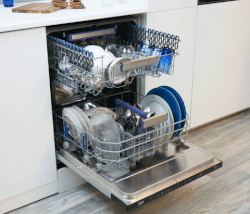 We know cleaning the dishes by hand is a strenuous chore. And that's also why the dishwasher has become an essential and integral home appliance., New dishwashers use up around 5.8 gallons of water in order to cleanse your dishes in one cycle. Your dishwasher or an old dishwasher, however, uses around 10 gallons of water for one cycle. Alongside water, old dishwashers take up a chunk of your annual energy costs.
You can ensure that your current dishwasher will last longer, by cleaning out the filters and screens or always using full loads and hot water. But that doesn't any difference when it comes to the amount of water consumed per wash or the amount of electricity used to complete a cycle. Instead of opting to go for a new or current generation dishwasher will save you a lot of money from your electricity bills annually. A new top of the line will cost you around $ 550, which is a reasonable purchase seeing as how much you will save in the long run.
Hot Water Heater Upgrade
If you're staying in a relatively old home, you most likely will have a gas-based hot water heater installed. While these heaters do serve their purpose for a long duration of time. They also take up a lot of electricity and time to heat up in comparison to newer and more modern models. Gas hot water heaters also dwindle inefficiency because of the build-up in sediments inside the tank over time. While a monthly checkup and draining of sediments could do the trick, replacing your water heater will save you both in energy costs as well as the amount of time you'd be waiting to heat up your water.
Also, usage of a water heater can amount to 14-25% of your total appliance energy usage. A good reason to invest in a new water heater is that of their high efficiency at a lower energy cost.
But what if you don't or can't afford an upgrade?
Well, if you're in a predicament where you can't upgrade, you can always strive hard to maintain all the appliances in your home for their longevity and efficiency. You could go about it alone, and opt for paying high amounts of money for individuals repairs from contractors. This would lead you spending a lot of money on each and every repair on each and every appliance in your home. Seems strenuous does it not?
Just take a look at this Home Maintenance Calculator. Here you can gauge and find out how much of your expenses would be spent on maintenance of all your appliances. You can also see how much you'd be spending on the maintenance of an appliance for the next 25 years!
Maintenance of home appliances requires you to have a keen eye on all your appliances at all times. That would prove quite difficult because we all have jobs and other daily responsibilities to attend to. So what should you do? Nothing! Because a Home Warranty would take care of your maintenance and repair hassles for you!
How Home Warranties Work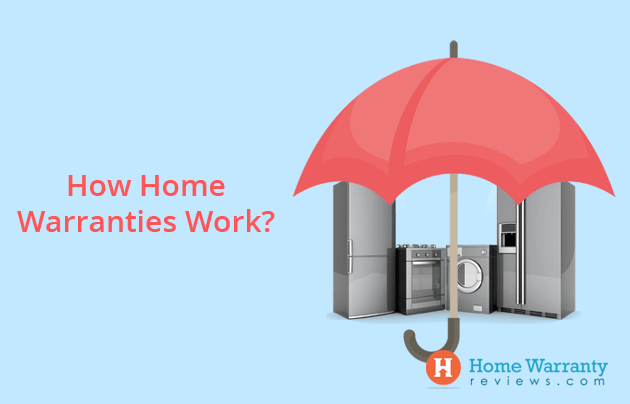 You find a home warranty service provider, opt and pay upfront for one of their various home warranty plans, and et voila you're secured! You already know it's not as easy as you think. You as a consumer always strive to get the best, so obviously, your first instinct would be to research what's the best or value for money home warranty service. Let us be of assistance, with our rating timeline, reviews and awards in one place, HomeWarrantyReviews.com
Based out of the world famous Bayes Algorithm, HomeWarrantyReviews.com calculates reviews (positive or negative) from actual consumers and rates home warranty companies from a rating of 1 to 5 (1 being the lowest). This ensures that what you see is what you get, based on the performance of the home warranty company in the last few years. Furthermore, if you'd like, you could even comb through the reviews of each company to see the issues past customers faced and then make your decision and get a quote. Below is the rating timeline of one of our rising starlets in home warranties APHW. You can clearly see how the consumers have rated the company over the past five years with a rating of 1 to 5. This is a clear example of a company that has been moving from strength to strength in the eyes of the public. How about dropping in and acquiring a quote?
HomeWarrantyReviews.com intends to provide you with accurate information on the best home warranty options possible. If you're unhappy with how your current home warranty has been of service to you, you could always be a part of our company resolution program. This program gives the defaulting home warranty company a chance to resolve issues faced by its consumer. Failing to do so will allow the negative review written by the consumer to be published into the public space.
The Choice is Yours
We've given you all the deets, now it's up to you whether you would like to upgrade your home appliances and be one of the best modern homeowners. You can also go it alone like the badass lone wolf you are and take care of all your appliances and expenses on your own. And finally, you could make the smartest decision which is a combination of being a modern homeowner and a badass, applying for a home warranty.
So any time you'd like to reduce heavy energy costs or constant eye on repairs, you can always head to HomeWarrantyReviews.com for a quote on your preferred home warranty. To ease you in your quest to find the best home warranty for you, you can check out our top 10 home warranties for the year 2021 below alongside the award-winning home warranty companies of 2021.