Which Appliances Break Most Often?
PUBLISHED: February 15, 2016
•
4 MINS READ
HomeWarrantyReviews.com is dedicated to providing our readers the best and most complete source of real, honest reviews and ratings of home warranty companies.  Our reviews come from real homeowners who have firsthand experience with the home warranty companies, not paid writers who only evaluate the companies that pay for advertising.  We are the largest, and longest standing source of objective testimonials about home warranties on the Internet.  
Home warranties, also called home service contracts, cover the cost of repairs in the home.  These contracts also provide homeowners with prescreened contractors, something that is very valuable to anyone with a broken appliance or major systems such as air conditioning or heating.  Through reviews on our website readers can really get a feel for the service they might expect from certain companies.  But what else can be learned from reading our reviews?  Quite a lot actually.  For one, you just might learn which covered appliances and systems break down most often.
Recently we asked our team to tell us what appliances are mentioned most often in our reviews.  This is a good question, since reviewers on this website usually include some information about their recent repair claims.  Here's what we found out.
We started with 11,000 reviews.  We chose words that relate easily to specific appliances and system components.  Words like "air" would most often relate to air conditioning.  Words like "dishwasher" are even easier to correlate to a specific home appliance.  The list also included words like "furnace."  In the end, we had a list of 15 terms that we wanted to look for in those 11,000 reviews.  The results were not so surprising.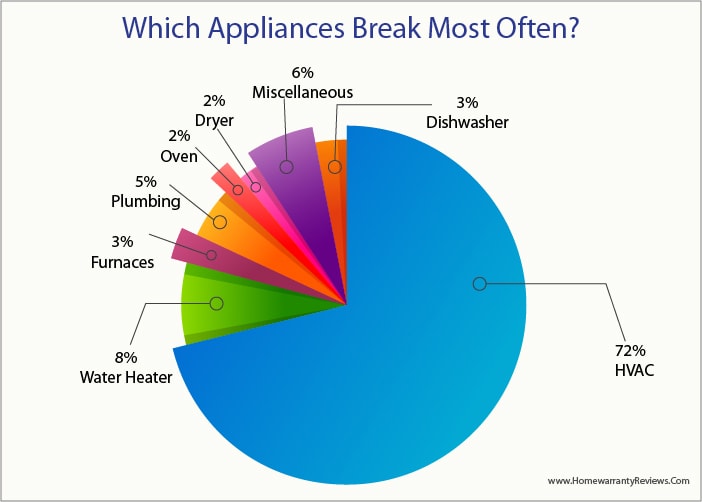 Which appliances break most often?
According to our research, the HVAC system is mentioned in 72% of reviews!  Does this mean that you have a greater risk of your HVAC system breaking down than any other appliance or system in your home?  No, not at all.  What it does mean though is that homeowners who use home warranties and who take the time to review those companies on our website are using those contracts to repair central heating and cooling systems quite often.  And that can lead to some inferences that might help you if you're in the market for a home warranty.
What about dishwashers?  Those appliances get used daily in the average home.  You might assume that dishwashers would be a pretty commonly reported appliance.  The numbers we looked at told a different story though.  Only 3% of the reviews we used for this study contained the word "dishwasher."
Roughly 9% of reviews reported problems with the home's water heater.  Another 2% had trouble with ovens.  When you look at ovens, water heaters and dishwashers, those three appliances only account for 14% of reviews.  Compare that with HVAC units and you can see what a huge difference there is between that one, a single category of repairs and all the others.  While this is not enough data to base a conclusion on, it would seem that anyone who purchases a home warranty and who has an HVAC system should make sure that the HVAC coverage is very good and that the company has a good history of covering HVAC repair claims.
Among the final 14% of reviews, there were many other items listed including furnaces (3% of reviews,) clothes dryers (2% of reviews,) and plumbing, which appeared in 5% of reviews.  The remaining 4% of reviews had a range of different appliances listed, including microwaves, both installed and free standing.
What can our research do for you as a home warranty shopper?
The main thing we'd like readers to take away from our findings is that reviewers overwhelmingly described problems with HVAC systems and other cooling and heating systems.  No other single category even came close to stacking up next to these major systems.  And that makes sense.  No other system is worked harder, particularly in homes that experience very hot and very cold seasons.  For you, as a reader, this might mean that you should seriously consider opting for a home warranty that covers your heating and cooling system, versus one that only covers the appliances in your home.  But there's a bit more to consider.  Having coverage is great, but having good coverage is much better.  It doesn't help you at all to have a home warranty if your claim is denied.  To choose a company with a good history of approving claims you need to do your homework.  And to do that you should read reviews here on our website until you feel confident you've found the best company for the most reasonable price.