Why Your Dishwasher Smells?
PUBLISHED: February 18, 2020
•
3 MINS READ
Smelly dishwashers can be a big turn off for you and your family. This foul odor can often make you feel nauseous and, in the long run, make you sick. Smelly dishwashers are the by-product of smelly dishes that have not been properly cleaned by the washing cycle. 
Over time, as the dishwasher goes through many cycles, small particles of food from your dishes may get stuck in the crevices, causing the foul odor. To help you understand why your appliance smells, we have listed out the most likely culprits.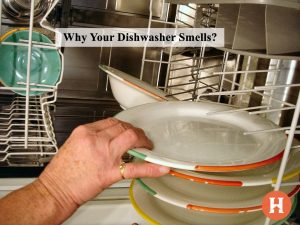 Clogged Air Gaps
If the air gaps are preventing or blocking the water waste in the appliance, it will cause a foul odor and also standing water in the dishwasher. Check the air gaps to ensure that there is no blockage that prevents the water from flowing smoothly.
Closed Door
If your dishwasher door is closed for an extended period of time, bacteria will start growing inside it. To stop this, what you need to do is keep the door slightly open when you are not using it. This allows the moisture to dry, which in turn reduces the likelihood of your dishwasher smelling.
An Animal Stuck Inside
A lot of times, a small animal such as a rat or mouse may have got stuck under your dishwasher. To get rid of this problem, what you need to do is take out the dishwasher from the cabinet and remove the animal that may be stuck under it.
We have listed a simple few DIY tips to help prevent or eliminate your dishwasher's foul odor. Following these steps will prolong the life of your appliance as well.
Detach the filters and clean them properly using hot water, soap, and a scrub brush.

You can use pure baking soda or dish soap to rinse the interior of your dishwasher, to clean the gaskets, shelves, and walls.

It's a great idea to rinse the dishes before placing them inside. This reduces the chances of a smelly dishwasher.

You can use special cleaners that release a pleasant scent while running your dishwasher cycle.

Add a cup of white vinegar in the top rack of the machine, and then run your dishwasher through its full cycle with hot water. This makes sure that smelly odors are reduced.  

After the dishwasher cycle is complete, tiny particles of food can get stuck in between the racks. Check for the remains of food items such as beans and pasta and remove them.

Once a month rinse the dishwasher with hot boiling water and clean every part inside the appliance.
Get Rid of Those Smelly Dishwashers Today 
Regular maintenance or annual checkups will help in preventing your dishwasher from getting smelly. Moreover, you can invest in a home warranty plan which will help you save money from expensive repairs or replacements.
Whether you live alone or with family, a dishwasher is an essential item in your household to keep your dishes clean. Buying a home warranty plan will not only guarantee protection but also assures you peace of mind and saves thousands of dollars in the long run.