10 Bathroom Makeover You Should Get
PUBLISHED: March 17, 2019
•
6 MINS READ
Save money with your bathroom remodel and find ways to cut corners as you go ahead with a bathroom makeover. You should look at ways to enhance your bathroom by extensively planning and budgeting. In a similar way, you need to determine what best suits your taste, style, and decor so that you do not make costly mistakes when you buy your bathroom fittings.
There are several things that you need to take into consideration while planning for bathroom makeover. These include the color schemes, the time taken to build and resurface areas, the cost of new fittings and fixtures and finally the budgeting to ensure that you do not exceed your costs and that it does not eat into your savings.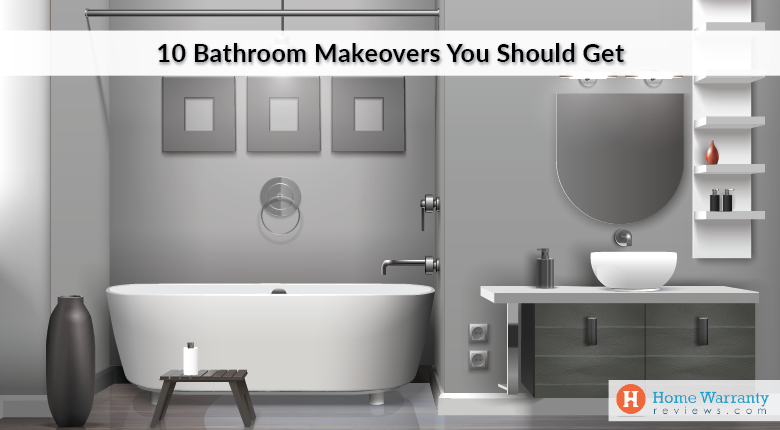 Planning and Preparation For Bathroom Makeover
Here are 12 tips to help you plan and save when it comes to planning and preparation for your bathroom makeover:
Plan Before You Start
Though you might feel that working with an architect or designer may seem expensive, its the right move if you are someone that looks to remodel their bathroom on a budget. If you work with a professional, they will assure that your design, budget and the timeline are realistic. Working with a professional will help you set a goal with a path and this will help you save time and money in the long run and save on expensive errors.
Leave Plumbing Alone
This is yet another reason why you should work with a designer when it comes to bathroom makeover. If you use the existing piping, it will save you a lot of money. Relocating utilities like the toilet and the bathtub are no small tasks. On average, it would cost about $5,000 each time you move plumbing fixtures.
Mirror Frame-Up
You should dress a builder-grade mirror with a fantastic frame. This is a fraction of the cost of looking for a huge hanging mirror. A frame can also be used to hide age-related wear and flaking that happens around the edges and it will give it a more updated appeal.
Update the Toilet
You should look at remodeling your bathroom and replacing the toilet seat and lid instead of tossing out the whole porcelain perch. If you change the two tops, it will give your toilet a new look without having to buy a whole new unit and this will save you plumber installation fees too.
Visit the Salvage Hard
Salvage can be intimidating at first but if you start looking through antique stores, auctions, resellers and flea markets then you would have a good idea of getting a valuable item for a steal. You simply have to be a part of the process and this is how you score with really great items. The only way of finding a bargain is if you figure it out. There are so many great items which include light fixtures, iron tubs, and sinks. Basically, it is anything that fits your style and effort in helping you save.
Upgrade Vanity
If you are looking to upgrade your vanity then you should try hunting at vintage and antique dressers at stores and flea markets. Using this you can cut out the space to hide plumbing and seal drawers which need to stay in place. Also, you can decide to add a sink in it or on top of it. No one else will have another piece like yours and you would have saved a lot of money.
Alternatives to Tile
You should know that the bath does not have to be a tile to ceiling option. You can use reclaimed wood panels, board, and batten or even beadboard. While wood needs more maintenance, it will give off a warmer appeal as compared to other options.
Consider Open Shelves
You can try open shelves in a bathroom which is a private space. But open shelving creates an illusion of space in smaller square footage and these are less in weight as compared to cabinets. You can use a few drawers on high shelves to house private items but you don't have to hide your colorful towels, pretty soaps and bathroom decor in a dark closet.
Need for Lighting
Try builder-grade lighting as this is one of the first things that people want to change in a bathroom makeover. These fixtures would hold much aesthetic appeal and adds a lot of light to the room. This it does without breaking the bank. You can shop for lighting and home improvement stores and if your bathroom has easy roof access and you should consider bringing the outdoors in with a budget skylight.
Punch It Up With Paint
There's nothing like adding pop with a colorful paint in a small space. If you coordinate well you can detail it well with your tile work and it will bring a new dimension to your bathroom. It looks great to brighten the room and open up spaces with bright colors that match a theme.
Choosing Countertops
If the vanity is the main focal point of your bathroom then you should choose a good granite countertop. Though you might make minor updates to the rest of the bathroom, a granite vanity slab would be the focal point for this space. This is sure to bring out that wow factor and save you a lot of money.
Look Online for Leftovers
Don't feel bad, you can find your bathroom decors and fixtures even on online sites that are selling their leftovers. This is a novel way to plan, execute and save money when it comes to remodeling your toilet. Since a lot of people buy more material than they need and often return it so they try to sell it online at a deep discount just to get rid of it. This is where you should be able to connect the dots and find these deep discounts on items that would work well for you. What you should do is buy at fire-sale prices and then finish out by matching what you bought at a local store.
Mix and Match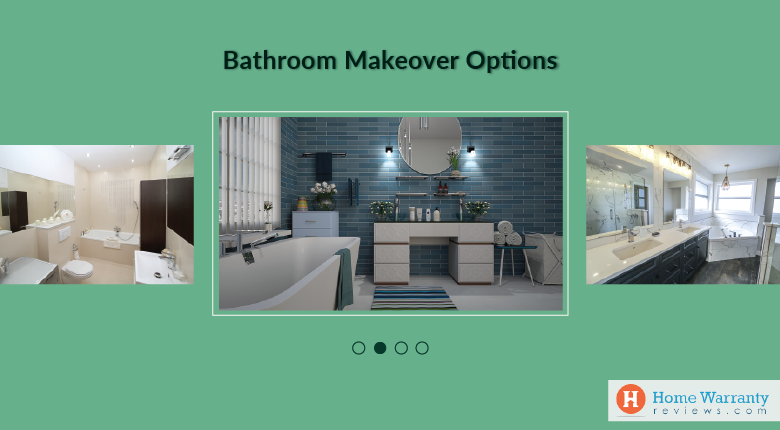 The list of the top 10 bathroom makeover is finally here and you should read through and get the best ideas that you could put together for your bathroom makeover:
1. Gorgeous Gray
Stay clear of the major plumbing work and keep the room's layout the same. All you have to do is add the Moroccan cement floor tiles which bring the space to life. You should ditch the sponge-painted effect for penny tiles which delivers the biggest impact space-wise. Make sure you use a great classic pedestal sink in place of the outdated one you have and an efficient commode replacing the old water-wasting toilet. You can also have a custom medicine cabinet that hangs in the powder room with the towel rack.
2. Vintage Farmhouse Vibes
You can add an antique tub and vintage sconces to bring a sense of history in your very own bathroom. Go into the details with the switchboards, the faucets and all the little porcelain things like soap trays.
3. Luxurious Shower
All you need to do is remove your tiny tub and now you have an extra large shower space. Next, you can choose to have a ceiling mounted curtain which creates an illusion of higher ceilings. Ensure that you change the faucet and the shower fittings to something more modern and out of the blue to bring a sense of the image.
4. Rustic Accent Wall
A once dreary bathroom can now be the highlight of the house based on the rustic accent wall. It is made of 2 inch thick wooden slices and nailed to the plywood backing, the mosaic mimics the look of stacked firewood and adds a warm contrast to the rest of the room's white walls. Instead of windows, you can have a skylight that brings in light from above.
5. Full of Personality
You can choose to retain the master bathroom's layout and avoid the expense of moving plumbing lines. Instead, they rely on cosmetic updates. One change could be a single sink console and the exterior door opens to another room.
6. Simply Luxurious
If you have crawl space beside your toilet, then you can choose to double the master bath's square footage. This area is kitted out with a dual shower and a claw-foot tub which is finished with fittings. To make it a little unique, you can add a hanging basket to hold toiletries. You can also widen the window opening and tilt the floor for drainage.
7. Post-Reno Glow
You can enjoy the finished renovation result in the luxurious retreat with a claw foot tub, clean white walls and farmhouse style beadboard wainscoting. Also, you can add a good painting on the wall with a beautiful large frame. Since space is of the essence, you should look at mapping the entire toilet and planning to the last detail to get the look that you are willing to invest in.
8. Touch of Tiffany Blue
Your bathroom should have a claw-foot tub. This room can get a makeover with a fresh coat of white paint and a coat of Tiffany blue livens up the top half of the walls. Also, you can use angled tiles that replace the outdated floor.
9. Light and White
Choose a wall paint that can help highlight the gray tiles on the floor. Soft gray walls highlight the gray tiles in the floor which will brighten up the room. If you combine white with the room then its feels radiant. Also, a new pedestal sink adds an original charm to space, while the natural elements like the fern wall art and a wooden table would reinforce a country theme. Light colors accentuate all the articles in the room and add a good amount of light to the room.
10. Bath Beauty
You can even transform an extra bedroom into a stunning bath with a glass shower enclosure that maintains the room's expansive wide-open feel. Also, you can choose limestone tiles to make up the shower's floor and subway tiles that are used to cover its walls.
Trick Out Your Toilet
Before you completely spend your budget on a makeover, you should try these tricked out ideas:
Toilet Night Light
Check out this motion activated night light which illuminates the target. This will prevent overshoots and spillage. All you have to do is set the LED light to one of the eight available colors and your glowing bowl will provide enough light for hand washing. The only downside is having an illuminated bowl and an ineffective flush.
Heated Toilet Seat
This is perfect for bathroom breaks and this heated seat prevents chilling jolts and it provides guidance with the built-in nightlight. It also has soft closing hinges so that the toilet seat does not slam. It is also available in elongated and round versions.
Toilet Monster
These toilet decals are removable and inexpensive,and its a great way to set the tone for a holiday or even a party. Based on the theme, you can choose to thematize your throne.
Toilet Tank Sink
Every toilet tank needs a refill after every flush. This clever water saver routes the refill water through the tank-top faucet and the sink before it reaches the tank. This way you can wash your hands without using extra water. Usually, a constantly running toilet wastes gallons of water every day.
Quiet-Close Toilet Seat
You should ensure that you have a seat that does not slam. The quiet close seat is also easily removable to clean easily. Ensure that the seat that you select is round and elongated to match your bowl. Detaching your old bowl may be tricky but installing this new toilet seat is quick and easy.
Importance of a Home Warranty
As a homeowner, it can be difficult to look after all your home's appliances and systems. From time to time, there could be breakages due to wear and tear and this could be an expensive affair. That is if you do not have a home warranty. You should get your free quote and opt for a home warranty plan that best suits you. Take a look at the top ten companies in the market and also have a look at the awards section to determine which is the best home warranty plan that you should sign up for. Generally, a plan would cost you anywhere between $350 to $500 and a deductible, which is a service call charge to get a technician to come by, would be around $70. This would mean that you don't have to run around all across town to find the right technician and that they would be the first ones to come and identify source parts and repair your appliances and systems.