Home Warranty Complaint Resolution: Turning a Negative into a Positive
PUBLISHED: May 26, 2016
•
6 MINS READ
Here at HomeWarrantyReviews.com we deliver thousands of new, free-to-read, customer reviews and ratings of home warranty companies each year, along with several Complaints.  Best of all, we don't charge companies or our website users anything for those reviews and ratings!  Our service is still free after nearly a decade online, and we're proud of that.  Our readers have come to know us as a place where a home warranty shopper or customer can find what they need on the internet.  Our reviews are objective, and though we do edit them to ensure that fake reviews or ones which lack value for readers don't clutter up the website, we never make it possible for a home warranty company that is not keeping its promises to customers to cover that up by paying to have negative reviews hidden or removed. Read this blog post to know how a home warranty complaint resolution can help you in your tough times.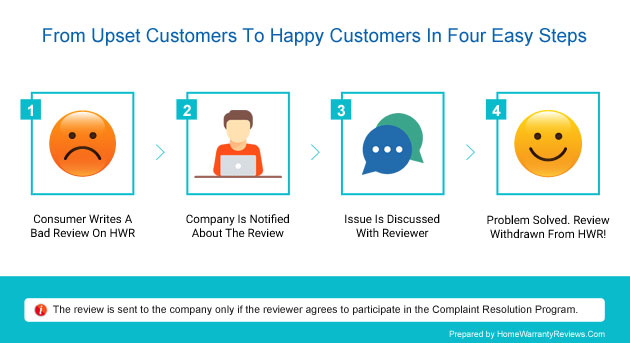 We keep things real here, and our readers can tell by the mix of positive and negative reviews for each company.  And whether you're posting a review in order to have your voice heard or shopping for a reliable home warranty company, the work we do here and the value we provide through our free service is immediately impacting tens of thousands of homeowners.  Reviews are only part of the way in which we help our readers and the home warranty companies who keep the industry alive and growing. That's what keeps us doing what we do.
One of our lesser known services is our Complaint Resolution Program, and it not only serves customers in need of a way to resolve their negative experiences but also helps companies manage their online reputation, ensuring that the occasional mistake by one of their employees or contractors doesn't result in a lost customer.
The Complaint Resolution Program is extremely simple for both sides of the relationship between the home warranty company and the customer.  There is absolutely no charge to use it, and there's no obligation on the part of the company or the customer to use it.  It's the best of both worlds.  But how does the Complaint Resolution Program, or CRP as it's also called, work?
Making the problem known to someone who can help is how CRP works.
If you've visited many reviews websites online today then you are probably already aware of the trend toward companies posting responses to customer complaints.  Sometimes these responses appear to have a real, positive effect on the customer's level of satisfaction.  A company might not have been fully aware of the problems the customer encountered with a home warranty claim or another service.  The company might have had a bad apple that poorly represented them to the customer or mismanaged the claim process.  Anything can happen after all.  So responses from companies sometimes lead to meaningful reactions between the parties, and problems get solved.  But other times a response from a company feels more like a defensive maneuver.  You've probably seen some of these yourself.  The company posts the same response under every negative review, and there seems to be no sign of resolution among any of the reviews.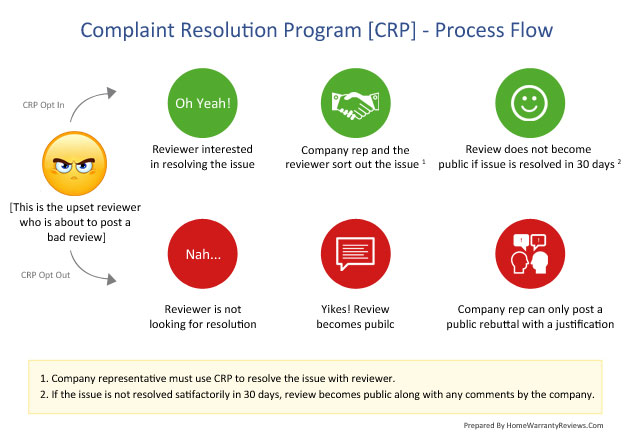 When a customer takes the time to post a complaint on an internet reviews website, the party posting the review typically has probably traveled through the company's various routes of complaint resolution, but not always.  At times, a negative experience begins and ends with one person on the company's team or their repair contractor.  And those situations might be resolved in many cases with action from people at the company who are higher up in the decision-making processes.  This is where the CRP process can really help the company and the customer.
When a user posts a review on HomeWarrantyReviews.com that has a low rating, the website prompts the author of the review to decide if he or she would like to have another chance at seeking resolution of the problem.  This very simple and free, and most of all optional, offer to the consumer is where the CRP process starts.  If the customer decides that it's worth trying once more to resolve the problem then simply selecting to participate in the CRP is a single click away.  Once opted into the program, the customer will be able to correspond through private emails, hosted by HomeWarrantyReviews.com, with the company.  And the company representative assigned to handle CRP cases will be able to help the customer, sometimes with greater problem escalation abilities than the average customer service representative.
While this process is going on, the negative review is not visible on the website.  And this part is important to both parties.  Sometimes when we're upset we make hasty remarks.  Later we regret those same remarks.  So for the customer and the company CRP presents a cooling off opportunity in which the consumer has the chance to have a problem solved before the review is out there for others to read.  If the problem is resolved then the party who wrote it may choose to not have it posted on the website.  In that case, the company's reputation is saved a blemish, and the customer is afforded a chance to successfully resolve a problem.  Both parties win, and neither are out an additional dollar for the service.
Building a team of problem solvers can lead to a better company reputation.
Companies that use the CRP are not just solving one-off problems for their customers.  In some cases, they're opening a new, cost-efficient, window to customer feedback.  Any company which pays for customer satisfaction surveys or other third party consultative services related to reputation management knows how costly these services can be.  What if a company could find a way to get the same kind of feedback without an additional expense?  Now they can.
Building the CRP was all about giving our reviewers and the companies they review a more productive experience and ensuring that the good companies don't wind up looking bad, simply because of mistakes or unidentified problems that the company should be working to resolve for future customers as well as current ones.  We set out to build something that would help all the people we serve, the companies and customers alike.  And in the process, we aimed to help even more people, particularly the ones who will have a better customer service experience as a result of companies taking an active role in learning from their customers' complaints.
HomeWarrantyReviews.com didn't invent the concept of complaint escalation or creating specialized teams at companies that specialize in helping the most unhappy customers.  But we did bring the missing piece to the reviews process on our website, and we believe it makes all the difference.  Once you create a forum where unhappy customers can receive help from the most specialized customer service representatives at home warranty companies then the next step is for the companies to seize the opportunity to use that forum to its full potential.  We believe that companies that use the CRP the best are ones that empower their teams to react to the complaints received through the CRP in a way that satisfies reasonable customers who have honest and fair objections to the way they were treated by the company or those the company allowed to represent them, repair contractors included.
Companies that use the CRP are in a unique position in which they can not only reduce the number of bad reviews they collect on our website but also increase customer retention.  And keeping customers is something that companies that post a boilerplate response to complaints online probably are not doing.
Participating in the Complaint Resolution Program (CRP) is easy.
Maybe you want to learn more about the CRP – Q & A and how it works to your benefit. But if you're already sold on the idea then here's what you need to do.
If you are a company representative then you can send us an email at support@homewarrantyreviews.com, to address your queries for CRP enrollment and we'll help you get started with the quick setup process.  Your company will need to designate an email address to receive the CRP case notifications and new customer correspondence notices at.  And you'll need to make sure that you have team members checking that email inbox very regularly.
If you are a customer who has had a bad experience with your home service contract or home warranty, and you'd like help resolving the problem then please use the search box below to find the company you want to be contacted by.  If that company is not participating in the CRP then you can email us at support@homewarrantyreviews.com, and we will forward your request for help to the company representative we have on file.  We will also let them know that it would have been great if they'd been participating in the CRP, so your problem could have been dealt with more quickly today.