Listen To Your Repair Contractors
PUBLISHED: June 8, 2016
•
6 MINS READ
Whether you are shopping for a home warranty or already have one, you may be asking yourself how to tell which companies are legit and which ones are not.  Here's a quick tip from people who know this industry inside and out.  Listen to your repair contractors!
If you want to know how the weather is going to turn out tomorrow you listen to a meteorologist, right?  If you want to know the best place to get dinner this weekend then you probably turn to your favorite online source of local customer reviews.  But home warranty?  Who is the expert where those are concerned?  Trust us.  Nobody knows home warranty like the people who make the repairs!  These are the people who are on the front lines, serving the home warranty companies' customers.  They know which companies are good, which ones are great, and which ones are someplace in between.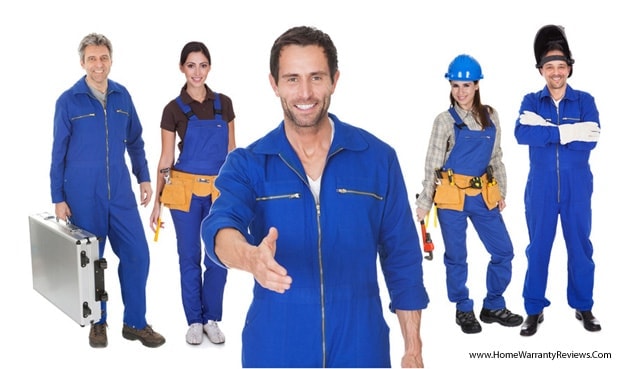 Trust the people you can count on to tell you the truth
Why do repair contractors get the inside scoop on home warranty companies?  That's easy.  They get paid by the home warranty companies.  And the ones that are slow to pay or don't pay at all are probably the ones you should avoid.  If they don't pay their repair contractors then how can you trust them to do what's right by you, their customer?
So, how do you get the repair technicians to be your personal guides to the home warranty industry?  That's a little more of a challenge.  But here's an approach that might work for you.
Just like looking for a doctor who accepts your health insurance, look for a repair contractor who accepts your home warranty coverage.
If you've had health insurance then you already know what it's like to search for a healthcare provider who accepts your insurance.  This process typically involves flipping through page after page of physicians in your area who appear in your insurer's provider catalog.  Your home warranty company probably won't have a catalog to give to you, but that shouldn't slow you down.  There are two ways to go about finding out who works with your home warranty company in the local area.  One way is to call a repair technician who has a lot of good reviews and ask if the company works with your home warranty company.  Another way is to call your home warranty company and ask for a list of their local contractors.  The key here is to talk with repair technicians who have a good reputation.  It doesn't do you any good if you get praise for your home warranty company from a technician who isn't any good at fixing things.  In fact, that might actually be a bad sign!
Repair technicians write reviews too!
Another way to find out what repair contractors think about a particular home warranty company is to read online reviews.  Customers are not the only ones who take time out to share their experiences working with the top home warranty companies as well as the not-so-top ones.  If you skim through reviews, chances are you will find a few written by the people who perform the repairs.  If you see complaints about the company not paying its bills or asking the technician to do things that go against his professional ethics then consider that a red flag.  If you find a pattern of such complaints then that's a red flag you can't afford to ignore.  
Aside from the reviews being helpful for the information they contain about the quality of the companies, you may also find contact information for the repair contractors who wrote the reviews.  Following up with contractors in your local area who write reviews can sometimes reveal even more detail about how the companies do business.  Do they ask their contractors to fix things cheaply instead of fixing them correctly?  Do they reject repairs outright, due to the cost alone?  These are things you need to know.
Now that you have valuable insight into the way your home warranty company treats its contractors, what do you do next?
Once you've contacted at least one reliable repair contractor who was willing and able to tell you what it's like working with your home warranty company (or companies you are considering doing business with) then you've got some follow-up work ahead of you.  Consider the following tips, even if you're really happy with what the repair technician told you about his or her experiences with the company you asked about.
When is the time to look for a new home warranty?
If the conversation with the repair technician didn't go the way you'd hoped then you have to ask yourself whether it makes sense to do business with that home warranty company.  Depending upon how bad the news was, you might want to get quotes from other home warranty companies immediately, rather than waiting to find out the hard way that the company doesn't do what's right for its customers or contractors.
When the repair technician has bad things to say about the home warranty company, it may be time to look for a new one.
Getting home warranty quotes is just one of many things you can do right here on HomeWarrantyReviews.com.  We work with many of the top companies in the industry, so we can probably get you the details quote information you need within minutes, delivered to you by a knowledgeable representative of the company you're interested in.
If the news you got wasn't good, but you're not convinced that one opinion is a good indication of the company's dealings with its customers and contractors then you may want to follow with one or two calls to other repair contractors in that company's network of service providers.  One bad experience may be balanced out by a good one, or you might get a consensus from a few contractors that they're usually happy working with the home warranty company.
Can you choose your repair contractors?
When the news is good and comes from a reputable repair technician, you might want to find out if that technician can be the one the home warranty company sends when you request service.
If you had a good experience talking with the technician then you may want to find out if the home warranty company will allow you to choose your own technician when you request service.  If that technician took the time to help you when you called to ask for his or her opinion about the home warranty company then you can probably count on that person being equally helpful and professional when something covered by your home service contract needs service.
Some home warranty companies allow their customers to choose a repair contractor rather than waiting for the company to dispatch one from their network of service providers.  In those cases, it would save you time in the future if you already have contact information for a contractor who accepts your home service contract coverage.  But keep in mind that there are a few situations in which having just one contractor selected ahead of time will not help you.
The contractor is unavailable at the time you request service

The contractor does not work on the type of appliance, system, fixture or another covered item that you need to be repaired
So if a home warranty company permits you to choose your own contractor you should probably get to know a few different local companies that work with the home warranty company.  Depending on what your contract covers, you might need more than a few experts in various repair fields.
If your home warranty company and your contractors do right by you then please return the favor!
The best way of saying thank you to a repair contractor and to your home warranty company, when they take good care of you, is to write reviews by looking up the companies which have served you.  You not only reward those companies for their good work, but you also help other customers, people just like you, make smart decisions about the companies they choose to work with.  So please share a moment of your time when you have a good experience with your home warranty, and post a review here on HomeWarrantyReviews.com!