How to Decorate Your Living Room Walls?
PUBLISHED: June 14, 2018
•
6 MINS READ
Do your plain, living room walls call for attention? Have an empty wall and don't know what to do with it? Throw in some color or design by adding some wall art and bring your walls to life. Here are ten DIY wall art idea along with the steps to create them.
Wall Art Ideas to Brighten Your Living Room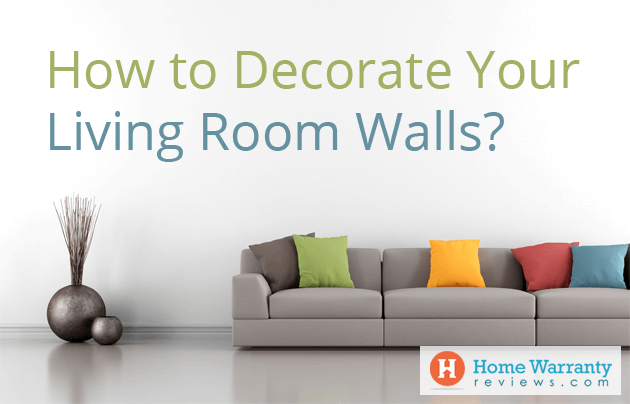 Here are ten simple wall art ideas that you can use for your living room along with detailed instructions to make them. When it comes to DIYs, there are certain power tools and hand tools that always come in handy. For these ideas, however, you don't really need most of them.
1. Hang a scarf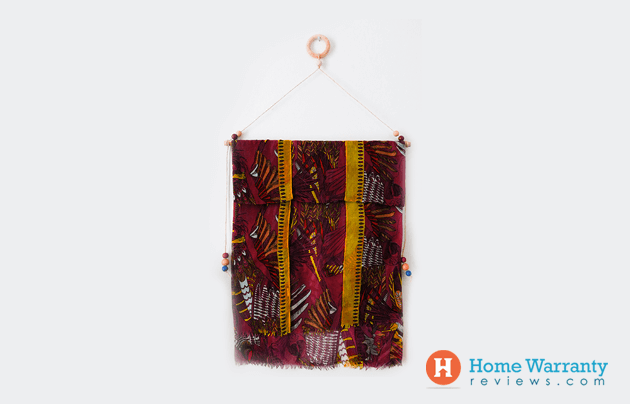 DIY Scarf Wall Hanging System with Instructions
Find a scarf that looks like a piece of art and give that plain wall some edge.
For the wall hanging
If you prefer a wall hanging, this is what you're going to need.
What you need
A wooden ring, some rope, few beads, a handsaw, a dowel, scissors, glue, a scarf of course, and maybe needle and thread.
Directions
There are two ways to do this, you can either frame the scarf or make a wall hanging from it. You can choose your DIY method depending on the design on the scarf.
Place the scarf on a flat surface and put the dowel against the breadth of the scarf. Cut the dowel 2 inches longer than its breadth and smoothen the edges with sandpaper

Fold the thread in the middle so that both the loose ends are equidistant from the middle. Now make a loop around the ring with the thread. You can add a few beads if you like it colorful

Make a knot with the loose ends of the string at the end of the rope and add a few drops of glue on either side so that it doesn't slip off the dowel

Iron the scarf (be cautious while ironing the scarf, you can't use a high temperature for a silk scarf) and fold it around the dowel. Use a few pins to ensure that the scarf doesn't slip off the dowel. Or you could do a running stitch on the scarf so that the cloth doesn't slip off the dowel

Hang it on the wall and give it a bright look
2. A framed scarf
If you prefer your scarf in a frame so it's sturdy and looks a bit like a painting, this is what you've got to do. Here's a pretty scarf that I came across and thought it would look lovely in a frame.
What you need
Apart from the obvious scarf, you'll need a frame (you can pick this up from your local home decor store).
Directions
Make sure the scarf you pick fits the frame. If not, you're going to have to cut it so that it fits the frame

Iron the scarf so that there are no creases on it. Be careful while ironing the scarf, a high temperature can ruin the fabric

Place the scarf on the base of the frame and first fix the corners with pins. Use a few pins along the edges as well so that the scarf stays in place

Slide the base of the frame back into place and your wall hanging is ready
3. String Art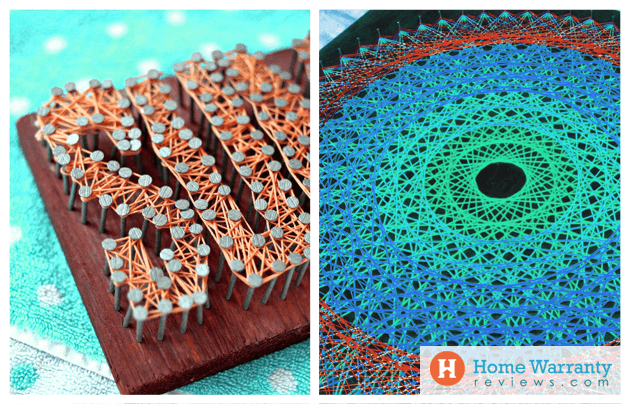 DIY String Art with Steps
You can make string art in a pattern or in words. Doing this feels therapeutic as well.
What you need
Embroidery floss (one color is enough but you can use more if you like it colorful), linoleum nails 11/16", corkboard rolls, glue gun, and tape.
Directions
Unroll the cork boards and place a few heavy books on them to flatten them out. Each cork board is only 1/32" thicks and this isn't enough to steadily hold a nail. Use the glue gun to stick around 3 cork boards, place some heavy books on them and leave them to dry

Print out the word or the pattern that you want on a sheet of paper. If you're making a large word, each alphabet can be printed on a separate sheet of paper. For example, if you want the word 'dreamer', the 'd' and 'm' might go on two separate sheets of paper as they are larger than the other letters. Similarly, if you want a large heart, the entire heart will be spread across 4 sheets of paper or maybe even more

Cut the design out of the paper and stick the sheets of paper together to make the design whole. Don't bother cutting out the interiors for the letters 'd' and 'a' or if your pattern has gaps in between

If you think that the cork board is a little too big for your piece of art, you can cut off the edges using scissors. (Ps. Don't use a box cutter, it will shred completely and leave the cork useless

Paint the board. You can use an interior acrylic latex paint or you could use spray paint. If you like the texture and color of cork, you could leave it as it is

Once the paint dries, turn the board over and attach the hanging strips. It's best to do it before the nails are fixed to it

Now place the template on the cork and tape it. Insert the nails into the cork, it'll go in pretty easily unless it hits a clump of glue, then you'll have to apply force. Trace the insides of the pattern by pushing the nails through the paper

Take out the template slowly, so that you don't disturb the nails and it's ready for stringing
Stringing
If you're working with one color, it's pretty simple. Tie a knot around a nail at one end and start weaving in a back and forth fashion. You don't need to follow any fixed patterns, it's pretty therapeutic, actually. If you don't like how a small section has come out, unwind and re-do it

If you are working with multiple colors, decide where each color would end and the next color would begin before you start. Once you're done with the first color, start with the next color. If you don't want the color to change abruptly, you can overlap the last few cms of the design with the next color
4. Shoebox Display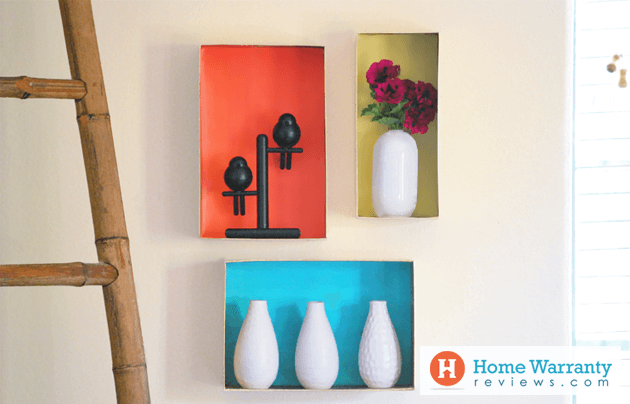 DIY Shoe-box Display with Steps
Boxes make pretty cute displays. If it's a small box you could put up cute souvenirs from your travels and if the box is bigger you could also use it as a bookshelf.
What you need
Shoebox, paint/spray paint/wallpaper/gift wrap paper, hanging strips.
Directions
Line the insides of the box with a pretty textured paper or you can spay paint them if you prefer a mono color

Attach hanging strips to the back of the box and fix them on the empty wall

Place souvenirs or books depending on the weight that your hanging strips can handle and tada, your shoebox display is ready
5. Stencil Lettering on Thrift Shop Paintings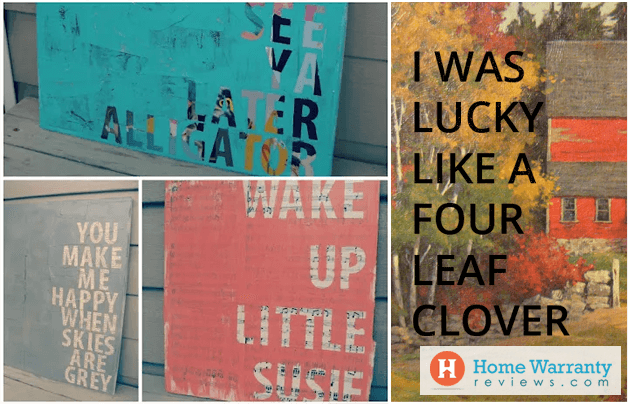 DIY Stencil Lettering on Thrift Shop Painting with Steps
You won't believe the cool wall hangings you can come up with a thrift shop painting!
What you need
Thrift shop painting, scissors/ cutting blade, stencil, and some paint (preferably spray paint), and a quote that you like or just a few words
Directions
There's more than one type of wall hanging you can make with a thrift shop painting:
Alphabets pasted:

Cut out blocks of lettering from a poster and paste them on the painting and leave the interiors. This gives you your favorite quote against a pretty background.

Lettering on a background:

Cut out the shapes of lettering including the interiors of letters like 'B', 'O', 'R', etc.

Spray painted quotes:

Cut out your lettering on a piece of paper and place it over the poster. Spray paint over the gaps in the paper. Leave it to dry for some time and then remove the paper from the board. You will be left with a spray-painted letter of your favorite words on a pretty background. You could also do it the other way round by cutting out the alphabets from a paper and placing them on the painting and spray painting the entire background. Once the paint dries, remove the alphabets and you'll have a plain background with printed lettering.
6. Picture Hangings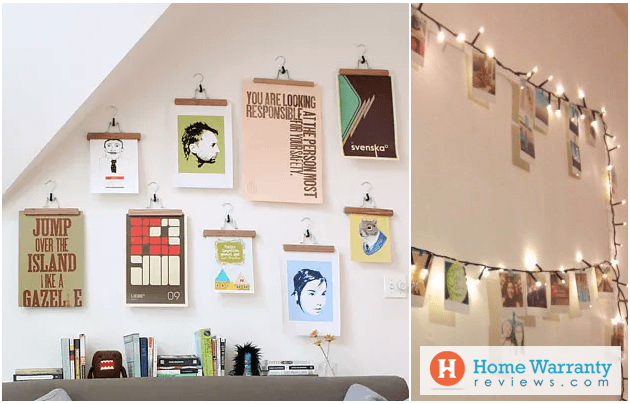 DIY Picture Hanging Wall Art
Picture hangings can add your personality to the room. If you use fairy lights idea, you'll give the room a warm cozy feeling.
What you need
Hangers with clips or paper clips and strings of yarn/fairy lights, posters or photographs.
Directions
Hang 5-6 hangers on a wall and fix a few posters that you like to it

Put up a string of yarn or fairy lights against a wall and use paper clips to attach photographs to them
7. Sunburst Wall Mirror with Paint Sticks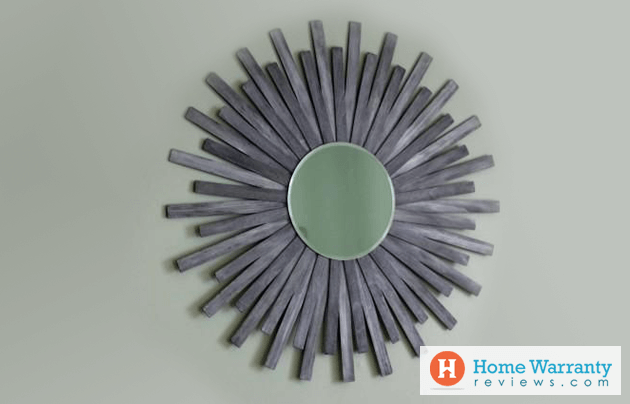 Sunburst Mirror Wall Art
Having this on a wall opposite a large window can brighten up the room and give it an artsy edge at the same time.
What you need
A 7" circular mirror, 40-50 paint sticks, a wood base, 7" embroidery hoop, picture hanger, hot glue or gorilla glue, some paint, and a blade.
Directions
Glue the mirror to the wood base

Paint the embroidery hoop evenly. You could use craft paint or spray paint that's meant for plastic. If you do a lot of DIYs you could pick up a bottle of spray paint that's made for plastic, if not regular craft paint should do the job. Once the paint dries, glue the ring on top of your mirror

Place the paint sticks around the ring to roughly know how many sticks you'll need to paint

Cut off the rounded edges of the sticks with a blade so it becomes easier for you to stick it to the ring

Apply paint on the paint sticks. Black or hues of wood, gold with copper or whitewashed beachy colors usually look good

Fix the picture hanger at the back of the wood base. Now fix the paint sticks to the plastic ring with hot glue. Leave it to dry for some time, then attach the second layer of sticks

Clean off any paint that has come on the mirror. Seal any gaps between the mirror and the ring with caulk
Ps. You can place it opposite a window to brighten up your room or you can place it opposite a painting and you'll see the reflection of the painting on it.
8. Collected Autograph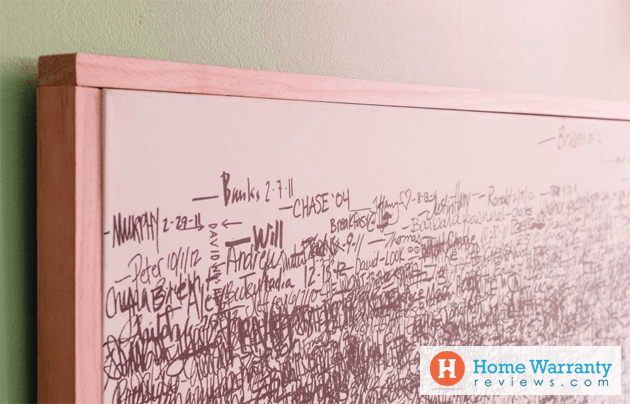 Collected Autograph Wall Art
If you love entertaining guest, this is an idea that you'll love.
What you need
Basic a standard medium or large art canvas, a frame some and some nails.
Directions
Pin the extras of the canvas to the back of the frame and make sure not to use a glass

Hang the frame at a convenient height on an empty wall in a room that gets a lot of traffic

Leave a marker near it and ask your guest to leave their signatures on the canvas. The random placement of signatures will create a personal piece of art that looks one way from near and different from far away
9. Photo Collage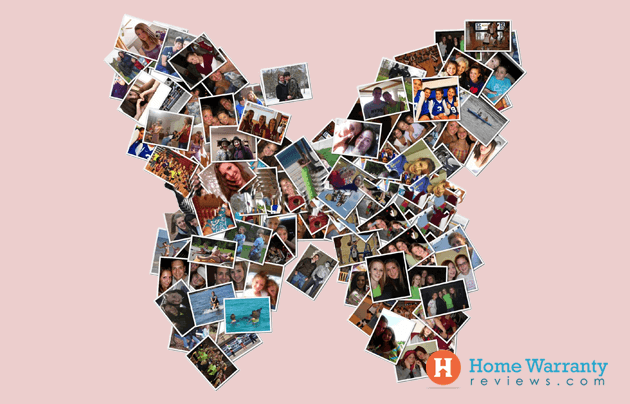 DIY Photo Collage for Your Living Room
A photo collage adds a lived-in look to your home and works as a very good conversation starter. Plus it can always put a smile on your face after a tiring day.
What you need
Printouts of your Instagram pictures and glue.
Directions
Take printouts of your favorite insta pics in a polaroid size

Decide on a pattern and stick them on a wall to create the pattern and you're done
10. Nailhead Wording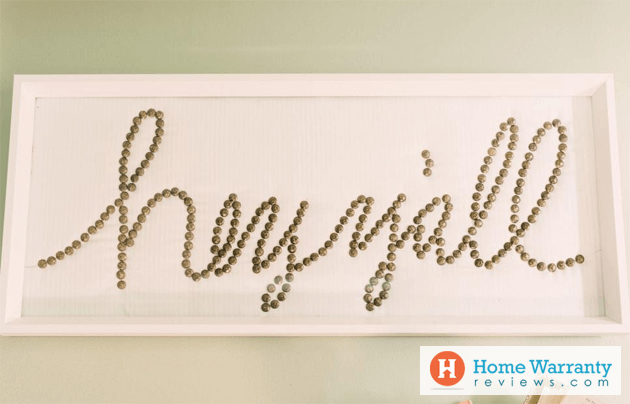 DIY Nailhead Wall Art for the Living Room
Nailhead wordings are distinct and grab the attention of any new person in the room
What you need
Corrugated foam core, nailheads or brass tacks, rubber mallet or hammer, and a frame.
Directions
Decide on the lettering that you want and draw the message directly on the foam. If you prefer a cloth background, you can use textured paper over the foam and pin it at the back. In case you're using a paper, draw the message onto the fabric

Insert the brass tacks or nailheads into the foam over the lettering with the rubber mallet or hammer. Don't leave gaps in between, so that the nailheads or brass tacks are back to back and create perfect alphabets

After that, place the foam core inside a complementary frame and hang it on your wall
Here's one bonus idea that you can use to do something for your kid's room (if you have a kid at home). It's easy to make and you could use their help to make it.
Garlands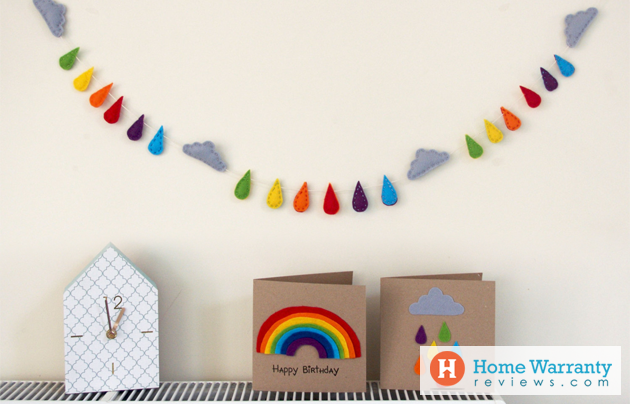 DIY Garland Wall Art for Kids
Garlands are a simple way to brighten up a wall. You can use this idea for your living room or even for your kid's bedroom.
What you need
Wool strings, ribbons in different colors, glue, stapler, origami paper, and some gift wrap paper.
Directions
Cut a few woolen strings of the same length

Take the origami paper and cut out 2-3 designs in different colors. Or if you prefer just one design, you can go ahead with just one

Staple cutouts in a pattern you like onto each woolen string at equidistance

You can also tie knots with small pieces of ribbons onto a different woolen ribbon

Stick the ends of the wool to a wall and make a garland from it
Ps. If you want to do this for your child's bedroom, you could staple cuttings of their favorite cartoon characters, superheroes or animals onto the woolen strings.
If you're in an artsy mood and feeling creative, you could also check out ideas for DIY Pet Beds.
A Little Extra Protection for Your Home
While we're still talking about the looks of your home, let us tell you that an average American spends 2% of the cost of their home on home maintenance every year. That would mean, for a home that costs $200,000, the average home maintenance would cost $2,000. While a home warranty policy's cost ranges from $350-500+ for a home per year. A home warranty policy covers the cost of repairs and replacement of covered home systems and appliances that are caused due to regular wear and tear. Investing in a home warranty policy for your home can help you save a lot of money on home maintenance through the year. However, a home warranty policy is economic only when you invest in the right home warranty company for your home. Choosing the right company requires research.HomeWarrantyReviews.com publishes a list of the top ten home warranty companies nationwide every year. Make sure to take a look at this list and read reviews about the companies before you finalize on one. You can also find out the top home warranty service providers for your state by clicking on your state's name in the link.  If you aren't sure whether your home requires a home warranty coverage, you can use the home maintenance calculator to help you make your decision. The home maintenance calculator estimates the approximate cost of repairs for your home for a year by collecting information about the age of your home, the age of your appliances and a few other details. If you've tried any of these ideas, do let us know how the patterns turned out and what challenges you faced (if any).