Cost-Efficient Bedroom Ideas For Your Next Room Makeover
PUBLISHED: June 10, 2022
•
6 MINS READ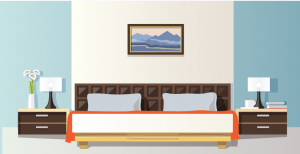 Are you in the process of planning a bedroom makeover but worried about the cost? Don't be — there are plenty of cost-effective ways to give your bedroom a fresh new look.
This blog post will discuss some great ideas for giving your bedroom a makeover on a budget. So if you're ready to give your bedroom a facelift, read on for some helpful advice.
Choose A Light Color Palette
When redecorating a bedroom, choosing a color palette is one of the first decisions. Opt for light colors such as white, cream, or pale blue for a light and airy feel. These colors will make the room appear larger, but they will also help reflect light, making the space feel brighter and more open. 
Select furniture and accessories in darker shades to add a touch of contrast. For example, pair a white bed frame with navy blue bedding or choose a black nightstand to complete the look. With a light color palette, you can create a bedroom that feels both spacious and serene.
Install New Window Treatments
If you're looking for a way to brighten your bedroom and save on energy costs, installing new window treatments is a great option. Natural light can make a room feel more spacious and airy, but it can also help improve your mood and increase your productivity.
When selecting new window treatments, choose a light-colored fabric that will let in plenty of sunlight. Sheer curtains are a good choice, or you could opt for blinds or shutters that you can open during the day to let in as much light as possible. Beyond saving on your energy bill, letting in natural light is also good for your health, so it's a win-win situation.
Swap Out Your Old Bed Frame For A Platform Bed
If you're looking for a bedroom makeover that's both stylish and practical, consider swapping out your old bed frame for a platform bed. Platform beds support your mattress without needing a box spring, making them an excellent option for people who want to save space or avoid the hassle of moving a heavy piece of furniture.
Plus, platform beds come in various styles, so you're sure to find one that suits your taste. Whether you're looking for a modern aesthetic or a more traditional look, there's a platform bed that's perfect for you. So if you're ready for a bedroom makeover that's both fashionable and functional, trading in your old bed frame for a platform bed is the way to go.
Bed Frame Dimensions
When changing up your bed, you need to consider bed frame dimensions. Bed frame dimensions will affect the size of your mattress, so make sure to measure your bed before buying a new frame.
Mattress Dimensions
It's also essential to consider mattress dimensions when buying a new bed. A full-size mattress is 54 inches wide and 75 inches long, while a queen-size mattress is 60 inches wide and 80 inches long. If you have a king-size, you'll need a frame at least 76 inches wide and 80 inches long. For a California king-size bed, you'll need to find a frame that's 72 inches wide and 84 inches long.
Before shopping for a new bed frame, measure your mattress to know what size you need.
 Get A Medium-Firm Mattress
A medium-firm mattress is a perfect option for people who want the best of both worlds. It's not as hard as a firm mattress, so it's more comfortable for side sleepers, but it's not as soft as a plush mattress, so it's ideal for people who need extra support.
Plus, a medium-firm mattress is an excellent choice for couples because it minimizes motion transfer, so you won't be disturbed by your partner's movements at night. And if you suffer from back pain, a medium-firm mattress can provide the support you need to get a good night's sleep.
Create A Minimalist Look
A bedroom makeover can be a great way to freshen up your space and create a more relaxing atmosphere. One way to achieve this is by getting rid of all the unnecessary furniture and accessories. A minimalist look can help open up the room and create a sense of calm. Start by removing any items that are no longer used or needed. If you have any off-season clothing, consider storing it elsewhere.
Next, take a look at your furniture. If you have any oversized or bulky pieces, consider replacing them with smaller versions. And finally, declutter your nightstands and dressers. Remove any excessive items, like extra candles or picture frames. By taking these steps, you can create a serene and inviting bedroom retreat.
Hang Artwork Or Photographs On The Walls
Hanging artwork or photographs is an easy way to add personality and visual interest to your space. When choosing what to hang, think about what speaks to you and makes you happy. It could be a piece of art that you created yourself, a photograph that captures a special memory, or even just a favorite quote or saying. The possibilities are endless. 
Whatever you choose, make sure it is hung at eye level so that you can enjoy it every day. With a little bit of thought and effort, you can transform your bedroom into a stylish and inviting space that perfectly reflects your personality.
Add A Comfortable Rug And Plush Pillows
A bedroom should be a haven, a cozy, inviting space where you can relax and recharge after a long day. But if your bedroom feels more like a bland hotel room than a personal retreat, it might be time for a makeover. One of the easiest ways to transform the look and feel of a bedroom is to add a comfortable rug and some plush pillows.
Rugs can help define the space and add color and texture, while pillows provide visual interest and extra comfort. When choosing a rug, look for one that is soft and inviting, and make sure it's large enough to fit under your bed and extend out on either side. For pillows, choose a mix of sizes and shapes, including standard and decorative accent pillows.
Conclusion
A bedroom makeover is a great way to freshen up your space and create a more inviting atmosphere. By making some simple changes, like swapping out your old bed frame for a platform bed or adding a comfortable rug and some plush pillows, you can easily transform your bedroom into a stylish retreat that you'll love coming home to.
If you're looking to redecorate your living room, too, read How To Decorate Your Living Room Walls.