Do It Yourself Patio
PUBLISHED: August 22, 2013
•
5 MINS READ
A patio is an ideal place for basking in the sun on those lazy Sunday brunches or happening evening barbeques, wining and dining. A patio can add that special something to your home, at the same time adding value to your property.
A patio is a outdoor space for dining or recreation that adjoins a residence and is often paved and well decorated.
According to a recent survey conducted by the National Association of Realtors, patios were among the top 10 features that buyers want in a new house. More than half of surveyed buyers said that they would be willing to pay a premium for a house with a patio.
Creating a patio for your home can be engaging and rewarding. You can choose to do it yourself or hire a professional. A patio is one of the most flexible places and you can design it the way you want.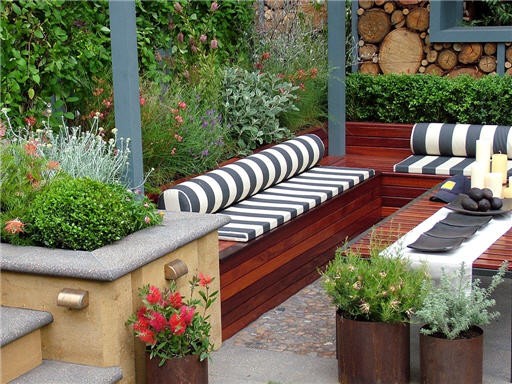 Five Easy Steps To Laying A Patio
Don't worry if you've never done any hard landscaping before, as our simple guide will lead you through each step of the process. We chose to use slate paving, but the choice of materials are endless (from sandstone to york stone to concrete), with something to suit every budget.
Step 1
Measure the area you want and dig it at least to 15 cms deep to allow space for mortar and slabs.
Step 2
Shovel in three inches of crushed stones for base and make it even. This can be done manually or you can rent a machine tamper.
Step 3
Lay the slabs down and check if you're happy with the arrangement. Start from the house or a wall or fence if there is one.
Step 4
Make a mortar mix from five parts building sand to one part cement or use ready-made mortar mix and follow the manufacturer's instructions. Create a bed of mortar 5 to 8 cm deep and lay slabs on it leaving 1 cm gaps in between for grouting. Tap down the slabs with a lump hammer. Check with a spirit level as you go to ensure the slabs are level or maintaining the fall away from the house. Leave the mortar to set for at least 24 hours or a few days.
Step 5
Fill in the spaces between the slabs with a mix of three parts building sand to one part cement (or a ready-made mix) using a pointing trowel. If you get any of the mix on the slabs; remove it. Allow to dry for a few days.
A patio is incomplete without elegant furniture, lighting to suit the mood and yes some plants to add some color. Here are some ideas on how you can decorate a patio –
Furniture
Choose furniture which fits the space you have created in the patio else you end up having no space for a table or chair. You have a wide variety of materials to choose from plastic to wood or iron. Resin, a kind of plastic is the best choice for outdoor furniture. It is weather-resistant and doesn't absorb heat in the summer and are low on maintenance.
Lighting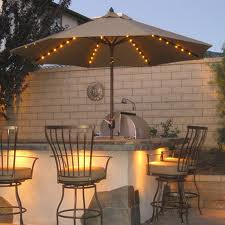 Lighting It sets the mood and makes your patio a much sought after place. Embedded lights on stairs can help you watch your steps during dark nights. Here are few lighting options to consider. Energy efficient lighting tips can be found in the articles section.
Chinese lanterns add glamour and ambience to any space, also are very economical. Make sure to shop for sturdy lamps as cheaper ones get worn out easily.
Flood lights are the best for lighting a patio especially when they are positioned correctly and makes the place look much brighter. But these consume lots of electricity therefore can be used as an alternative.
Solar lights  If you are a Mother Nature lover then yes. Even if not then yes, solar lights are the most viable option. These lights tend to sit low to the ground and serve as perimeter lighting, which is perfect for the path to the patio.  Solar lights can be a great option for and can be chosen from variety of styles and illuminates for 15 hours  and of course saves on your electricity bill.
Plants
Spruce up your patio with potted plants, ferns and shrubs and plants which thrive well in your area. You can get creative with the plants you choose and experiment with different colors and texture and use pots of different shape and size. You can also create a pool or a fountain to get closer to the Mother Nature and to add that special touch.
To enjoy your Patio in all weather you have to shield the place. Consider adding a retractable awning or umbrella to your patio space. The shade that these coverings offer will allow you and your family to enjoy your patio comfortably regardless of the weather.
Patio Shades
Retractable awning: This modern shelter allows you to shade your porch and keep it dry during a storm, but you can also retract it to enjoy the sun's rays.
Sail shades: They're flexible enough that you can attach them to anything from the side of a house to a tree, and they come in many sizes, shapes and colors to fit any budget and style.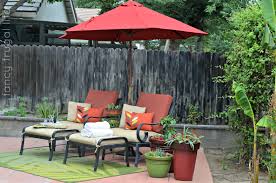 Umbrella 
One can get carried away by the variety of umbrellas to choose from  Auto Tilt Patio Umbrella, Offset Patio Umbrella, 9 Market Umbrella etc. Back-porch classic is both decorative and functional and will give diners a shady respite during mealtimes. For nighttime parties, drape garden lights inside an umbrella for added ambiance.
You can add a fireplace and a barbeque and decorate the place with artifacts to add personality to your space and your patio is done. Home warranty might not be able to cover your patio but insurance will.