Fire Pits in the United States: Everything You Need to Know
PUBLISHED: July 31, 2017
•
6 MINS READ
Leisure is the quality of experience spent away from doing work, chores, education, etc. People require a regular break from monotony in work and life by being able to enjoy the simpler, yet finer things in life. Right from making your own wine to painting or even a fire pit can give an individual a sense of relief and leisure that is deserved. Whether it be having a cold beer on the weekend at a family barbecue or keeping your family warm on a cold winter night with some hot chocolate and marshmallows, a pit fire or fireplace is a sure way to add an aesthetic and sentimental value to your home.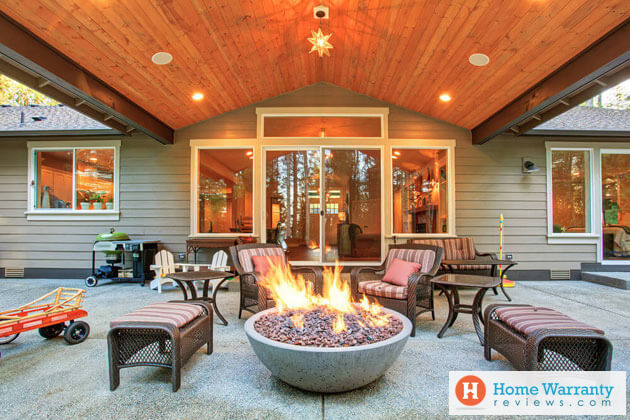 Fireplaces are generally a permanent fixture, require a lot of space and are very expensive. For the past few decades, fireplaces have gained popularity as an addition to patios for the upper middle class. But there also exists an adequate alternative to the traditional fireplace in the form of a fire pit. A fire pit can be permanently installed in a backyard or a portable fire pit can be purchased or built and used to meet any requirement.
Before you get or make your own fire pit, it is important to comply with the law, rules, and regulations stipulated by your city code. With respect to fire pits, cities have rules such as required on-site fire extinguisher, fire pit size, distance from nearby structures, etc. Homeowner insurance fees and warranties may also vary for a house with a fire pit as compared to a house without one. Do check our consumer report on home warranties to get a better understanding of the same to help you select the highest rated top home warranty company.
To Build Or Buy A Fire Pit?
If you choose to build the fire pit, then we suggest using a fire pit kit. This kit will allow you to build an enclosure out of concrete or brick that will make the fire pit look sophisticated and elegant. The components that come with the kit include a manual, fire ring, frame, match lit or electronic ignition system, log set, enclosure material, etc. If you choose to build a fire pit without the kit, then you will be required to purchase and assemble each component separately which could be a hassle and time-consuming. Moreover, if your fire pit is not assembled properly, it could be dangerous or hazardous (and is recommended for experts only).
If you choose to buy a fire pit, then it is prudent to buy a portable fire kit for the sake of convenience and versatility. Portable fire kits come in various shapes and sizes for different prices. The smaller models can be used as a travel companion and are great for beach parties, camping, house parties, etc. High-end customers looking for something classy, formal and eloquent can opt for granite, glass fiber, terracotta, etc, which will come at a higher price. But once all your materials are in place, the fire pit will be the center of attention at all future gatherings (family, social or otherwise).
Styles Of Fire Pits
Most fire pits use wood, gel or gas as a form of fuel. So if you are environmentally conscious (which we all must be), you could select a slightly more expensive and less polluting source of fuel. There are several styles of fire kits, but in this article, we shall cover gas fire pits, wood fire pits, gel fire pits and The Dakota smokeless fire pit. By simply adding a metal grill on top of a fire pit, you can cook your food over an outdoor grill, which is an added utility of a fire pit. A fire pit can be modified into a fire table, which is a standard dining or coffee table with the ambiance of a fire pit.
The following points will further elaborate on the different styles of fire kits available in the United States.
1. Gas Fire Pit
Gas fire pits are the most common types of fire pits and can be purchased as a kit or separately through individual components. A fire kit offers restrictive customization but also requires the least amount of knowledge to set up, and is recommended for amateurs that want to make their own fire pit. These pits use natural gas or propane burners which are certified for use by the American National Standards Institute.
2. Wood Fire Pit
A wood fire pit is the easiest to setup and operate and compared to gas fire pits, wood fire pits produce a greater amount of energy at a significant cost of stockpile and maintenance. Moreover, this pit generates a significant amount of heat (thus, cannot be installed near combustibles) and ash (that needs to be cleared regularly).
3. Gel Fire Pit
Gel fire pits also have a relatively simple setup and operate on gel fuel canisters. If you are thinking environment-friendly, getting a gel fire pit is the way to go because these pits burn a gel that is odorless and clean. Gel fire pits produce the least amount of heat and are safe enough for indoor use or can be used as a table top.
4. The Dakota Smokeless Fire Pit
The Dakota smokeless fire pit emits the least amount of smoke and the brilliance is in the design. This is a DIY fire pit that can be made by digging two holes in the ground, one to provide a draft of air and the other for the firewood. It is because of its reduced smoke, low light signature and convenient to make fire light in windy conditions. The Dakota fire pit is utilized as a tactical fire by the US military.
Fire Pit Ideas
Here are a few ideas you could use to either come up with a DIY fire pit or avail one from your local store (based on your convenience, preference, and budget).

1. Washing Machine Drum Fire Pit
A washing machine drum is the perfect size for a fire pit and has a number of fine holes that are perfect for the needed airflow. Step one would be to obtain the drum, then work on removing rust, removing sharp edges and paint with heat resistant supportive spray! Add foot stands and you're done!
2. Backyard Fire Pit
This is one of the most popular types of fire pits! To begin with, make sure you have sufficient backyard space. Choose a comfortable circular spot and size to dig a shallow hole in the ground. You'll need a concrete mix to pour around the circle as a border, over which you may lay stones. Also, add a layer of brick inside this circle as the inner border. Brush away debris and your pit is ready!
3. Square Fire Pit
A square fire pit has a sleek edgy look. The process to build this pit is the same as a backyard fire pit. A fancier approach is taken with this type of fire pit with fireplace friendly pebbles usually laid at the bottom over a fire ring, within which logs (flammable material) are put to light up that fire.
4. In-ground Fire Pit
An in-ground fire pit, as the name suggests, is usually set below normal ground level. At eye level, you should be able to see just fire and not the pit itself. A hole is dug, either in your backyard or your patio, a layer of gravel and sand of up to 4 inches is added to the pit. The perimeter is usually decorated with stone or a fence when the fire pit is not in use.
5. Old Steel Rim Fire Pit
The best use for old tire-rims, especially from truck tires (40 inches) is to convert them into fire pits. The idea is to get rid of the rubber, and clean the insides and the dirt surrounding it. Place the rim leveled on the ground, with the opening on top. Place stones around the rim leaving a gap between the rim and the stones. Ideally, this gap should be filled with gravel. This will keep the stones cool even with the fire burning.
6. Portable Shopping Trolley Fire Pit
This is probably the coolest recycled way of making a fire pit. Buy or pick up a trolley from a local supermarket, watch out powder coated carts as they are not fire resistant.
Step 1: Remove all plastic and rubber material attached to the trolley.

Step 2: Take an approximate measure of the base portion of the trolley. Use galvanized steel in the same measure of the base and place it inside in a manner that it fits snugly. Place cookie/baking sheets over this. This will keep flammable material and fly away sparks from falling out of the trolley.

Step 3: Use a close grid flexible mesh material to cover the sides of the trolley.

Step 4: Measure the top edges of the trolley frame and cut out mesh material to cover the top. At this point, you would have to use nuts and bolts to hold them all in place. Enjoy your shopping trolley fire pit!
7. Fire Pit with a Barbecue Grill
A fire pit with a grill is fairly easy to make once you've cracked the backyard or in-ground fire pit. All that's left to do is get a grill plate with stands high enough to have the right amount of distance between the flame and the grill. Now place the grill plate over the fire pit and get started! A key point to note would be to have control over your flame to make sure you have the right amount of grill on your meat and veggies!
8. The Zen Fire Pit
The Zen fire pit is a fairly portable fire pit that has a simplistic, calming effect. The fire pit is in a big bowl-shaped vessel, covered in pebbles with the flammable material centered ready to be lit. The best part of this fire pit is that it allows you to fill it up with any material you want based on the kind of decor you're going for.
9. Fire Pit Bench
A fire pit bench is perfect for the distance between fall and winter. The idea is to build your standard backyard fire and build comfortable seating around it. There is usually a good 2 – 4 feet distance between the seating and the fire pit walls. Convenient to warm your feet, have a cozy get together with family and friends and enjoy those comforting roasted marshmallows.
10. Led Lit Fire Pit
Commercially available, this piece of art can be readily bought, it ignores the hassles of cleaning and runs on electricity rather than fire fuel. While functionally, it may not alter the temperature of the room, it does come in beautiful variations of color, size of flame and shape of the fire pit.
11. Half Fire Pit
The Half fire pit is the kind that does not have the entire perimeter dedicated to just the fire pit. Common sightings of this type are usually found attached to a garden wall, a swimming pool, interior wall of a house or your garage. These could be footed from the ground, or even wall mounted above ground level.
12. Barrel Fire Pit
A barrel fire is easy, cheap and can be designed to any size and decor. A tin material barrel shaped bucket or vessel is ideal for this type of fire pit. Tin is a safe choice as it easy to keep the fire contained at all times even when extra fuel is used. And since all the mess is in the bucket, starting and putting off the fire is quite a clean procedure. You can either recycle an old bucket and start using it instantly or you could get one made and paint and decorate it as you'd like.
Home Warranty for Fire Pits
HomeWarrantyReviews.com enables customers to select warranties and maintenance from a curated list of various Home Maintenance Companies. It is always a good idea to have an insurance in the form of a guarantee or warranty on your appliances and goods so that they may be replaced or serviced if they get damaged or destroyed. In this case, fire pits (the kits and completely assembled unit) that can be purchased may need maintenance or repair from time to time. Similarly, a regular inspection could increase the life cycle of a fire pit or any other home utility such as a lawn mower, washing machine, refrigerator, and so on. But before signing a contract with a home warranty company, it is essential that you as a homeowner do your research to see:
If it would be cheaper to get a home warranty rather than pay home maintenance cost

What range of appliances a warranty applies to, and

The reputation of the company providing you maintenance and warranty services.
Companies have been reviewed on HomeWarrantyReviews.com by genuine customers and clients, which gives you, as a customer an idea about the services provided, the comparative rates charged by the companies, the average appliance repair cost, the additional/complementary services provided, etc. A Home Maintenance Calculator will give you estimates on your appliance maintenance cost, your home warranty cost, your range of appliances and years used, etc. and also accounts for depreciation in the value of an asset or appliance over time at the adjusted rate. It is important to take advantage of these free tools that will enable homeowners to make well-informed decisions and save a considerable amount of time and money with replacing or fixing an appliance.
However, fire pits can be very dangerous to homeowners and the environment, especially if they are not properly tended. Fire pits are included among this statistic and come with many safety risks.
The Best Outdoor Fire Pits are:
Landmann 26364 23-1/2-Inch Savannah Garden Light Fire Pit
Outland Firebowl 823 Outdoor Portable Propane Fire Pit
Heininger 5995 58,000 BTU Portable Propane Outdoor Fire Pit
AZ Patio Heaters GS-F-PC Propane Fire Pit
Outland Fire Bowl Mega 850 Propane Outdoor Fire Pit
The short answer is, yes! Fire pits are legal in most cities, however each city in Southern California has different ordinances for building fire pits, and it's good to check the laws for your city before building. In fact, propane and natural gas are a more environmental alternative to wood burning fire pits.
For the Fire Pit, a 20# propane tank will last approximately 4 to 4 ½ hours at a continuous burn at the maximum output. The tank will last approximately 8-9 hours at a moderate gas output. For the Fire Table, a 20# propane tank will last approximately 4 to 4 ½ hours at a continuous burn at the maximum output.