Green landscaping – A healthy way to liven up your yard!
PUBLISHED: October 29, 2014
•
6 MINS READ
Green Landscaping is a new trend of sorts and it causes the least harm to our nature so I suggest that you read on. You might already know that Landscaping is essentially the practice of improving the aesthetic appearance of a confined or set area by making use of colors, contours, trees, or plants, you name it. Altering the visible features of an area immensely influences the emotions of the people who constantly occupy that area.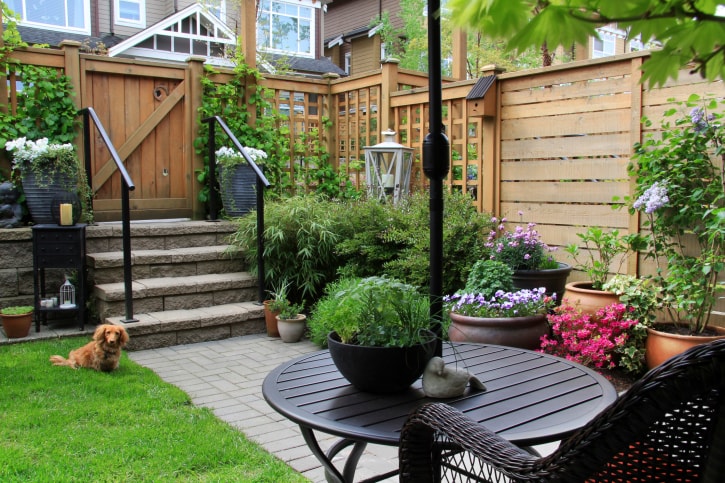 Over the years, Landscaping has become more than a hobby to many. With the rising amount of pollution and falling levels of energy resources, you may want to consider an alternate way of Landscaping. Why not adopt a method that will not only make your yard stunningly beautiful, but will also help you save the environment and conserve energy too?
That's what Green Landscaping is all about. Green landscaping, also called as sustainable or eco-landscaping makes use of methods that do not harm the environment in any way. It uses less water, protects the natural vegetation by making use of native or naturalized species, manages the waste disposal efficiently and also optimizes energy usage. And guess what? The costs are much lower too! On the whole it offers healthier and inspirational spaces to people.
People who take up Green Landscaping are often called Green Landscapers, and trust me when I say this, they are not lazy, jobless people who took to Green Landscaping just to kill time. They are highly motivated and they don't take environmental issues lightly. Green Landscapers treat their designs the way other people would treat Home Insurance, everything must be covered. Based on reading so far, if you genuinely want to start one on your own, do read the rest of the article.
Planning Green Landscape
1. Assess your property
Begin by assessing the site where you plan to start your green landscaping activity. Pay attention to the following:
Type of soil– Your soil could be acidic or alkaline. In certain cases soil may contain small amounts of lead, this could be dangerous if your little ones play in it. It is suggested that you get your soil checked. You can call the following number for details – National Lead Information Center at 1-800-424-LEAD
Location– Inspect the other details of your site. Determine the amount of sunlight received, mark areas where underground utilities and overhead power supplies are present. Note the shape and size of the property and try to convert that into a map on paper.
2. Research and Plan
Brainstorm– Decide what you want your yard to be. It could be a play area, outdoor dining or maybe a bubble to save you from the rest of the world. It's your choice and it could be anything. However if you plan to start anything that primarily involves plants and vegetation, you should make sure that your site receives ample sunlight. You can also mark the areas that do receive sunlight and use them exclusively for vegetation.
Research– If you already have some vegetation there, try to do some research to identify what species they are. It is also suggested that you identify what plants grow in your soil. If you wish to attract a special kind of wildlife, study their behavior and decide what should be put up so that they would flock into your garden.
Plan– Once you have gathered all the information, draw up a map and start working on it by breaking it down into manageable parts.
Creating a Green Landscape
The most basic form of Green Landscaping requires minimum effort. All you have to do is reduce the amount of solid waste and conserve water. Eg, you could simply create a compost pile instead of bagging your twigs and leaves.
Don't see what's the fun in the idea you just read above? Fair enough, here are some elaborate methods
Go green: Since Green Landscaping essentially involves plants ( thats' a no brainer), make sure you have plenty of them. If there isn't enough native vegetation, you could plant some after determining the behavior of your soil.
Restore drainage conditions: All plants require moisture to thrive well. However excess water may cause them to rot. So it is important that water does not collect at the base of your plants. If you want to incorporate a method that saves water you could try to water your lawn less during summer. You see, grass are programmed in a way that allows them a certain period of dormancy during the summer heat.
Promoting soil chemistry and biota: Plants are the keystone species in any garden. What you plant should not contradict the natural ecological profile. If you have your keystone species in place, everything will turn out right.
Say no to chemicals: Reduce or better totally avoid the use of chemical fertilizers in your garden. These chemicals tend to pollute the soil, water and air around you. You can always use compost instead. However if you are adamant that you need fertilizers, make sure you use them during fall and spring only. That's the time it is most beneficial to plants.
Reduce emissions: I've heard the EPA say that lawn mowers, snow blowers, leaf vacuums and chainsaws are major contributors to the rising pollution. Try to use them as little as possible. You can try shifting to electrically powered tools. This will only reduce pollution as electrical tools also produce emissions. The best way out of this is to use manual tools. It will make sure that no emissions are involved and will also give you some amount of physical exercise. You can cut your gym bills by doing this one.
Waste not, Want not: As mentioned before never dispose off your solid plant wastes. They can be the best of fertilizers once they decay. Also avoid throwing around clipped grass and leaves, they can be major sources of water pollution. Recycle your garden pots and flats whenever you can. Try to share large tools with your neighbors. Most importantly save and conserve as much water as you can. Place rain barrels in your yard if you live in a region that receives ample rainfall.
The Bottom-line
 If  I were to write down all the details about green landscaping, I would easily use up an entire hard-disk (of one TB). It is not an easy task, but once you can get into the flow of it, it will be easy and highly rewarding. With the current rate of  fuel consumption, our environment is dying out fast. Nobody wishes to leave behind rotten goods for their children. Do what you can to save nature. Let's adopt Green Landscaping and make this world a better place to live in.