Health Benefits Of Gardening
PUBLISHED: November 11, 2016
•
6 MINS READ
Consider this: it's a lazy Sunday and you haven't worked out all week, your stress levels are high. And the doctor says you need to get going and get some physical exercise into your daily routine. You have considered your options – hitting the gym, joining that community swimming pool, going for those morning runs that everyone's been vouching for – but it hasn't worked out yet and nothing seems to click. Here's your answer: start gardening.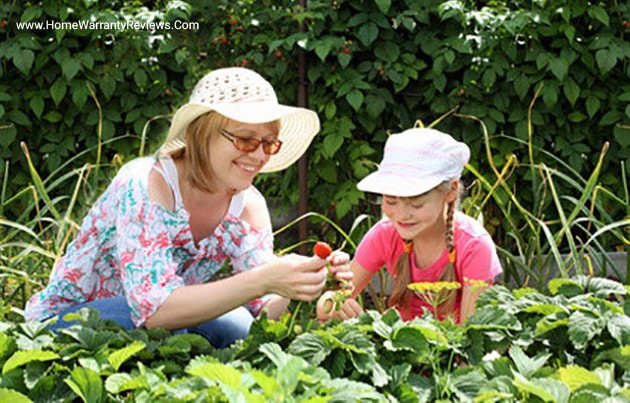 A chance to not only get some quality time with nature but calm your nerves, work your muscles and burn a few calories as well? Gardening just an hour a day is proven to have far reaching impacts on your life. Especially if your day comprises of concrete jungles, desk jobs and skyrocketing stress levels.
Gardening boosts your metabolism and we have studies to prove it!
Research conducted by the Pennsylvania University of Scranton a decade ago showed clear results in favor of gardening as a way to stay fit. This proves that extended amounts of time spent partaking in light physical exertion is a much more effective way of burning calories than bouts of cardio and gym sessions.     
Another study conducted in Michigan State showed that even a mere ten percent increase in greenery in the immediate environment of an individual resulted in a drastic drop of health issues – from lifestyle illnesses to even depression and mental health. 
Getting Your Hands Dirty
The key to a good workout is duration, not just intensity.
It's not just about burning calories and toning muscles – a consistent routine of balanced physical activity can have an impact on heart functioning, blood pressure, stroke, diabetes, obesity and its side effects, and even premature death. How does this work? Gardening ranges from low to medium intensity, but the constant monitoring of the garden and the level of involvement is never limited to just a single workout cycle; automatically weaving it into your daily routine and making it a habit!
Squats, weights, cardio and sweating it out, all in one.
With the majority of our daily activities involving the maximum use of our arms – and even that not usually in ways good for our bodies – gardening can incorporate the metered use of muscles like hamstrings without adding undue stress to them. Countering the effects that hours of typing on a keyboard or driving a car can have on your back, shoulder, and neck, getting down on all fours and getting your hands dirty can be therapeutic and stretch every muscle in your body all at once.  
Organic vegetables, herbs, and seasoning, all right at home.
Another perk to introducing gardening into your lifestyle is eating what you grow. Directly linked to better diets, organic production of food right at home or within a community can encourage you to follow a diet with nutrition as a priority and simultaneously assure the quality of produce.
Having a hard time getting your children to eat their spinach and peas? Give gardening a shot, working it into their play time as a fun way to grow their own lunches and dinners – who wouldn't want to proudly eat a tomato picked right from their own backyard!
Anybody can do it!
Ranging from organic farming in the backyard of your country home to just a few potted herbs on the kitchen windowsill, depending on your space constraints, the time you have to spare and your physical capabilities, you can choose the kind of gardening that suits you best.
One for all and all for one
Living in an apartment building which doesn't allow you space to garden? Community plots are the answer to the space crunch any urban dweller faces today. A great way to catch up with neighbors and blow off steam, all while tilling, weeding and celebrating the earth, community plots give you a chance to delegate and divide responsibilities as well – saving you the worry of who will tend to your precious daisies, trim the hydrangeas and ward off pests from the squash and melons while you're out on a business trip.
Sky high-stress levels and an increase in lifestyles illness in the past couple of decades is evidence enough for the need to go back to our instincts of nature and nurture, and the benefits of gardening seep into areas besides immediate physical well-being.
Nature, nurture, and responsibility.
An equalizer not bound by any hierarchy, gardening is often used as a form of therapy to boost self-esteem as well as inculcate responsibility and appreciation. Giving our nurture gene a space to grow, just the act of giving back can have a tremendous impact on our stress levels and anxiety. Time spent watching each seed sprout and saplings flourish and flower, gardening is a gentle reminder that we humans are not the center of the universe.
Happy hormones!
What is good for the body is also good for the mind.  Exercise, whatever the intensity may be, has a direct impact on not only adrenaline levels but on levels of serotonin and dopamine as well. Both hormones that play a role in fighting depression, the time spent tending to each root and bud isn't just uplifting in spirit, it literally translates into happy hormones.
Home Warranty For Gardening Buffs
Be it an apartment, a duplex with a yard all to yourself, community plots or a country house, the joy of having a garden can come with an added expense and hassle of maintaining tools and machinery, worrying about seepage and waterproofing and even the occasional crack or two when it comes to deep-rooted plants and creepers.
Don't let the stress of maintenance come in the way of your quality time with your garden – let the happy hormones flow and pass on the responsibility of care for the home to home warranty companies.
Giving you a chance to delegate home and domestic appliance maintenance to a professional, home warranty saves you the effort of having to rummage through websites and newspaper advertisements for service agents and repair contractors. Providing full coverage of repair, servicing and replacements costs, Home warranty is all about planning ahead. HomeWarrantyReviews.com brings to you a comprehensive list of companies to choose from – giving you access to pros and cons, detailed reviews, do's and don'ts when it comes to warranty and insurance and even a free Home Maintenance Calculator to get on the spot estimates.
Finding the right match for your Home Warranty needs is of utmost importance; just like every insurance coverage plan is tailor-made for different budgets, levels of involvement, age and usage intensity, Home Warranty has its own set of criteria. Research is key, and the best place to start with is the Awards and Reviews section of consumer research based sites. From categorized awards ranging from service, top rated and regional service, HomeWarrantyReviews.com uses consumer review rates of credibility, retention, satisfaction, online presence, and consumer issue resolution to judge companies that provide nationwide home warranty coverage, offering all-round information to customers. What's more, the companies are divided according to a region as well, accounting for state law differences and tweaks in the coverage plans in various geographical pockets.
Stress, anxiety and an ever-growing list of errands are a part of everyone's daily routines, why add home repairs and maintenance to the mix? Give yourself the peace of mind to tend to your herbs, flowers, and ferns without the worry of repercussions, after all, what is the point of canceling out the mental health perks of gardening by worrying about broken lawn mowers?!