Beginner's Guide to Harvest Vegetables from Home Garden
PUBLISHED: June 6, 2017
•
6 MINS READ
It isn't necessarily a leafy green thumb or a large plot of ideal soil and sunny weather that makes a home garden possible. In fact, just a strip of land or even containers and pots on your balcony can be enough for you to start a vegetable garden from scratch.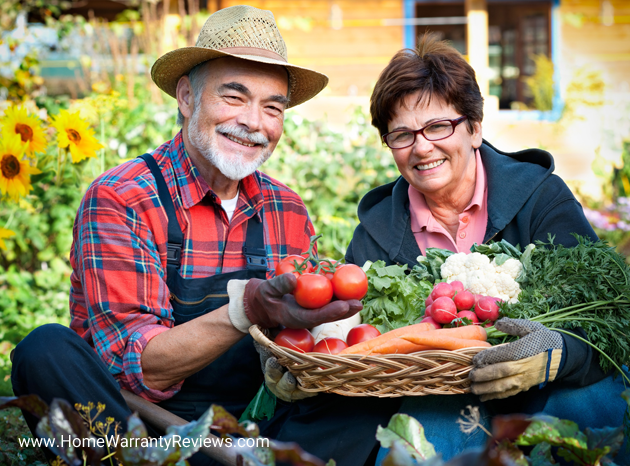 Whether you are choosing to take a step beyond flowers and cacti and dive into the world of vegetables grown at home, or you are a gardening novice with no prior experience, there are always a few easy to grow vegetables which are enough to kick start your way to your own homegrown greens.
Location for Your Home Garden
Now that you have decided that you want to give a little gardening a try, start by choosing where you want to set it up, to use space most effectively. There are three main factors that come into play when it comes to choosing the location of your garden – Convenience, Sun, and Drainage.
Additionally, if you happen to choose a spot on a community plot, then it's important for you to check the quality of the soil. This factor isn't too important when it comes to a garden in your backyard or in containers as you can always control the quality of the soil by fertilizers and additional top soil for better quality.
The convenience of location is major to ensure that you can access your garden at least once a day without having to compromise on your daily routine. And on the flipside, you don't skip days of weeding and watering just because of the extra distance.
In urban spaces, Sun becomes an issue when finding the ideal spot for your garden. A good six hours of sun a day is needed for a well-groomed garden, though 8 hours is the recommended norm.
Don't worry too much about morning or evening sun. Just attempt to narrow down to a spot that gets about 6 hours of sunlight collectively in a day.
Last but not the least, no plants can grow in soil that is laden with water. Drainage is equally essential in both container gardens, pots, and plots. While openings in closed containers handle the problem effectively, a plot on the ground should ideally not be at the base of inclined or hilly land where water tends to collect.
If you are dealing with a space crunch, crops like runner beans are a great way to make yourself a vertical vegetable garden. Seasonally planting in the beans to get a crop that you can pluck right out of your kitchen window.
Preparing the Soil for Your Home Garden
Depending on the type of soil your locality has, it is a good idea to get it tested for its pH values and know if it is suitable. If you are creating your own gardening bed from scratch you can get a bag of soil from a nursery or horticulturist in the area. If not, you can get the soiled checked and then accommodate for any discrepancies by adding certain nutrients or growing a particular kind of crop suited to the soil.
Know What to Grow in Your Home Garden
It is important for you to assess the scope of your garden before you dive into the deep end. Ask neighbors and friends in the locality what kind of crop grow best. Do a little research in accordance with the soil quality and weather to see if everything you hoped to serve on your dinner table is genuinely practical to grow.
Do you want it right from the ground to the table?
Gardening for beginners is best to start off with salad greens, tomatoes, and zucchini – all easy to plant with very few soil and weather restrictions. That's not to say that the seeds can be strewn and then worried about again when they fruit. But it is safe to say that growing your own salad doesn't really require extremely consistent sun and water. Lettuce and other salad greens, tomatoes, cucumber, carrots, radishes, and beans are known for their adaptable and hardy stock.
In addition, you can always use your windowsills and leftover nooks and crannies in the plot to plant green peppers and herbs like basil, rosemary, mint, and oregano.
Slow Growing Crops
For the inescapably busy (and lazy) gardeners, onions and garlic usually just grow themselves by planting in individual cloves and allowing them to sprout and to grow yellow-goldish. Once the leaves begin to show signs of death, pull out the plant from its root and the garlic is fresh to season your meals!
From Seeds to Sprouts and Fruits
Fertilizing the soil prior to sowing the seeds or planting the saplings is most essential. You can choose to make your own compost from kitchen and garden waste or purchase it from a local community garden or nursery.
Now we come to the part which requires consistency and care on your part. In localities, which are sunny with very little or no rain, it is imperative that you water your plants on a daily basis. Sometimes even twice if the weather calls for it. It need not be a very long drawn task, a good ten minutes of watering every day should do the trick.
Above and beyond the daily routine, spending at least an hour every weekend digging up the soil and removing the weeds comes as a part of the deal of having homegrown greens in your very own home garden. At the end of each cycle, once the vegetables have been harvested, you may need to invest a little extra time in removing plants that have lived their life spans and planting new saplings and seeds to get the next lot rolling.
Lastly, there is pest control, both by physically tilling the soil to make sure you know if snails and worms have begun to build homes under your cabbages and making sure you use a pest control agent in the soil and on the plants to ward away insects and mites. One of the greatest perks of having a garden of your own, grown right at home, is the fact that you can control the use of chemicals and harmful pesticides. Organic gardens are a growing trend – and for all the right reasons too. Source online pesticides that are made naturally using substances like neem and turmeric. These keep mites in check without damaging your crop or seeping into the vegetables which you serve on the table.
Even for a small garden, it is a good idea to get yourself some basic gardening implements, a pair of gloves, a shovel and a rake at least. As the crop progresses, you will need a barrow and a pair of scissors to trim and weed.
Repairs, Maintenance & What Next?
While having your own home garden is well and good, if the garden is on your balcony or terrace then it is important to keep a close check on cracks and seepage. A garden which isn't well weeded or drained can cause issues especially when it is too close to your living space.
From pests that may spread into your home to crack or waterlog under the containers and pots that are hidden from the eye. Maintaining your garden is essential to keep the integrity of the building intact. Though immediate repercussions are few, long term impact on the walls and flooring is frequently complained off by homeowners with gardens.
Not wanting these anxieties to come in the way of you keeping your green fingers busy, HomeWarrantyReviews.com acts as a bridge for you to enter the world of Home Warranty. A simple, speedy and dependable escape from repair and maintenance when it comes to appliances and structural damages in your home, Home Warranty policies function in sync with your needs to keep your home spruced up and secure.
Just as this article introduces you to the ways of gardening and guides you as a beginner on how to have homegrown vegetables, HomeWarrantyReviews.com presents itself as the answer to all your questions related to Home Warranty, Home Maintenance and Garden and State Wise breakdown for free home warranty quotes in the US.
Providing you with all the information you will need before you invest in a Home Warranty Policy, the website, its articles and reviews act as a comprehensive database for homeowners, sellers, and buyers alike.