Listen To Your Old Home Before It Gets Too Late
PUBLISHED: July 19, 2017
•
6 MINS READ
When you've lived in an old home long enough you sometimes become oblivious to the telling signs of overdue remodeling. You're probably already stretching the home to the extent of its capacity, and you just might not realize it. Every home needs to be remodeled and refurbished and that's how it'll continue to be one of the oldest buildings and still keep its charm.
But when exactly is the right time to do that? There isn't going to be a great announcement reminding you that it's time to renovate, but there are definitely signs in your home that you've probably not noticed.
Here are a few signs that will tell you if it's about time for a remodeling:
1. 
More People Than Space
Moving into a home when you are a small family of two is all fine when there's just enough space for the both of you. The addition of children changes the space dynamics a little bit. Shared rooms between siblings are common, and that saves space. But ask yourself – do all your guests end up on the couch? Are there two bunk beds in a room? Has your bedroom become your living room and office too? If you answer yes to questions like these, it's about time that you remodel.
2.
Blast From the Past
As cliché, as it may sound, preserving out-of-fashion décor and obsolete appliances, is useless. A redesign helps not only in making the house look better, but more functional as well.
When you enter your home, are you taken on a nostalgic trip down memory lane into the decades gone by? If your décor reminds you of the time when the Jackson Five were still a band, you definitely need to renovate. Even though décor trends change rapidly with new styles emerging every month, outdated décor can dull down the atmosphere terribly. This is the time to be out with the old and in with the new. As cliché, as it may sound, preserving out-of-fashion décor and obsolete appliances, is useless. A redesign helps not only in making the house look better, but functional as well.
3. 
B
ursting at the Seams – Almost Literally
You might be living with cracks and chips and leaks every day, procrastinating repairs by a few months every time it comes up. But at some point, a later date might just end up being too late. Are the rafters sagging? Have the walls cracked from your foundation? Do the staircases sound like they're going to collapse soon? Are the faucets still leaking despite several repairs? Look for evident signs and do not settle for a temporary repair. A repair now and remodeling later will turn out to be extremely expensive. Assess and analyze the situation and remodel efficiently, in a manner that these problems are fixed and can be avoided later.
4. 
Fewer People Than Space
This may seem like a contradiction of point one, but it is important for there to be a balance. Once the kids move out to school and college, you'll be left with extra bedrooms. It's okay to be sentimental and hold on to a few of their belongings, but not very practical to leave their rooms as they had left it last. Pack their belongings neatly and stow them away. Use the space for all it is worth.
5. 
When There are Unwelcomed Guests
Being a good host is always a matter of pride for every homeowner. But not when your guests are uninvited and not human. A pest infestation could be a telling sign of more serious damage underneath the surface. If you've spotted a trail of termites, it could mean that your woodwork has been at risk for quite some time. Moldy walls could be a sign that your basement has been damp for an extended period of time. Get a pest control treatment done by all means, but also look into the other signs.
6. 
Gone With The Wind
Do you see brown patches on your ceiling? If you do, then it probably requires immediate attention for maintaining your roof. Ask a roofing professional to check if tiles or shingles are damaged or have gone missing from your roof. Water seeps in through these gaps and poses a real threat to the interiors of the house. Damaged roofs result in a multitude of problems to the inside of the house. And it's best not to wait for things to go out of hand before you renovate.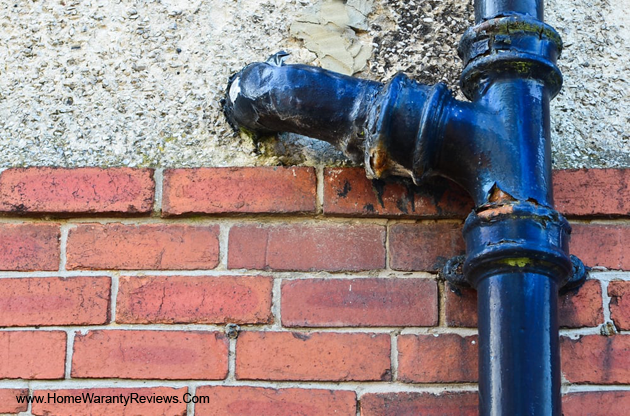 7. 
Loose Floorboards and Tiles
Does your floor seem hollow when you walk on it? Did a floor tile just come off recently? Flooring over the years, being exposed to heavy footfall and furniture, tends to lose its durability. It's a gradual and natural thing. But it's a sign that you've been living with the same for a very long time. This is a telling sign that it is high time that you got the old home renovated and spruced up.
8.
When You Can Afford To
As exciting as the idea of a renovation and remodeling may seem, it isn't going to be a cheap one. Remodeling charges are a heavy expense and it makes sense to remodel only when you're absolutely confident that you can afford to.
But if you do have funds supporting you, and even if your old home isn't in shambles yet, a remodeling is suggested when you can afford it. This increases the longevity of the old home, and also saves expenses in the future.
Gearing Up for the Future with Home Warranty
All said and done, no one ever wants a remodel to be a frequent expenditure. Guarding yourself against constant siphoning of funds into loose wires and leaky plumbing, having a Home Warranty Policy in place is sure to help.
Taking care of everything from repair and renovation to replacement and scheduled maintenance, Home Warranty schemes offered by companies across the US take homeowners one step closer to a secure and hassle free lifestyle. Guides, tips and FAQ's at HomeWarrantyReviews.com introduce you to the world of Home Warranty, giving you personalized information as per the laws of your state and your needs. From articles to an extensive database of consumer reviews, the information on the website is based on consumer research and acts as a platform for users across the country, one such outstanding tool built is Home Maintenance Calculator.