New Home Essentials – 5 Must Have Kitchen Appliances
PUBLISHED: December 13, 2015
•
5 MINS READ
Moved into a new home recently? Congrats! We hope the new home brings you loads of happiness. While you might not have started enjoying your new home yet, we're sure you'll settle in quickly. Now, this brings us to the topic at hand – what are the most vital elements for a functional kitchen? Read it to know the 5 must have kitchen appliances.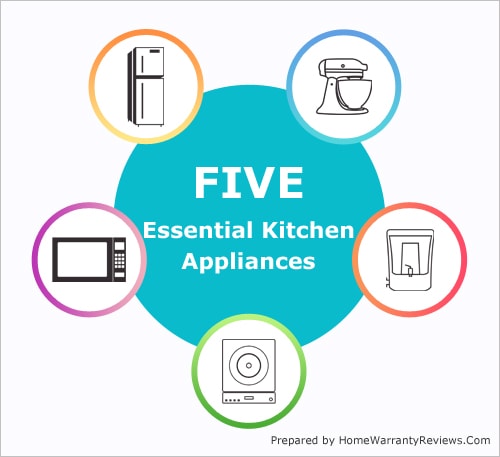 If you are a first-time homeowner, things may seem too much to handle, but believe us, by the end of this article, you'll know exactly what you'll need for your kitchen.
Before we begin, let us make it clear that we are going to provide you with a list of things that will make your kitchen "functional" and not completely equipped. Only the most essential things will be described in this list. So, if you are a budding chef, this may not be the list you want ;).
So, in no particular order, here goes-
1.  Stove/Induction Cooker
The very idea of having a kitchen is that you can cook your food, which is hard to achieve without a stove or an induction cook-top. Of late, people have been favoring induction cook-tops owing to their many, many advantages. Primarily because they come in compact sizes, generate less heat and do not require gas to function. It also has the added advantage that it is portable. That said, there are still folks who believe that a stove with a fire in it is essential for four walls to become a home.
Give it some thought and depending on the amount of cooking you plan to do, select which type of and what sized stove/induction cook-top you want.
2. Refrigerator
Can't do without this one either. Nobody can guarantee that you'll finish all the food you cook. So unless you are heartless enough to simply throw the excess food away, we recommend that you get a refrigerator. Besides, you'll need a fridge to store some of your groceries, milk, vegetables, fruits and other basic edibles, as most of them decay quickly unless kept chilled.
Thankfully, refrigerators come in all sizes and power ratings. This means that there are plenty of options available in the market to suit your budget and your refrigeration needs.
3. Microwave Oven
Well, you'll need to heat up all that food you refrigerated, right? Third on this list is the microwave oven which can also multitask as a cooking, baking and grilling appliance should you choose to buy a high-end model. Microwave ovens became a really popular by the 1980's and in no time became a household staple.
Microwave ovens too come in various sizes and features making it easy for you to pick the one that suits your needs. Mind you, if you get an oven, you may need to buy some special microwave safe containers too.
4. Water Purifier
Unless you plan to boil liters and liters of water using up copious amounts of gas/electricity, investing in a good water purifier may not be a bad idea. It is strongly advised that you don't skimp on your water purifier because the quality of water you drink largely decides how healthy you will be. Besides, boiling water may not remove harmful chemicals that could potentially damage your kidneys.
5. Blender/Food Processor
Food processors and blenders help save you tons of cash on canned purees and pastes. Besides, nothing matches the flavor provided by freshly ground purees and pastes. If you think you don't want to buy an expensive food processor right away, opt for a counter-top mixer instead. The high-end mixers often come with features like a chopper, grinder etc that would help you save time in cooking but could be a little expensive.
Don't Just Buy Them, Maintain Them!
Keeping any appliance in good working order requires regular, if not frequent, maintenance checks and cleaning. We have a host of articles on how to keep your household appliances well conditioned. We recommend that you begin with a checklist for maintaining your refrigerator. You could also look into our article on the list of appliances that makes a homeowner's life easier.
5 Small Appliances Every Kitchen Should Have:
A food processor
A blender
An electric mixer
A pressure cooker
An electric kettle
Big-Ticket Items are:
Refrigerator
Cooktop/Range
Washer & dryer
Lawnmower
Television
Vacuum Cleaner
Microwave
Coffeemaker
8 Unique Uses For Your Kitchen Appliances:
Use Your Ice Cream Maker For Slushes
Use Your Rice Cooker For Oatmeal
Use Your Blender For Dressings
Use Your Dishwasher For Cooking
Use Your Coffee Maker For Instant Noodles
Use Your Microplane For Mincing
Use Your Crockpot To Bake Bread
Use Your Popcorn Maker To Toast Nuts
Here is a list of essential kitchen utensils:
Chef's knife
Paring knife
Knife sharpening/honing rod
Bread knife
Chopping/cutting board(s)
Kitchen shears/scissors
Vegetable peeler
Garlic press