Patio and Deck Ideas For This Summer
PUBLISHED: August 21, 2018
•
6 MINS READ
There are several ideas that you can use for your patio and deck this summer. All this and more, and you would not go above your budget. These summer patio ideas could be based on experimenting with color accents and this would take it to the next level. Read this blog to more about patio and deck ideas for this summer.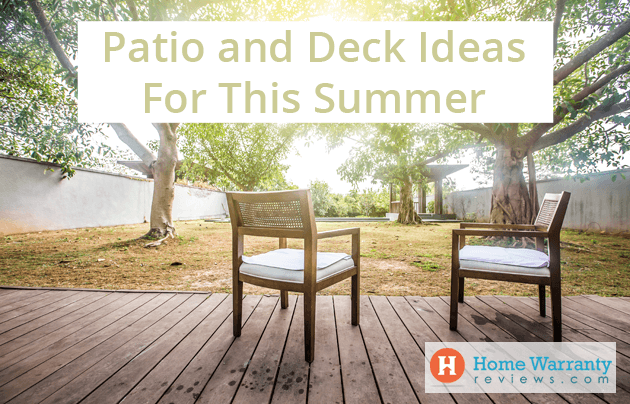 With summer, there would be more daylight and time spent outside your home. It's a given that when there is favorable weather and the sun is out then you would love spending more time at the patio.
It's the perfect place to spend time with your family and relax. This makes it all-the-more important to refresh this space and update this space without ruining your budget.
8 Budget-Friendly Patio and Deck Ideas
The following are 8 friendly patio deck ideas that will help you spend time recreating your patio and deck spaces and making it look all the more special this summer:
1. Pallets
Use wood pallets for your backyard patio project. If you check with local businesses, then you can get it for free or you can try with the recycler or a neighborhood manufacturer.
You will need to take some time and a bit of skill to create an elevated patio, lounge furniture and coffee tables. Don't forget to paint it and accessorize it. This is one of the best patio and deck ideas.

2. Salvaged Materials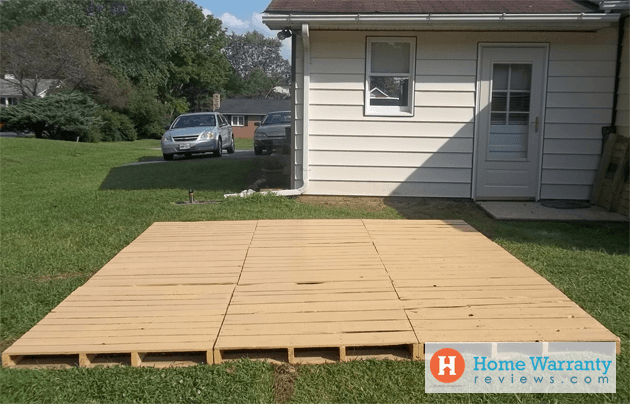 You can try updating your patio without having to buy new stuff. This means that you can style it up the way you want to your backyard space, pool patio or even an enclosed patio with salvaged material.
All you have to do is check with home improvement stores, classifieds and flea markets for material. Based on what you get, you can use your creativity to determine what can be made unique to the floor and walkway. Who knows? You could be in luck to build it out of granite or even marble. This is one of the best patio and deck ideas.

3. Light It Up
Are you one to use the patio in the evening? If so then you should add a few lights which are really inexpensive and are perfect to set the tone in the evening. Here's one of the useful patio and deck ideas that are quite simple to put in place.
All you have to do is buy a few strings and hang lights and drape them around the space. You can also get lanterns and torch lights. There are so many options that you can choose from.
4. Add Planters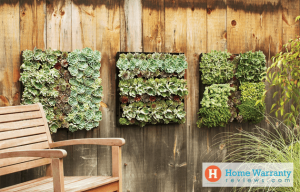 This is another one of those great budget deck ideas. Though some planters can be expensive, you can choose ones that are within your budget and make these planters with pavers. 
All you have to do is arrange them carefully and secure the sides with screws then add soil and plants. If you want, you can also add some paint to give it a personal touch.
5. Play With Color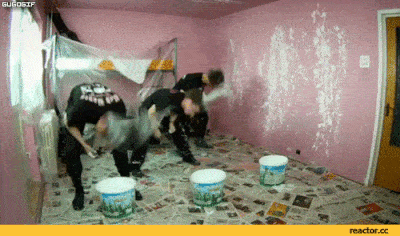 There are several inexpensive accent items that you can use to add color to your patio. There are several bright outdoor throw pillows to your furniture, colorful umbrellas for your pool patio and colored table cloths for your tables.
You can find these items in your spring and summer collection sales and even during end-of-season sales which can give you big discounts.
6. Add Height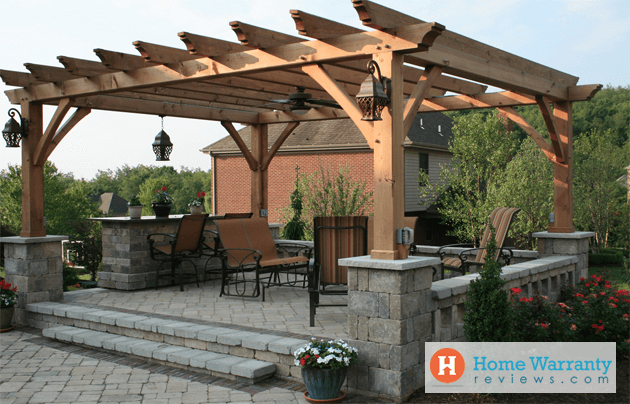 You can add arbors or trellises to build on some visual interest to the patio. This can be found in flea markets. Cover them with plants and hanging lights and materials that build on a personal touch.
This is one of the best options for outdoor deck ideas on a budget.
These are easy to install and lovely to look at and are sure to be the center of the conversation. You can also find some wood, PVC pipe, and colorful curtains to make a simple cabana.
7. A Dash of Paint
You can't imagine what a difference a coat of paints makes. All you have to do is paint it to freshen it up with solid colors and create patterns. 
If you don't make it permanent then you should buy a drop cloth and some paint to make a cheap but good looking outdoor rug.
8. A Little Elbow Grease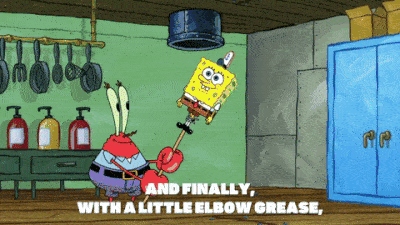 Well, you should know that a little elbow grease goes a long way when it comes to making DIY projects. Spend some effort, time and money in making something that you can use all season long.
Bonus Video

Protect Your Patio Furniture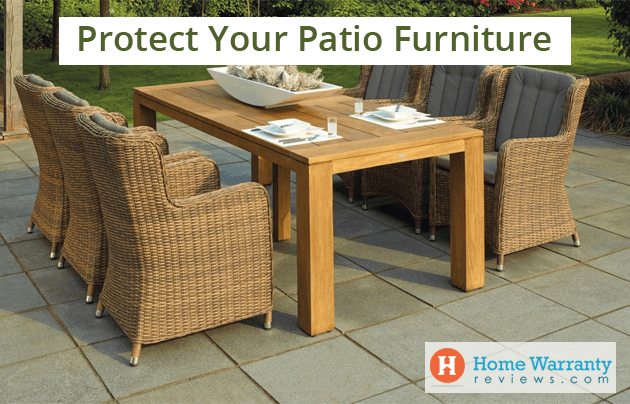 There are few seasons that your furniture would be exposed to the elements. In order to ensure that stand through sunny days and stormy nights, you need to weatherize it and try to extend their lifespan. Regular maintenance and go a long way too. Here are some quick tips to protect your outdoor furniture:
Before You Get Started
Read about the furniture's care guidelines and the manufacturer's instructions which will specify which cleaning solutions to use and which ones not to. If you apply the wrong products, it could damage the furnishings and render it out of warranty.
Wicker Furniture
Wicker furniture will fade and crack if exposed to harsh sunlight. This means that you should cover it when not in use. A covering would save it from mildew and from working its way into cracks and crevices between wicker fibers.

If you are cleaning wicker, you should avoid abrasive and harsh treatments. The best method is using water and mild soap. It should be applied sparingly and not soak the wicker.
You should then wipe dry with a lint-free cloth and vacuum it if necessary. Also, you can use a brush to remove large debris and dirt.
Wood Furniture
You should choose to seal your wood patio furniture. This is because the sun's ultraviolet rays can discolor wood and weaken it. A coat of sealant will make the wood more resistant to moisture. Sealants and stains must be reapplied at least in one to three years of outdoor use.
When it comes to sealing wood, you need to clean it first. Then you should dissolve the manufacturer's recommended amount of bleach in a gallon of hot water.
Never use chlorine bleach on wooden surfaces. Later, apply and scrub areas affected by mildew with a brush. Rinse with water and dry thoroughly.
Finally, you should apply a clear, water-repellent sealant or a penetrating semi transparent wood stain. The sealant can contain a mildewcide or mix in a mold or mildew-resistant additive.
Metal Furniture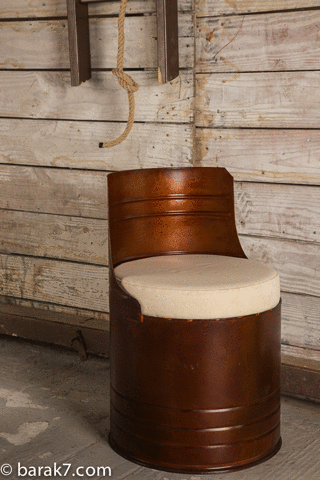 You should clean all metal surfaces with a cloth with soap and water solution. Also, to restore your metal furniture's luster, you should take a lint free cloth and buff it with auto wax. The moving parts should be lubricated and these include swivels, glides and umbrella mechanisms using silicone spray.
Use sandpaper to sand areas where there are signs of rust and mold. Touch up all those areas with matching paint and apply thin layers to it. The key is to let each coat of paint dry before you apply the next coat.
Weatherproof Outdoor Furniture
After cleaning and making your outdoor furniture clean, you should also have an outdoor furniture protector to formulate the type of furniture. While some protectors can be sprayed on, others can be applied with a brush. 
You should look for protectors that are both water repellent and UV resistant. Make sure that you apply thoroughly and that you work in a well ventilated area with gloves, dust mask, respirator and goggles.
Protect The Upholstery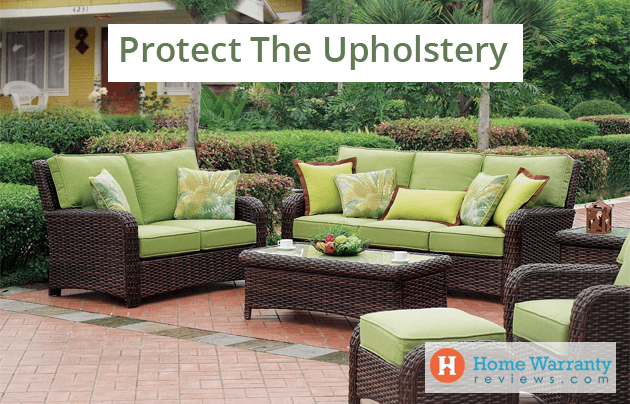 Keep the upholstery clean by ensuring that you do some spot cleaning. A mild detergent with cold water is be used with a cloth to attack stains instead of brushing it. Avoid soaking cushions and allow them to dry completely. 
Since mildew loves moisture, you need to store your cushions during rainy portions of the year. Avoid using plastic bags or wrapping them with old bed sheets and tarp. 
This fabric needs to breathe even if its moved into a shed. To fight the fading and discoloration caused by UV rays, you should use a fabric protector for your upholstery at the beginning of the warm weather seasons.
Store Carefully
Cover  your patio furnishings with waterproof furniture covers when it is not in use and when it rains. To prevent your patio from becoming a place where standing water might accumulate, remove your furniture foot caps and keep all items upright in order to facilitate proper drainage.
Importance of a Home Warranty
Similar to how your patio and deck should be maintained, you should take care of your home appliances and systems with a home warranty. After a few years, there is some amount of wear and tear on appliances and systems. 
This could burn a hole in your pocket with the number of expenses that crop up all year round. Regardless of how big or small, all of these expenses add up and it could eat in your life savings and make it hard for you especially if anyone is going through a rough patch or the costs are simply too much to handle. Also, do not forget to check for cracks in patio concrete.
While one has to worry about expenses, what about running around all across town to find a technician that would be able to sort out issues that prop up.
A home warranty would be able to put your mind at ease as you are sure that there would be someone that would come out and help you with your problem. You are certain that all your covered appliances are seen to based on the coverage. 
It should be a mix of expensive, daily appliances and systems, most used systems and appliances and others that make a huge impact in your life under your home warranty plan.
What you should know is that a home warranty not only covers repairs but includes the replacements too. Appliances are deemed replaceable if it is broken down and is not repairable. 
This is where the home warranty would step in for the homeowner and buy a home appliance or system which is of the same efficiency and power. Well, it might not be the same brand but it sure saves you thousands of dollars that you would have to shack out to cover the cost of a brand new appliance or system.
Try Home Maintenance Calculator
If you are still undecided about a home warranty, then you should know that we have a tool called the Home Maintenance Calculator. Since there are many factors that you need to determine before you go ahead with a home warranty, we have laid out all the major objectives that will help you decide. This includes a cost based perspective of what you would pay out of pocket as compared to a simple home warranty plan that would save you a ton of money.
How to use the Home Maintenance Calculator?
Not only is the home maintenance calculator free but you determine among seven factors before you decide that you should go ahead with a home warranty. Some of the primary factors include the age of the home, number of repairs in a year, age of major household appliances like washers, dryers and HVACs. 
You need to get an accurate estimate as you move the appropriate value of the scale for each parameter. The graph will indicate the difference in home maintenance expenses with and without a home warranty.
Reading the Results
Read the chart to determine maintenance costs. If the cost of home maintenance is higher than when there is no home warranty in place, then it means that you need a home warranty in place. But you should do some research before you sign up with a contract for the right home warranty in your locale. 
In order to determine the best home warranty, you need to look at the ratings and the user reviews before you go ahead with signing up for one. It would be great if you read the guidelines on how to buy into a home warranty and what is covered and what is not covered.
How to Sign Up for a Home Warranty Plan?
Once you are certain that you are looking to sign up for a home warranty, then you should opt for a free home warranty quote. Also, don't forget to review the best home warranty companies in your state, city and based on the rankings and reviews. 
To start you off, you can look at the top 10 home warranty companies and then choose to opt for a home warranty that marks most of the checkboxes in your criteria before you sign up for one. 
Usually, home warranties cost in the range of $300 to $500 and will have a deductible which ranges from $50 to $175 with a service call fee.
The average homeowner spends about $7,000 to build a 200 to 500 square foot deck, with smaller decks costing as low as $2,000. The cost to build a deck in wood, composite or plastic is about $35 per square foot, including materials.
Ideas to Dress Up Your Deck are:
Make it comfy
Step it up
Deck to impress
Create privacy
Lattice up
Unify with color
Add water
Use space under decks
When it comes to Patio vs. Deck cost comparison, decks run around $33 per square foot while a patio might cost as low as $15 per square foot. In short, patios are usually cheaper than decks.
Although slightly more expensive than pressure-treated wood, composite decking is another good choice. Composite decks are made up of two main substances: resin and wood. Manufacturers use wood pieces to give the panels the appearance of natural wood.