Renovating Your Old Bathroom
PUBLISHED: August 10, 2013
•
6 MINS READ
A bathroom is one of the most important places at any home. A place to relax, rejuvenate and unwind. A clean and well maintained bathroom is a sign of physical and mental well being of a family.
With time the structure and appliances grow old and no longer have the same appeal. Chipped walls, dull sanitary ware, old flooring, leaky taps, rusted pipes can put you off. An old and dirty bathroom can be a big embarrassment. Does this sound like your situation? Do you think twice before answering when your guests ask, can I use your washroom?
Then its time for you to consider renovating it. Thoughtful re-designing can make it spacious and provide more storage. Renovation also adds value to your home if you plan to sell.
Options are endless when it comes to remodeling bathrooms as there is a wide scope for improvement. The combination of plumbing, electrical wiring, and decorating schemes packed into the smallest residential spaces create unique demand for its renewal.
If it needs to be restructured then everything has to be discarded and built from scratch. But if the layout is fine and the waterproofing is sound, then it will not cost you a fortune. A dramatic difference can be made by simply changing the color scheme, re-tiling over the old floor, replacing cabinets and sanitary ware. There are even  resurfacing products that can put a new surface over old colored tiles or chipped and outdated bathtubs.
What to Consider Before Starting a Bathroom Renovation?
Before you rush to speak to a  renovation company and ask for quotes, it is very important to do your research. The variety of  renovation options can be overwhelming including the infinite choices of baths, showers, toilets, taps, shower heads, tiles, paint colors, mirrors, splash backs, etc. The more determined and clear with ideas you are in what you require from your renovation, the more likely you will be of getting the one that you always wanted.
The secret to your dream bathroom is detailed specifications. While tabulating what you require, consider this questions.
The size of the structure.
What type of baths, showers, basins, vanities would you like? Which price point is best for you (mid range, top of the line, etc)?
The  fixtures that you would like. What types of taps, shower heads, etc?
The tiles, glass, mirrors and painting that you would like.
Now you have a foolproof plan of what exactly you want. Wondering what next? It might come in handy to consult your friends and relatives who have got renovation done from potential and reputed contractors. Do your research and be sure that you opt for the army of people you would want to hire to transform it.
How Much Does it cost to renovate a bathroom?
Typically  it would cost between $9,000 and $25,000 depending on a number of factors such as:
The size of space
Specifications of the work that is required.
The building materials that are used.
The choice of fittings such as taps, shower heads, etc.
The next step is to choose the sanitary wares and fixtures. If your existing ones are in decent condition then you can make them look new.
All you need to do is wash and scrub with an abrasive cleanser, Lime-A-Way. Then sand on them. The final stage is to paint. Mix the epoxy and paint with a brush and roller. Brush in one direction to make it spread evenly.
If they are way too old and ready to be discarded then yes it's time for some shopping, but before heading to the store flip through the magazines and browse home improvement websites and get a firm idea about the fixtures, shower curtains, and sanitary wares you would need, it will save you time and costs.
Here are the essentials that you may have to buy:-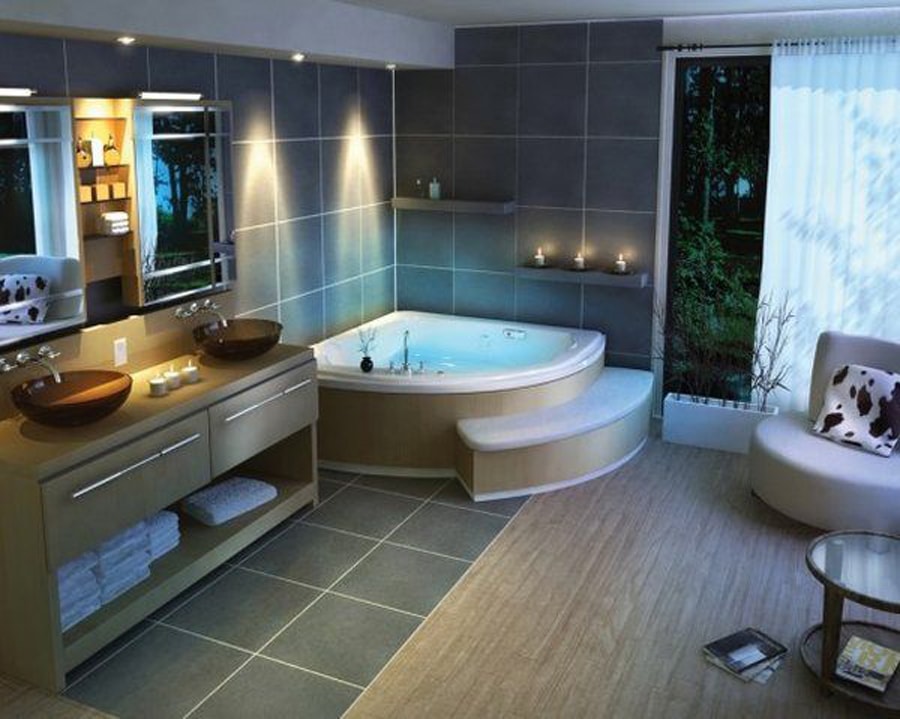 Bathtub
These come in a variety of styles with built-in shelves for condiments. You should be able to get a decent one for under $200. Check for the desired size.
Shower Curtain
Shower curtains and hangers set the mood of the whole washroom and its gets better when coordinated with towels. If  the area is small you should go with a lighter color and you can choose to experiment with different  kinds of fabric. You can choose vinyl, polyester, cotton, or other decorative textiles. Remember that vinyl and plastic shower curtains can be spot-cleaned while fabric curtains may need to be taken down and washed.
Toilet
Compared with other fixtures, toilets are not that expensive, but low-flush toilets are not cheap. Choose the one which will complement other sanitary-ware. You can also try a toilet tank water saver. This is a mechanism that fits in the toilet tank and only lets enough water in the tank to do the job. And it's adjustable.
Sinks/ Faucets
Sinks/ faucets add elegance to the place, so pay more attention while choosing. It can be counter top, wall mounted or wall hung, above counter vessel types, pedestal, cast iron, integrated, freestanding, or self-rimming, and more. The  sink that you choose will determine the type of faucet and handles that you can install in the sink, so keep that in mind to assure that your faucet purchase is compatible with your  sink purchase.
To save money buy a water saver shower head. This can save you over 50% of the water and hot water costs for the same duration of shower.
Plumbing
Do not change the location of plumbing when working on low budget. Plumbing modifications requires bringing out the pipes from wall. After placement, you will have to do wall repair work. If new tiles were not in your mind, they will have to be then. Consider renovation in tight budget and forget plumbing modification. That means showers, tubs, toilets, and sinks should remain in the same position.
Floor
Linoleum: In a small or medium-sized washroom, changing the floor can be as easy as rolling out a section of beautifully-designed linoleum over the present floor and gluing it. If the present flooring is linoleum you can get a neutralizing agent to scrub the floor and then apply the mastic. The new linoleum will go down easily. Then install molding to hold down the edges.
Tile: This is also cheap and can go over other flooring. For small spaces it can be a do-it-yourself job but a handyman can do it quickly and cheaply. Big tiles can also be used on the walls from the floor to the ceiling for a royal look. You can also choose to have stick on tiles which can be stuck on any surface and look magnificent, moreover you can do it yourself.
Lighting
Usually the lighting is overhead and/or framing the mirror. This might take a couple of hundred bucks for an electrician but installing sconces on each side of the mirror will really give it a makeover.
Painting
It is the cheapest remodeling technique and usually one gallon of finish will do the job. Blue, Sea green, orange based on your preference and the advice of the contractor, you can choose the colors.
Mirrors
One beautifully framed mirror over a sink is more attractive than many surfaces covered with mirrors. These will enhance the looks of your washroom.
Wooden or bamboo accessories seem to have replaced the old fashioned steel racks. You should first look at the type of wood the racks are made of. Pine or oak can be strong, but be careful; they may form fungus when left wet.
Take advantage of space between wall studs by recessing a tall storage cabinet into the wall to maximize vertical storage while saving floor space. The cabinet should have an interior depth of at least three inches and a door flush with the wall.
When your it is completely renovated you can bring in one or two indoor plants like Boston fern, peace lily etc, which helps in cleaning the air. When your renovation is completely done then yes it's time for indulgence. Enjoy your new bathroom.