Tips To Grow A Micro Garden
PUBLISHED: November 15, 2016
•
6 MINS READ
The intensive cultivation of plants in small living spaces, growing a micro-garden has become an urban phenomenon in the past decade. Using gardening tricks like vertical gardening and hanging planters, you can optimize the space at your disposal to garden away from your worries and reap rich health benefits out of it! Read this blog to know more about tips to grow a micro garden.
What To Do To Have A Micro-Garden?
Growing a micro-garden is all about the management of space – be it a little strip of soil at the base of your porch or a few feet of a landscaped garden on your terrace.
Creating depth and dimension by using mounds, tiny hills and valleys can add to the surface area, and provide for different plant types at the same time.
Give the carrots and beets a little extra room to grow below the surface, allowing for the daisies to flourish in the shallow end.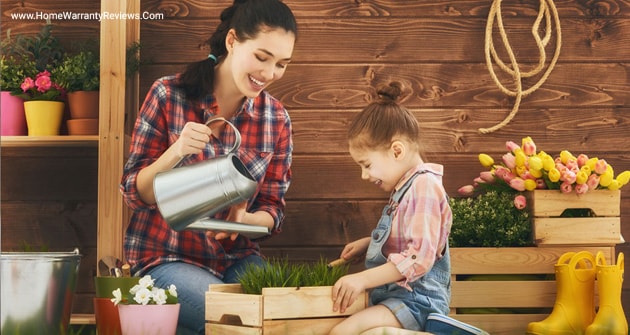 Micro-gardening also requires you to plant in tandem with what the space can handle. Planting broccoli and cauliflower in pots for example, narrows down the yield to one plant per pot, each only giving you crop once. On the other hand, salad leaves, peas, peppers or vegetable creepers can last a whole season and feature at the dining table pretty much every meal.
Choosing to landscape your yard, however small, with only grass uses up the nutrients in the soil and requires way too much water to maintain. Hit two birds with one stone – aesthetics and fresh organic produce, and all from your own garden.
It doesn't have to be all about the produce, and along with chemical-free homegrown vegetables can be great for your health, the lush maroons of beet leaves along with dwarf lemon trees and even cherry tomatoes can make for a beautifully landscaped micro-garden – a decorative landscaping strategy!
Bees, birds, and butterflies
For your fruit-bearing plants to flourish and the plants – both edible and flowering – to retain their strength and reproducing ability each year, pollination cannot be ignored. Herbs such as rosemary and basil act as great pollinators, as do flowers of plants such as squash and eggplant with their bright shades of yellows and violet calling for attention.    
Gardening in limited yard spaces, pots and containers confine the availability of soil nutrition to a great extent, making it all the more important to consciously fertilize the soil during the planting process with compost and then keep it up with regular top soil additives.
Making sure that the plant grows to its fullest though the space available is restricted, fertilizers can not only boost the speed of fruit bearing but also keep the plant healthy and pest-free.
Nutrition can be kept at its optimum by using companion planting as well. A technique known often as soil real-estate, planting pairs of creepers and trees with tubers – potatoes under tomatoes, or carrots and onions under herb bushes for example – can not only save space but also allow the soils nutrients to cater to the different needs of different plants, often even replenishing itself.
Where To Do Your Micro-Gardening?
Anywhere with a little sun
Not all plants require yards and balconies, in fact, those precious kitchen spices and herbs can grow right at the kitchen window sill, as long as they get a daily dose of sunlight. From thyme and parsley to even ginger and tender garlic and pepper, windows work as just the right bridge between the elements outside and the comfort of your home.
It doesn't have to be herbs in the kitchen, pretty much any window which is east facing can act as an active decorative space – full with pansies, gardenias, and purple passion, amongst many others.
Look at every space with a new perspective, and you can extend your micro-garden to creepers on the mailbox posts, cacti in broken crockery, lettuce along the walkways and even grapevines on the gate.
Hanging gardens aren't off the table either – containers hanging on fences and railings or even simple hooked pots from the ceiling can overflow with creepers, maybe even some fruit bearing. The added benefit of hanging gardens, as opposed to those rooted in the soil, are that they can be moved around, making them easy to clean and shift according to season or sun exposure.  
The fun of micro-gardening is its perfect balance between creativity and good-old landscaping. Don't think of it as just a conventional utilization of your green thumbs; you can grow your garden in anything from old tires to broken tanks and fish bowls!
Cracked vessels make great containers as well, especially since the crack acts as a ready drainage system.
Decide which plant to pot according to your container size, a large plant will not grow in a small container and the other way round is just a waste of space. Also provide enough water to your container garden, as containers that have soil in them dry out faster and those nutrients flush out sooner.
Everyone's heard of the famous vertical gardens scaling up walls in Hong Kong and Singapore, but they can just as easily be recreated right at home. With vertical gardens, there is a range of methods that you could employ; from the use of a traditional trellis to a recycled pallet planter or hanging hydroponic window gardens.
Accommodating everything from tomatoes and strawberries to squash and melons, these micro-gardens function just the same way as any others do, as long as the plant isn't one that has very deep roots.
We've explored possibilities flat on the ground, scaling walls and even creeping up poles and pillars, but we have one last treat for you micro-gardeners – upside down hanging gardens.
Provided you choose plants with a dense root structure and support them well, upside down planters can hold and nourish anything from cherry tomatoes to strawberries and even kale – all with the added fun of seeing your garden head first!
For those of you who have space for soil beds, raising the bed a few inches or even a couple of feet off the ground can greatly help the gardening process. Giving the roots more space, allowing the excess water to drain and letting you restrict the soil to only where you want it, raised soil beds maximize space and minimize effort.
Having the plants a couple of feet off the ground reduces your need to hunch as well, a sure blessing for your spine.
Repairs And Maintenance
Besides the weekly dusting off of topsoil, checking for cracks in the containers and weeds strangling the plants, micro-gardening is too close to your living space for you to not keep an eye on its possible repercussions.
None that can cause serious immediate damage, any micro-gardener must know that a part of the job is to keep a check out for seepage on the walls and possible weight bearing issues related to rooftop gardens and heavy planters.
Not allowing these concerns to come in the way of you keeping your green fingers busy, HomeWarrantyReviews.com acts as a threshold for you to enter the world of Home Warranty. A simple, quick and reliable escape from service and repair related errands and coordination. Home Warranty Reviews ensures peace of mind for you by providing with the vast knowledge base of research, ratings, and free tools so that your home never runs out of home warranty coverage according to your specific needs by calculating what exactly you want!
Just as we have discussed the various aspects of micro-gardening, what to do and what not to do when you garden at home and all tips and tricks on how to get the best out of it, HomeWarrantyReviews.com gives you a chance to explore the world of home warranty from the inside, with tips and tricks of its own. With access to reviews from professionals as well as customers, consumer research based articles give you the best of both worlds – the technical aspects as well as the personal experiences of users and agencies.