5 Tips To Help You Take Care Of Your New Home
PUBLISHED: June 15, 2020
•
4 MINS READ
Your new home is an expensive investment and a spot for every family member to spend quality time with each other. To create the best memories, it is important that you take care of your new home. Your systems and appliances should be well maintained, basic hygiene should be practiced, and paying all your bills on time are all very important aspects for the smooth functioning of your home.
In this post-HomeWarrantyReviews.com will decipher 5 tips that will help you keep your new home in tip-top condition for the years to come.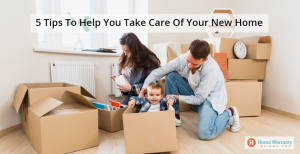 Important Tips Every Homeowner Should Follow
New homeowners may tend to take things lightly as it is an exciting time, however, it is important that you follow certain steps to get the best out of your new home.
1. Clean Regularly
Cleaning is one of the most important duties that new homeowners must follow. Once a month dust all your systems and appliances, and remove unnecessary debris stuck inside the devices. This will ensure optimal performance for all your systems and appliances.
It is also important that you vacuum your home regularly as dirt is a major deterrent to anything in your home, be it family members or devices. Make sure the air is clean and the floor is vacuumed regularly. If at all you have pets make sure they do not litter the systems and appliances as this can cause damage in the long run.
The best way to make sure that everything in your home gets cleaned is to create a list of what needs to be done on which day. This will avoid any confusion, and you can also assign other family members to clean as per a set schedule.
2. Change The HVAC Filters
Your HVAC is an important device for the smooth functioning of your home. The HVAC system has several air filters that must be changed every 2- 3 months. If you have pets you must replace the filters more often.
Ideally, to replace your filters it should not take more than 5-10 minutes. All you need to do is turn off the device, locate the filter, remove the old filter, and add a new filter in its place. Once the process is complete you can turn on the device.
It is also important that you get your device serviced once a year by a trained technician.
3. Review The Exteriors
The exteriors of your property are as important as the interiors. Regularly check your outdoor air conditioning unit, roof, and paint for any damages due to the bad weather conditions. If you notice any damages you must call a well-trained contractor to take care of the exteriors.
Repairing the exteriors of your new home, on your own is quite dangerous and may lead to accidents or serious injuries.
Check The Power Outlets
At times many of the power outlets in your new home might not be working. You must check all the power outlets and report any problem to the local technician or the seller. Power outlets are important components that will make sure your new home runs smoothly.
Home Warranties Help
It is a known fact that all your systems and appliances are vital for the smooth functioning of your home. These devices are subject to normal depending on your usage. You could protect these devices by purchasing a home warranty plan.
Home warranty companies offer several plans depending on the devices in one's home and usage. New homeowners could opt for a basic plan since most of the devices in your home are fairly unused. Some top home warranty companies also offer tailor-made plans where you can pick and choose devices that you want to protect.
Home warranties are not at all expensive and usually last for a period of one year. You can also opt to extend your contract after a year if you are happy with the services of the company. Warranties also come with a lot of other benefits such as 24/7 customer support, top-class technicians, the capacity to transfer or cancel your policy, etc.
Final Words
Moving into a new home is an exciting time for anyone, though you have to plan and prepare thoroughly to get the most out of it. But if done correctly you and your family will spend some of the best years together.