7 Outdoor Kitchen Ideas
PUBLISHED: July 31, 2018
•
6 MINS READ
Wouldn't it be cool to have an outdoor kitchen which is a beautiful extension of your home and helps accentuate you? Just like how a dishwasher seems hard to live without, an outdoor kitchen may not seem like a luxury based on its increasing popularity. There are times when the kitchen the talking point of most families and it's nice to share a meal and discuss important things in the kitchen. But, an outdoor kitchen serves this purpose and makes it all-the-more exciting. It's a great way to keep fumes and cooking gases away from your home and the perfect place to let your hair down.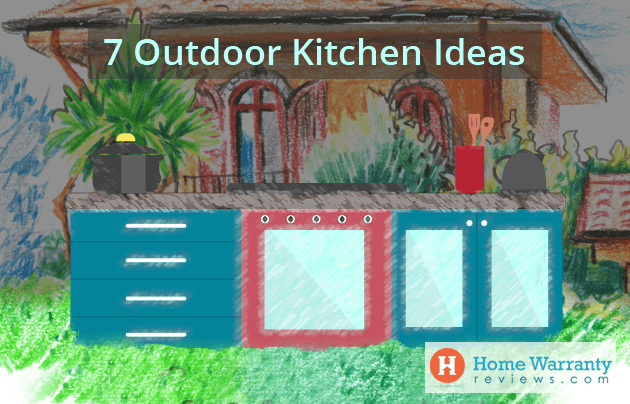 There is a reason to believe that outdoor kitchens have increased in popularity and over the past decade a lot of home has adopted it. Plus, the party loves being outdoors when you have an outdoor kitchen. So why miss out on twice the fun as you enjoy a meal as you star gaze
Why have an Outdoor Kitchen?

The main reason for having an outdoor kitchen is that is it convenient and not far from your indoor kitchen or the patio. So why would you want to lug everything outside and then carry it inside again? What you have to do is to ensure that you can effectively keep things cold and hot. In an outdoor kitchen, you should ensure that you have a place to store, cookware, dishes, supplies, and areas to prepare food. This way you can stay engaged with your guests while you work hard at your cooking and show off your skills.
These outdoor kitchens are practical because its adds some favor to your backyard and helps in increasing perceived value when you are looking to sell your property. Plus, this is a real deal breaker when it comes to potential buyers that would not mind adding more money to the sale.
Also, an outdoor kitchen helps increase the square footage for entertaining and to increase leg room when there are a lot of people that come over to your home. This is way better than having to stack up plastic chairs, picnic tables and rusty grills and that won't really set the tone for your guests. The best part is that you can enjoy comfortable seating, an outdoor bar, fridge, gas grills, pizza oven, fire pit and outdoor lights.
How To Start An Outdoor Kitchen?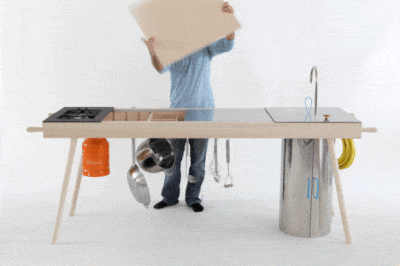 Here are some useful tips that should help you when you are planning on starting an outdoor kitchen:
Budgeting: Review your needs and determine if you can manage the costs involved. This way you can finally understand what goes into planning your outdoor kitchen from its dimensions, placing of equipment and where you could source things from and how to plan space. Check if this is ample space for enough seating of family and friends and then also budget the types of appliances and you should decide now if you should add an outdoor bar.





Have a clear budget in mind and you should know that a DIY outdoor kitchen alone will set you back close to $1,500 to $12,000. It could be just a small grill with a counter or a pergola with a sink, counter, refrigerator and a bar. It just depends on what you consider in your budget, your needs, wants and what your final budget would look like. Remember that your budget would have to be split into the budget for appliances and construction. There should be money set aside for the maintenance of your outdoor kitchen from time to time.

Choosing a place: Determine where you would want to place the outdoor kitchen at the back if you would like to enjoy outdoor views and how close it would be to the neighbor's yard. This would help you in deciding on a spot and how you would go about constructing the roof or other important structures based on where the kitchen is placed.

Positioning: Apart from where the kitchen would be placed, you should also determine the exact positioning of items in the outdoor kitchen. This will help you take advantage of the natural sunlight and shade. This way you can determine what is closer to a window or in which direction things in the kitchen would face for the desired effect and comfort.

Access: You should know from your planning on how you can make utility lines, consumables and other items within reach and easy to access.
7 Great Outdoor Kitchen Ideas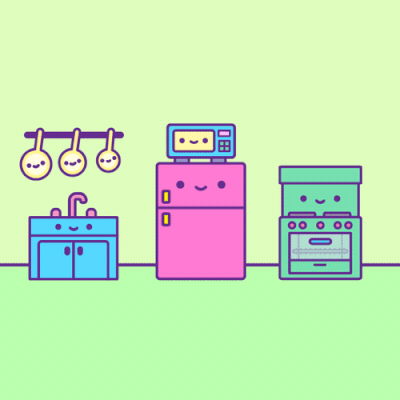 Selecting materials: Choose materials that can easily withstand outdoor weather conditions like thunderstorms, snow, hail, and strong winds. If you live in a rainy area then a strong permanent roof is needed and this would be pleasant for guests. Full coverage roof will also protect your furniture from the elements. But you can choose to style it as a canopy, concrete roof or pergola. Also, remember to use materials that are porous and hardy when constructing. Things like white marble outside could stain or soft material can breakup and look distasteful in time. Metal furniture which is made of rot iron is the best form of furniture kept outdoors but if you can keep furniture away from water and well protected then you can still use water. Glass adds a superb touch and makes furniture look even more fancy and expensive.

Full-service kitchen: Choose an outdoor kitchen that is not just a grill but also needs plumbing, electrical wiring, a sink and a stove to make it a full and compact kitchen. This could mean that you would have to dig up your yard and some part of your home, if needed, to set lines that run to your kitchen at an extra cost for water and lighting. This is why a budget is important. You can make a smaller cooking area feel like an indoor kitchen with a wall sconce that will help in hiding wiring and plumbing.

Use a lot of natural light: As much as possible, you should find ways to use a lot of natural light when your cooking during the day and avoid unnecessary lights during the daytime. This way you can enjoy natural light and for most people, this is one of the best features of an outdoor kitchen.

Light it up: You cannot depend on natural light alone and these best way to enjoy lighting is by overhead lighting. You can use recessed cans and pendant lamps to get the best light effect. Enjoy an increase in airflow by adding ceiling fans with lamps. You should enjoy a lavish patio and also use devices to track lighting to highlight its features.



Add Shade: Use draperies, curtains, and blinds to cut out excess light. Whether or not it is summer, you can use these as accessories and it can be used to block the sun. If you need a lasting approach then why not build a pergola that will allow some amount of natural light without sacrificing the shade. It adds a certain amount of class and finesse that you can enjoy with these curtains. Also, you can add foliage or plants all around to cut unnecessary light and add a touch of green.

Smaller Scale Kitchen: If you realize that you don't have the budget or space for a full-service outdoor kitchen, then a kitchenette is just the thing for you. It allows you to enjoy a mini-fridge, grill and other appliances that you can enjoy on a limited but smaller scale. Since it is smaller, it would mean that it would be easier to clean and the cost of maintenance should be considerably lower. Even if you have a large terrace or backyard, a small kitchen can be neatly tucked away.

Attention to detail: Surround your kitchen with things that make it feel like home and what you would usually add to your indoor kitchen. Something as small as small lights, accessories and even fridge magnets with your kids' drawings would be great. You could throw in an entertainment center or a cozy fireplace to help you enjoy your meal and make you really feel at home.
While some think of an outdoor kitchen as an unnecessary luxury, you would be quite surprised about how useful it would be. In time, you would love to cook outside more often and proud to be the host of more gatherings at your home. What's better is that you can encourage healthier foods like grills and salads. The best part about outdoor kitchens is that it increases the value of your property and helps you make the maximum utilization of space. In order to keep all your appliance and systems working like clock-work then you own a home warranty and review what items are covered. Well, if you haven't got a home warranty then you should but getting a free quote. Make sure that you have a fixed budget and that you ensure that you stick to it in order to complete the construction of your outdoor kitchen. After this is complete then you can go about making minor changes and additions that you can enjoy and helps bring value to your home.