A Detailed Guide To Cleaning Your Washing Machine
PUBLISHED: November 3, 2020
•
6 MINS READ
Maintaining your washing machine is essential, as it is an integral device for your household. Every family member requires a washer to make sure their clothes smell good and remain in good condition to go about their daily tasks with ease. But several homeowners are not aware of the intricacies required for cleaning a washing machine efficiently. It requires several steps that should be followed to make sure your device is spotless. 
This detailed post will help you understand the essential steps needed to clean your washing machine. Note the steps down and inculcate it in your cleaning process to ensure your device remains in good condition and lasts for the years to come.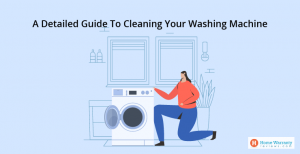 3 Important Tips To Follow For Cleaning A Washing machine Efficiently
It is essential to follow the right procedure while cleaning your device. The following steps will make sure you understand how to clean a washing machine thoroughly. 
Operate A Cycle With Vinegar
You can clean the inside of your device with vinegar. Run a cycle with it and ensure there are no clothes in the machine while the process is going on. The vinegar will remove any unnecessary elements of bacteria and make sure your device smells good.
Wipe The Interior and Exterior Of The Device With Water 
Use water and scrub the interior of your washer with a cloth and old toothbrush. While cleaning the device's outlet layer, use warm water and gently rub it against the surface until you can see no dust specs.
Run An Empty Cycle
Once the first and second steps are complete, you must run an empty cycle to remove any unnecessary debris stuck inside the device. You can add baking soda in the second cycle to eliminate any unnecessary particles stuck with the vinegar wash.   
What's important to note is that there are two different types of washing machines available in the market: Top load washers and front load washing machines. Cleaning these devices is slightly different from one another. Check out the following pointers below to know how to clean these devices.
How To Clean A Top-load Washing Machine?
Cleaning your top-loading washing machine is quite simple. All you need to do is follow the steps mentioned below:
Open the lid and wipe the inside of the device's drum clean.

Add a little bit of bleach or vinegar inside the drum.

Run a regular cycle without any clothes using the hot water feature.
How To Clean A Front Load Washing Machine?
Your front washer does require to be cleaned once in a while. The steps to clean this device are quite similar to cleaning a regular washing machine. Check out the following pointers mentioned below:
Check for any pieces of plastic or pieces of paper stuck in the device.

Open the device and clean the gasket of the device with a solution.

Clean the solution dispenser properly. 
Essential Tips To Follow While Cleaning Your Washing Machine
While cleaning your washers, you must keep a few pointers in mind for the device's safety and yourself. The tips mentioned below will help you clean your device efficiently.
While cleaning the device, always check if all the components are correctly attached, if not to get the fittings back up. 

At times, you can clean your devices with clothes provided you use the solution. In such instances, don't overload the machine.

Make sure to use the correct solution recommended by the company. Also, never add too many solutions or mix these liquids.

One of the most important steps to ensure your device is clean is never to leave any clothes inside the system once a cycle is complete.

Once you've removed all the clothes from the device, keep the door of the device slightly open for an hour. It will ensure unnecessary smells from the device get eliminated then and there itself.

Never overload the system with an extra amount of clothes. It can cause your device to malfunction and even generate a foul odor to get released.

Always make sure the drum of the

washing machine is well balanced

, for optimal performance.
Is A Home Warranty Beneficial In Protecting Your Washers?
Home warranty companies don't necessarily clean your washers. They protect them if they get damaged due to normal wear and tear. Since repairing these devices can be an expensive prospect that burns a deep hole in your pocket, a warranty plan is an excellent option to keep your mind at peace. 
Some of the crucial aspects you should know about warranties and how they help protect your devices are mentioned below:
If your washer is beyond repair it

costs a lot of money

to get it repaired. However, if you purchase a home warranty plan to protect your device it is an affordable prospect. 

A well-trained technician will inspect your device before deciding the necessary course of action required.

Several

top home warranty companies

offer comprehensive protection for your washers. The trick is to choose the best company that suits your budget and requirements. 

You are required to pay a nominal amount each time you file a claim for your malfunctioning washer. The service call fee varies between $50-$200 depending on the company you pick. 

Some parts of your washer may not be covered under the warranty plan you pick. You must read the fine print of your service contract to know what's included.
How To Pick The Best Home Warranty Company?
To ensure your washer is well protected, you must pick the best home warranty company. Today there are a plethora of warranty companies offering services to customers. Picking the best company requires you to read other customer reviews of their experiences with top companies. 
You can also compare and analyze the service call fee and the premium amount that top companies offer before taking a call. Ultimately you should choose a well-reputed company, offers good service, and fits your budget. 
The Final Word
Cleaning a washing machine needs to be done with care and patience. It is an expensive device that should last for an extended period, provided you take adequate care and clean the device regularly. The tips mentioned above will ensure your device remains clean and in good condition for the years to come.