What Exterior Paint is best for your home?
PUBLISHED: April 6, 2018
•
6 MINS READ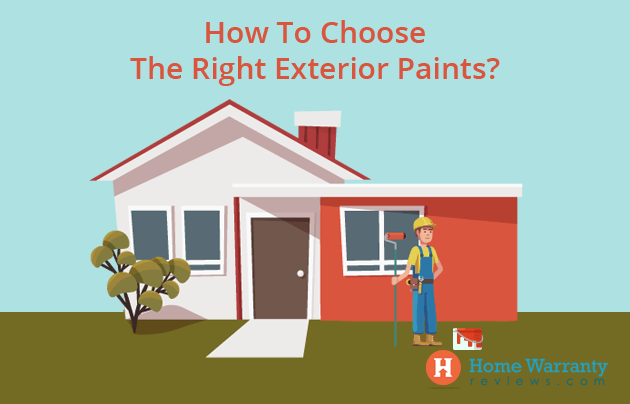 A common aesthetic dilemma that new homeowners have is the choices of paints to use for the outside. The paint job for the exterior of your home is based on many determining factors. Do you go for paints that have a very appealing look but sacrifices durability from harsh weather?. Or do you choose from paints that will protect your home from the outside but doesn't look as beautiful as other paint?
Before you make a decision you need to keep in mind there are mainly two variants of exterior paint. One is your water-based paint (Acrylic Latex) and the other is Oil based (Alkyd) paints.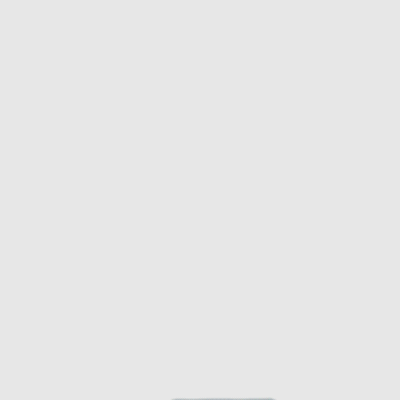 Here we will speak about the main features, pros, and cons on both variants of paints with a bonus tip in the end:
Acrylic Latex For The Best Finish
Acrylic Latex is the go-to choice for both professionals and DIY artisans. As there are many water based paints with a limitless range of colors alongside three famous finishes namely flat paint, satin and semi-gloss or gloss.
Flat paint is commonly used indoors and offers the least protection against the elements outside. Satin paint is known for having a higher sheen and is mainly preferred for wood siding. Whereas Semi-gloss/ gloss paints offer the most protection and as an added benefit gel even on high use areas like windows and door trims.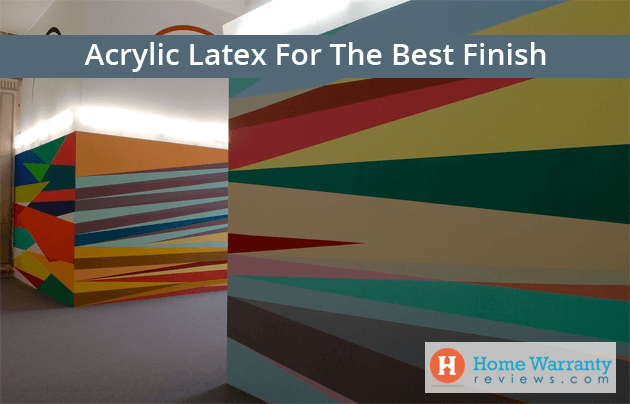 The plus points for Latex paints are that they are quite easy to use and clean up with water. Even after drying, the paint films remain flexible. The paint film after a certain duration breathes and accommodates itself to the change in temperature, or house setting without creating cracks.
This water-based paint works well with not only wood but also can coat sidings made of vinyl, aluminium, stucco, brick, metal and even fiber cement.
Now for the downsides to water-based paint.  Unless you aim to use only green products, you will have to deal with strong paint fumes right from opening the paint can lid till the time the paint completely dries.  These fumes are produced via volatile organic compounds. In high quantities, they are toxic and contribute to air pollution.
Another con is that latex paint, in general, does not gel/bond well with previous coats of oil-based paint. In order to have them bond you will need to prepare the surface well in advance, that means you'll have the tough task of stripping away all the old paint. You can't get a good result by fusing water-based paint onto oil paint. So if you have a layer of oil paint set, it's best you top it off with oil itself.
Also, latex is just a term given to the water-based paint, there isn't actually any latex in the paint. The name is because of the paint's elastic properties that it earns the title latex.
Acrylic latex demonstrates incredible durability even in the most rugged and harshest of environments. This includes moisture from rain and snow and even direct sunlight. Acrylic latex is known for staying strong when exposed to high humidity and rainfall. They don't blister, crack or flake regardless of the environments. This can be said only for walls and siding painted with proper surface preparation and priming
Oil Paints For Durability
Oil paints used to be considered the gold standard when it comes to exterior paints. This is because of its durability on high traffic house trims like handrails, floors, and doors. But nowadays oil paints are forced to play second fiddle to the newer and varied water paints, namely latex.
The major plus point for using oil paints is that they dry hard and in time get even harder. They are perfect for high traffic use namely steps, metal handrails, porch floors and your front door as well.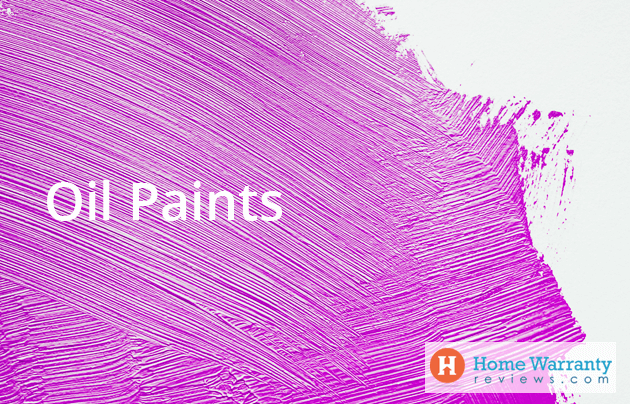 The downside to oil paints though, is that over time, they tend to become brittle and cracks emerge. The effect is the painted area having a sort of alligator look. The alligator look also is quite popular with homeowners and also a mainstay as to why people opt for oil paints. Also, oil paint can never be applied over old latex bend, their chemical properties prevent them from bonding.
A dangerous negative to oil paints is that toxic solvents are required in order to clean brushes and equipment that have been in contact with oil paint. An average can of oil paint has more dangerous VOCs (Volatile Organic Compounds) in comparison to a can of latex paint. But on the upside, there are low VOC variants of Oil paints now available in the market.
Stain Coating For Wood Siding
Stain is the option to go for if you prefer to present the natural features of wood more and still be able to protect it from the elements of nature. Cedar, Redwood and other varieties of wood look best with a layer of stain. You need to keep in mind, that a stain coating will never be as protective as water or oil-based paints. Also, sunlight and other weather effects can penetrate the stain coating, which will then cause the wood to age and become discolored.
Similar to paints, stains also come in latex and oil based versions. The same rules as paint apply, you cannot cover an oil stain with a coat of latex and vice versa. The only exception to this rule is when the old coat of stain has aged and weathered to a point where any new coat can bond onto the wood.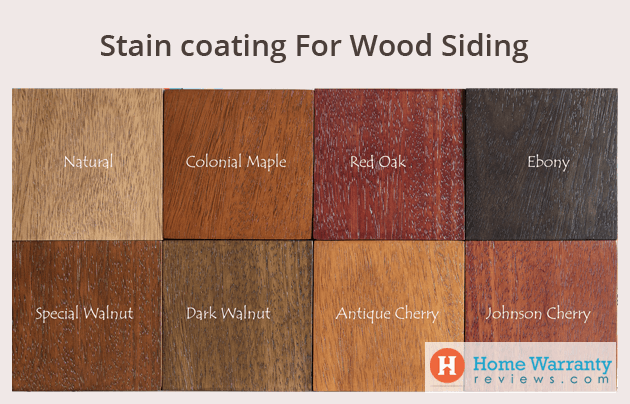 Stains Come in Three Finishes
Clear Stains
For extreme translucency, you should opt for the clear stains. This type of finish will allow you to see more wood, but you'll have to apply a coat every two-three years to prevent the wood from aging and discoloration.
Even with clear stains, you can still achieve different appeals. To do so, you can experiment with a single piece of shingle and determine the product of your choice. As mentioned above, the wood under the clear stain will discolor, forcing you to try out new brands and finishes.
Semi-Transparent Stains
Semi-Transparent stain finishes are thicker and give more protection than clear stains. This is because their formula consists hints of pigment. Because of this, the color palette available for semi-transparent stains isn't as varied in comparison to your regular latex paints. Nevertheless, there is still a broad spectrum of colors to choose from. Since semi-transparent stain finishes last longer than clear stains, you will have to apply a fresh coat every five to seven years.
Opaque Stains
The third type of stain coating is called opaque stains. The properties of opaque paint are quite similar to paint. They offer the most protection from the elements and also cover up much of the wood's appearance. Luckily enough, they aren't thick enough to block out the texture of the wood. Unlike clean stains and semi-translucent stains, you need to be wise in picking the color. This is because opaque stains are quite thick and would clash with the next color you'd like coating. You will need to sand the surface completely before attempting to apply another coat. Unlike clean stains and semi-translucent stains, you won't worry have to about putting a fresh coat for the next ten years.
Stains, in general, are the easiest to use in comparison to oil and water based paints. You don't have to invest a lot of time and energy in surface preparation, which is mandatory for paints. Instead, you can just wash off any cracked or raised stain and apply a fresh coat. One coat will suffice when it comes to Stains.
Solar Paints – The Future of Eco-Paints
Now for the Bonus we promised, a new innovation from RMIT, Australia has surfaced. The world's first ever solar paint! The first ever paint that could also work as a natural fuel source. Just like most paint, this new solar paint has pigments which contain titanium oxide. Adding a newly created material synthetic molybdenum-sulfide turns the paint into a semiconductor, with the ability to split hydrogen and oxygen to generate electricity.

"We found that mixing the compound with titanium oxide particles leads to a sunlight-absorbing paint that produces hydrogen fuel from solar energy and moist air. Titanium oxide is the white pigment that is already commonly used in wall paint, meaning that the simple addition of the new material can convert a brick wall into energy harvesting and fuel production real estate" says RMIT lead researcher Dr. Torben Daeneke.
While there is still a long way to go until solar paints can be implemented, but this development is a solution to clean energy even to remote locations that do not have water. The new compound synthetic molybdenum-sulfide works similarly to silica gel, an item that's used to suck up moisture and keep food fresh.
"Hydrogen is the cleanest source of energy and can be used in fuel cells as well as conventional combustion engines as an alternative to fossil fuels. His system can also be used in very dry but hot climates near oceans. The sea water is evaporated by the hot sunlight and the vapor can then be absorbed to produce fuel," said Distinguished Professor Kourosh Kalantar-Zadeh who worked alongside Dr. Torben Daeneke.
To read more on the research leading up to the creation of Solar paints, you can check the published research paper. Solar paints are something for the near future and are believed to be inexpensive to produce, and the most eco-friendly paint job of them all.
Lead – The most dangerous ingredient in paints:
Before you make your choice in paints, a fair warning, some of them might be very dangerous to you. In the 1970s lead was the main ingredient to all your paints. This is because lead was easily soluble in water and could create a thick opaque pigment in a minimal amount. The infamous strong paint smell is all caused due to lead as the base. Lead-based paints are very toxic and dangerous. They can cause nausea, drowsiness in adults and severe breathing problems in children. This is because the chemical components used to bind lead to the paint solution are quite toxic.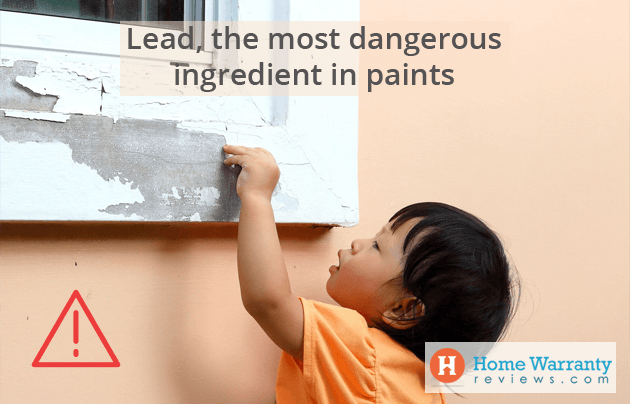 Because of the hazards caused by lead paint, the formula for paint has been swapped from lead to titanium oxide. Titanium oxide has a similar pigment to lead minus the health hazards. Most paints manufacturers use this safer formula for paints. The reason for this warning is that some obscure brands still opt to use lead over titanium oxide as an ingredient because it saves a lot of money in production.
Most paints now consist of Titanium Oxide, but it is always wise to check the ingredients of your paint before purchasing it. Because constant exposure to lead-based paint may make you susceptible to lung issues and cancer.
Protecting Your Home – Home Warranty
Now that you've been informed on the types of paints you can use for your home, how about ensuring that your home stays protected. You're a smart homeowner who wants to keep an eye on everything, just for that reason we have this home maintenance calculator ready for use. This home maintenance calculator allows you to foresee and gauge how much your would spending on maintenance of your home for a year. Furthermore, you can even gauge your home maintenance expenses for the next twenty-five years.
Now if you feel that the money you would be spending on maintenance on your own seems too much for you to handle, you can always opt for a home warranty. For a relatively small sum of money paid up front, you can ensure maintenance/repair/replacement of most of your home appliances.
Now comes another dilemma! Which home warranty do you choose? Worry not, because you can scroll through a large database of the top home warranty companies right here at homewarrantyreviews.com. Here, you can gain access to information regarding the top home warranty services and their prices. The reviews at HomeWarrantyReviews.com are all transparent and given by the actual users of the home warranty service. Every home warranty company also has a rating timeline. This rating timeline depicts how a home warranty company has been faring in the eyes of the public in the last five years. Once you're satisfied with your choice of home warranty, you can directly ask them for a quote and begin negotiating with the home warranty company you chose.