How to Choose Your Kitchen Sink
PUBLISHED: June 15, 2018
•
6 MINS READ
The kitchen is the heart of the home and almost every kitchen activity utilizes a sink. This is especially so, if you don't have a dishwasher. The sink is the only area that is used to prepare meals as well as to clean up afterward. Kitchen sinks usually last up to 15 years but you can't expect the fine finish to last forever. If you're remodeling your kitchen, it's advisable to change your sink.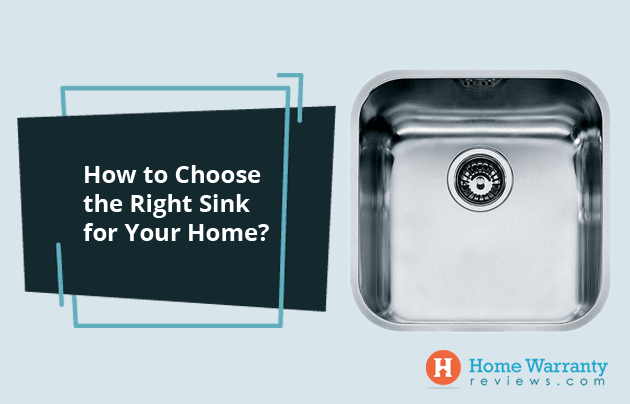 Kitchen sinks come in many styles and choosing the right one for your kitchen varies depending on the usage and your preferences. If you aren't sure whether to go for a single-bowl sink or a double-bowl sink, top mount sink or undermount sink, we'll help you make the decision. Read on to know what factors you need to consider before buying a sink and the pros and cons of kitchen sinks.
What Should You Consider Before Buying a New Kitchen Sink?
There are numerous factors that affect your choice for a kitchen sink. Your sink needs to fit into your kitchen and not the other way round.
1. The size of the sink vs the size of the kitchen
With the choice of sinks available out there, make sure you don't get carried away and end up with a sink that overpowers your kitchen. The National Kitchen & Bath Association suggests that for a kitchen that's less than 150 square feet, a standard 22×24 inch single bowl sink would fit ideally. If you have a larger kitchen, you can consider installing a double-bowl or triple-bowl sink that allows you stack dishes in one while you rinse vegetables of fruit in the other.
2. Sink size
Consider the size of the bowls in your sink to see whether they meet your daily washing needs. If you use a dishwasher, then you don't require a large sink that accommodates one bowl to soak the vessels in and another to rinse in. Most homeowners still hand wash large pans, pots, and baking sheets. In such a case, it is advisable to have one oversized sink bowl. But if you prefer double sink bowls but you lack space, you can go in for a combination of an oversized sink bowl and a small bowl. Whereas if you have ample space and prefer two bowls, it's best to go in for an oversized bowl along with a standard sized bowl.
3. Number of bowls
If you do a lot of baking, you will need a sink that has enough room to soak your baking pans. If you plan on buying a large sink bowl or a dual sink bowl, ensure that you have enough space to lay the pans down to soak. Make sure that the sink meets the size of your washing needs.
For larger kitchens that have a lot of floor space, however, designers suggest one main sink and a smaller bar sink. Installing a second sink would require you to make a plumbing upgrade and also invest in an additional sink and faucet.
Choices for Kitchen Sink Shapes – Pros and Cons
The shape of your kitchen sink needs to suit your style and convenience. You'll only realize this if you've had a kitchen sink that caused you a lot of inconvenient in the past. Here are some the most preferable kitchen sink shapes that are widely used across the country. Analyze the pros and cons of each before you finalize of the shape of the sink.
1. Farmhouse Sink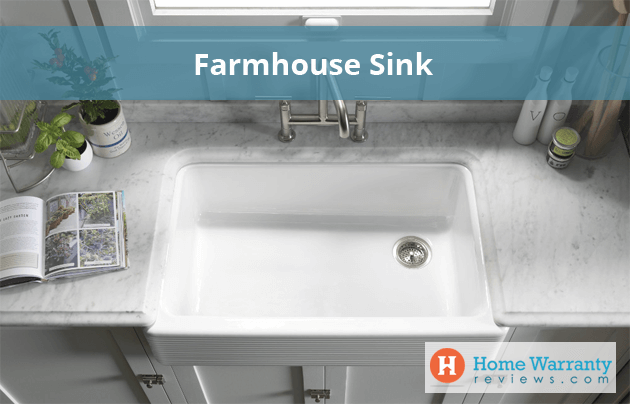 Farmhouse sinks or Apron sinks have an aesthetic appeal. They are large single bowl sinks that are distinguished by their front wall, that forms the front of the sink and the front of the counter as well. They are usually integrated in level with the counter. However, they are also sometimes installed in a 'country style' by placing them on top of a cabinet or a freestanding table that's fixed against the wall and are not surrounded by counters.
Pros
The distinctive front gives out a vintage vibe that many homeowners love

These sinks have a large single bowl that allows you to soak large baking pans, casseroles, etc

They are more accessible for kids and people with shorter stature
Cons
When the front edge of the sink drips, it drips straight onto the floor

These sinks make a design statement that will stay with your home for a long time. If you're someone who's taste change often, it could pose a problem
2. Double Farmhouse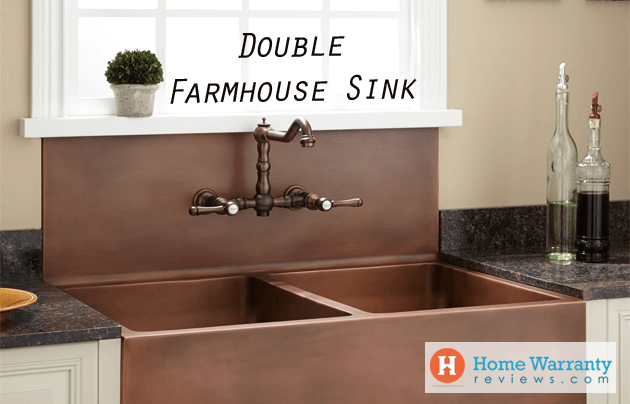 Double basin sinks are farmhouse sinks with two basins. They are the most commonly used sink arrangement. They allow you to soak or wash on one side and rinse or dry on the other side.
Pros
The benefits are similar to those of a farmhouse sink with an additional dual-basin benefit
Cons
It doesn't convey the same vintage vibe as the single basin farmhouse sink
3. Sinks with Rounded Sides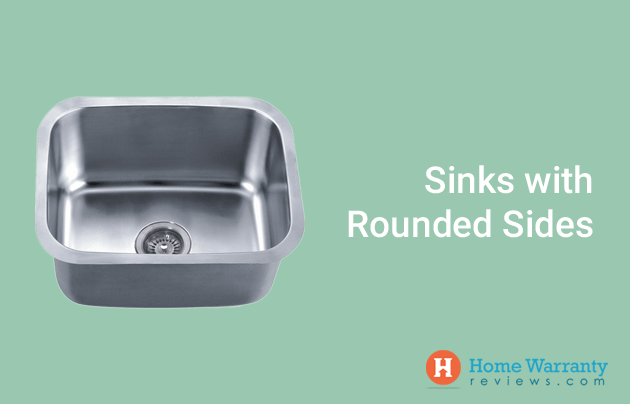 The insides of these sinks do not have sharp edges but have rounded corners instead.
Pros
Curved sides do not allow food particles to collect in the corners

It's easier and quicker to clean rounded sides
Cons
Rounded edges may not enhance a design for a sleek kitchen
4. Built-in drainboard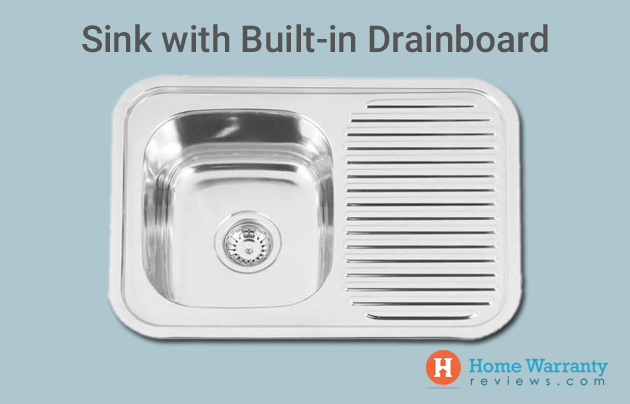 Sinks that come with built-in drainboards are good when you don't use a dishwasher.
Pros
The drainboard facilitates easy drying of dishes/fruits and vegetables
Cons
The sink is wider and cuts into the countertop space
What features can you add to match your needs?
Once you're through with deciding on the basics of your sink, you could consider a few other features that can heighten your comfort while washing.
1. Web/Divider
If you opt for a double sink bowl, make sure that the divider separating the 2 bowls is lower than the outside walls of the sink. This will provide overflow protection as the water will overflow from one bowl into the other and prevent it from flowing outside. This is helpful if there's a vessel placed over the drain that's preventing water from draining out.
2. Steep and straight sidewalls
Sinks with flat bottoms offer more space to soak and rinse pots and pans. This also allows dishes and glassware to be stacked safely.
3. Offset drains
Positioning the drain to one side increases the amount of space to stack dishes and glasses. This also creates more place under the sink. Offset drains provide the advantage of allowing water to drain even if a large tray or pan is left to soak in the sink. Speaking of drains and water draining out, if you ever find yourself with a clogged drain, here are some proven hacks to unclog your kitchen drain.
4. Faucets
Check the number of holes you have in your sink to take into account how many accessories it can handle. You might want to add a pull-out spray, soap dispensers, and other accessories.
5. Hot water dispensers
You can also get an add-on heating unit below the cabinet that can be attached to a spout and can provide water up to 190 degrees F. This comes in handy to make instant hot drinks, soups, and sauces.
6. Disposers
The clearance and space need to be considered if you want to install a garbage disposal. If you're upgrading your sink and currently there's no space provided to install a disposer, it is a good time to create space for one even if you wouldn't want to install one right away. The depth of the sink bowl and the height of your base cabinet determine whether or not a disposer can be installed.
Mount of The Sink
The mount of the sink refers to the way the sink is installed into your countertop. They are available in top mount, undermount and integrated options. Each mount has its own pros and cons. Sometimes your countertop material influences your choice for the mount of your sink, this depends on the weight of the sink.
Top mount or Drop in
Top mount sinks are installed in a hole that is cut out in your countertop. It doesn't require any form of interior support and are the easiest to install. Once the sink is dropped in, the rim is caulked with silicone to the counter. Top mounts are also called self-rimming sinks.
Pros
You can DIY these sinks as long as the hole in the counter is cut out. They are easy to install and don't require any special skills.
Cons
You cannot sweep dirt or water from the counter into the sink as the rim prevents the flow. The rim is one additional part of the sink that you need to clean.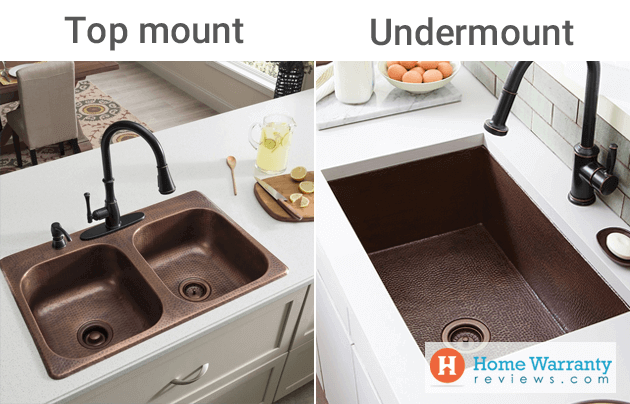 Undermount
Undermount sinks are attached directly to the underneath of the countertop material. The biggest benefit of this type of mount is that you can wipe water or any other dirt off the counter directly into the sink with a sponge.
Undermount sinks are compatible with countertops that are made from materials like granite, marble, soapstone, and concrete. Undermount sinks cannot be installed on laminate or tile countertops as they aren't strong enough to support the weight of the sink.
Pros
You don't need to get your hands dirty or risk spilling food or liquid substances on the floor as you can directly sweep it all into the sink.
Cons
Grime and gunk may build up at the portion of the counter where the sink is attached to it.
Integrated Sinks
Integral sinks are made from the same material as the countertop and are fused into the counter to give it a one-piece look. They are usually produced by counter manufacturers.
Pros
All the cons of a top mount sink like the grime collecting along the rim and those of an undermount sink like the gunk collection at the bottom are eliminated with integrated sinks.
Cons
It's difficult to find and buy an integrated sink.
Material of the Kitchen Sink
Think about the amount of work your sink needs to withstand and what kind of usage it will have. Consider whether the material of your sink needs extra attention if it is easy to clean, etc, before finalizing the material of your sink.
Stainless-steel:

They are the most widely used material for kitchen sinks and come in a range of finishes and gauges. The gauge refers to the thickness of the metal. The higher gauge the thinner the steel. Irrespective of the gauge, these sinks are lightweight, durable, and easy to clean. Stainless-steel sinks come with sound-deadening pads and coatings to reduce the noise produced during use. They come in top mount and undermount options.

Granite:

The sink is made by spraying a mix of granite and acrylic on a resin base. The sink is stain, scratch, and heat resistant up to 537 degrees F. The protective layer prevents resists bacteria. They come in top mounts as well as undermounts.

Copper:

This metal sink goes a long way, it can withstand rust and corrosion. Due to the natural properties of the metal, it develops a patina over time and gets a rare looking finish. Copper being antimicrobial, the sink remains bacteria and virus free.

Cast Iron:

Cast iron sinks are heavy and coated in porcelain enamel to create a finish that's virtually everlasting. It has sound-deadening qualities and offers long-term durability. They offer heat resistance up to 1000 degrees F and come in many colors. Apart from this, they're also easy to clean and come in drop-in and undermount variations.

Composite:

Composite sinks are created with a blend of granite/quartz particles along with polyester or acrylic resins to form a hard surface. These sinks are stain, scratch, and chip resistant and have sound-deadening properties, come i dual mounts, and are also bacteria resistant.

Fireclay:

These sinks are fired at a high heat to make them chip are scratch resistant. Fireclay sinks don't fade or discolor. They come in a range of colors and have non-porous surfaces that provide bacteria resistance.

Acrylic:

Acrylic material is molded into the shape of a sink after which it is reinforced with a composite of fiberglass to support it and also to induce sound dampening qualities. Acrylic sinks are easy to clean and are stain and impact resistant. They are available in top mount, undermount and dual-mount install options and come in many colors. If an acrylic sink happens to get scratched, the scratch can be polished out depending on how deep it is.

Porcelain:

Porcelain sinks feature lightweight steel that has a porcelain enamel for a smooth surface. These sinks are scratch and stain resistant. They're easy to install and come with dual-mount options and can resist heat up to 1,000 degrees F and an insulated backing so as to reduce noise.
Keep as many points as you can in mind while shopping for the kitchen sink. We wish you good luck in selecting your sink.
Home Warranty for Your Home
A home warranty covers the cost of repairs and replacements of home systems and appliances that happen due to regular wear and tear. Say your covered dishwasher breaks down and it cannot be repaired, the home warranty company would replace the appliance. However, there are certain caps, so it's essential to know some things before you invest in a home warranty policy.
Apart from the cost of the policy, you are also required to pay a service call fee or the deductible. The deductible varies from $50 to $125 depending on the cost of the policy. If the premium paid is high, then the cost of the deductible is low and vice versa. There are home warranty policies that cost less than $1 per day. If you aren't sure whether it is worth investing in a home warranty policy for your home, you can use the home maintenance calculator to help you with the decision. The home maintenance calculator requires you to enter some information like the age of the home, the age of the appliances, and the number of repairs per year. On the basis of this, it estimates the cost of repairs and maintenance of the home and accordingly suggests home warranty policies to match your expenses.
If you already have a home warranty company that you would like to invest in on your mind, make sure to read their reviews before you finalize on your decision. HomeWarrantyReviews.com lists over 80 home warranty companies and provides reviews on them as well. You can also check out the Top 10 companies page or your state page to know the top 10 home warranty service providers in your state. Buying a  home warranty policy for your home can protect the appliances and systems in your home and reduce your home maintenance expenses a long way.