Top Home Maintenance Youtubers and Vloggers
PUBLISHED: August 28, 2018
•
6 MINS READ
Maintenance of your home can be a very tedious task. Imagine struggling through pages of instruction manuals to find out how to fix a faulty appliance in your home? Sometimes Instruction Manuals can be so complex that you need to read them multiple times to understand the next step to setting up your home appliances and maintenance.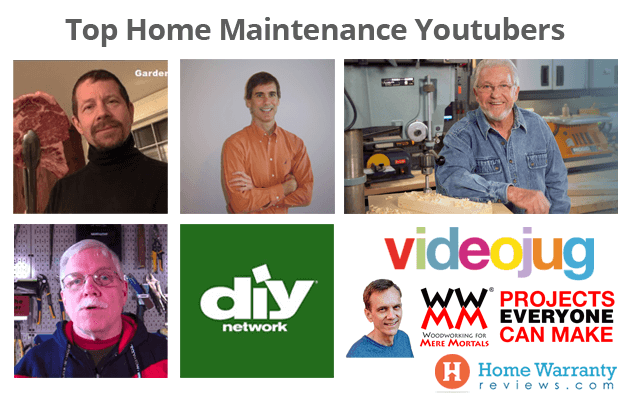 That's why it is so much easier to follow visual clues than reading through steps in a manual. Hence many homeowners put their faith in the expertise of these time and tested youtubers/vloggers. These Youtubers share many online tutorials and DIY methods in order to spruce and improve your home without having to spend exorbitant amount of money on a private contractor.
When it comes the domain of instructional videos. Videojug is king. Catering to a variety of topics including separate channels for food/ drink and Beauty/style, Videojug is your go to place for all your DIY instructionals.
When it comes to home maintenance however, the channel offers a selection from its hundreds in DIY videos on youtube. The videos mostly cater to tips, tricks and solutions to problems the average homeowner would be willing to tackle themselves instead of paying a workman to complete the job. Videojug has their own website which works as a catalogue of ideas and solutions for the American homeowner. Keep in mind though, some of their instructional videos and content are paid and advertised content.
Ron Hazelton has the eye of an artist. Being a homeowner himself, he has tried and tested most of his DIY tricks in his own home, with impressive results. What's more, he categorises his DIY and home maintenance tricks from difficulties ranging from easy to advanced, hence making you become a better homeowner progressively.
Most viewers feel he exudes the charm of the friendly neighbour who's always there whenever you need help. In order to give you a better understanding, Ron tends to provide more than one method to achieving the goal, leaving you the viewer a plethora of options to achieve the home improvement you desire.
It's quite common to be fearful when trying and using home improvement tools as they can sometimes be expensive, Ron is an expert in giving you the precautions before attempting as well as presenting the methods to his trick in a harmless and easy manner. This results in you having the peace of mind and cool headedness required when you need to execute home improvement on your own.
Mark Donovan is reputed in the interwebs of being one of the best talents when it comes to Home Improvement and DIY home remodelling. His channel offers over hundreds of DIY videos all about reinventing your home or maintaining it.

Mark is known for his straightforward method of communication in his videos. You can expect his videos to be short and straight to the point, with no fluff to dissuade and confuse viewers. The slight downside to following HomeAdditionPlus, is that you need to be basically adept in all the home improvement jargon and terminologies . His fast pace caters to viewers who have already dabbled in the fields of Home Improvement and Home Maintenance, and is not one to hold your hand guide you through the process. This channel aims to serve those who are dedicated to home improvement, maintenance and constantly striving to reinvent their homes.
Here's a video channel that caters to a niche category when it comes to DIY home maintenance and home improvement. As the name suggests Gardenfork.tv caters to reinenvition and diy tips and tricks of the outer areas of your home, your garden especially.

Covering a range of topics be it beekeeping to cooking, it earns its place on this list because of the large library of videos all catering to the garden part of your home. With essential instructional videos like for eg: building raised garden beds, making a birdhouse or how to grow tomatoes and other fruits and vegetables are just some to name a few.
With a handful of DIY videos to it's kitty. Gardenfork proves to be an all round video learning platform for all budding gardeners and home improvers.
Tim Carter is the energetic, charismatic and fast talking host of the AskTheBuilder video tutorial channel on youtube. He specialises on specific how-to videos and his target audience is usually the massive number of DIY novices that flood onto his channel for his advice.

He is known for giving detailed and general overviews of products and the processes they are used for. His modus operandi is to deliver home improvement and renovation tricks via 'home improvement 101' videos. Be it how to deal with roof moss, masking tape or gauging the quality of wood in a 2×4, a simplified explanation from Tim is all you need to get going in your goals for home improvement and maintenance.
There's a reason why Steve Ramsey's channel 'Woodworking for mere mortals' has over 30 million views and counting. If in the near future anything in your home that's based of wood is broken, do swing by 'Woodworking for mere mortals' for a flurry of ideas and solutions for the broken item in your home. Steve relishes on the topic of fixing delicate wood furniture and articles, and ensures that you get a pro tip in fixing your own or even rebuilding and creating your own.

Be it learning how to make your own shelving system or building a personal closet organiser, Woodworking for mortals will probably have a DIY solution waiting for you. Also, fret not about the learning curve, Steve has an array of videos from novice woodworking to being a seasoned pro.
Straightforward and to the point. The channel DIY Tricks has over 2000 videos giving you a flood of information on everything you need when it comes to DIY home improvement, home renovation and maintenance. DIY tricks is your one stop shop for innovation and solutions for the most basic faults and breakdowns.

Other Strategies You Could Follow
If you aren't up to the task of experimenting or fixing up your home all by yourself, you could always do the task of calculating how much money you'd require for a private contractor to do the job for you. To assist you with that, you can use this handy home maintenance calculator.
This calculator allows you to see how much money you would be spending on maintenance of all your home appliances for a given year. Furthermore, as a homeowner you wouldn't entertain the idea of spending a lot of money by buying new appliances a lot. This maintenance calculator would help you gauge the amount you'd be spending on maintenance for the next 25 years.
Another helpful tool for you as a homeowner is our mortgage calculator. As the name suggests you can calculate and see if you can afford another mortgage by gauging it alongside your income.