How to Clean a Kitchen Quickly
PUBLISHED: March 20, 2019
•
6 MINS READ
When it comes to cleaning your kitchen, you should use some elbow grease and get into deep cleaning. Not only will it look amazing, but it will also get rid of all those unpleasant smells and this would help with disinfecting the kitchen too. There are several ways to go about it but this involves appliance, system and kitchen cleaning. Here, we have listed proven ways to clean a kitchen quickly.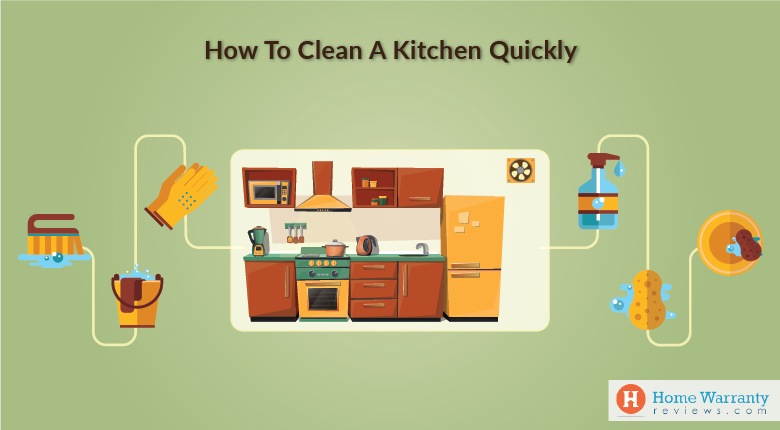 17 Ways to Effectively Clean Your Kitchen
The results are outstanding and you will only see why its important to deep clean your kitchen when the process is finally over. Here are 17 effective ways to clean your kitchen.
1. Keep the Decks Clear
You should put away all these items that belong to your kitchen especially the ones that are not in their proper place. Then the next thing to do is ensure that you move on to gathering all items that do not belong in the kitchen. You should put these items in a basket which you could put away later. Don't stop working on the kitchen to take these misplaced items back to their homes.
2. Clear Your Path
When it comes to cleaning, you need to clean from top to bottom and inside and out. But in order to do this, you will require space. Take out everything that does not belong in the kitchen. You should empty countertops. Then you should move the chairs from the island or the breakfast table, empty the trash and remove the cookbooks and other items to dust those areas.
3. Allow time to Soak
You should fill a sink or tub with water and allow time for soaking. In case you have a large sink then you will need it. If you don't then you should make use of a bathtub. Fill it with hot water and dishwashing detergent. Soak things like the microwave turntable, oven racks, and stove drip pans and grates. Later you can also add the silverware container and the crisper drawers from the refrigerator. If you are using the bathtub then you need to put a towel in the bottom to keep it from getting scratched.
4. Cleaning the Fridge
You should start cleaning the largest kitchen appliance first which is your refrigerator. Since, you are deep cleaning it, it should be emptied. You can put the items on a counter nearby and throw out the remaining in the trash that you place nearby. Throw out all the ice if you have an ice maker. Anything that is out of date should be put in the bin. This includes leftovers and takeouts. You should throw them all out. Also, all reusable containers that need to go into the soaking sink. Then you should wipe down the walls and shelves with a non-toxic cleaner. Then replace the food items and be sure to leave room for the cold air to circulate around everything and not block the vents. Empty the fridge and remove all expired food. Throw out dirty food containers and put them in a sink of soapy water. If you are working from top to bottom then you should wipe down the shelves with a rag sprayed with an all-purpose cleaner.
5. Clean Light Fixtures
You should clean light fixtures and central air registers that need to be dusted and wiped clean. Since you are going up high, you will need a ladder and make sure that it gets recessed light fixtures for cobwebs. Then you should remove all globes from the surfaces of the lights and clean with a glass cleaner and water using a high-quality microfiber cloth. Then you should clean the ceiling fan and since you are cleaning from top to bottom this should not be a problem.
6. Spray Countertops and Stovetop
Make use of an all-purpose cleaner and spray all surfaces. You should let the cleaner do its work before you move on and rub and clean it up.
7. Dust the top of the room
You should continue your top-down approach of cleaning by dusting the top of the room. Then you should use a telescoping duster or move your ladder around and wipe down the molding, corners, cabinets, and upper cabinet door fronts and handles. Remember to wipe the top of the refrigerator and vent hood.
Wiping dust and the debris falling onto the floor is alright because you are going to clean it up later. You should use long-handled dusters and work your way around the entire perimeter of the room. Make sure you clean all corners, light fixtures and the tops of cabinets. You should not forget about the tops of refrigerators and then you should work yourself back to where you started.
8. Clean glass in windows and doors
You should clean the windows and glass in any doors with a homemade glass cleaner and then wipe it down the blinds or shutters.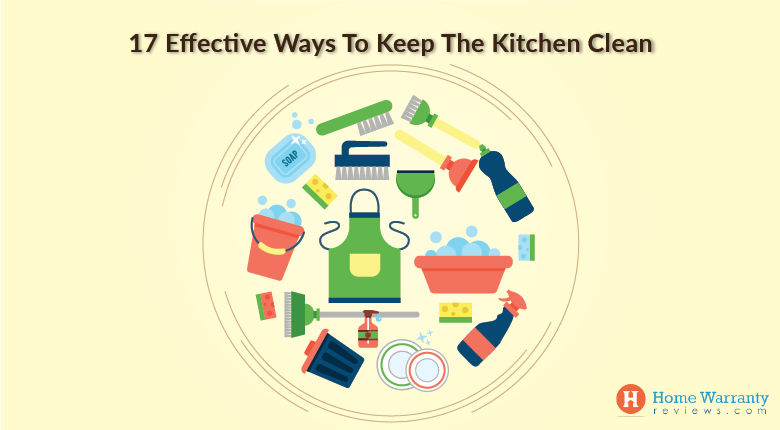 9. Wipe Down Upper Cabinets & Clean Microwave
Use a sponge and wipe down the sides of a microwave. Then you should set a wet sponge in the microwave and let it cook for 2 minutes. While the microwave does its bit, you should dip the rag in warm, soapy water and use it to wipe down the doors and pulls of the upper cabinets and anything else on the wall that you find. Now that the sponge is cool enough to handle you should wipe down the inside and outside of the microwave.
Further Reading – 5 tried and tested microwave cleaning hacks
10. Cleaning Countertops
Next, you should clean the countertops. There are several countertop materials which include plastic laminate, wood, ceramic tile, marble, granite, and concrete. This is an area that you should clean with methods that are approved for your material. You should also want to disinfect the area as well as clean it. If it comes to cleaning granite and marble then you should avoid commercial cleaners. You should instead use a mix of dishwashing detergents, water and a mix of isopropyl alcohol and water to disinfect and buff out the stone.
11. Clean Other Appliances
Take time and clean the outsides and insides of other appliances which are used regularly like the stove, dishwasher coffee maker and other appliances. Use rags dipped in warm soapy water to wipe down the sides of the dishwasher and oven. You should pay close attention to the handles and outside edges when you clean. For stainless steel appliances, you should use a stainless steel cleaner or vinegar diluted in water.
12. Start At The Sink
Add all the dirty dishes in the dishwasher. Then you should run a sink of hot and soapy water and drop things in it that need soaking like large pans, bowls, dish drainer, and even the microwave turntable.
13. Empty The Trash
Clean the trash can by first giving the inside a quick wipe down with a wet rag and replacing the bag. Then you should remove the trash with a disinfectant and then replace the trash bag.
14. Wipe Down Cabinets
You should wipe down the fronts of base cabinets and drawer and door pull. After you clean the front of the toe space then you should clean under the cabinets and continue until you are down to the floor.
15. Wash other items
Just before you start cleaning the floors, you should go back to the sink and wash items, lay them on towels on the counter and put them in the dishwasher if they are small enough. If they are hand washed then you can dry them and put them back where they belong.
16. Drain the Sink
The time has come to clean the sink. You should drain it completely and then using a mild cleaner, you should wipe it down. Be careful when you are cleaning the disposal and then wipe down the sink faucet and handles.
17. Cleaning the Floor
Now that you are done cleaning the rest of the kitchen, you should finally pick up a broom and mop and clean the floor.
Get the Family Involved
You should make it a point to make the cleaning process a family affair. You should divide the steps between your family members and reduce the time needed to clean the kitchen.

Make sure that you train your family to clear and rinse their own plates after every meal. This simple act takes little time for each person but it saves a lot of time for the person cleaning the dishes.

Ensure that you run a sink of hot soapy water before you prepare food. This is because the mixing bowls, knives, cutting boards, and spoons become dirty and this will prevent you from quickly washing them from drying and sticking. This should take out the stress of cooking and you would not be left with a pile of dirty dishes to be done in the end.
Home Appliances and Home Warranties
When it comes to home appliances, you are faced with the constant challenge of day to day deterioration in the products. This is caused due to wear and tear based on your daily usage. This is why after so many occurrences of an item being used, it could break down and the cumulation of these expenses could be pricey. If you are not careful, these costs can go into thousands of dollars in out of pocket expenses which would have to pay whether you like it or not. But these costs could be mitigated with a home warranty plan for covered appliances and systems.
You should know that a home warranty is a service contract that promises to repair and replace all damaged appliances and systems in the contracts provided it meets all the terms and conditions of the deal that was agreed. This warranty differs from a general homeowner's insurance policy as it covers repairs and replacements of faulty appliances and systems, unlike homeowner's insurance that covers your home and things within it from unnatural events like calamities or theft or destruction.
A home warranty is completely different from the manufacturer's warranty. Here if your appliances and systems are no longer under manufacturer's warranty then you can enjoy peace of mind. Home warranties could save you a lot of money in the long run and cover maintenance for your home insurance. When you buy into a home warranty, you, the buyer needs to review the coverage from various companies and select one that best suits you. This means that you should read the fine print and pre-existing conditions. Some of the pre-existing defects include structural problems, pre-existing problems during installation and use, lack of maintenance, hidden charges and the limited number of claims.
Before you buy, you should know what things are covered and not covered by a home warranty. Also, you should compare home warranties and look for the best possible plan in your locale. This means that you should be able to figure out the best price, what it covers, know it if it is available in your region and if there is service coverage. Don't forget to get your free quote and write a review if you already have a home warranty and would like to share your experience.