Getting Ready for Kitchen Renovation- How To Go About It?
PUBLISHED: December 26, 2016
•
6 MINS READ
Personalizing a space and its aesthetics to suit your style and needs is what renovation is all about, but it's not all about how it looks. We all know what a task it is just to get your home repainted, from covering up all the furniture and appliances to pretty much having to move out till the task is complete. That's where the mission of preparing yourself for a home renovation comes in – from the planning of layout and budgets to the actual wrapping up of the house and constant supervision. When it comes to renovating a kitchen, planning is all the more important, as it is impossible to use the space while the contractor is at work.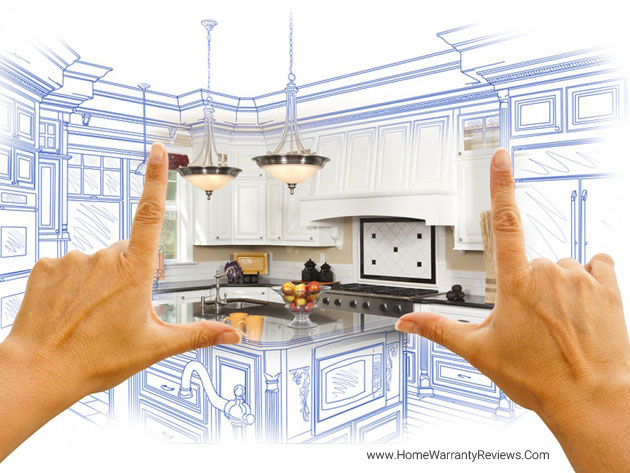 It can seem very daunting and not knowing where to begin is a major setback when it comes to such projects. If you take too long, there is even the fear of losing interest altogether. Taking stock of property, estimating costs, schedules and research are all a part of the process, making sure you don't compromise during the renovation and yet don't land up overshooting budgets. Below are a few points that will help you out to kick start and keep control of the renovation.
1. Draw Out A Plan For The Essentials
Keep your plans and layouts realistic, the budget strict and make sure you set aside a margin for unexpected costs – there is no way of avoiding surprises completely! A few absolute essentials – cabinets, stovetops, sink, and chimney – usually take up a larger percentage of the estimate, so if you plan on changing or adding any of these, do it first.
2. Research For A Perfect Renovation
Keep some time to go through interior and architecture magazines and blogs online to get some inspiration and keep an archive of things you might want to get back to or must remember. Phone applications like Wunderlist, Evernote and Google Keep act as great digital notebooks, and Pocket for Android/ Apple /PC allows you to save websites and blogs offline to get back to later. Instead of printouts and sticky notes, the digital era gives you an easy way out, especially since they can be synced between computers and phones with just an ID.  It might seem like a lot of work, but it is always helpful to have a picture of that you want, especially when talking to the contractor.
3. Assess The Level Of Work
At this point, there would be two ways to go about it – either to follow the existing blueprint or to alter architectural elements and start afresh. The latter is more lucrative but keep in mind that it is also pricey and more time consuming. The benefit of it is that it will allow you a lot of flexibility in terms of wiring and even plumbing a few areas.
It's time you also took stalk of decisions regarding your appliances; their age, condition, and efficiency primarily. This is a good stage in the process to call in an inspector from a Home Warranty company to assess which appliances of yours are keepers and what the company can offer you in terms of their coverage, claims, and conditions.
4. Professional Assistance For Renovation
The first step is going to take up quite some time, especially when it is about budgeting.  The fact of the matters remains that you will need a professional sooner or later, and it is best to give yourself that liberty of taking help when you need; from hiring an inspector for technical decisions to getting a little design assistance during your showroom visits.
Pick what suits you best and chalk out a tentative budget. A professional at this point can be very resourceful and would also help you keep grounded in all the small decisions that you need to take. If you plan on undertaking a more comprehensive route which involves architectural changes, getting an engineer to inspect the space is a must.
5. Finishes, Fixtures, and Style
It's time now for big decisions! It is important to keep things functional but that shouldn't stop you from having a bit of decorative fun.
Major aesthetic decisions you have to narrow down and sign off on:
The style, build and exterior finish of cabinets.

What material you want to use for countertops.

Positions of electrical appliances, niches, and division of space.

Sink placement and accessories.

Lighting.

Material and finish of your backsplash, anything from tiles and glass to simple glazes and stone.

Relooking at the flooring, maybe even in just parts.

Ventilation and windows, chimneys and airways.   
6. Estimates From The Contractor
Before you sign off with a contractor, make sure you get more than one estimate. Outside of the budget, make sure you relate with him and his team – you will be spending quite a bit of time with them, especially when you supervise the finishing touches.
7. Set Yourself A Temporary Place
Once the hiring, picking of designs, signing contracts are done, it is time for you to pack up and let the renovation begin. Have the contractor help you set up an alternate space; it makes the entire process a lot less daunting.
8. Let The Fun Begin
We'd love to say that it is time now to relax but now is when the real work begins. Though the contractor and professionals will do the heavy lifting, as a homeowner, it important that you are involved and kept in the loop every step of the way.
Warranty And Insurance
Be it an extensive renovation or just a few replacements and tweaks, having an insurance in place during the construction process as well as a warranty for appliances and wiring systems is highly recommended.
Not only are you covered in case of accidents, there is also a certain degree of guarantee that the alterations being made are going to hold for years to come, without constant repair.
And what better way to research than HomeWarrantyReviews.Com? With comprehensive reviews, ratings of all the states in the US and with a greater focus on home warranty companies operating in major cities, you can be certain of the level of work you can expect from a home warranty company. At the end, all you have to go is compare policies and pricing by getting free quotes from many home warranty companies operating in your ZIP code!