Visually Maximizing a Small Space
PUBLISHED: August 1, 2017
•
5 MINS READ
An urban lifestyle is everything today – you get to live young, live classy, and live fast! But on the downside, when living in urban spaces, dreaming about a spacious airy apartment with ample natural lighting often remains just a dream for many. The reality of urban living is that we live in houses that we get and not always the ones that we desire. Small studios are commonplace and more often than not, these studios aren't design-wonders. But that's no excuse for not getting the best from your space. This is when you need to use tricks to help you.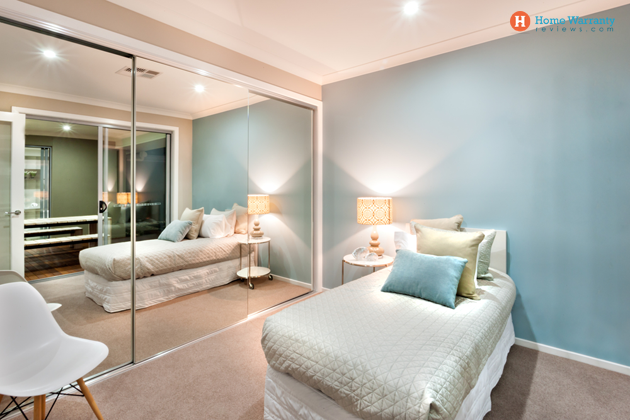 While decorating smaller spaces, say for instance a studio apartment, decorating smart can mean decorating big. It's essential to know what the possibilities are, what aren't, and then get down to figuring out what works best for your space. Here are eight hacks that can help you maximize a small space:
1. 
Understand That Nothing Really Changes
Since breaking down walls isn't always (rather, never!) an option for most, you're essentially going to be dealing with the space you have. Creating more space will not happen physically, you're only going to create an illusion of more space.
2. 
It
 Starts With
Thinking BIG
Instead of small and many, think large and few. The more furniture you have, you'll inevitably be left with less space to move around. Having fewer large pieces of furniture, not only reduces the floor space consumed but also gives the eye more to look at. For instance, instead of having three small chairs, try looking for a slightly larger two-seater couch which can be pushed against the wall.
3.
Seeing Double
A classic trick of creating an illusion of more space is to use mirrors – the larger the better. Attaching a large framed mirror against a wall serves multiple purposes. It creates an illusion of doubled space and reflects natural light making the room look more bright and airy. Not to forget that it adds a look of grandeur.
Large mirrors with ornate frames not only serve the functional purpose of making a room look larger, but are also great conversation starters. They become a noticeable point of interest in a small dwelling.
4.
Sheer Space
Opt for blinds over curtains while dressing windows. But if you can't resist the fall of fabric, go in for sheers or nets and avoid opaque or black-out fabrics. This way you ensure that you're allowing as much light to enter in as possible, and at the same time, your need for drapery is also catered to. The advantage that sheers, nets, and laces have over traditional textile drapery is that you can achieve the effect of flowy drapes without compromising much on the natural daylight flooding in.
5. 
Pastel Paints
Painting your walls over is a good idea, but while doing so, try sticking to a pastel palette. White and pastel hues look fresh, clean and give an impression of more light in the space. Try restricting dark, moody colors to accent walls and keep the walls cheerful with paint in subtle tones.
6.
Hang your Art High
If you're hanging art, prints, and frames on the wall, it's good to know that when it comes to apartments with lower ceilings, the key phrase is "high level and not eye level". Hanging your frames slightly higher than eye level draws the sight upwards giving the viewer a feel of the ceiling being higher.
7.
L
ines to Live By
The ultimate savior when it comes to creating an illusion of space is stripes. Be it wallpaper, accent accessories, upholstery, curtains, or linen, a few stripes in the room create a sense of direction and orientation. Stripes with their linearity quickly transform a room giving it a clean appearance. Stripes not only create the illusion of length, but being in itself a pattern, they also add a visual fun element to the space.
8.
M
ovement Friendly Layouts
Once you know what you are going to place, it's a good idea to start looking at where you are going to position your belongings. Make sure that couches, chairs and cabinets don't obstruct paths of entry and exit and are easy to maneuver around. Not only will simple lines of movement assure easy accessibility, but also ensure that fire safety and evacuation in case of any disaster is taken care of within the design of the space itself.
Layouts come in handy not only in living and dining areas but in kitchens and bathrooms as well. It is safe to say that a studio apartment seldom has space for the utility rooms of the house, making it essential to declutter them and have all your daily use tools and implements handy.
Maintenance Hacks and Home Warranty
However small your space may be, it nevertheless requires maintenance and upkeep. While constant involvement and sudden need for funds can be difficult to handle when it comes to damages and consequent repairs, it is a good idea to subscribe to a system that cuts out the hassle.
HomeWarrantyReviews.com brings to you a web of articles spanning categories of Home Maintenance and Warranty guides, giving you all the information you need about Home Warranty companies and terms and keeping you up to date. An investment right at the start in a Home Warranty policy can go a long way when it comes to future repairs, making sure that you don't land up spending large sums of money on keeping a small space maintained and functional.
The website also brings you a Home Maintenance Calculator, allowing you to feed in basic details about your home and its appliances to get an estimate of maintenance costs with and without a Home Warranty scheme in place.