Essential Power and Hand Tools to Have in Your Home
PUBLISHED: July 28, 2017
•
6 MINS READ
An essential part in what has enabled the development and progress of the human race are tools. What could be considered an extension of the human body, tools not only aid in work but also increase speed and efficiency. Be it small maintenance tasks or full blown repairs and construction, tools are always helpful. Having your own set of tools handy at home not just helps in getting the job done, but is also economical. Fixing small situations on your own avoids the need to call a mechanic thus saving on maintenance costs. However, as essential as tools are, it takes some amount of knowledge to understand which tools are really required at home.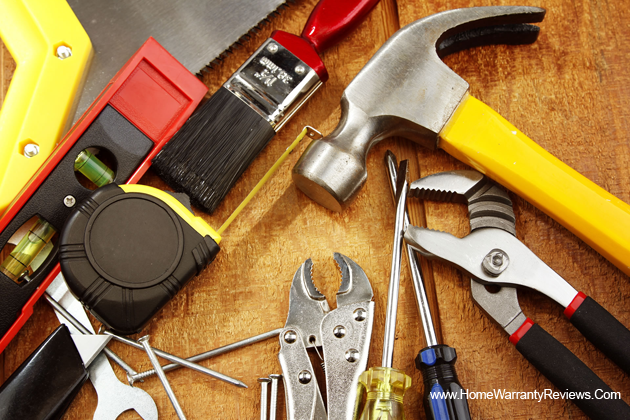 Hand Tools
Hand tools comprise all tools that do not need a power supply to function. These tools are powered by hand, human force and not by an engine or motor. These few hand tools are an essential in every tool box:
1. 
Screwdriver
The extremely simple and unassuming screwdriver is handier than you'd dare to imagine. Screwdrivers are of two kinds. They are differentiated by their heads – Philips head and slotted head screwdrivers. The simplicity in design and ability to use the tool for several purposes is probably the most beautiful feature of the screwdriver. Use it to tighten screws on cabinets, or even to wedge the lid of a paint can open, the screwdriver is one tool that you should have at home.
2. 
Tape Measure
A metallic tape measure is a tool to live by. For beginners doing small DIY home improvement projects as well as professional masons and contractors, the tape measure is a tool that finds a special place of mention. Depending on the nature and extent of work that you wish to carry out, understand the kind of tape measure that you need to buy. If you're going to be fixing shelves or putting up a painting at most, a small 3 meter pocket tape should more than suffice. But if you're into larger projects, look out for a tape that spans a length of at least 5 meters. Tape measures are available in both plastic as well as metallic cases. Choose the type you want to buy depending on the durability that you require.
3. 
Pliers
Pliers are another tool that is multifunctional. Pliers can be used either to grip or to cut. While bending small wires and cords, pliers come in handy for a precise and firm grip. The same pliers become useful when wires and cables need to be cut as well. While purchasing pliers, look out for a reasonably sized set that is easy to work with and also look for a set that comes with a strong plastic, silicone, or rubber grip.
4. 
Hammer
It's hard to generalize the several different types of hammers under one generic term. But rest assured, for your work at home, you most probably will not be needing the entire range of hammers on a daily basis. Ideally, a claw hammer should more than suffice for most household needs. The claw hammer has a curved split on one end. This can be used to extract nails from walls and furniture. While the hammer head can be used like any other hammer for putting together pieces of furniture, hammering a nail into the wall or anything else. As with the pliers, look for a hammer with a comfortable grip while making your purchase.
5. 
Hand Saw
At times also called a panel saw, the hand saw is arguably the most basic hand tool to cut timber. The tool functions on a very simple pull and push action, wherein the motion causes its serrated teeth to slice the timber. Hand saws come in a variety of lengths and these are based on the wood they are built to cut – planks, sheets, logs etc. Look for one that suits your purpose and a size that you are comfortable working with. While making your purchase, make sure that the saw is manufactured by a reputable company and that it has features like a rust proof blade and a solid handle.
6. 
Wrench
The wrench again is one of those tools that have the potential to save construction projects in very simple manners. The strength that can be applied by the grip of a wrench makes installation of pipework extremely simple. Likewise, while fixing plumbing and drainage, wrenches are seen as the handyman's best friend. Keep a set that is not too heavy to use, and keep the wrench away from moisture. Rust can damage the threads in the wrench and that will render it useless.
7. 
Spirit Level
When it comes to finding levels, probably the most convenient tool is the spirit level. An extremely simplistic mechanism where the tool consists of an air bubble trapped inside colored spirit. This allows you to measure straight lines, parallels, and perpendiculars. From hanging a painting to making sure shelves and cupboards you are installing don't tilt, the tool is small and handy for projects big and small. Opt for a strong metal bodied spirit level against a plastic one – they last longer and are less prone to dents and bending.
8. 
Toolbox
Once you have all your hand tools in place, you will most importantly need a toolbox to store them all. Look out for a box that you can carry around with ease. Features like removable trays and multiple compartments are a plus. Be extremely careful about the latch of the toolbox – toolbox latches are generally prone to breaking considering the frequency in which they are handled, opened and shut. Look for a toolbox with a strong and preferably metal latch.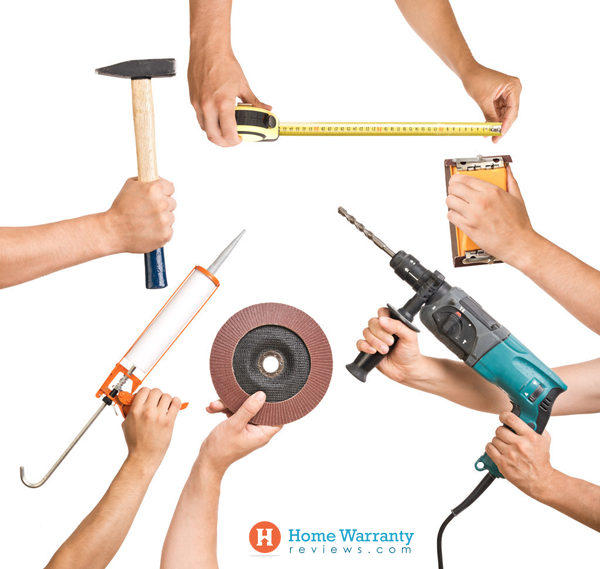 Power Tools
Now that we've looked at the essential hand tools, here are a few power tools that must be present in your home.
1. C
ordless Drill
Very similar to the traditional drill, the cordless drill is only different in the sense that it runs on a rechargeable battery. It's the most essential power tool for your house. Handle every hole boring and drilling activity with the cordless drill. With a change of the bit, you will even be able to use the drill to drive in screws and bolts. While buying one, look for a cordless drill that is durable and has a good body. Look out for products by reputed companies like Bosch, Dewalt, Black&Decker, etc. These might be a bit more expensive than the other drills on the rack, but the investment is definitely worth it.
2. 
Circular Saw
Even though the good old hand saw is going to be a reliable companion to cut wood, if your requirement of cutting through sheets is more than just a few times a year, your new best friend is the circular saw. Available as battery operated as well as corded types, the circular saw can slice through a sheet of plywood in a matter of a couple of minutes. While purchasing one, look for one manufactured by a renowned company, and look for a heavy duty saw. Circular saws also need to be handled with care and precision.
How about a Home Warranty?
While it is essential for you to have a set of tools in place, know that using both hand and power tools requires skill and precision. It is strongly advised to not take on projects that are complex or beyond your realm of expertise.
The next best thing to DIY repairs and maintenance is definitely Home Warranty. Working towards keeping your home new, fixed and looked after always, Home Warranty is an investment for the future of your home. A good Home Warranty policy in place keeps track of all your servicing needs and reducing stress when it comes to appliance and system breakdowns – and all that without any unnecessary worry. Taking care of issues when it comes to day-to-day wear and tears, appliance breakdowns and flaws in electrical and plumbing systems, Home Warranty is like a homeowner's insurance policy. Structured in a way so as to keep track of the little things and routine aging of your home appliances and systems, find out everything you need to know about Home Warranty in the United States from HomeWarrantyReviews.com.