Top 10 Tips For Home And Family Safety During Winter
PUBLISHED: October 20, 2020
•
6 MINS READ
Winter can be a tricky time for homeowners, as the temperature can drastically drop, causing allergies and even ruining the vital devices in your home. With the winter season's onset, the nights will get longer and colder, making it essential that you stay indoors and ensure your HVAC remains in good condition. To guarantee you stay safe this season, you must create a checklist of the vital winter home safety tips to follow. 
This detailed post will guide you through the critical factors for your home and family to safely outlast the winter season. Take note of all the essential elements and make sure you know what needs to get done to remain safe.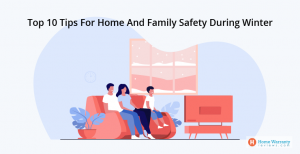 Top 10 Winter Home Safety Tips For Your Family
You must prepare your home and family for the winter season. Check out these safety tips below and know how to be prepared:  
1. Home Warranties Are A Good Investment To Protect Your Devices
To get through this winter season without burning a deep hole in your pocket, you can consider purchasing a home warranty plan. The policies cover essential items such as water heaters, built-in microwave ovens, refrigerators, HVACs, etc. These devices are critical for your home to function smoothly throughout the winter. Today many top home warranty companies offer services across the county to help homeowners get their devices repaired quickly.  
2. Your Roof Should Be In Good Condition
The heavy snow can damage the surface of your roof, causing leakages in your home. These leakages can cause unnecessary slips in your residence. Make sure there are no cracks in your roof to avoid any accident. If you want to protect your ceiling this season, a home warranty plan covering your roof and other vital winter devices is a good idea. 
3.  Make Sure The Garage Door Opener Is Not Jammed
In case someone in your home is feeling uncomfortable or unwell this season, you will have to drive them to a nearby hospital. However, due to the snow and rain, your garage door opener can get jammed from time to time. You must check the system so that it works fine in case you need to drive out suddenly. If your device is damaged or old due to normal wear and tear, you can think of purchasing a home warranty policy that covers your garage door opener. 
4. Your Electrical Wiring Should Be Intact At All Times 
Electrical writing is a critical aspect to keep several components of your devices active throughout the season. You must look for any wires that are damaged or weak and fix them ASAP. If you think your electricals needs repairs or replacements, consider purchasing a home warranty policy that covers pre-existing conditions for your protection. Weak or damaged wires can cause potential hazards due to snow, so it is vital to get them repaired immediately. 
5. Be Equipped For A Power Outage 
Due to the high winds and rain, the electrical lines in your locality can get damaged. To be prepared for unexpected power failures, be sure to keep high capacity torches and emergency lamps for such situations. You can also consider purchasing a generator if power blackouts have occurred frequently in the previous winter seasons.
6. Avoid Leakages By Making Sure Your Pipes Are Intact
Pipes are essential aspects for all homes and are necessary for plumbing systems. Due to normal wear and tear and aging pipes, there may be leakages to your plumbing system, and repairing them can be an expensive prospect. However, with top home warranty companies coverage for plumbing, you can fix them at affordable rates and get through the winter smoothly.  
7. Your Fireplace Should Function Safely
If you like to stay warm by starting up the fireplace in your home, ensure that it is done safely. An unnecessary fire can cause severe damage to members of your family and critical devices in your home. It is vital to keep flammable objects away from the fireplace when it is running. Also, keeping a fire extinguisher at home is a good idea in the winter season.
8. Eat Healthy and Continue Exercising
You and your family members must eat a high protein diet to bear the brunt of winter—stock up on food such as Chicken, Eggs, Fish, and Nuts. Your family should also eat several winter fruits that keep you healthy. Some of the important fruits to eat are Bananas, Pears, Pineapple, and Pomegranates. Exercise is also another vital aspect of staying fit through the season. If you cannot venture out, do basic activities such as push-ups, indoor cycling, yoga, and essential household activities.     
9. Stay Away From Frostbite
Frostbite usually occurs because your skin starts freezing due to the extreme cold. To avoid it, ensure you and your family members are wearing gloves whenever anyone ventures outside. Frostbite occurs on the cheeks, chin, ears, toes, and fingers, causing the skin to become pale, numb, and deters movement.   
10. Keep A First Aid Kit In Hand
A safety kit is a vital aspect to have during this season, as going to the hospital for simple health ailments is not worth it. Stock up on some bandages, sanitizers, painkillers, aspirin, etc. It will ensure family members receive primary first aid treatment at home itself. 
Emergency Assistance Tips During Winter Season
There are several safety tips for winter that must be followed. However, at times despite following protocol, an emergency may take place. We've listed out some points that you must follow, in case of an emergency:
Note down all vital emergency evacuation helpline phone numbers. 

If you are stuck at home and require emergency assistance reach out for emergency assistance.

Keep your vehicles well maintained and fueled in case someone in your family needs to go to the hospital.

Take all necessary precautions whenever stepping outdoors in an emergency.
The Final Word
Winters can be tough due to the extreme weather conditions, and lack of resources at times. However, to make the best out of the situation, you and your family can spend quality time together and bond over a hot cuppa.