Five Insurances One Must Have
PUBLISHED: September 10, 2010
•
5 MINS READ
Life is certainly unpredictable, you cannot control the outcome but surely can prepare yourself through careful planning and minimize the risk and be on the safer side. Insurance is one such protection mechanism which covers major expenses with an understanding that you will pay a smaller fee as a premium.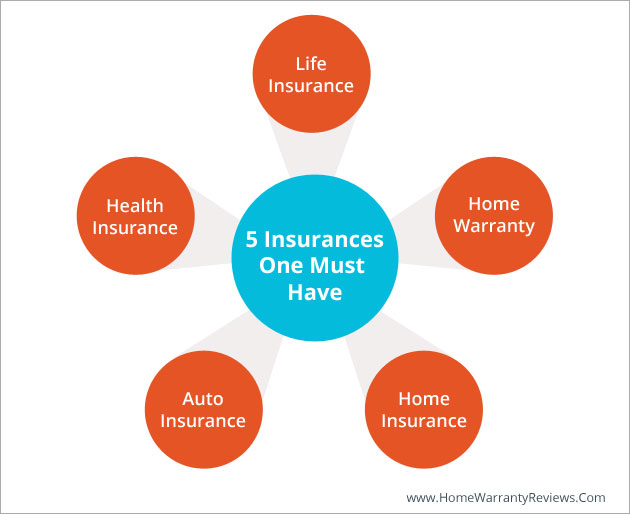 An insurance is a contract in which an individual receives financial protection or reimbursement against losses from an insurance company against the payment of a premium.
We have an inherent need to protect ourselves and our family, so why not buy insurance and secure the unknown future. According to needs you have various insurances. Some are a must while others are worth. Here is a quick tour into the world of insurance policies.
Insurances That You Cannot Miss To Have For Your Home And Family
Life Insurance
As the term suggests you are insuring your life with a certain amount. It is an insurance that pays out a sum of money either on the unfortunate death of the insured person or after a set period.
Benefits of a Life insurance
Risk Cover – Insurance ensures that your loved ones continue to enjoy a good quality of life against any unforeseen event.
Planning for life stage needs – Life Insurance not only provides for financial support in the event of untimely death but also acts as a long term investment which can reap benefits once it reaches a maturity period.
Assured income through annuities – Life Insurance is one of the best instruments for retirement planning. The money saved during the earning life span is utilized to provide a steady source of income during the retired phase of life.
Tax Benefits-Insurance plans provide attractive tax-benefits for both at the time of entry and exit under most of the plans.
Health Insurance
It is a type of insurance coverage that pays for medical and surgical expenses that are incurred by the insurer. Health insurance can either reimburse the insured for expenses incurred for illnesses or injury or pay the care provider directly.
Protection against rising health expenses – Life Insurers through riders or stand alone health insurance plans offer the benefits of protection against critical diseases and hospitalization expenses. This benefit has assumed critical importance given the increasing incidence of lifestyle diseases and escalating medical costs.
Provides peace of mind – You don't have to worry about the huge bills when you visit the doctor or an unfortunate accident or an expensive surgery your insurance will take care of unpredictable medical needs.
Regular health checkups – Insurance gives you various benefits and one of such is that you can avail regular health checkups and keep a tab and stay healthy.
Auto Insurance
It is an insurance for all your automobiles against theft and accidents.
Benefits of Auto- insurance
With a high cost of living there is hardly much room for savings in case of an emergency. Unfortunate auto accidents are the kind of emergency situations that can easily drain your bank account. A premium according to the specified period can be of a great help.
 Even in case of a minor accident with no injuries, cost of paying for another person's vehicle and your own can burn a hole in your pocket and an insurance is a friend in need to bail you out in such a situation.
It helps you in case of automobile thievery, you can claim the insurance with some existing terms and conditions whereas getting the complete value might not be possible.
Home Warranty
A home warranty is a contract for repair and replacement of major home appliances such as refrigerator, washing machine, garbage disposal etc. on payment of a premium.
Benefits of home warranty
Saves you huge cost of repairs
A Home Warranty will repair or replace any covered item. It adds value to your property and benefits everyone from a buyer, seller to homeowner has an advantage.
Assures you peace of mind
Home Insurance
This insurance covers the home including the structural elements as well as the valuables inside the home. However, you can claim this insurance only where there is a natural disaster such as flood, fire etc. Please note that this does not cover the appliance repair and replacement costs.
Benefits of home insurance
Protects your biggest investment that is your home in case of natural and manmade disasters.
Covers accidental damages to your interiors and exteriors as well.
Takes cares of any third party damages and legal issues if any incident occurs while in your property.
Assures you peace of mind and gives you a feeling of safety and security.
Often Home warranty and insurance are thought to be similar but they are completely different in the coverage they provide. Home insurance is a must to have whereas home warranty you can choose to get.
When it comes to insurances you have a plethora of options to choose. From travel insurance to disability insurance etc, you can choose and plan according to your needs. All insurances have advantages and disadvantages but insurance no matter which protects your peace of mind. While buying insurance always make sure to do a background check of companies you are dealing with and read the reviews and fine print thoroughly.
Click here to check for Home Insurance and warranty companies.
Future is unpredictable yet securable therefore get insured stay assured.