Stanley Warranty Announces Closing of Home Service Contract Company
PUBLISHED: April 22, 2016
•
6 MINS READ
Adding to a long list of home warranty companies which have entered the home service contract space only to quickly exit, Stanley Warranty announced recently that the company is immediately terminating its services.  Visitors to Stanley's website see this message: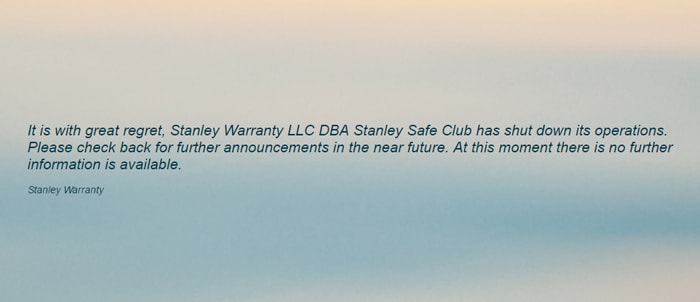 The company's closing may come as little surprise to those who are aware of last year's announcement of an investigation into the new company's business practices.  In June 2015 New Jersey's Division of Consumer Affairs announced that it had filed a complaint against Stanley Warranty, LLC, alleging that the company had committed acts contrary to its contractual commitments to its customers.  Among the state's specific complaints against the company were alleged offenses that specifically involved Stanley's home service contract customers.  Stanley also operated a business unit which provided consumers with extended service agreements for motor vehicles, commonly called auto warranties.
Here's a quick analysis that we can provide to readers seeking more information about Stanley Warranty's abrupt closure and the precedences set by other companies that pulled this same move in recent years. Come back to HomeWarrantyReviews.com for updates as we learn more about the fallout from Stanley Warranty's announcement.
This Isn't The First Time That A Home Warranty Company Has Gone Belly Up
Like Sensible Home Warranty did in 2014 when it closed shop, Stanley provided no apparent warning to their customers that pre-paid services would not be provided, though at this time it's still unclear to HomeWarrantyReviews.com whether the company contacted customers via telephone or postal mail prior to closing its doors.  It's also not known yet whether Stanley's failure to uphold its commitment to any pre-paid customers will compound the company's problems with New Jersey's consumer agency.
Another company in the home warranty space that closed its doors in 2014, Colonial Home Warranty, sought bankruptcy protection.  Through bankruptcy, the company appears to have been able to escape financial responsibility for unfulfilled service contracts and repair bills from their contractors.  Whether or not Stanley Warranty will seek similar protection is not clear at this time.
The Signs Were All Over The Place That Stanley Warranty Was Trouble
Reviews for Stanley Warranty, also known as Stanley Safe Club, here on HomeWarrantyReviews.com are almost entirely negative.  The reviews reflect an apparent trend of the company not honoring its promises to customers or contractors who performed repairs on its behalf.  Many of the worst reviews mention repair contractors pursuing payments from the homeowners after Stanley Warranty failed to fulfill its duty to make those payments in a timely manner.
On its Better Business Bureau page, Stanley Warranty already had an F rating prior to the announcement of its cessation of services to its customers.  On Yelp, a recent review includes a comment about a refund check from the company to the customer, who had canceled services ahead of the expiration of the contract period, being denied due to insufficient funds.  That review was created in December of 2015, leading to the obvious question whether or not Stanley was insolvent well before it closed its doors in 2016.  Interestingly, reading past reviews on Yelp leads you to at least one claim in 2014 that Stanley Warranty had announced on its company website that it was closing.  And no matter how far back in time a reader travels on Yelp, the story seems to be consistently poor, one unhappy customer after another.
Perhaps the most insulting element of this story is that Stanley Warranty sold its service contracts with a promise of zero service fees.  Anyone familiar with the home service contract industry knows that most companies charge a fee, paid by the customer to the service provider, at the time of a service call.  For a company to offer competitive rates with no service fees is a pretty compelling deal for consumers.  And many of the consumers lured in by that deal are now left with every required repair being paid entirely out of their own pockets, despite having paid well in advance for home service contracts from this company.
What Happens Next May Not Be Good For Stanley Warranty's Pre-Paid Customers
The home warranty industry has a history of companies like Stanley Warranty popping in and out of the space and taking loads of customers' money out the door when the companies fold or burning up the money received from customers through mismanagement and unhedged risks.  Consumers who have been buying home warranties for years probably recognize some of the company names, ones like Arkidus, Sensible Home Warranty, Colonial Home Warranty, and  Certified Warranties Corporation.  All of these companies have something in common.  They sold home service contracts right up until the day they shut the office lights off and locked the doors.  
This may be the single biggest black eye that the home warranty industry has received in the last decade, and it just keeps happening.  As if companies being able to enter an industry that is so much like insurance, often undetected by the state agencies that regulate their industry, improperly funded, and perhaps even criminally intent on defrauding their customers is not enough, the end result of the companies is consumers left with financial losses sometimes amounting to thousands of dollars in service contract fees paid in advance.  All too often the regulators in the states where the customers live are powerless to retrieve those customers' funds, and even when bankruptcy courts are involved the individual consumer is usually out of luck when liquidated assets are divided up among registered claimants.
In a nutshell, the chance of Stanley Warranty's customers seeing refunds is very, very slim.  It's quite likely that this story will end the same way it did for customers of Sensible Home Warranty in 2014 when that company disappeared overnight.  But that should not stop consumers willing to do whatever they can to seek justice.  Readers who wish to pursue legal action should immediately seek advice from an attorney, preferably one with experience with defunct service contract companies.
What's A Nice Homeowner To Do?
If there's any worthwhile piece of advice we can give to our readers who are shopping for a home warranty company it's this:
Do your homework!  Despite it not always being easy to do, consumers must research companies in the home service contract space before making a purchase.  Here's an example of the kind of detailed reporting available to consumers trying to evaluate the financial health of companies selling home service contracts in the United States.  That article by Warranty Week is an excellent resource.  Keep in mind that if the home warranty company you choose is using its sales to finance its claims then you can probably count on two things happening.  One, the company will do whatever it can to avoid paying your claims.  Two, the company will eventually get into hot water and close up quickly in order to try to avoid the owners bearing personal responsibility for the actions of the company.
Be safe out there.  And if you are a Stanley Warranty customer who would like to share information with other readers in the same boat as you then please share your story in the comments section below.