Gas vs Electric Cooktop: Which Cooktop Would You Choose?
PUBLISHED: January 9, 2019
•
6 MINS READ
In most homes, the kitchen is the heart of the home and a cooktop forms an essential part that helps run the kitchen. This plays an important role in your kitchen and the type of range that you choose will add a key role in the functionality of the most popular room in the home. At the same time, gas and electric cooktops are the most prominent stove types across America. But both of them have their unique set of advantages and disadvantages. Here, let us have a look at gas vs electric cooktop.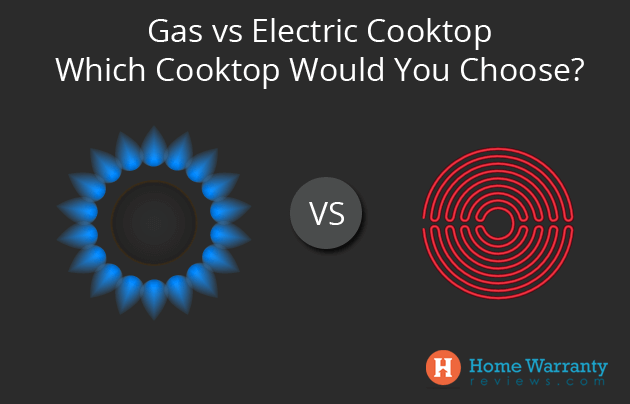 Gas vs Electric Cooktop
1. Costs
This is probably one of the most important factors that most homeowners decide upon when making a purchase. When you come to think of it, it's just a heat source and you can choose the cheaper option between the two. While the basic ranges of gas and electric cost $350, there are stainless steel models that can go upto $2,000. Repairs would usually cost around $250 for parts and labor. This is where the Electric Cooktop comes out on top.
2. Control Heat
Based on the functionality, if you heat up a meatloaf, sauces or cooking pasta then you can decrease the temperature based on ingredients that are added. As expected, there is one range that holds the temperature better than others.

While gas ranges control heat precisely, electric ranges cools down slowly after it comes to a boil. Gas cooktops has a consistent temperature which makes the cooking experience much easier and hence the gas cooktop is the better of the two here.
3. High Heat
Gas and electric ranges have a high maximum output of large burners. This works well if you are boiling a pot of water for pasta. But which is faster? Electric is faster than gas but a relative margin. On average, 65 percent of electric smooth top ranges have a decent margin. While at the same time, only 44 percent of gas ranges can make the same claim. This is where electric is better than gas.
4. Low Heat
When it comes to boiling water quickly can be simple but maintaining a steady, low simmer is also very important. In time, the range will boil water. There is no cure for cooktops with erratic simmering when it comes to cooking sauces and melted chocolate. This is where electric is better than gas with 60 percent of models earning excellent marks as against 47 percent of gas ranges.
5. Baking
Who doesn't love baking? It's something that simply livens up your home. You need an oven that bakes evenly. This is where gas is better than electric with two-thirds of models that have a good rating score of excellent. While at the same time only half of the models can make the same claim.
6. Broiling
To understand the performance difference, it would best to check the difference between gas and electric ranges that happen in the broiler. So when it comes to which broils better, you would normally assume that cooking with a flame is better. But, on the contrary after a few tests, it under performs as compared to the electric counterparts. 61 percent of electric ovens earn the score of excellent in broiling tests and it is less than 20 percent in gas ranges. This is where electric ranges are better than gas ranges.
7. Cleaning
One of the cons of cooking is cleaning up and most people do not like taking out paper towels and cleaning supplies after cooking dinner on the stove. But this is a necessity.

Though there's a huge mess with preparing BBQ and Bolognese sauce, you might want to choose an electric cooktop when it comes to cleaning. After it has cooled down, the electric stove is easier to remove drippings without having to dig into deep crevices. Gas is hard to clean as you have to clean the coils and once food falls in, it could take up to 10 minutes to clean a small job. This is where the electric trumps the gas cooktop.
8. Safety
When it comes to working with heat and fire, safety is extremely important. While both electric and gas cooktops provide the same amount of danger when preparing food, there is a risk of fires and gas leaks with gas cooktops. From a regular cooking experience, homeowners are less likely to get burnt with gas ranges. Most people forget how long it takes for electric stoves to heat up and place their hands on the burners.

9. Running Costs and More
When it comes to installing a cooktop, it is relatively cheap to install. You might expect gas or electric bills to increase once installed. Electric ranges would tend to increase the electric bill and bring additional costs. These additional gas are minimal and it costs much less to run gas cooktops. This is why gas is the winner between the two.
10. Counter Space
It's important to note the amount of counter space when you make your design decisions. While electric cooktops give you additional space, gas coils stick out of the gas ranges and it does not have a flat surface. This is where electric cooktops are better than gas cooktops.
Pros of Gas Stoves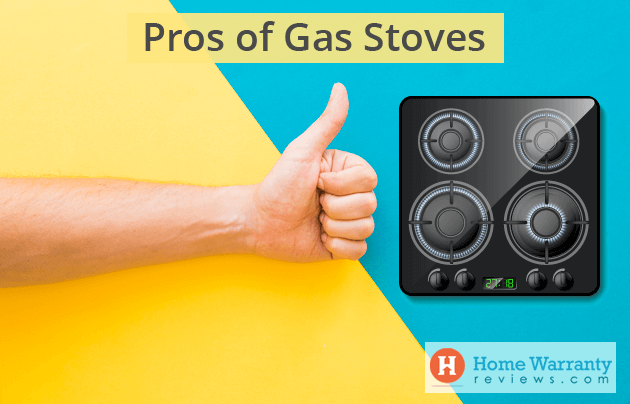 Gas stoves are the best when it comes to cooking as when you turn on the gas, you get an instant flame that you can adjust till you get the right setting. The flames produced by a natural gas stove cook food better and more quickly an evenly. This is because the flames spread themselves along the bottom and sides of the pan. Another overlook advantage of the gas stove is the operating cost. If your home uses a gas stove then the energy and operating costs would be much lesser than electric.
Cons of Gas Stoves
The major drawback of a gas stove is the price and the fact that it is more expensive to purchase and more expensive to install and hookup. Also, if you don't particularly have a gas line that goes to the kitchen. The other major drawback of that gas stove is the gas itself, the gas can run out and if the burner doesn't turn on it release gas into the air.
Pros of Electric Stoves
Electric stoves sold today have a sleek, glass cooktop which enhances the style of the stove. This glass top is easy to wipe clean of spills and there is no need to remove the burner ring to clean from a spill. This appliance is easy to operate and less expensive to buy and install which makes it a good choice when you do not spend too much time in the kitchen. Also, it provides a better surface for pots and pans and offers additional storage space beneath the oven which is not present in gas stoves.
Cons of Electric Stoves
These electric stoves are easy to use and operate but they cook food much more slowly than gas stoves. This could be a problem for bakers in small kitchens. If sugar is spilled on the glass top then it is nearly impossible to clean when it gets heated. The glass also stains easily and detracts from the look and style of the stove. If there are several power outages then your stove would become inoperable during those times. Also, due to the amount of electricity used, the backup generators would not be able to handle the amount of electricity that it draws out. For most people it usually depends on the cost and installation cost of the stove to make them have a decision. But what's important is making a decision based on your lifestyle choices.
What's the Verdict?
Though the electric choices seem to outperform the gas models, there are some exceptions to the rule. There are several range ratings and plenty of models out there but this is regardless of the fuel source. You might want to do some research on the two types of cooktops before you make your decision based on your cooking style. Also, here's further information to help you choose your cooktop based on things like number of burners, installation and operation costs.
Benefits of a Home Warranty
As a homeowner, you should own a home warranty especially if you are one that has recently purchased one with the help of a realtor. You probably got lucky signing up for a home warranty to enjoy a peach of mind if any appliance or system fails and it would be repaired by the home warranty company. Otherwise, you will have several problems that you would have to face and a ton of out of pocket expenses that you would have to spend on constantly.

When you sign up for a home warranty, you should know that its a contract between the homeowner and the warranty company. It provides you with discounted repairs and replacement service on major home components. This could include your air-conditioner, furnace, electric or plumbing systems. Most plans have basic coverage and others have additional coverage where you can purchase more components.
Things to Consider in a Home Warranty
Before considering a home warranty, you need to check these items before you purchase one.

1. Review Policy

You need to review your policy and determine which components of your home are covered and for what length of time based on your plan of purchase. Take all the time you need to plan carefully and review what is covered and what's not.

2. Duration of Policies
Most policies are written as one year increments and these can be renewed. However, you may not receive a policy that comes to an end soon and you should pay attention to the time frame from when you bought the policy.
3. Don't treat it like insurance

Make sure that you know the difference between a home warranty and an insurance. Things like floods, fires or theft are not covered by home warranties. Warranties do not cover things that are worn out from use, pre-existing problems and those improperly installed.

4. Cost

The deciding factor of a home warranty plan is the cost. These usually start from $300 to $500 based on the type of plan. If the homeowner wants to, they can add the swimming pool or well to the plan for an additional coverage. Companies offer homeowners great deals that you can get from time to time. This is based on closing transaction which is a comprehensive coverage and price points that you would lock onto.
5. Check licensing
Review if the company exists and is functioning on sites like

HomeWarrantyReviews.com

which is the best consumer research site for home warranty. Read reviews, ratings and research on these companies.



6. Get Used To Contractors

If your air-conditioning goes out then you need to call your home warranty company and they will send out a subcontractor to help with the repairs. Though you may not be familiar with the individual coming to your home, you should be able to let them work on your appliance as they were sent by the home warranty company.

7. Budget Your Money

You need to ensure that you get a policy that can help you avoid costly repairs. All you have to do with a home warranty is pay the service fee and get your appliance repaired. This will help you save on unnecessary costs due to a breakdown.



8. Weigh the Benefits



Determine if paying for a home warranty is worth the hassle. The choice is up to you if you would have a cheaper one or one that is better than what you had before. This would depend on your ability to do work on your own and eliminate the time involved to repair a broken appliance.
9. Increase Home's Value


If you purchase a home warranty, it is a given that you can sell it 11 days sooner and $2,300 more than other homes without home warranties. This is because this makes it more attractive for buyers when it comes to home warranties and this means that you do not have to make a repair fund if anything suddenly breaks.