Creating Your Own Man Cave
PUBLISHED: September 9, 2018
•
6 MINS READ
You as a homeowner would love to have a beautiful home keeping every one of your family members happy. But you would definitely need some space in your home to pop open some cold ones with your boys. But a family household is not a suitable ambiance to have your friends over and chill with some beers and watching the Superbowl. That's why whatever empty space or room you can find in your home. Convert it into your personal man cave.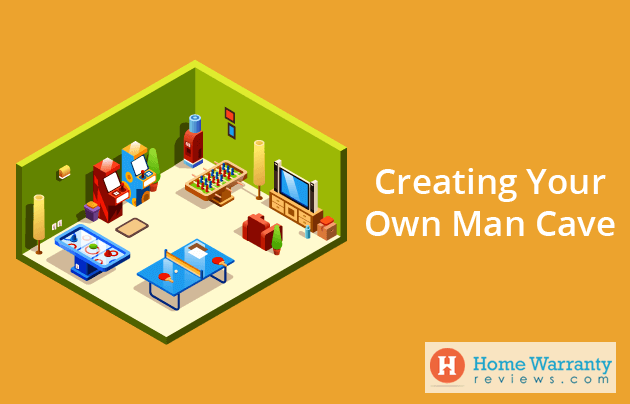 Having your own space allows you to spread out your character and creativity in to your room. Everything you put up in your man cave is a definition of your personality. We know that customizing your man cave can be an expensive ordeal so the ideas presented for it will start inexpensive and in time increase in price.
Converting Old Liquor Bottles to Dispensers and Mugs
After finishing a good bottle of scotch, you could keep the leftover bottle for memories sake or dispose of it. However, there's a lot you can do with those spare bottles lying around.

Firstly, you could cut up old beer bottles half way and head the edges to smoothen it. You can then use these beer bottle bases as cups in your inventory.
Your scotch and whisky bottles can serve you much more actually. Old whisky bottles can become a dispenser for soap or oil. To do this. You need to simply drill a hole at the blocker fastened to the top of the bottle. You can then fit in a metal straw and use a strong adhesive to seal it to the opening. You can now fill it with liquid soap to be used as a dispenser in your washroom or fill it with oil to use as a fancy oil can while cooking food.
You can even remove the blocker entirely and fit in an led bulb inside the bottle and hang it off your ceiling. This gives you a fancy lamp with a rustic touch.
Using Old Sports Apparel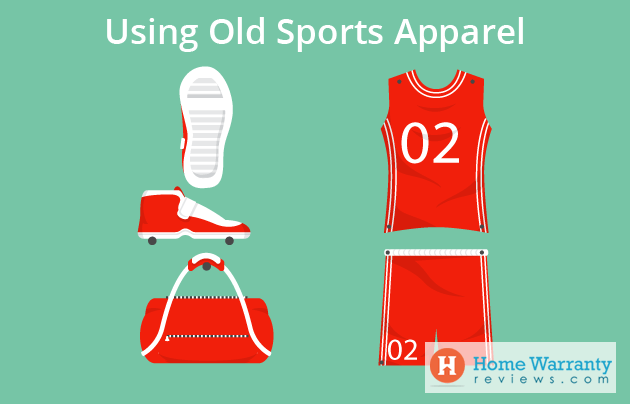 If you and your social circle are huge sports buffs, there must have been at least one occasion where you bought and donned the jersey or kit of your favorite sportsmen. Now if they've grown old and don't fit you anymore, they can serve many purposes in your man cave.
If the jersey or kit is of one of your favourite players, you could hang in on your wall to give you a very passionate sport feel to your man cave.
If your jerseys are old and faded, you can restitch them and convert them into pillow and plushie covers for your man cave. These jersey plushies will help you and your buds to be more immersed in the game.
You can even have all your old sports jerseys stitched together to form a rug. You can then place the rug in the living area of your man cave for you and your guests sit or lie down on. Since your basically washing a bunch of t shirts stitched together, you won't have to worry much if food or dirt is spilt on to it. As a plus its an inexpensive yet classy way of protecting your floor.
Turn Your Spare Fridge Into a Handy Ice Box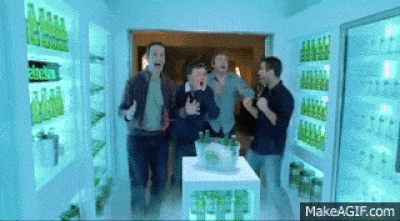 If you have a spare and old fridge which you intend to get rid off, hold on to it. You could convert your old small fridge into a kegerator (to hold beer/soda etc). You don't need to put in much effort too. All you need to do is place your refrigerator horizontally so that the door opens like a treasure chest. You can use some square blocks of wood to suspend it from the ground and prevent the condenser from being ruined.
You could choose to keep in your fridge trays/shelves and fill the fridge completely with ice. Insert pints of beer or bottles/cans of soda pop for you to access whenever you please. This icebox can even double up as a low table. You can increase the appeal of your icebox by using wooden pallets. These pallets can be trimmed down and can cover up the outside of your refrigerator, converting it into a table cum icebox.
LED Strips for Mood Lighting
If you want all your main features (TV, Videogame Console, Grills etc) to feel more special in your man cave, invest in LED Strips. LED strips can be found in many colours and are very inexpensive. You can buy around 20 meters of LED for less than $10. With this, you can make your man cave look very immersive. Be it a videogame session, watching sports with your friends, or just watching a good flick in the dark. These LED's will illuminate the back of your tv to give you that neon club feel.
Music Vinyl Records to Set the Tone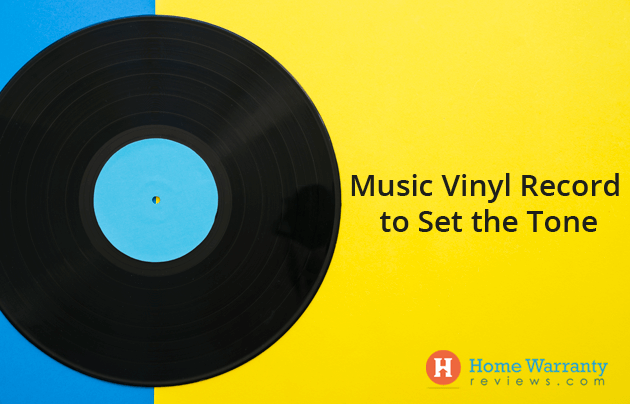 Have a favourite band or musician? Why not try to immortalise them in your man cave. You can find many vinyl records (gold, silver, platinum) of your favourite artists all framed online. These records give a sense of high class to your man cave. If you find these framed records expensive,
Your other option would be to invest in a gramophone record and place it in your man cave. Building a collection of music vinyls to play on your gramophone will make your man cave look quite sophisticated. Not to mention, vinyl records give out the best music quality and their records increase in value as time progresses.
Large LED Television Set
Nothing speaks louder than Man Cave than a large television fitted on to a wall.  This TV suits many purposes, your personal home theater or the perfect screen for you and your buds to watch their favourite live sporting events. Plus, if you and your pals are huge gamers, a giant screen would be a dream. Link up your large television with a gaming console and you've got the best and most immersive gaming experience.
When it comes to picking your television however, you need to keep a look out for certain features that can give you the best viewing experience. For LED or LCD televisions make sure you purchase one with a resolution of minimum 1080p. The higher the resolution, the better the quality of the games or movies that project from your television. The next thing to look out for on your TV is the frequency. Prefer to pick a television with 60hz or higher in frequency. This is mostly for gaming and makes the video output silky smooth and easy on the eyes.
Home Theatre System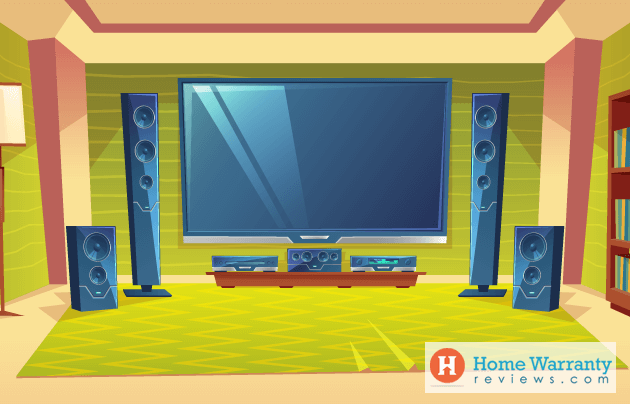 If you prefer to have that whole cinematic feel when watching movies in your man cave. Invest in a home theatre system. The most common and basic variants of home theatre systems come in either 5.1 or 7.1 surround. A 5.1 surround would feature five speakers which you place on different ends of the room and a subwoofer to give you that powerful bass. Home theatres will usually allow you to play high definition video and audio and give you surround sound. The audio effect of a home theatre can make you feel like you're part of the movie and provide the most immersive experience.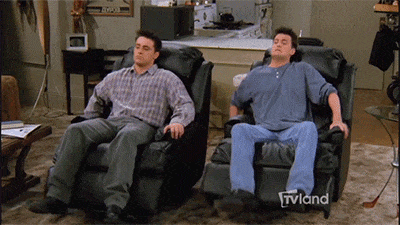 Coupled along with a giant LED/LCD Television and you have a private cinema hall in your hands.To make it an even more luxurious cinema hall. You could purchase those comfortable and luxurious La-Z-Boy sofas. These Sofas are very comfortable with various features to ensure that you enjoy the most relaxed experience. Keep in mind though that a home theatre, La Z boy Seats and a large LCD/LED Television does not come cheap.
Power Backup
With all these possible additions to your man cave, you also need to invest in a backup generator to keep the party going even when there is an outage. A power outage will be priced based on the number of appliances that can be backed up and its capacity. The more number of appliances powered the costlier the generator is. An inverter or generator is a good investment in general as it provides longevity to most of your electronic appliances. Constant fluctuation of power and outages cause a lot of harm to electronic devices, and a inverter/generator helps prevent that.
The Backup Plan
Now an inverter can be helpful in keeping all your appliances intact. But as time progresses, your appliances will wear and tear and break down. When that happens, you'll probably have to shell out a lot of money for repairs. Paying for individual repairs will burn massive holes into your pocket and for that you always need a backup plan.  The best way to ensure protection of all your appliances is to invest in a home warranty service.
A home warranty service will ensure protection and repair for most of your appliances for a year. The way the service works is, you the homeowner will pay the home warranty company a small sum of money (compared to paying for individual repairs). The home warranty company will then provide you their services for the year. Everytime an appliance has issues or breaks down, you can call the home warranty company and they'll send in one of their private contractors to fix your appliance.
If you feel that a home warranty is unnecessary, just check out this home maintenance calculator. You can see how much you would be spending on maintenance of all your appliances for a year. You can see how much you would be spending on individual repairs from a private contractor. This should give you a brief idea on the amount of savings you would be making if you opt for a home warranty service.
But now how do you know which home warranty is the best for you?
There are many home warranty companies out in the United States but how do you know which is the one best for you. You need to do extensive research before deciding on a home warranty company. Now to help you figure out which home warranty to go for, you could head on to HomeWarrantyReviews.com to fasten your search. At this #1 Consumer Research website for home warranties, you have access to information on 80+ top home warranty companies.
Now you can find out how all the home warranty companies listed fare via the reviews provided actual users of the home warranty. There's also a ratings timeline which allows you to see how the home warranty company has been faring in the eyes of the public in the past five years.