Modern Technologies To Homeowners
PUBLISHED: March 2, 2016
•
6 MINS READ
The thing is, we at HomeWarrantyReviews.com are so delighted for your continued support in providing useful reviews of the home warranties, along with using our outstanding free get quote tool for comparing various companies and its policies. We bet that the insights gained will continue to grow and remain invaluable, like always.
Home is where the heart is – everybody needs to delve deeper into their comfort zones. What's going to aide us in this constant search? Technology. slowly, but surely technology is going to overhaul your way of life. You have to wait, til the cows come back home, ain't it?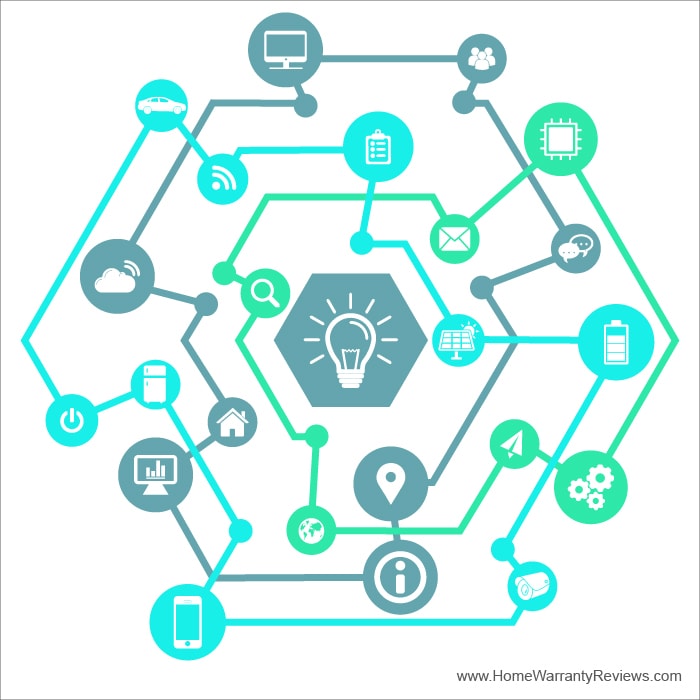 Trimming The Clutter Down
It takes constant effort and dedication to keep a home well-managed. (How else could you create that suave impression on your visitors?) You can run through our Ultimate Home Cleaning Hacks for some much-needed inspiration. Keeping your home organized in easy steps is also a saver!
Get this into your head, make a habit out of each and every individual of your family. See to it that these handy tips are followed regularly and you'll thank us later. It'll be such an invigorating experience for sure.
Making Edges Way Smoother
The information seen here is the impending future, hopefully being materialized at a local store near you, within a couple of years.
Let's see them all one-by-one over the next couple of engaging minutes-
Solar Paint
Imagine the paint on a car self-powering a battery, how cool is that for the automotive industry? Paints on a sidewall of a home silently swindling energy to power lights on your front door, you read it right!
Using thin solar films loaded with minuscule photo-voltaic cells, these solar paints can be sprayed to achieve a superior finish. Look how this mind-boggling technology is generating power and maintaining the beautiful aesthetics of a home too!

With due technological advancements, the solar paint is able to generate around 8.1% to 10% of solar energy whereas the traditional solar panel harnesses around 18% to 20% of sunlight into useful solar energy. Isn't this revolutionizing our current trend? Wouldn't you love to be a part of this remarkable move?
Solar Transparent Panel
Yet another technological breakthrough was seen in the form of completely transparent solar panels. When a normal window pane back home could potentially generate solar energy, undoubtedly skyscrapers can act as a potential source to harness unlimited power of the sun. Further, cities can work on a more self-sustaining energy consumption model. Even our mobile phone screens can be equipped with these transparent panels and according to researchers, these transparent solar panels can reach 50% more efficiency than the traditional solar panels being widely used world-over. Imagine the energy boost you'll all get and how economically beneficial it can get in the long run! Not to forget the clutter you'd get rid off your rooftops. Ain't that a charm for any homeowner?
Smart Homes Using Internet-of-Things
This is a huge and promising topic having the most applications under one umbrella. These technological features can relatively be convenient for any homeowner to access and this category gives the kind of satisfaction of comfort, at a deeper level.
Being able to take precautions with the help of a Weather Detection System, you could easily minimize the wrath of nature's fury. (Probably it's a good idea for homeowners down south to know which are the best home warranty companies in Florida, for it witnesses the most hurricanes in a calendar year!)
Next, comes the state of the art home security systems which manages alarms for break-in, informing the police department to take immediate action at your location. Active surveillance cameras sense body motions and send movement alerts across your smartphones. Smart locks reading your fingerprints can trigger actions which either lock or unlock your front door. Lights can be turned on and off from a remote location, portraying the perspective that the home is not left unattended, even though you're enjoying a holiday overseas.
The modern kitchen these days are a heaven, since the advent of the IoT, your appliances are more versatile, the age old plain looking front of the refrigerator can now smartly connect online and play your favorite show right on the refrigerator door itself. Yes, imagination can run high and you could potentially see appliances doing more than what they were originally meant to do.
Not only that, the lighting in the living space can be dimmed, music can be played with a flick of the wrist, and the heating and cooling systems can be activated just by the mere presence of a person. Moreover, even the water in your bathtub could be set to a temperature you fancy with nothing but hand gestures. And Light Fidelity (Li-Fi) is going to redefine the meaning of super-fast, crossing a whopping 200 gigs per second!
Conclusion
Imagine how wonderful self-cleaning clothes sound, just run it with plain potable water! Visualize your home looking new and fresh every time a rain showers down at your place. Exciting isn't it! From rooftop tiles, paints on the walls and to the clothes you wear, newer disruptive technologies are making a significant impact and bringing in more types of appliances to the local store near you. And in due course of time, all appliances fail under certain circumstances. Hence, it's always a good idea to cover for unexpected costs due to failure. So here's a fair idea on
Hence, it's always a good idea to cover for unexpected costs due to failure. So here's a fair idea on how much you can annually save from a home warranty and as the technological barriers are brought down and implemented on a large scale, so does the price of the product becomes affordable. Since savings is a word not to be ignored in this fragile economic condition, we strongly advise you to protect your budget with home warranties. Hope for the best and prepare for the worst, eh Cap'n?