Should You Consider a Home Warranty When Buying a Home in Florida?
PUBLISHED: April 28, 2020
•
4 MINS READ
Buying a home in Florida requires customers to research the market, as there are several types of homes available in the state. Floridians have a lot of options. You could buy a holiday home or go for a property that gives a good return on investment or look for a simple home for your family. It is also a good idea to add extra protection with a home warranty plan to protect all your systems and appliances in your new home.
Your new home should be a comfortable place to live in, and here's how home warranties help. They protect devices and appliances for a period of one year, and if any repair or replacement is required, the home warranty company will take care of it. 
We have listed out a few important aspects of home warranties that you should understand while buying a new home.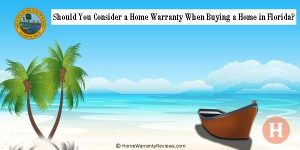 Here They Are: 
What Does a Home Warranty Cover When Buying a House?
Home warranties in Florida cover systems and appliances such as your refrigerator, air conditioner, water heater, doorbells, built-in microwave oven, dishwasher, etc. Since there are several home warranty companies offering competitive plans in the state, choose a plan wisely that fits your new home's needs.
What is a Homebuyers Home Warranty?
A homebuyers home warranty can be bought when customers are buying a new home in Florida. This warranty is designed to meet the needs of a new homeowner, it must be bought within 30-90 days after buying the new home.
What are the Best Home Warranties? 
Some of the best warranties in Florida are:
How to Choose a Home Warranty?
Customers can research online about the details that warranty companies offer. They can also read many reviews about other people's experiences of these companies in Florida. Always choose a warranty plan that suits your budget, while buying a new home.
Now Let's Look at the Advantages of Home Warranties for New Homeowners
Saves Money in the Long Run
Buying a home in Florida requires a lot of money. If customers put in a little more money and buy a warranty, it will be a monetary advantage. Annually, warranties cost customers between $299- $500+, and a small service call fee needs to be paid off $50- $100 each time a technician repairs or replaces your appliances.
Just imagine you are moving into a new home and appliances start giving trouble. You would need to pay thousands of dollars, just to repair these devices, if you are not protected with a warranty.  
No Hassle in Looking for Technicians 
With warranty plans, you don't have to worry about technicians. All you need to do is call up customer service, and they will send a technician to repair or replace your devices. Once you have bought your new home, there are several other things like meeting your neighbors, setting up home security systems, etc. Warranties will save you the hassle of looking for technicians if a device breaks down, in this exciting new time of settling down.
You May Get a Free Warranty While Buying a New Home
A lot of sellers in Florida gift free warranties for a one-year duration. They do this so that the value of their property increases while selling their homes. If you are lucky enough you may just land up with one of these awesome deals.
Different plans to Choose From
Home warranty companies in Florida offer different plans for the diverse needs of homeowners. Homeowners who have bought new homes can opt for a basic coverage plan, and as the years go by, opt for something much more comprehensive. 
Conclusion
Buying a new home is exciting for anyone. It is the beginning of something new. Always, scout the market before choosing a home that suits your needs. Also, do consider buying a warranty plan as it will go a long way in the future.