Advertisment Disclaimer
We maintain complete transparency with the readers on our website. The company rankings on our site are independent of any marketing relationships that we may hold with a home warranty company. We may receive compensation for receiving quotes or placing advertisements. However, this does not affect a company's rankings. Companies are ranked solely on the basis of consumer reviews and ratings received from home warranty users.
Home Warranty of America
Started in 1996, Home Warranty of America has been providing services to customers across the country. The company claims to have built its business with the idea of simplifying the lives of its customers and providing them immediate help during times of need.
HWA understands the different needs of homeowners and has come up with several plans to protect your expensive systems and appliances. The plans offered by the company cover a range of devices in your home.
With a top-notch customer service team, you are well taken care of if you opt for HWA. The company is headquartered in Illinois and is currently one of the largest sellers of home warranty products.
N/A
Estimated Appliance Coverage
N/A
Estimated System Coverage
Yes
Complaint Resolution Program
WHY Home Warranty of America?
The company offers 13-Month home warranty plans that are of great value
Average deductible for a contract is $76.63
The policy comes into effect immediately
Participates in our Complaint Resolution Program
Been providing home warranty services since 1996
Has a Quality of Repair rating of 3.0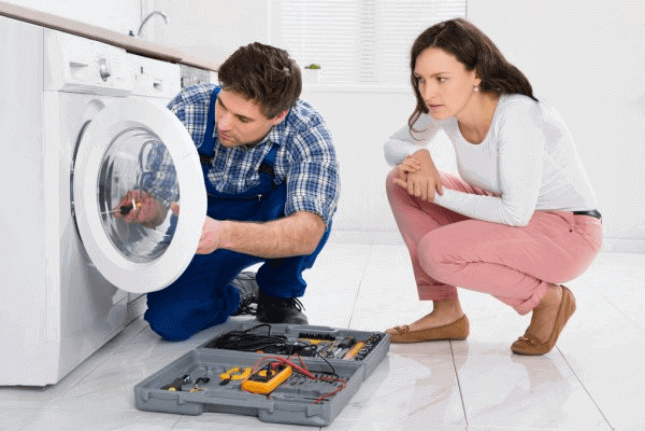 Home Warranty of America PLANS
The cost of plans offered by HWA, differ according to one's state of residence, and size of property. You can get a free home warranty quote from HomeWarrantyReviews.com to know how much a plan will cost you.
Home Warranty of America CLAIMS
Home Warranty of America provides the best in service with 24/7 customer support. HWA has a service recall period of 30 days on labor and 90 days for parts. Some of the steps one must follow to file claims include:
If you notice any appliance not functioning smoothly, immediately contact HWAs customer care team. You can reach out to the company, online or by calling them up
The company will then dispatch a licensed professional to repair or replace the components of your device
The technician will conduct a thorough assessment and will decide what is the further course of action, depending on the severity of the problem
You are required to pay a deductible amount each time a technician comes into your home to fix a device. The deductible amount is stated in your home warranty contract
Once your device is fixed, you must check if it functions properly. If you find any problems you must contact the home warranty company immediately
What You Should Know About HWA Coverage
HWA provides coverage for repairs or replacements upto $5000, for a single item, and an aggregate of $15,000 for the entire coverage duration. If customers do not make timely payments, the company has the right to stop offering services at its own discretion.
HWA will assign a trained technician once a customer files a claim. Customers should note that HWA is not an agency for technicians, they assign a technician through their tie up with contractors.
If the technician deems the work conditions to be unsafe, he/she will not perform any appliance repairs or replacements. Though customers are still required to pay the necessary trade service call fee stated in the contract.
Customers do have the option of selecting a payment method. They can pay the premium in monthly installments or all at once. Customers must choose their payment option before signing the contract.
HOME WARRANTY OF AMERICA FAQs
What is Home Warranty of America's phone number?


You can reach Home Warranty of America by calling (888) 492-7359. If you are looking for information about
HWA's claims process, you can read up on it over here.
Where can I read reviews for Home Warranty of America?


You can find reliable reviews submitted by past and present customers on HomeWarrantyReviews.com. You can also check the overall ratings and individual ratings for parameters like quality of repair, repair time, customer service and claims settlement for the company on the whole as well as individual reviews.
What is the service call fee for a HWA Home Warranty contract?


HWA charges a service call fee of $75 and $100 depending on the plan and the premium that you have opted for. Higher the premium, lower the deductible, and vice versa.
What is the policy renewal procedure?


You can renew your HWA contract online. Login to your account, choose the coverage that you want, and set your contract to renew. There's a video to guide you through the procedure.
How long do claims take to get resolved?


HWA typically assigns a contractor to service requests soon after the claim is filed. If you don't get a call from the contractor within 24 hours, HWA will give you the number of the service technician for you to contact them directly. Most appointments are set up within 48 hours. In a case where the appliance needs to be repaired or replaced and a part or the equipment required is not available, it may take 5-7 business days for the parts/ equipment to arrive.
Home Warranty of America REVIEWS
Ready to share your home warranty experience with Home Warranty of America? Click here to write your own review
https://www.homewarrantyreviews.com/wp-content/themes/HWR-2020