Select Home Warranty, with 11 years of experience, provides customers with 3 different home warranty coverage plans to customers across the States. Its plans include coverage for systems, appliances, and a mix. Each plan also includes free roof coverage and several add-on options. Due to the offered coverage and regular discounts, Select can be an affordable pick.
This detailed Select Home Warranty review intends to inform potential customers about the required details of the company. Our editorial team has considered 4,550 customer reviews and the primary company information to compose this assessment.This review will help with these components:
Coverage and cost of Select Home Warranty's plans 
Inclusion and exclusion of items in various plans of the company
Claim-related details of the company
Why Select Home Warranty?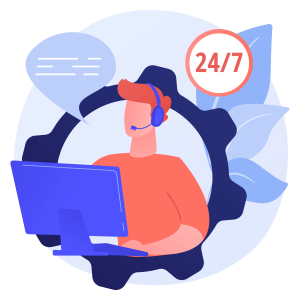 Select provides round-the-clock support and responds within 24 hours on claims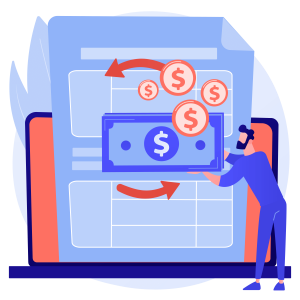 The company protects your repairs for 90 days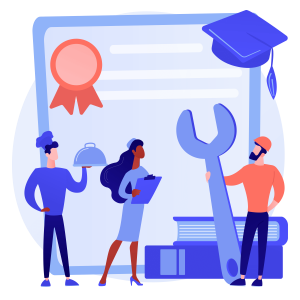 Select is well-known for its impressive contractor network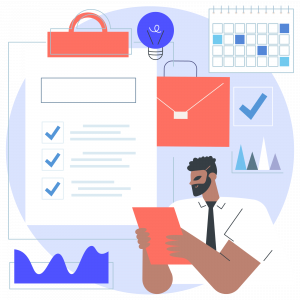 Select maintains affordability by offering regular discounts
Home Warranty Reviews 2023

Steve Szabo , WV, Follansbee
Although I didn't have to use this warranty, it looks like it will cover everything I need except for my water softener system.

Ron STAFFORD , FL, Jacksonville
Had policy for two years finally filed a claim for my AC unit. At first it was denied due to a renewal timing thing so being ticked, I asked for a refund and to cancel my plan and posted a bad review. The following business day, I received a call and speaking with their representative and explaining the situation it was approved quickly. Thus I am changing my review from bad to great as they came through and I am 100% satisfied with the outcome. They allowed me to call any company I wanted which was great as I was able to get a repairman quickly. I submitted the invoice and they approved it right away so again, I strongly recommend Select Home Warranty!

robert tripi , FL, Ormond Beach
The automated system works very well. I received a response right away and and a notice that a repairman should notify me within 48 hours. Overall SWH is a great company to work with.

Michelle Anderson , IN, Fountaintown
This was my 1st claim I started my coverage approximately 90 days ago Repair person In process of being scheduled. But I would like to say is the customer service I received from the representative was awesome! She made everything more than Convenient

Mary Kay Anderson , IL, Homer
I was treated politely and the person was knowledgeable. I was given instructions for what to do if I wanted to use my own service technician. I was glad I could use my local technician.

Rishi Shah , CA, San Jose
I really enjoyed the warranty buying process with this vendor. The sales rep was knowledgable and very easy to work with. He was also prompt with all communications. The plan is itself is also a lot better bang for my buck compared to other vendors.
Pros & cons of Select Home Warranty
Pros
Provides discounts on multi-year plans
Has extensive contractor network
Cons
Lower dollar limits for appliances
Does not pay for access
Select Home Warranty Covered States
Select Home Warranty offers services in 47 states, excluding Nevada, Washington and Wisconsin.
Enquire For Cost-effective home warranty plans
Protect Your Home Appliances And Systems Starting As Low As $1.5/Day
Select Home Warranty Plans & Coverage
There are 3 Select Home Warranty plans available for homeowners – Bronze Care, Gold Care, and Platinum Care. The Bronze Care and Gold Care plans cover appliances and systems, while the Platinum Care is the combinational option comprising items from both plans.
Bronze Care covers eight major home appliances, including a clothes washer, dishwasher, oven, etc.
Gold Care covers six essential home systems such as heating, electrical, plumbing, etc.
Platinum Care covers a combination of 17 items, including everything from the other two plans, plus plumbing stoppages, ceiling fans, and garage door openers.
The plans offer considerable coverage and include items that most homeowners use. Look at the table to understand Select Home Warranty coverage in detail:
ITEMS INCLUDED
Bronze Care
Gold Care
Platinum Care

Clothes Washer

✓

✓

Garbage Disposal

✓

✓

Refrigerator

✓

✓

Stove/Oven

✓

✓

Microwave 

Oven(Built-In)

✓

✓

Clothes Dryer

✓

✓

Cooktop

✓

✓

Dishwasher

✓

✓

A/C

✓

✓

Cooling

✓

✓

Plumbing System

✓

✓

Heating System

✓

✓

Electrical System

✓

✓

Water Heater

✓

✓

Ductwork

✓

✓

Plumbing Stoppage

✓

Garage Door Openers 

✓

Ceiling Fan

✓
Select Home Warranty offers 3 plans for parties involved in real estate transactions – Homebuyers Plan, Sellers Plan, and Realtors Plan. These plans are available for a term ranging from 1-5 years.
Optional Coverage: 
Select Home Warranty offers the following items as optional coverage at an additional cost, as listed below:
| | |
| --- | --- |
| Add-On Items | Cost ($) |
| Central Vacuum | $3.33/mo |
| Roof Leak | Free Coverage |
| Stand Alone Freezer | $3.33/mo |
| Lawn Sprinkler System | $5.83/mo |
| Septic System | $5.83/mo |
| Sump Pump | $3.33/mo |
| Pool | $8.33/mo |
| Spa | $5.83/mo |
| Well Pump | $3.33/mo |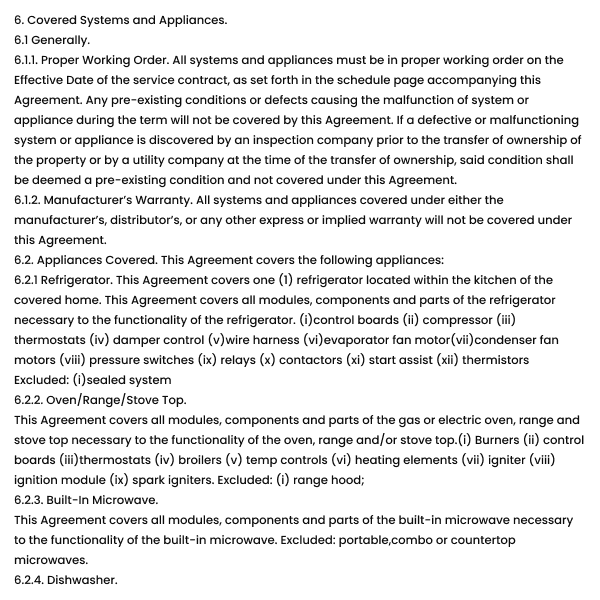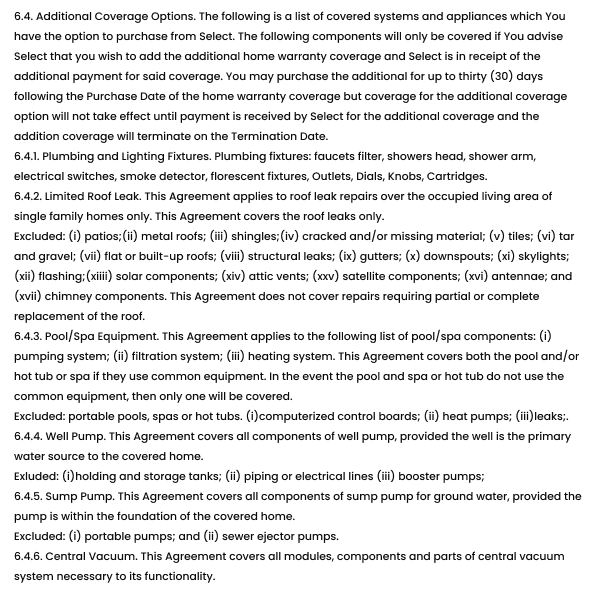 Image description: Select Home Warranty Coverage From Select Home Warranty Sample Contract
Select Home Warranty Exclusions
Select Home Warranty comes with a set of exclusions and limitations. It is best to know them beforehand to avoid any unpleasant surprises. 
First, like all home warranty companies, you need to know that Select Warranty only covers breakdowns resulting from wear and tear. This coverage aspect means your item will not be approved for repair or replacement if it breaks down due to lack of maintenance, neglect, abuse, natural calamities, or other factors.
You should also know that not all parts and components of your items are covered. For example, Select Home Warranty's contract mentions that the racks/rollers of a dishwasher are excluded from coverage.
Similarly, Select's payout or coverage limits are also clearly mentioned. The company will pay up to
$2000 for the repair/replacement of the HVAC (heating and cooling equipment) system. 
$500 for repair/replacement of Plumbing and Electrical systems.
$500 for repair/replacement of appliances.
$400 for repair/replacement of optional add-ons.
If the repair or replacement amount exceeds the given coverage limit, you will be asked to pay the excess. To know what's covered and not covered in your home warranty policy, carefully read the fine print.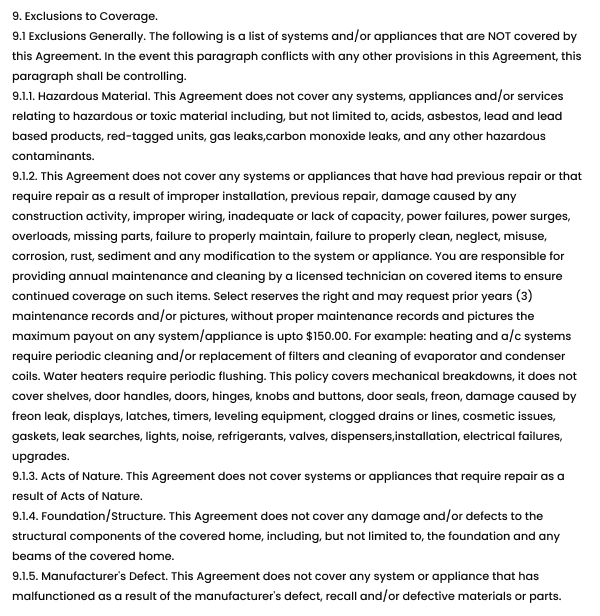 Image description: Select Home Warranty Exclusions From Select Home Warranty Sample Contract
Select Home Warranty Cost
The cost of Select Home Warranty differs for each plan. The Bronze Care and Gold Care plans cost $44.42 monthly and $479.99 yearly. The Platinum Care plan costs $47.75 per month and $524.99 per year.
Select Home Warranty's costs are liable to change owing to certain factors. These include your state of residence, the add-ons you choose, and more. However, the costs are comparable to the industry standard. 
Aside from the monthly or annual premiums, an additional expense you can incur is the Select Home Warranty service fee or deductible. You have to pay this amount to the technicians during their visit to diagnose and repair the broken item. Each state's deductible varies and usually ranges from $60 to $75.
In summary, the cost details of Select Home Warranty are expressed in the table below:
Plan

Cost/Month

Cost/Annum

Bronze Care

$44.42

$479.99

Gold Care

$44.42

$479.99

Platinum Care

$47.75

$524.99

Deductible – $60-$75
Select Home Warranty's prices are within the range of the industry standards in the country. While the basic plans, Bronze & Gold Care, are a bit on the higher side of the industry average, the Platinum Care is among the most affordable combo plans in the market.
Select Home Warranty Discounts
To make plans more affordable for customers, Select Home Warranty regularly runs discounts. The company offers $150 off, free two-month coverage, and accessible roof coverage for up to $99 on its annual plans. It also provides deals on monthly billed plans.
Trustworthiness & Customer Service Of Select Home Warranty
Select Home Warranty has received a rating of 3.5 out of 5 on our platform based on over 4,500 customer reviews and editorial inputs. Customers have praised the customer service team at Select Home Warranty and the affordable cost of the combo plan. The company has also received a rating of 3.9 on 5 on Google Reviews. 
Many recent reviews of Select Home Warranty have not been positive on our platform. Most customers have written about declining claim requests. Also, some reviews indicated that the company has delayed sending technicians and settling claims lately despite the company's policy of attending to complaints within three days.  
Overall, Select Home Warranty has attracted many customers due to its competitive pricing and enthusiastic team. The company's longstanding reputation indicates that its customer service has been reasonable. However, the company must improve its claim settlement services to enhance customer satisfaction.
How To Buy A Home Warranty From Select Home Warranty?
Purchasing a Select Home Warranty is simple. You can start by getting a quote from us, after which a Select Home Warranty representative will contact you. Alternatively, call 844-935-0363 and order a plan of your choice.
Deciding on the right home warranty plan for your home can be tricky, especially if you are a new buyer. Check out our exhaustive guide to learn how to purchase a home warranty.
Select Home Warranty Claims Filing Procedure
You can contact customer service by dialing the Select Home Warranty phone number (855-267-3532), as they are available 24/7. You can file a claim for repair and replacement within three days of discovering the malfunction. Here is how Select Home Warranty handles the claims.
Once you submit your claim, Select will assign an independent service technician to come over and repair your item within two business days during the week and four business days over the weekend.
If you want your technician to repair your system/appliance, you must get authorization from Select Home Warranty.
You must pay the service call fee to the company or the contractor. However, the company will bear the cost of repair or replacement.
Methodology
At HomeWarrantyReviews.com, we are dedicated to providing in-depth home warranty reviews so you can choose the best home warranty company & make the most out of it. We examine, compare, and analyze the companies on the following factors:
Pricing: We compare the costs of home warranty plans and determine if those are cost-effective. The pricing includes monthly/annual premiums, deductibles, and customer discounts.
Coverage: We compare the plans offered by different home warranty companies. The coverage includes systems, appliances, and additional offerings.
Claims: We look at customer reviews and determine how satisfied they were with the claims filing procedure, settlement, and response times.
Transparency: We verify if the home warranty company is licensed within the appropriate industry and offer details on the CEOs, contractors, and several settled claims.
Uniqueness: We examine whether the company offers additional services, advantages, or coverage alternatives that set them apart from the competition.
Customer Engagement: We assess the determination of home warranty companies responding to consumer problems in our Complaint Resolution Program.
Editorial Note On Select Home Warranty
According to our editorial assessment, Select Home Warranty is suitable for those looking for comprehensive coverage at a reasonable price point. The simplicity of the policy is a bonus for its customers. 
We do not recommend the company for those without maintenance records of their appliances and systems. Also, we advise people to check the claim settlement ratio in their respective locations to be sure about their claim settlement services.
Conclusion
Our advice to the readers considering Select Home Warranty is to be clear on what you expect from the company. Certain companies hold distinctions in certain aspects of the business. Select's distinction is its price point and its service team. Still, it lags in claims-related matters in certain locations. 
Make sure that you ask claim settlement rate while interacting with the company. Also, ensure that you have read the entire contract end-to-end and understand the nitty-gritty of the contract so that you have the required clarity.
Quick Details About The Company
Look at the following table to know some basic details about Select Home Warranty:
| | |
| --- | --- |
| Founder | Joseph Scott Shrem, CEO |
| Year Of Establishment | 2012 |
| Address | 1 International Blvd, Mahwah, NJ 07495-0025 |
| Type Of Company | Corporation |
Why Should You Trust HomeWarrantyReviews?
We are America's first independent Home Warranty Research and Review platform and have been in existence for 14+ years
We have listed more than 80+ companies with us
We have nearly 100,000 genuine & verified customer reviews
We use a two-step verification process to maintain the authenticity of reviews
We allow users to connect directly with the company's representatives to resolve issues through our Complaint Resolution Program
Frequently Asked Questions (FAQs)
Q.
Is Select Home Warranty Legit?
A.
Select Home Warranty has been a prominent player in the home warranty industry since 2012. They have paid out many claims over the years. They are a registered company and licensed to operate in most states.
Q.
Can I Renew My Select Home Warranty Contract?
A.
Yes, you can renew your Select Home Warranty contract without any hassle. The company will notify you to extend your plan before the expiration of your contract. You could opt for the same or upgrade to a more comprehensive plan. You just have to inform the representatives.
Q.
Which Is Better, American Home Shield Or Select Home Warranty?
A.
On the one hand, AHS is a pioneer in the home warranty industry, and on the other hand, SHW is a relative newcomer, yet both companies are popular with customers. Where American Home Shield extends coverage to more items, Select makes up for it by offering more optional items.
The pricing comparison of these companies leans in favor of AHS, but Select regularly runs discounts to make prices affordable.
Q.
Is Select Home Warranty Transferable?
A.
You can transfer your Select Home Warranty policy if needed. All you need to do is dial 855-267-3532. Once you connect with the representative, state the reason for the transfer of ownership to initiate the process.
Q.
What Is The Cancellation Policy Of Select Home Warranty?
A.
The Select Home Warranty's cancellation policy states that you can receive a full refund if you cancel the policy within 30 days of purchasing the plan. If you cancel your policy after 30 days, you may be eligible for a refund with special permission from the company. You may also be entitled to pay a cancellation fee of $75.
Q.
Does Select Home Warranty Cover Older Systems And Appliances?
A.
Yes, Select Home Warranty covers older systems and appliances as long as they are in good working order while purchasing the plan. The company does not conduct any home inspection before the contract is signed. However, it is a general rule that customers must always try to keep their systems and appliances in good working condition.
Q.
What Is Offered Under Select's Free Roof Leak Coverage?
A.
Select's free roof leak coverage includes leaks only over the occupied living area of single-family homes. Coverage does not include roof replacements or patios, shingles, metallic roofs, tars, flat roofs, structural repairs, tiles, gravel, gutters, downspouts, skylights, solar heating systems, panels, and flashing satellite components, antennae, attic vents, chimney, etc.
Q.
What Components Does My Warranty Cover In An Air Conditioning Unit?
A.
Select Home Warranty protects the central floor air conditioning unit of the home. The components include condenser fan motors, compressors, transformers, thermostats, capacitors, contactors, pressure switches, thermistors, cut-in switches, condensers, defrost boards, relays, and blower motors.
Q.
Will Select Home Warranty Replace The HVAC System?
A.
If Select cannot repair the HVAC system or deems it a better option to get a new unit, they may offer a replacement with a functionally equivalent new unit. Alternatively, they may offer a reimbursement equivalent to the depreciated value of the unit, subject to maximum payout limits.
Q.
Is Homeowners Insurance The Same As Home Warranty?
A.
Not at all. Homeowners' insurance is legally recognized as insurance and is meant to cover people from the liabilities of specified events such as fire damage, loss of property, etc. A home warranty is legally a service contract, not an insurance policy. But, it does 'insure,' so to speak, against expensive repairs due to mechanical wearing out of home systems and appliances.
Q.
How Long Does Select Home Warranty Take To Repair Systems/Appliance?
A.
Reviews for Select Home Warranty suggest that usually, the company sends a service contractor within two working days on weekdays and four working days on weekends. However, these numbers may vary from case to case. The contractor estimates how long the repairs will take, usually under a week.
Q.
Can I Choose My Service Provider With Select Home Warranty?
A.
Select Home Warranty dispatch technicians to your home at your convenience. Unless Select has given you the approval to choose your service provider, they will not cover such repairs.
You May Also Be Interested In
| | | | |
| --- | --- | --- | --- |
| | | View More | View More |
Select Home Warranty reviews