American Home Shield is a pioneer of the home warranty industry, with over 50 years of experience. During this time, they have served over 2 million customers nationwide and created a network of 17,000 licensed contractors.   
AHS offers many unique features, such as coverage without considering the age, pre-existing issues, model, or maintenance records. The company's claim of making over $4 billion in claim settlements is among the highest in the industry.
This American Home Shield review is written with the help of over 16,000 genuine user reviews and extensive research from our editorial team. From this assessment, homeowners can expect to get details on:
Plans and coverage details offered by AHS 

Claim limits and exclusions

Details on buying AHS home warranty 

Reviews from the American Home Shield warranty users
Why American Home Shield (AHS)?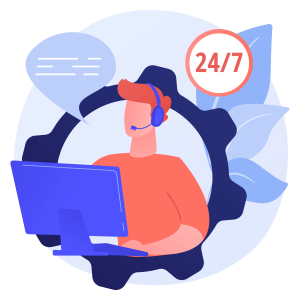 American Home Shield (AHS) is a pioneer of the industry with over 52 years of experience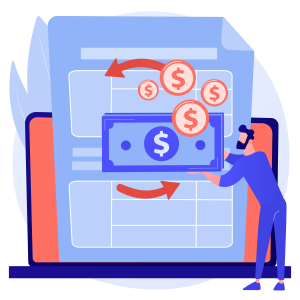 AHS has paid more than $2 billion in claim settlements in recent years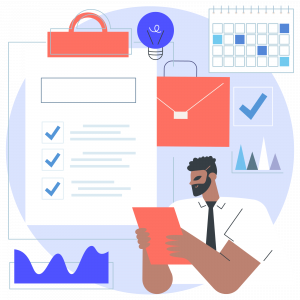 The company has served over 2 million homeowners across the country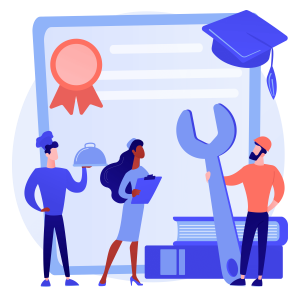 AHS has over 17,000 contractors across the States for immediate assistance
Home Warranty Reviews 2023

R. LYNN Garrison , KY, Louisville
Contractors are rude and bothered when I call as the warranty company request. Repairs can take up to 2 weeks maybe longer. My air conditioning unit has not properly worked for some time. ????, I have a like, don\'t like view of the company, whose commercials make you think your service call will be handled immediately to continue making grandma\'s sauce, not my experience. First request service pay fee, wait for contractor to make appointment, then wait.

John mann , CA, Coarsegold
Wow Cannot believe all the bad reviews. Bought a house and got the Real Estate Complete plan. Used it twice and both times experienced excellent service. Toilet broke off the bolts which were rusted through and within 2 days was repaired by a very good plummer. Last week septic pump died after 35 years of service and AHS covered 500 of the 600 cost of the install of a key pump. I hope I continue on with good service from AHS for me it\'s been a very good experience but a bit worried after reading some reviews here.

Trudy L Brown , CA, Redlands
Almost all calls are directed to the Philippines sounds like they are doing business out in the barn sometimes can hardly understand them other wise I got my water heater replaced and was good job

Katherine Dinda , TN, Lynnville
Great company. Got my air conditioner fixed and running during a really hot spell. This is the second time I have used them. The repair technician was very professional and knowledgeable. Diagnosed my problem and fixed it right away.

Chris Mazza , OK, Bixby
I have had this home warranty plan for a few years now. I have been extremely satisfied and recommend to anyone considering a warranty I will definitely continue my policy.

Willie Rene Guerrero , CA, Palm Springs
Called AHS. Filed a Service Request on line Friday Received a response from Gib**n Air Conditioning Saturday and my Aur Conditioner was repaired late Monday afternoon it was 102 degrees in Palm Springs California
Pros & cons of American Home Shield (AHS)
Pros
Flexible service call fee
Covers undetectable pre-existing conditions
Offers generous coverage caps
Cons
Limited additional coverage options
Doesn't offer services in Alaska and Hawaii
Enquire For Cost-effective home warranty plans
Protect Your Home Appliances And Systems Starting As Low As $1.5/Day
American Home Shield Plans & Coverage
AHS provides its customers with three comprehensive and affordable plans: ShieldSilver, ShieldGold, and ShieldPlatinum. Additionally, you can choose optional items along with these plans at an extra cost. 
The ShieldSilver Plan offers coverage for some of the essential systems of the house only, and it doesn't include any appliances in it. On the other hand, ShieldGold, including the systems covered under the ShieldSilver plan, also covers kitchen and laundry appliances. 
Lastly, the ShieldPlatinum plan offered by AHS is comprehensive as it covers everything included in the earlier two plans and also covers the roof, HVAC, and other crucial household items. Let's take a closer look at the American Home Shield's plans:
| | | | |
| --- | --- | --- | --- |
| Systems & Appliances | ShieldPlatinum | ShieldGold | ShieldSilver |
| Electrical System | ✓ | ✓ | ✓ |
| Plumbing System | ✓ | ✓ | ✓ |
| Heating & Cooling System | ✓ | ✓ | ✓ |
| Laundry Appliances | ✓ | ✓ | |
| Kitchen Appliances | ✓ | ✓ | |
| Roof Leak Repair | ✓ | | |
| Free HVAC Tune-up | ✓ | | |
| Unlimited A/C Refrigerant | ✓ | | |
| Coverage For Code Violence And Permits | ✓ | | |
Optional Coverage
AHS offers the following items as optional coverage that you can purchase at an extra cost along with your warranty plan.
| | |
| --- | --- |
| Plan Name | Rate |
| Pool or Spa | $20.99/m |
| Septic Pump | $4.99/m |
| Well pump | $9.99/m |
| | |
| --- | --- |
| Plan Name | Rate |
| Guest Unit | $20.99/m |
| Electronics Plan | $14/m |
| Roof Leak Repair | $9.99/m |
Note– The limit on roof leak repairs is optional only with ShieldSilver and ShieldGold, but is covered in the ShieldPlatinum plan.
The sample contract of AHS below gives additional details on the items covered as optional coverage..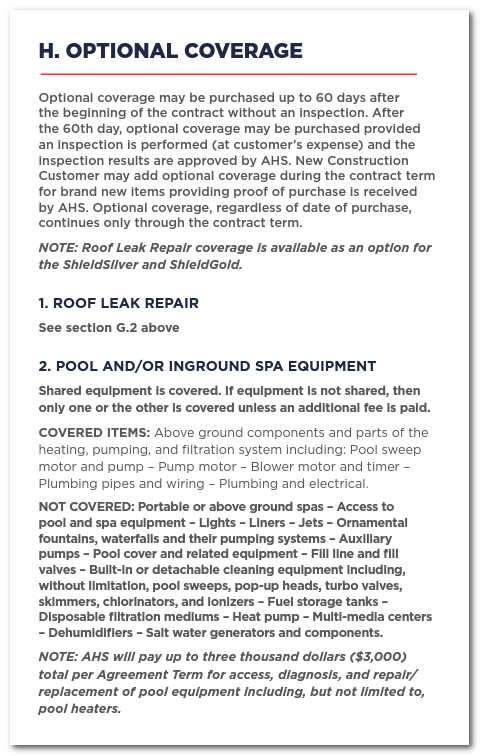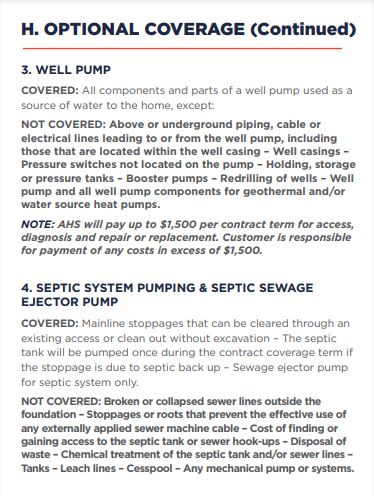 Image description: AHS Optional Coverage From AHS Official Contract Document
Read our detailed guide to know extensively what a home warranty covers.
American Home Shield Warranty Exclusions
The following items are generally excluded from AHS's coverage options: 
| | | | |
| --- | --- | --- | --- |
| Routine Maintenance | Chimneys | Radon Monitoring Systems | Fungus |
| Flues | Cosmetic Damage | Mold | Pest Damage |
| Venting | Home Management Systems | Bio-Organic Growth | Rot |
| Exhaust Lines | Fire Sprinkler Systems | | |
The company has also stated that it's not responsible for the repair or replacement required when the malfunction is due to missing parts, components, or equipment.
Additionally, all home warranty companies include yearly coverage limitations of how much liability that company has when repairing and replacing covered items. The coverage limitations of the AHS home warranty are as follows:
| | | |
| --- | --- | --- |
| Plans  | System Limits | Appliance Limits |
| ShieldSilver | Unlimited  | – |
| ShieldGold | Unlimited | $3,000 per appliance |
| ShieldPlatinum | Unlimited | $6,000 per appliance |
Tip – We advise you to study the service contract of American Home Shield plans so you are not surprised by a claim denial because there may be other exclusions or limitations.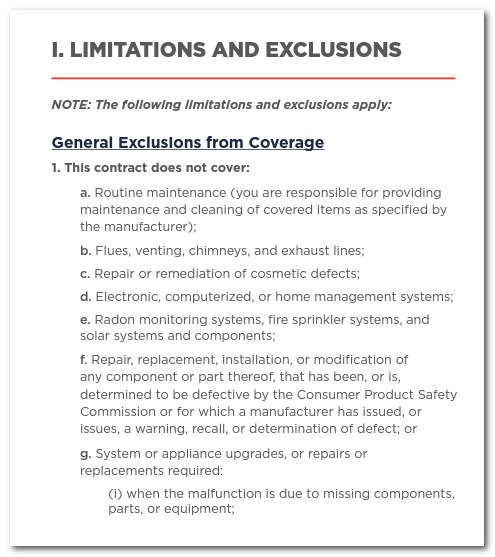 Image description: AHS Warranty Exclusions From AHS Official Contract Document
American Home Shield Cost
AHS offers plans at competitive rates starting at 29.99 per month, among the industry's most affordable entry-level plans. The cost of their comprehensive plans, SheildGold and ShieldPlatinum, also start at $39.99 and $49.99, which is considerably lower than the industry average. However, these plans' cost depends entirely on the service call fee that customers opt to pay.
AHS offers three options of service call fee – $125, $100, and $75, and customers are expected to select one, based on which the cost of their plans will be calculated. The table below shows the cost structure of the plans offered by the company:  
| | | | |
| --- | --- | --- | --- |
| | ShieldSilver | ShieldGold | ShieldPlatinum |
| Cost at $125 Service Call Fee | $29.99 | $49.99 | $79.99 |
| Cost at $100 Service Call Fee | $39.99 | $59.99 | $89.00 |
| Cost at $75 Service Call Fee | $49.99 | $69.99 | $99.99 |
American Home Shield Discounts
For its members, AHS offers a variety of discounts. A $25 Amazon Gift Card is available for referrals, an Appliance Discount Program, and $50 OFF on Multiple Properties.
Trustworthiness & Customer Service Of American Home Shield
American Home Shield regularly features in the companies list of top home warranty companies of most review platforms. The company has received a rating of 4 on 5 on our platform based on over 16,000 user reviews. Most customers have shared their satisfaction regarding their timely services.
Some of the highlights of AHS's services include that they offer coverage irrespective of age, known & unknown pre-existing conditions, lack of maintenance records, and improper installations. They are among the few companies offering these many considerations for their customers. 
Recently, AHS has received some negative feedback, particularly for their billing process. Customers have complained about incidents of overbilling at times, which requires the company's attention.
Additionally, the cost structure of AHS is somewhat complicated, as it depends on the choice of deductible. This could be confusing, particularly for senior customers, and may lead to misunderstandings.
All in all, the services offered by AHS are above the industry standard at the price point they charge. However, they must simplify their pricing strategy to improve customer experience.
American Home Shield Claim Filing Procedure
American Home Shield allows users to file a claim online or by calling the customer service phone number. Additionally, you can keep track of past service requests and follow up on them. You can submit requests through the American Home Shield claim filing site at any time by following the instructions listed below:
Call the customer service number or visit the

AHS website

and submit your service request.

Customer representatives will note the details and verify whether the item is covered. The authorization from AHS may take 24–72 hours to complete.

Once your claim is approved, AHS will schedule a service visit.

A technician will visit you soon to complete the repair or replacement service.

You will need to pay the service call fee to the technician. Based on your chosen plan, this amount can be $75, $100, or $125.
Note– AHS does not charge extra for emergency services, but it is up to the company to determine whether you require one.
How To Buy A Home Warranty From American HomeShield?
You can head to its website and click on SHOP PLANS to purchase an AHS home warranty. After that, you will need to fill out a form. Once you submit it, AHS will provide you with a sample agreement containing specific information such as plans, pricing, limits, exclusions, terms, and conditions.
You can read the fine print thoroughly and ensure you understand its offerings. If you like its services and wish to buy an AHS home warranty further, you can fill out another form and make the necessary payment.
A homeowner must know certain factors that can affect the buying decision. Check them out in our how-to-buy home warranty article.
Methodology
At HomeWarrantyReviews.com, we are dedicated to providing in-depth home warranty reviews so you can choose the best home warranty company & make the most out of it. We examine, compare, and analyze the companies on the following factors:
Pricing:

We compare the

costs of home warranty plans

and determine if those are cost-effective. The pricing includes monthly/annual premiums, deductibles, and customer discounts. 

Coverage: We compare the plans offered by different home warranty companies. The coverage includes systems, appliances, and additional offerings.
Claims: We look at customer reviews and determine how satisfied they were with the claims filing procedure, settlement, and response times.
Transparency: We verify if the home warranty company is licensed within the appropriate industry and offer details on the CEOs, contractors, and several settled claims.
Uniqueness: We examine whether the company offers any additional services, advantages, or coverage alternatives that set them apart from the competition.
Customer Engagement: We assess the determination of home warranty companies responding to consumer problems in our Complaint Resolution Program.
Editorial Note On American Home Shield
We think that American Home Shield is a reliable company in the industry, with many positive reviews from customers. Their plans are reasonably extensive and moderately priced, and their coverage criteria are among the most liberal in the industry.
 AHS is particularly suitable for those who do not have proper maintenance records for their systems and appliances. Make sure to understand their pricing policy properly before finalizing the company. 
Conclusion
American Home Shield offers three plans at competitive price points. Its record of paying over $2 billion in claim settlements is commendable. However, make sure to read the fine print in the contract before making the final decision.   
Quick Details About The Company
Here are some of the primary details about American Home Shield:
| | |
| --- | --- |
| Founder | Sig Anderman |
| Year Of Establishment | 1971 |
| CEO | Rex Tibbens |
| Address | Memphis, Tennessee, United States |
| Type Of Company | Publicly Listed Company |
Why Should You Trust HomeWarrantyReviews?
We are America's first independent Home Warranty Research and Review platform and have been in existence for 14+ years

We have listed more than 80+ companies with us

We have nearly 100,000 genuine & verified customer reviews

We use a two-step verification process to maintain the authenticities of reviews  

We allow users to connect directly with the company's representatives to resolve issues through our Complaint Resolution Program
American Home Shield FAQs
Q.
Who owns American Home Shield?
A.
The organization that owns American Home Shield is Frontdoor, Inc. Frontdoor is a publicly-traded company that owns OneGuard, Landmark, HSA Home Warranty, Streem, Terminix, and AHS.
Q.
Is American Home Shield Worth It?
A.
American Home Shield's multiple service fee options, a free cancellation period, and nationwide availability can make them a good investment for homeowners. Now that they also cover rust damage, improper installation, and other things that their competition often does not, the AHS home warranty may be worth considering.
Q.
Will AHS Replace My A/C Unit?
A.
American Home Shield warranty covers air conditioning units and may offer to replace yours if they deem it irreparable. If they don't provide the replacement themselves, they will offer a pro-rated refund of the depreciated cost of the AC unit. It's up to their discretion.
Q.
When Should I Buy An AHS Home Warranty?
A.
Buying an AHS home warranty is a good idea for homes older than four years, especially after the original warranties on home systems and appliances expire. Sellers and buyers of old properties can also benefit from home warranty coverage. Having many older systems and appliances will save you money on covering frequent breakdowns due to age and wear.
Q.
Do I Need An American Home Shield Home Warranty If I Have Homeowners Insurance?
A.
An American Home Shield warranty plan is not the same as homeowners insurance. Homeowners insurance provides liability coverage in damage or loss due to floods, fires, disasters, etc.
On the other hand, an AHS home warranty plan can be considered home repair insurance, providing discounted repairs and replacements. American Home Shield insurance is not homeowners insurance per se, but a home warranty plan, which is legally different.
Q.
Is A Home Inspection Required Before A Home Warranty Purchase?
A.
American Home Shield does not require a home inspection before purchasing its home warranty plans. They also do not require service records. However, it would be advisable to get one as proof that your appliances had no undetectable pre-existing defects.
Q.
Will My Old Home Appliance Be Covered By AHS?
A.
American Home Shield provides home systems and appliance coverage regardless of age, make, and model. As long as your systems and appliances fulfill the criteria mentioned in the home warranty contract, they will not be denied coverage merely for being old
Q.
Does American Home Shield Have A Waiting Period?
A.
After purchasing your home warranty plan, there is an American Home Shield waiting period of 30 days to ensure that claims are due to natural wear and tear, not pre-existing damage. It ensures that homeowners are not buying a home warranty for broken-down appliances. The waiting period does not apply to real estate plans.
Q.
Is There A Limit On The Number Of Service Calls Or Repairs I Get?
A.
You can make unlimited service calls to American Home Shield during your contract term. You can also request any number of repairs, but you will have to pay a deductible for each service visit for separate issues. However, as mentioned in your contract, the number of repairs will be subject to the upper limit on dollar repair liability amounts.
Q.
Will The Contractor Return to Rectify An Issue That Wasn't Fixed?
A.
Yes. American Home Shield warranty provides a 30-day workmanship guarantee on work done by their repair contractors. You won't have to pay another trade service fee.
Q.
What if My Covered Item Is Not Repairable?
A.
If your covered item is not repairable, AHS may replace it or pay cash instead of providing a replacement. The American Home Shield cash-out option will be equivalent to the value of your item's same make, model, or specs. If the damage is excluded, you may have to replace it as per the contract.
Q.
Does American Home Shield Provide A Cash-Out Option?
A.
The American Home Shield cash-out option may be available under some circumstances. According to your contract, they may agree to pay cash instead of providing a replacement for systems and appliances subject to the dollar limits of maximum liability. You may also have to provide proof of actual itemized costs incurred. AHS may provide the cash-out option if a covered item is not repairable, but a replacement item can not be found.
In cases where the item may not comply with regulations, American Home Shield's cost may exceed the dollar limit of contract liability, and only the difference amount may be refunded.
Q.
Does American Home Shield Cover Roofs?
A.
 Yes, AHS provides coverage for roof leak repairs  under the ShieldPlatinum plan. The coverage includes shingles, tiles, shakes, flat roofing (non-metal), flashing, and underlayment repair services. If you choose to buy ShieldSilver or ShieldGold American Home Shield Plans, you can add roof leak repairs as an optional add-on at $10 per month.
Q.
Does American Home Shield Cover Plumbing?
A.
Yes, American Home Shield has plumbing system coverage. Some inclusions are water, drain, gas, waste, or vent line leaks and breaks, faucets, built-in bathtub whirlpool motors, pumps, air switch assemblies, clearing stoppages, shower heads, shower arms, valves, toilet mechanisms, etc.
However, stoppages caused by damaged vents or sewer lines outside the home's main foundation will not be covered. There may be other exclusions to the plumbing coverage, for which we recommend going through the contract.
Q.
Will AHS Cover An Ac Compressor?
A.
American Home Shield plans cover all components of ducted central electric split and package AC units, geothermal units, wall air conditioners, and mini-split ACs, including compressors.
Q.
Does American Home Shield Cover Pest Control?
A.
While AHS does not have a pest control service, its parent company Frontdoor, Inc., owns Terminix, a reputable pest control service provider. The real estate add-ons do include subterranean termite treatment.
Q.
Does American Home Shield Cover Pre-Existing Conditions?
A.
American Home shield coverage includes malfunctions due to undetectable pre-existing conditions. They are defects or mechanical failures that a visual inspection or a simple mechanical test could not have detected.
A covered item is visually inspected to verify its structural integrity without any sign to hint at interoperability. When turned on in a mechanical test, the item should operate without visible damage, odd sounds, smoke, or other abnormal outcomes.
Q.
How to Cancel An American Home Shield Contract?
A.
To cancel your American Home Shield contract, you need to call 800.858.1922. You will receive a full refund if you cancel it within 30 days of signing up and have not made a service call request. If you cancel your policy after 30 days, you will receive a refund for the remaining term, minus the administrative fees and the charges for any services or claims made.
Q.
What Is American Home Shield Proconnect?
A.
ProConnect is a platform AHS offers where you can book a repair service online and pay after work. A network of independent service professionals provides services for the following categories: plumbing handyman services, appliance repair, electrical carpet cleaning, garage door repair, heating, plumbing, and air conditioning repairs. However, these services vary by area and are currently operational in some selected cities.
Q.
Is American Home Shield Legitimate?
A.
 American Home Shield is a legitimate home warranty company. They are registered as a public company and are transparent about the reports of their revenues, number of clients, and claims paid. One can find plenty of information about their financial status, and to date, they have been profitable.
Q.
How do I File A Complaint With American Home Shield?
A.
To file a complaint with AHS, you can take the following measures:
Email a complaint letter to customercare@ahslink.com,

Call the customer service phone number: (888) 682 1043, or

Fill out a form online on its

website

.
You May Also Be Interested In
American Home Shield (AHS) reviews