Does Home Depot Have Appliance Repair Services?
PUBLISHED: July 8, 2020
•
5 MINS READ
Every home has several critical devices that are needed for smooth functioning. But as time goes by, the appliances may start malfunctioning due to excessive usage or wear and tear. This can cause a lot of angst since repairs are an expensive affair nowadays. For you to save money from expensive repairs, Home Depot appliance repair service restores the critical devices in your home.
Home Depot is a popular home improvement company that offers customers various services such as construction products, tools, and services to repair critical appliances in your home. Home Depot also operates various stores across the country, making it convenient for customers to pick and choose products.
Home Depot does provide appliance repair services to make your devices start operating smoothly again. This post will guide you through the Home Depot appliances repairs plans and lots more.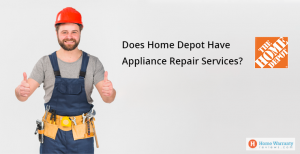 What Appliances are Covered Under Home Depot's Plans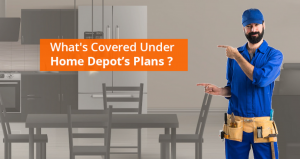 Home Depot covers most of your major home appliances. The company offers three different protection plans that repair your appliances, they are as follows:
Major Appliances
Water Heaters
Replacement and Repair Plans
The Major Appliances Plan covers your compactors, cooktops, dishwashers, dryers, freezers, built-in-microwaves, ranges, refrigerators, wall ovens, washers, and over the range microwaves.
The Water Heaters Plan Protects your water heaters.
The Replacements and Repairs Plans classifies appliances into three categories and covers all the devices mentioned below.
Small Appliances– compact refrigerators, disposers, microwaves, portable air conditioners, portable fans, vacuum cleaners, and wine coolers.
Power Tools– air tools, compressors, drills, portable generators, grinders/polishers, pneumatic tools, sanders, saws, and screwdrivers.
Outdoor Power– blowers, chain saws, chippers, shredders, edgers, grills, pressure washers, push mowers, riding mowers, tractors, and trimmers.
Critical Aspects of Each Plan
Each plan that the company offers its customers is uniques in some way or the other. We have listed out the main features of each plan that the company offers.
Major Appliances Plan
Customers can either opt for 3-year protection or 5-year protection if they are choosing this plan. Depending on the policy you choose, certain components of the plan may or may not be included. We have listed out the important aspects of the Major Appliances Plan for customers.
Covers mechanical defects due to normal wear and tear
Offers coverage for functional parts
Offers protection against food loss for freezers and refrigerators
The plan also comes with other benefits such as coverage begins from the first day, no deductibles or hidden fee is charged, top-class technicians to repair appliances, the option to transfer coverage if needed, schedule a repair 24/7, etc.
Water Heaters Plan
If a customer chooses this plan he/she has the option to opt for 2-year coverage after the manufacturer warranty expires. Some of the important features this plan offers are as follows.
Tank replacement installation offered
Protection due to power surge
Covers defects due to normal wear and tear and mechanical defects
This plan has several other benefits that customers can receive. Some of the advantages are no deductibles or hidden fees, access to experienced technicians, water heater installation, removal of the old device, and access to schedule repairs 24/7, etc.
Replacement and Repairs Plan
All customers opting for this plan have an option to choose the 2-year Replacement plan, or the 3-year Repair Plan, depending on their needs. Both these plans repair important components pertaining to your devices. Here are some important aspects to keep in mind if you opt for this plan.
100% coverage offered for functional parts and labor
Power surge protection from day 1
Mechanical defects coverage and protection due to normal wear and tear
Some of the advantages of this plan are that it offers a replacement for appliances under $300, and repair coverage also for products that are $300+, no deductibles or hidden fee is charged, and customers have the option to transfer the coverage.
Customers should always choose a plan depending on those appliances that need protection only. Anyone opting for any of  Home Depot appliance repair service should factor different aspects of each plan before making the final decision. Prices for each plan vary, and customers must check their contracts to know the exact amount of each plan.
How Do Customers Use Home Depot Appliance Plans?
Once customers have signed up for the specific plan of their choice, coverage begins on a set date as specified in the contract. When the policy is up and running, and you notice any of your appliances giving trouble, you must reach out to Home Depot.
You can either get in touch with the company online or over the telephone depending on your choice. Post that, a technician will be assigned to you and Home Depot will schedule the visit to fix your appliance. The technician will do a thorough job and get your device up and running ASAP.
Customers should only reach out to Home Depot appliance repair service if the device is truly giving trouble. If by chance you file a claim when there is no problem with your device, it can problem for both the company and the customer, as a lot of time is wasted for both the parties.
Best Home Warranty Companies
The appliance repair market is an extremely competitive one, today there are several best home warranty companies offering to protect your devices. All these companies strive to offer good service at affordable rates. They protect a range of appliances under the plans they offer customers. We have listed out some of the top home warranty companies in the country that protect your devices.
Further reading: Items covered and not covered under home warranties
The Final Word
It is always a good idea to get your appliances repaired from an authorized company. Top companies make sure a complete job is always done so that you don't have to keep calling them again and again.